Marlon Wayans' Connection To The Murders Of Tupac Shakur And Biggie Smalls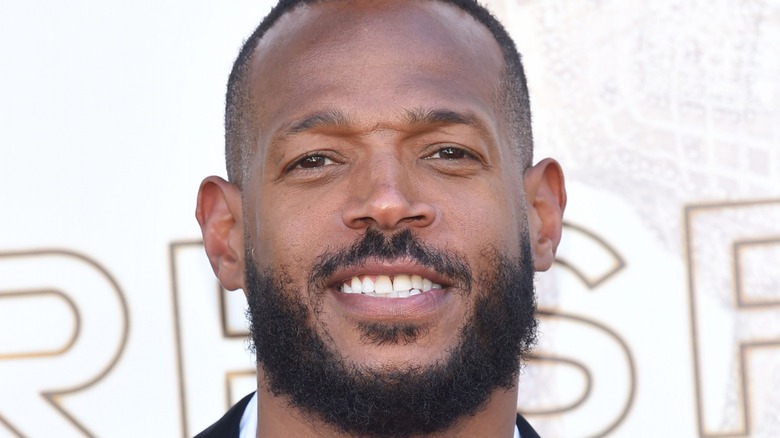 DFree/Shutterstock
The drive-by shooting murders of two of the hip-hop industry's most beloved players shook up fans in the mid-1990s. On September 7, 1996, 25-year-old Tupac Shakur was leaving the home of hip-hop mogul Suge Knight at 10:30 pm in Knight's BMW. Shakur had just attended a Mike Tyson boxing match at the MGM Grand Hotel in Las Vegas and was en route to Club 662 with Knight when a white Cadillac pulled up beside the BMW. Moments later, the car driven by Knight was struck by a hail of gunfire, with four of the 14 bullets that exploded from the barrel of the assassin's gun hitting Shakur (per MTV News). The rapper was rushed to the University Medical Center, where he underwent multiple surgeries before dying on a respirator a week later on September 13.
Scarcely six months later on March 9, 1997, another murder made national headlines. Prolific East-Coast rapper Christopher Wallace (a.k.a. Biggie Smalls, a.k.a. The Notorious B.I.G.) was leaving a party in Los Angeles when the SUV carrying Wallace stopped at a traffic light. Gunfire erupted from a newer model Chevy Impala, with bullets striking the rapper who, like Shakur months prior, was sitting in the front passenger seat (per Rolling Stone). The 24-year-old was rushed to a local hospital where he was pronounced dead after emergency surgery.
In the years since the deaths of Shakur and Wallace, several conspiracy theories have been formulated about their murders. These accusations aside, there was one friend of both young men who would later reveal that he was in their company in the moments before tragedy struck.
Wayans had been hanging out with Biggie at a party minutes before the musician was murdered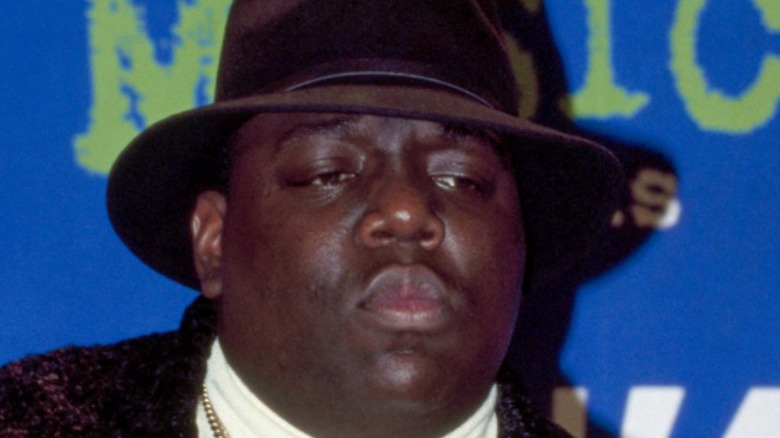 L. Busacca/Getty Images
In October 2022, actor and comedian Marlon Wayans was making a guest appearance on "The Late Late Show with James Corden" when the star opened up about his friendship with both Wallace and Shakur. Wayans was an avid fan of both men's music and was lucky enough to see both of the late hip-hop giants share the stage at the Glam Slam nightclub in Minneapolis (via YouTube). Wayans talked of how Tupac and Biggie Smalls were friends before the "East Coast versus West Coast" feud erupted between the rappers several years later.
Fast forward to March 1997. Wayans was at a party for Vibe Magazine in Los Angeles when he bumped into Wallace. He shared the meaningful words that the rap legend told him that night, claiming that Wallace told him "Yo, I'm proud of you guys — your family. I like what y'all doing, y'all legends. Keep doing what you're doing, kid."
According to Wayans, Wallace left the party only minutes later to take his ill-fated ride in the SUV. But this was not the only time that the comedy star would be with a rap icon only moments before tragedy would strike. Wayans would continue by revealing that he was in Las Vegas the previous September when Wallace's friend-turned-adversary Tupac Shakur was gunned down.
Shakur hugged Wayans less than 30 minutes before being shot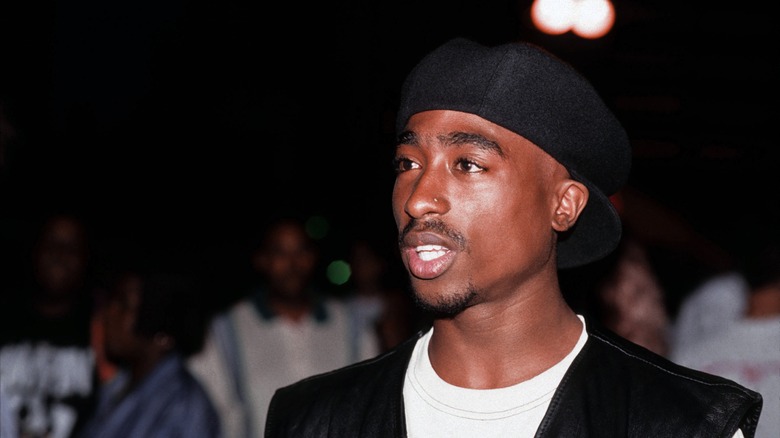 Al Pereira/Getty Images
Wayans was much more familiar with Shakur, having worked with the hip-hop artist on the set of the 1994 film "Above the Rim" (via IMDb). During his interview on "The Late Late Show with James Corden," Wayans also mentioned that he and Shakur had a mutual friend in common, actor Omar Epps. Epps had shared the screen with Shakur several years earlier in the 1992 film "Juice" (per IMDb).
On the night of September 7, 1996, Wayans was at the Luxor in Las Vegas when he bumped into Shakur. He told Corden that he and Epps approached Shakur, with Wayans embracing him in a hug. "I love you brother, good seeing you," he told the rapper (via YouTube). Wayans said shortly after they ran into each other he and Epps got into a taxi while Shakur was surrounded by "all those people" but meanwhile he was looking over their heads at Epps and Wayans. Wayans said at the time he felt like Shakur was thinking, "I wish I could get in that cab with y'all." Instead, he climbed into the passenger seat of a black BMW.  
Twenty minutes later, Tupac was shot four times. Wayans told Corden during his interview, "I love 'em both, miss 'em both." To date, neither the murder of Tupac Shakur nor Christopher Wallace has been solved. According to the Las Vegas Review-Journal, there were many witnesses that night, but 25 years after the shooting, still, none were talking. One suspected shooter, who denied the accusation, was shot to death in a gang-related altercation nearly two years after Tupak was killed.