The Mystery And Conspiracy Behind Bob Dylan's 1966 Motorcycle Crash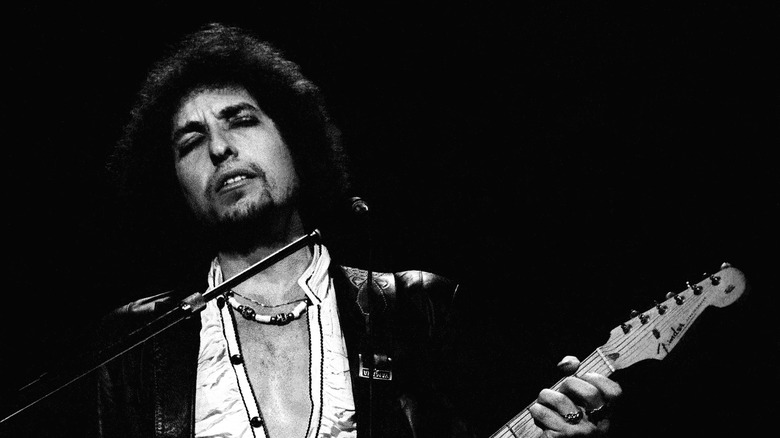 Larry Hulst/Getty Images
In early August 1966, newspapers across the U.S. began reporting on a motorcycle accident involving Bob Dylan near his house in Woodstock, New York. The reports were thin on details except to say that the 25-year-old musician, who'd gone from folky hero to rock n' roll star, would have to postpone the numerous tour dates he'd lined up that summer and fall as part of an extensive U.S. tour. Dylan, one of his reps, told the AP, might be under a doctor's care "for a couple of months." He refused to say where Dylan was recuperating.
Rumors soon swirled, encompassing everything from Dylan being dead to paralyzed, in a coma, or horribly disfigured, according to "Light Come Shining: The Transformations of Bob Dylan." The truth was less harrowing but remains mysterious to this day. Dylan himself had little to say about it. "I had been in a motorcycle accident and I'd been hurt," he wrote in "Chronicles: Volume 1" (via "Life: Bob Dylan"). "Truth was, I wanted to get out of the rat race."
An exhausted Dylan, sick of the rock and roll lifestyle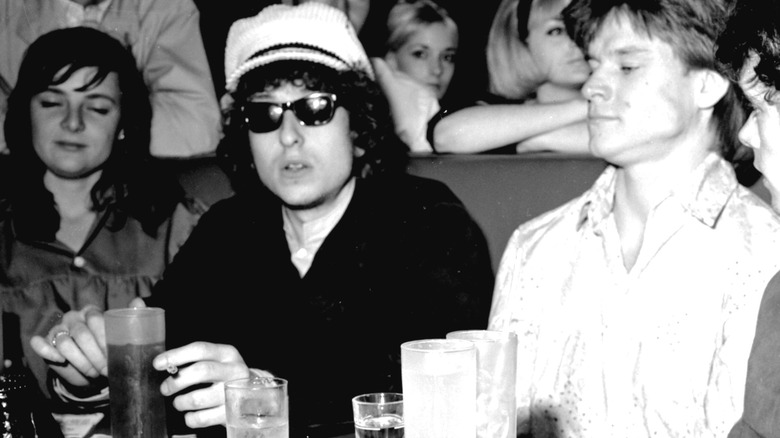 Michael Ochs Archives/Getty Images
Far from being a fiery high-speed crash, Dylan was pushing his Triumph 500 down the road to be repaired after picking it up at his manager's home on July 29, 1966. Both tires were flat, and the road was wet. Dylan lost his balance, and the motorcycle toppled over on top of him, according to "Light Come Shining: The Transformations of Bob Dylan." His wife at the time, Sara Lownds, had been following him in a car and took him to the home of their friends, Dr. Ed Thaler and his wife Selma Thaler, per the AP.
That summer, Bob Dylan had just returned from an exhausting world tour, his publisher was breathing down his neck about turning in a novel they'd given him a $10,000 advance on, and ABC was waiting on a television special, per "Light Come Shining." Dylan had a lot on his mind and plate and the accident, whether in truth or as a cover story, gave him just the respite from the spotlight that he needed.
After the accident 
Instead of going to the hospital, Bob Dylan stayed at the Thaler's house for a month. "He didn't want to go to the hospital, so we said, 'You can stay here,'" Selma Thayer told the Associated Press in 2016. She couldn't recall seeing any visible injuries on Dylan, who ate dinner with the family and had friends over on Friday nights, including his backing band, the Hawks (who became The Band), and the Beat poet Allen Ginsberg. Dylan later said he'd been hospitalized for a week and had a concussion and broke a vertebra, per the AP and "Light Come Shining."
Even after recuperating, Dylan continued to keep a low profile and didn't return to touring for several years, per the AP. It was as if he'd just disappeared. In reality, he holed up with The Band in Woodstock and West Saugerties playing, writing, and recording (but not releasing the results until 1975 with "The Basement Tapes"). It wasn't until the end of 1967 when he released "John Wesley Harding," secretly recorded in Nashville with a three-piece band, that the public learned what he'd been up to, per "Bob Dylan: The Never Ending Star." The stripped-down album of country-folk tunes marked a turning point in his sound. "I thought I was just gonna get up and go back to doing what I was doing before," Dylan said in 1969, per Rolling Stone. "But I couldn't do it anymore."