Only One Man Is Honored In Both The Pro Baseball And Pro Football Hall Of Fame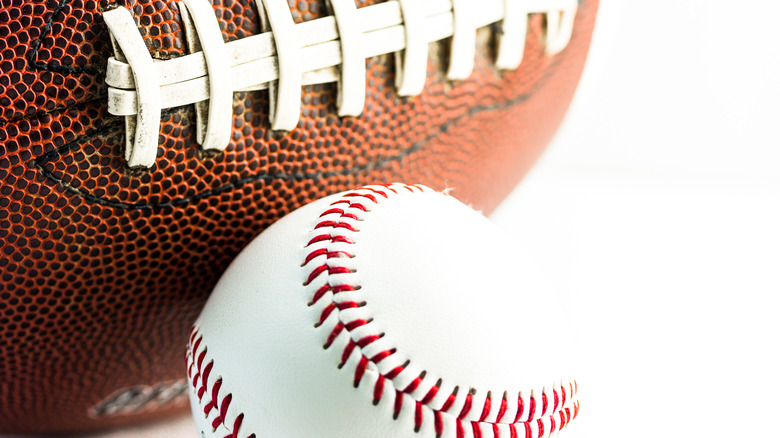 Mayalain/Getty Images
Although the NFL and MLB are two different institutions, the Pro Football Hall of Fame writes that sometimes, their worlds collide. For example, football players have gone on to play baseball, or otherwise get involved in a second professional sport (a modern example is Deion Sanders). Football great Cal Hubbard was one of these individuals. Born in 1900, the Missouri native had an imposing build and height, according to The Society for American Baseball Research. Hubbard was a farm boy who loved playing football and baseball in his youth. However, he longed to be a football star like his hero Alvin "Bo" McMillin. McMillin later became the football coach at Louisiana's Centenary College, and Hubbard joined the school in 1922.
Per Historic Missourians, Hubbard excelled at Centenary but left when McMillin took a coaching position at Geneva College in Pennsylvania. The Society for American Baseball Research reports that Hubbard became a sensation when he helped Geneva defeat Harvard. His team and acquaintances praised him for doing whatever it took to win on the gridiron, with one professor saying, "Big Cal was as kind and generous a man off the field as he was an untamed savage on it." In 1927, Hubbard married and graduated college with a bachelor's degree. He subsequently joined the NFL and signed to play with the New York Giants.
Cal Hubbard created the linebacker position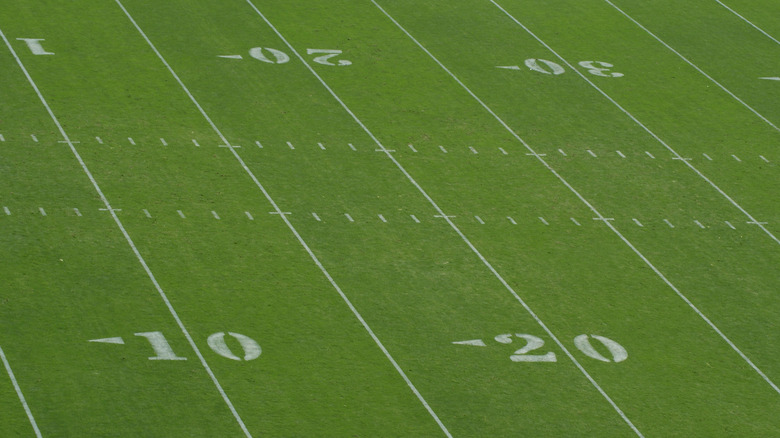 1000Photography/Shutterstock
The Pro Football Hall of Fame reports that Cal Hubbard was used to playing the tackle position when he signed with the New York Giants. However, the team decided to move him to defense. Historic Missourians explains that, typical of the time period, Hubbard could play both offensive and defensive positions. On offense, he worked as an offensive lineman, and while on defense, he moved behind the defensive line to anticipate the offense's next move (per The Society for American Baseball Research). Hubbard transformed what is now known as the linebacker position and helped the Giants win their first NFL championship. He decided to leave the team in 1928.
That same year, The National Baseball Hall of Fame writes that Hubbard began a career as an umpire for the minor baseball leagues. The Society for American Baseball Research explains that Hubbard did this to make extra money during the NFL offseason. Also, he had experience — Hubbard acted as an umpire in childhood baseball games. In 1929, he returned to football and signed with the Green Bay Packers. With Hubbard, the team went on to win NFL championships in 1929, 1930, and 1931. He was with the Packers until 1935, and in 1936, he played with the Pittsburgh Pirates (the original name of the Pittsburgh Steelers) and his old team, the New York Giants.
He turned to baseball after witnessing a football injury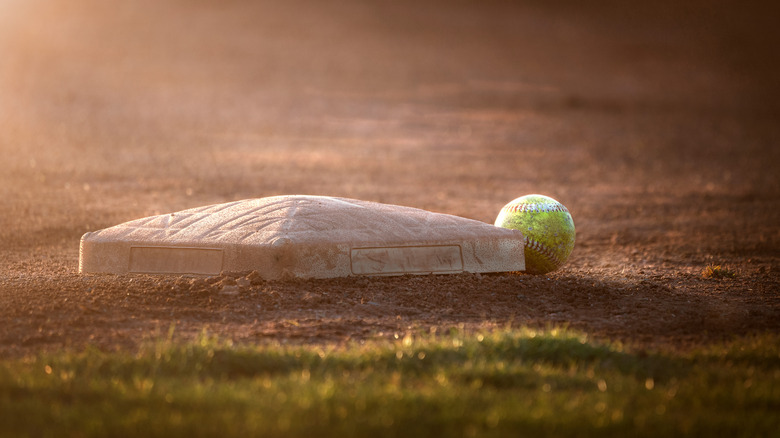 gammarART/Shutterstock
During a 1936 match against Boston, Cal Hubbard, then playing for New York Giants, witnessed and heard his fellow player Red Corzine's leg snap (per The Society for American Baseball Research). It was then that Hubbard decided to retire from the sport. He reportedly told his teammates (via The National Baseball Hall of Fame), "Well boys, if I've ever done anything to you all in my professional career, you've got a minute to settle the grudge." He continued, "This is positively my last football game." And it was; Hubbard retired and focused on his career as an umpire.
All in all, Historic Missourians reports that Hubbard spent 16 years working as an umpire. During that time, The Society for American Baseball Research states that his career umpiring highlights include the 1938, 1942, 1946, and 1949 World Series. He also officiated the 1939, 1944, and 1949 All-Star Games. Thanks to his 20-10 vision, Hubbard shined at this position. However, Hubbard's career as an umpire came to an end in 1951 when a shotgun pellet injured his eye.
Per Historic Missourians, Hubbard then worked as an assistant supervisor of league umpires and later as a supervisor from 1953 to 1969. In 1963, Hubbard was inducted into the Pro Football Hall of Fame and, in 1976, the Baseball Hall of Fame. He is the only man to receive this honor. Call Hubbard died from cancer in October 1977.