What Happened To Bernie Madoff's Widow, Ruth Madoff?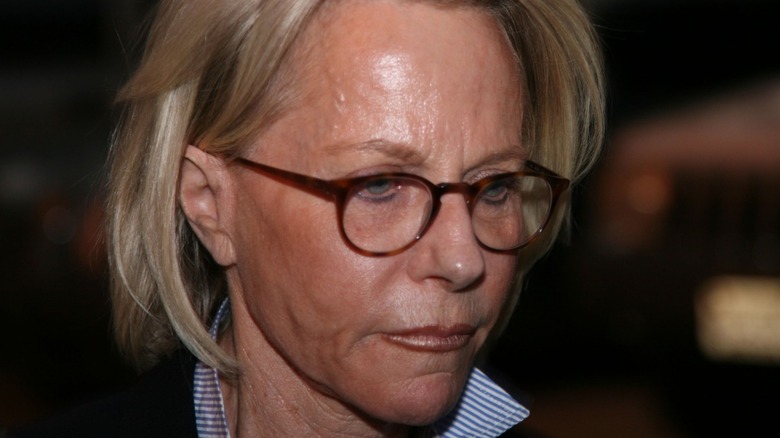 Yvonne Hemsey/Getty Images
The global economic crisis in 2008 sent the economy into a severe economic decline. The news of a crashing stock market and plummeting values of retirement accounts were constant stories in the 24-hour news cycle for months as panicked investors watched with bated breath to see just how low the market was going to go. But if one story from this crisis overshadowed any of the panics, it would have been the Bernie Madoff scandal
Investigations into Madoff would reveal that the once-trusted Wall Street investment advisor had defrauded nearly 40,000 people around the world, including citizens of 136 countries (per CNBC). It would seem that no one was immune to the wide net of fraud that Madoff had cast over the decades, as people from all walks of life would find themselves on his massive victim list. Madoff even swindled notable names like Steven Spielberg and Kevin Bacon.
The historic scheme would land Madoff in hot water with federal authorities, as would be expected if you were running a $65 million Ponzi operation. The FBI reports that Madoff pled guilty in 2009 to 11 federal charges that included investment advisor fraud and money laundering. Madoff would be remanded into federal custody soon after to begin serving his 150-year prison sentence. Madoff died in April 2021 from terminal kidney failure (per CNN).
Though a notorious white-collar criminal, Madoff was a husband, father, and grandfather. The publicity of Madoff's scandal took its toll on his loved ones, particularly his wife and sons.
Ruth Madoff attempted suicide after her husband's arrest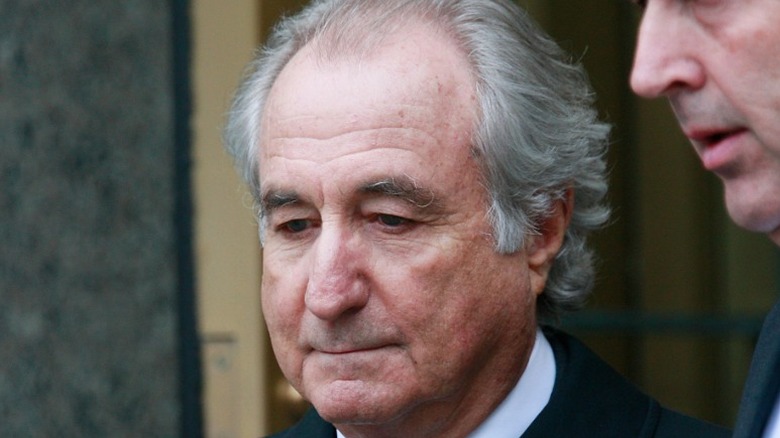 Mario Tama/Getty Images
Ruth and Bernie Madoff were high school sweethearts. The couple married when she was just 18. Several years after graduating from Queens College with a degree in Psychology, Ruth gave birth to their first son, Mark, in 1964. The birth of Andrew would follow in 1966 (per National World). Ruth would later become employed by her husband's company, Bernard L. Madoff Investment Securities as the bookkeeper. Ruth was never charged with any crimes and received a $2.5 million settlement in exchange for surrendering her claims to her husband's $80 million  estate (per The New York Post).
The news of her husband's wrongdoings devastated Ruth. In a 2011 interview with "60 Minutes," she revealed that she attempted suicide on Christmas Eve in 2008. She stated that "I don't know whose idea it was but we decided to kill ourselves because it was so horrendous. I said I just can't go on anymore."  She and her husband each took a handful of sleeping pills, hoping to end their lives, only to wake the next morning. (per YouTube). She survived the ordeal and stood by her husband throughout his trial and conviction.
Shunned from the Manhattan life that she once had, Ruth moved to Florida before later settling in Connecticut, swapping a multi-million dollar mansion for a 1,000-square-foot apartment. But sources would later reveal that it wouldn't be long before she was living a life of luxury once more.
If you or anyone you know is having suicidal thoughts, please call the National Suicide Prevention Lifeline​ by dialing 988 or by calling 1-800-273-TALK (8255)​.
Ruth is living better now than many of the people her husband defrauded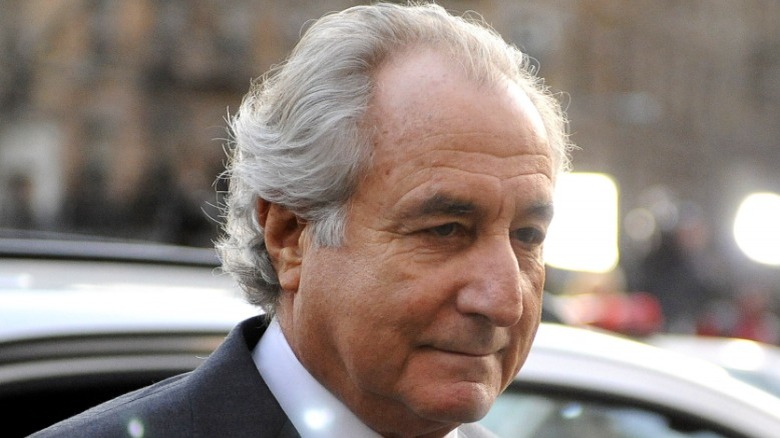 Stephen Chernin/Getty Images
The Daily Mail reports that Ruth moved from her small apartment in a $3.8 million mansion in Old Greenwich in the fall of 2022. The source revealed that the house is owned by Susan and Richard Elkin. Susan is Ruth's former daughter-in-law. In the years since her late husband's conviction, Ruth has stayed out of the public eye and has become reclusive. And though her current residence is a far cry from the home she used to share with Bernie, it's an arrangement that some duped former investors might feel is still too good for the wife of the man who bilked people out of billions. Her current 4,000-square-foot home has four bedrooms, a private dock, and windows that overlook Greenwich Cove.
The New York Post attempted to secure an interview with Ruth by sending someone to knock on the door of her new home. The woman who answered confirmed that Ruth was home, but stated that Ruth "is here, but she's not available."
The Madoff family quickly spiraled after the conviction of the patriarch. Mark Madoff died by suicide in 2011 (per The New York Post). The youngest son, Andrew, died in 2014 from lymphoma (per NBC News). Peter Madoff, Bernie's brother, was convicted of securities fraud and sentenced to 10 years in prison. CNN reports that Madoff's sister and brother-in-law, Sondra and Marvin Wiener died from an apparent murder-suicide in early 2022.
If you or anyone you know is having suicidal thoughts, please call the National Suicide Prevention Lifeline​ by dialing 988 or by calling 1-800-273-TALK (8255)​.