Bernie Madoff's Ponzi Scheme Confession Finally Revealed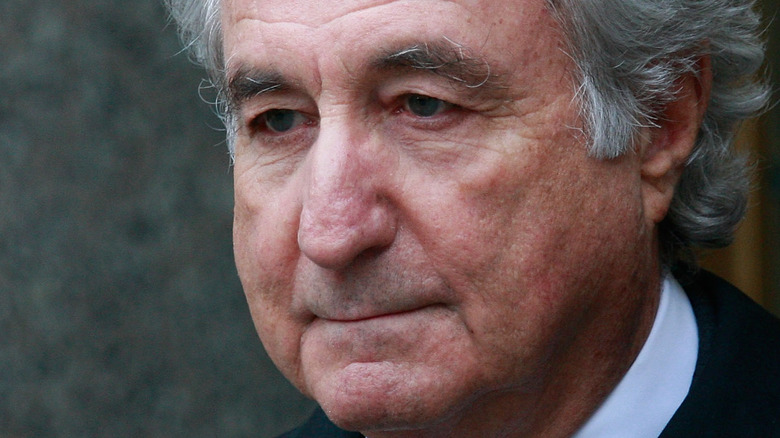 Mario Tama/Getty Images
Disgraced financier Bernie Madoff is remembered for pulling off the largest Ponzi scheme in history (via Britannica). MarketWatch reports that he scammed approximately 41,000 clients out of an estimated $65 billion. CNBC adds that Madoff's fraudulent activities began in the 1970s and spanned 125 different countries. However, as the National Post explains, Madoff came from humble beginnings. Born in Brooklyn, New York, in 1938, Investopedia states that he used his earnings from working as a lifeguard and a sprinkler installer to make his start in the market. In 1960, he founded Bernard L Madoff Investment Securities (per the BBC).
Eventually, his reputation prospered, and he became a well-known name on Wall Street (via the National Post). In 1990, Madoff became the chairman of NASDAQ, per CNBC. Britannica writes that Madoff used his influence and connections with affluent individuals to swindle them out of their money. This included Steven Spielberg, Kevin Bacon, and more. Madoff allowed them to become investors and then used their funds to pay off other investors, friends, and family. Although some came to question his investments, the Securities and Exchange Commission never thoroughly investigated Madoff. It seems that Madoff would have continued this deception if it weren't for the 2008 financial crisis.
His sons turned him in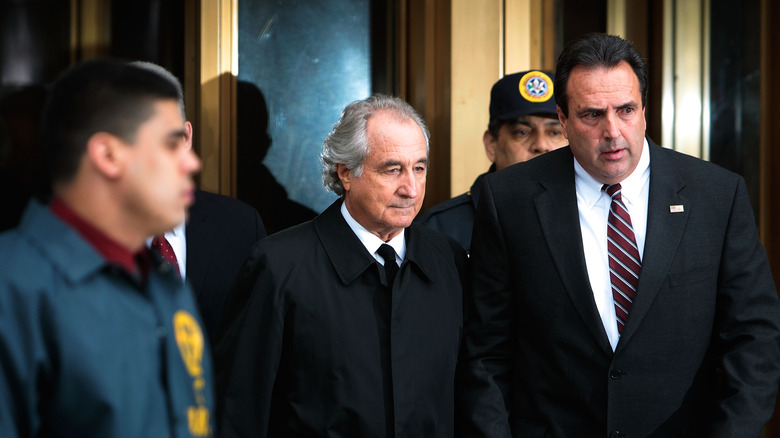 Chris Hondros/Getty Images
The BBC explains that the 2008 financial crisis threw Bernie Madoff's Ponzi scheme into turmoil. According to CNBC, his panicked investors wanted their money back. When they attempted to pull $7 billion from his funds, Madoff could no longer put on a front. This prompted Madoff to tell his sons, Mark and Andrew, the truth about the investments. They promptly contacted the FBI. On December 11, 2008, the FBI showed up at Madoff's Upper East Side apartment (per MarketWatch). Madoff was calm, and when the FBI asked him if they knew why they were there, he said yes. One FBI agent told Madoff (via the National Post), "We're here to find out if there's an innocent explanation."
Per MarketWatch, Madoff replied, "There is no innocent explanation." Madoff then went on to say that he "just couldn't go on" and "I'm broke." He added, "It's all me doing it." CNBC reports that Madoff always made it clear that he was the only one who was involved; no one in his family knew otherwise. The National Post writes that Madoff explained his Ponzi Scheme to the FBI. He told an agent that he "paid investors with money that wasn't there." Madoff handed over his passport and said that he knew he was going "to go to jail" (via MarketWatch). Madoff was then arrested, marking the end of his decades-long conspiracy.
Bernie Madoff's substantial prison sentence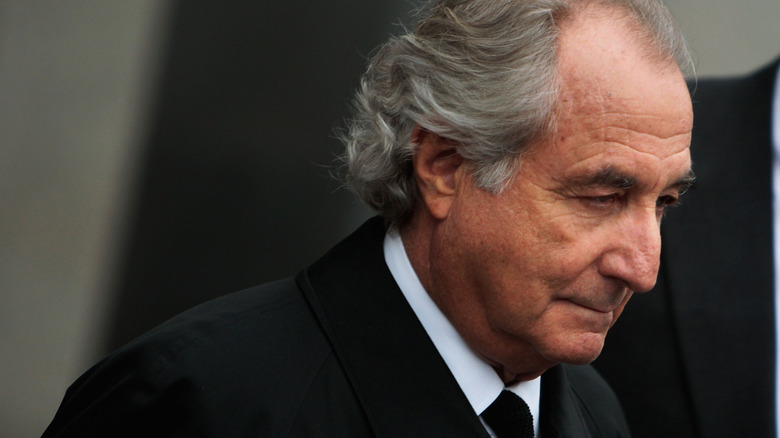 Chris Hondros/Getty Images
MarketWatch writes that Bernie Madoff later pled guilty to several security fraud charges. Per the BBC, he addressed the court and said, "I cannot adequately express how sorry I am for what I have done." He added, "I realized that my arrest and this day would inevitably come." Shortly after, he was sentenced to 150 years in prison and ordered to pay $170 billion in restitution (via CNBC). Ultimately, Madoff's Ponzi scheme left a trail of destruction behind. According to Investopedia, several of Madoff's investors killed themselves when the fraud was revealed. Moreover, Madoff's son Mark, also killed himself two years after his father's arrest.
In 2014, his son Andrew died from lymphoma (per The New York Times). In 2020, the BBC reported that Madoff, who was then 82 and suffering from terminal kidney disease, had asked to be released from prison. The Guardian states that Madoff's request was denied by Judge Denny Chin. He noted that Madoff was not "never truly remorseful" for his actions.
In April 2021, Bernie Madoff died at the Federal Medical Center in Butner, North Carolina (via AP News). His lawyer, Brandon Sample, released a statement that read, "Although the crimes Bernie was convicted of have come to define who he was — he was also a father and a husband. He was soft spoken and an intellectual. Bernie was by no means perfect. But no man is."