The Tough Love Advice Kobe Bryant Gave To A Young Kevin Durant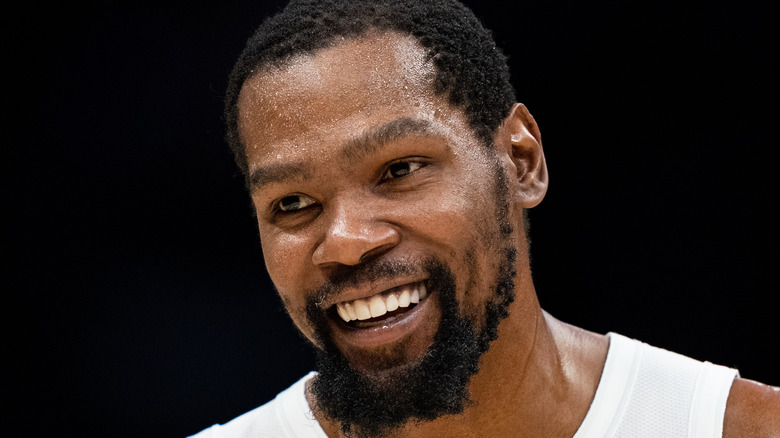 Jacob Kupferman/Getty Images
Kevin Durant who as of the 2022-23 NBA season played forward for the Brooklyn Nets and Kobe Bryant, who retired in 2016 after playing his entire career with the Los Angeles Lakers, are considered two of the greatest pro basketball players of their generation. The two men share similar styles of play and passions for the game, according to ESPN. In fact, Durant has said in his career he's attempted to pattern himself after greats from NBA history like Bryant, who died alongside eight others including his 13-year-old daughter Gianna Bryant in a helicopter crash in 2020.
In the time both Bryant and Durant overlapped in the league — Durant was drafted by the Seattle Supersonics in 2007 (via Britannica) — the two NBA greats matched up on several occasions in the NBA playoffs and they even played together on the same U.S. Olympic men's basketball team, as Bleacher Report writes. Early on in Durant's career, the champion Laker guard gave him a piece of career advice, and as the Nets star forward later said, Bryant's wise words really stuck with him.
Charlotte Hornets coach Steve Clifford compared the 2 players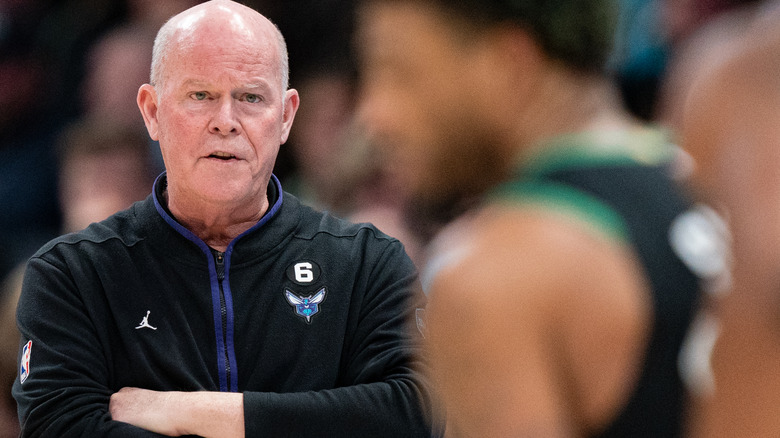 Jacob Kupferman/Getty Images
Durant's recollection of the wisdom Bryant shared with him came after a Brooklyn Nets 2022-23 NBA season victory over the Charlotte Hornets. At that time, the Hornets were coached by Steve Clifford, who earlier in his career worked with Kobe at the Lakers. In that 2022-23 match-up, Durant and the Nets beat Clifford's team 122-116, according to ESPN. Speaking after the loss, Clifford (pictured) said that while the makeup of Bryant and Durant is somewhat different, their on-court play and work ethic are similar. "[Durant's] a lot like Kobe to me," Clifford said (via ESPN).
Clifford continued " ... [T]hey're both students of the game. When I think of Kobe, I think of passion, when I think of Kevin, I think of passion. So two elite players who care deeply about the results more than they do like individual numbers." Durant agreed he has followed Bryant's lead in his career as well as that of another basketball legend, Michael Jordan. "Those two guys just set the tone for everything you want to be as a basketball player. So I just simply try to copy them as much as I can," Durant said.
Bryant shared his advice when Durant was just 23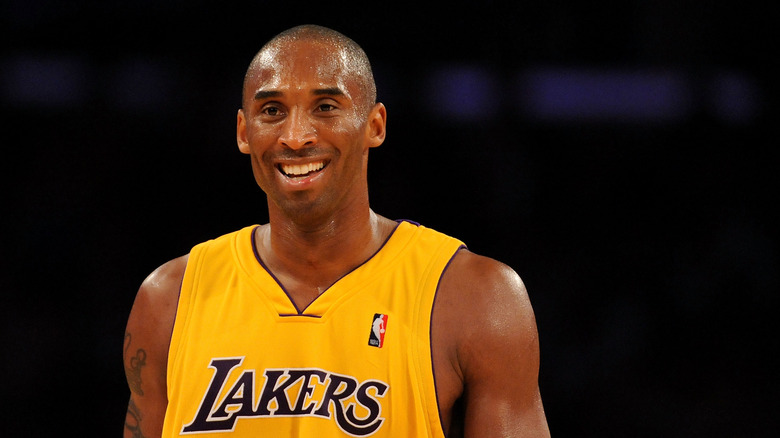 Harry How/Getty Images
As FanNation from Sports Illustrated explains, the most meaningful wisdom Kobe Bryant imparted to Kevin Durant came when Durant was just 23. At that time, according to Durant, Bryant said, " ... Really just don't be a crybaby." Like many at that age, Durant admits he thought the world revolved around himself, and Bryant's advice helped put that in perspective. Durant continued, "I know we talk a lot about Kobe — he was real humble how he approached the game, how he approached his teammates — just life in general. I just learned just from watching his movements, he was an example.
The Nets forward added, "[Bryant] didn't say much but he was an example by how he moved. I try to emulate him and Mike [Michael Jordan] — two dudes that I emulate on and off the court what they do. It'll only make me better." At that time, Durant's teammate, Nets guard Kyrie Irving, who was close with the Lakers legend prior to his death, weighed in on the Bryant/Durant comparison. They have similarities, Irving said, referring to Bryant and Durant. But Irving added (via ESPN), "I just think when you see greatness and you wonder how people continue to do it year after year, you have to look at the hours that are put in, the way that they prepare, and how serious they take what they do".