Baseball Icon Art Shires Single-Handedly Led To The MLB's Ban On Players Boxing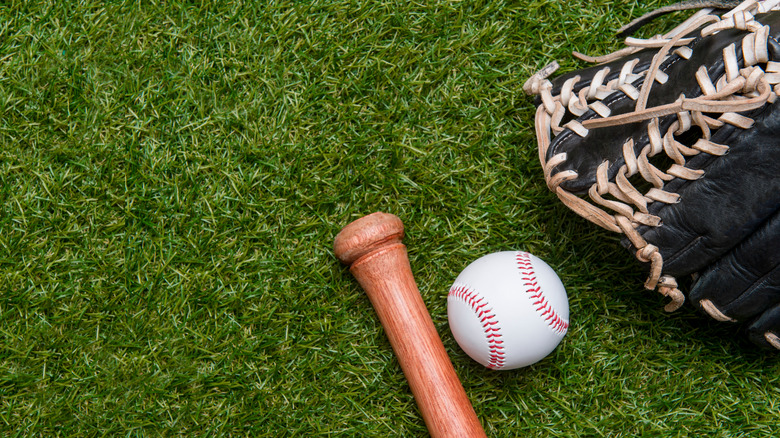 sportoakimirka/Shutterstock
These days, professional athletes in top-tier sports like baseball and basketball can make a lot of money. As Front Office Sports reports, in Major League Baseball, even the lowest-paid players make about $700,000 per year, or about 14 times the annual earnings of the average American. However, athletes making bank wasn't always the norm. In the 1960s, according to Expensivity, the average MLB player earned about $18,000, or about three times the average household income at the time. Many made less, and some, even superstars such as Yogi Berra, had to work day jobs in the off-season to make ends meet. Berra, for example, according to Major League Baseball, sold suits for a Newark, New Jersey haberdasher. Other MLB players worked day jobs on farms, some went to Central America or the Caribbean to play winter baseball, and some tried their hands at other sports.
More than one baseball player of Art Shires' day tried their hand at boxing, but none threw themselves into it so whole-hog as Shires did, according to Fox Sports. According to his career stats provided by Baseball-Reference, he was a pretty good player, but to hear him tell it, he was unimaginably great. And he carried that braggadocio to the boxing ring, where it didn't pay off. Eventually, the MLB Commissioner washed his hands of players boxing and announced that any player who stepped into the boxing ring could consider himself retired.
Arthur 'The Great' Shires
Art Shires was a pretty good, but not great, baseball player. His career stats (provided by Baseball-Reference) show that across four seasons between 1928-1932, he racked up a career batting average of .291, an on-base percentage of .347, and a .988 fielding percentage. Had he kept those stats up across a lengthy career, his name might be in the conversation about Hall of Fame induction. However, a bum knee ended his career early, according to the Society for American Baseball Research.
Regardless, to hear him tell it, he was the greatest player to ever live. He nicknamed himself "The Great" and would accost passerby to praise himself. He had an alcohol use disorder, a taste for the finer things that far exceeded his income, and a violent temper, which resulted in him once hurling a ball in frustration toward a group of rowdy fans, hitting and eventually killing a spectator (per American Baseball Research).
He carried his devil–may-care attitude and his penchant for self-promotion into the boxing ring. Did it work? More or less, although once the MLB Commissioner got tired of the whole thing, his boxing career was as dead as his baseball career.
If you or anyone you know needs help with addiction issues, help is available. Visit the Substance Abuse and Mental Health Services Administration website or contact SAMHSA's National Helpline at 1-800-662-HELP (4357).
A Short-Lived Boxing Career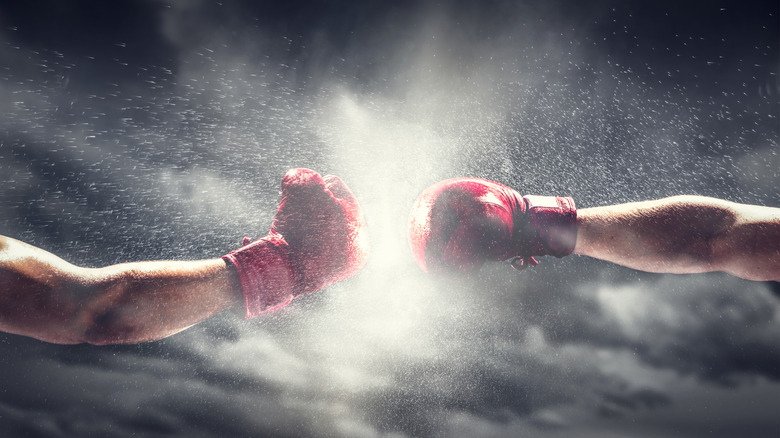 PHOTOCREO Michal Bednarek/Shutterstock
By 1929, White Sox owner Charles Comiskey had enough with his "bad boy" (per The Guardian) and gave him a contract that was comparatively trifling. It was then that Shires, already known for his tendency towards fisticuffs, decided to step into the boxing ring. In his first bout, he flattened his opponent (who may or may not have been "encouraged" to throw the fight) in 21 seconds. In his next fight, he faced off against a much more formidable opponent, George "The Beast" Trafton, a Chicago Bears play who also left the ring on a metaphorical stretcher. 
Then came talk of squaring off against another MLB player, the Chicago Cubs' Hack Wilson, but Wilson backed out, according to Fox Sports. Instead, Shires faced off against another baseball player and knocked him out in the fourth round. When word got to MLB Commissioner Kenesaw Mountain Landis that Shires was planning to face off against a hockey player also known for throwing down, Landis had enough. "Hereafter any person connected with any club in this organization who engages in professional boxing will be regarded by this office as having permanently retired from baseball. The two activities do not mix," he said (per the National Baseball Hall of Fame).
Shires continued throwing fists after his baseball career ended, but he fared poorly in the ring and faced criminal charges outside of it. He died in 1967 at the age of 60, according to The Press-Courier.