That Short-Lived Time When Kiss' Paul Stanley Wore Makeup That Made Him Look Like The Lone Ranger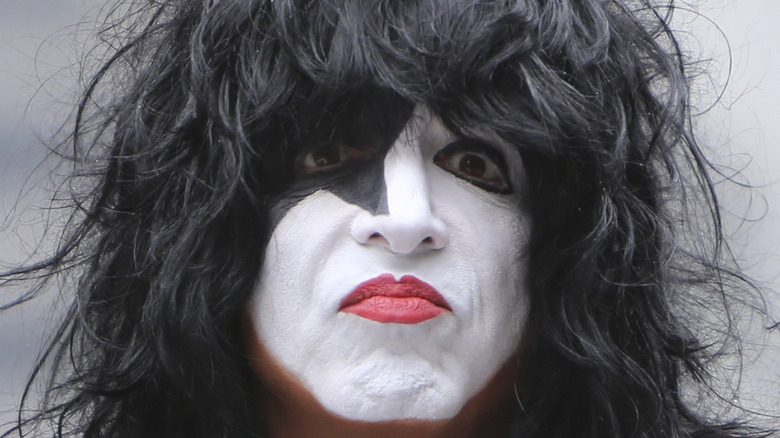 a katz/Shutterstock
Over the decades, more than one musical artist or group has leaned into a visual presentation — a schtick, if you will — that transcends their music. Alice Cooper did it. GWAR did it. Daft Punk did it. But perhaps no band did it better — or did it with as much verve — as KISS. Their music was perhaps marginal (Miami New Times calls it "the most simplistic hard rock"), but what they lacked in musicianship, they more than made up for in showmanship. On-stage, fireworks and flames emitted from their instruments as Gene Simmons, Paul Stanley (above), Ace Frehley, and Peter Criss dressed in elaborate costumes and makeup that straddled the line between drag, kabuki theater, and a vague you'll-know-it-when-you-see-it heavy metal aesthetic.
In terms of their makeup, before the band ditched their makeup in 1983 (per Ultimate Classic Rock), each guy was known for his own signature look. As MetalTalk notes, their looks debuted in the early 1970s and were more-or-less consistent for the better part of the first decade. Stanley sported a star over his right eye, Criss looked like a cat, Simmons looked like a demon or a bat, or Frehley's was non-specific, using silver and black to represent sharp angles reminiscent of stars.
However, for a brief time, Stanley traded in the star for a look known as "The Bandit," and to some observers, it made him look like The Lone Ranger.
KISS' Ever-Changing Makeup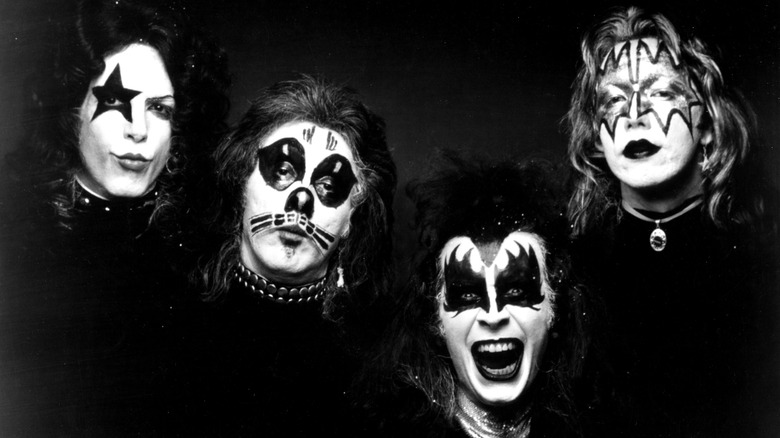 Ginny Winn/Getty Images
It's easy — particularly for older readers who may have been fans back in the 1970s when the band first started getting big — to think of KISS and their makeup as belonging to the original four members and their original looks. However, like multiple other bands, KISS has seen members come and go and come back again, and those new members have brought their own looks to the group. Further still, as MetalTalk reports, the band members have switched up their looks from time to time.
For example, Criss' cat look changed subtly from time to time. Eric Carr, who replaced Peter Criss (via CHEZ 106), sported looks described at various times as "The Hawk" and "The Silver Fox." Vinnie Vincent, who replaced Ace Frehley, rocked a look reminiscent of an Egyptian hieroglyphic. Stanley, like Criss, also toyed with his look while still with the band. Specifically, for a few weeks in 1973, he replaced the single star over his right eye with a full-eye getup that he (perhaps charitably) called "The Bandit."
Paul Stanley and The Bandit
The entirety of Paul Stanley's career as The Bandit consists of a single photo shoot and three public appearances, as Yahoo Music explains. Photographer Raeanne Rubenstein did the shoot, and then Stanley appeared in the getup a few times before retiring it for good after a January 26, 1974 appearance.
It was Casablanca Records President Neil Bogart who sparked the change. Yahoo Music reports that Bogart wasn't into the makeup at all and wanted the guys to ditch it. They refused, so Bogart compromised and, according to MetalTalk, suggested that at the very least the four guys' makeup should be symmetrical. The result, for Stanley, was what he called "The Bandit," which has drawn (not-charitable) comparisons to the look of The Lone Ranger.
Stanley was over it almost as soon as he put it on, saying (per Yahoo Music), "I just went, 'No, I don't want to do this. It has nothing to do with me. What's The Bandit?'" Nevertheless, this extremely-brief alternative look for Stanley has become a thing on its own. It's its own subgenre, of a sort, inspiring makeup tutorials, toy dolls, and fan art.