Tom Brady's Second Retirement Explained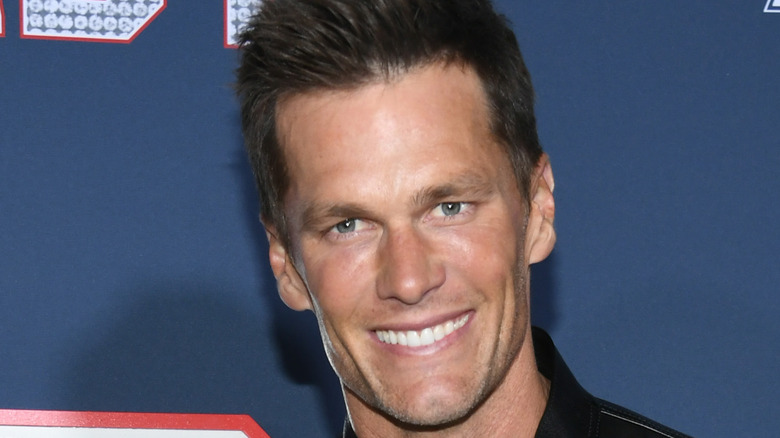 Jon Kopaloff/Getty Images
Seven-time Super Bowl champ and Tampa Bay Buccaneers quarterback Tom Brady surprised his fans on February 1, 2023, when he announced his retirement from the game after 23 years. In a short and emotional tweet, Brady, 45, got straight to the point, telling his followers that he was retiring "for good," adding that he used up his long-winded, "super emotional retirement essay" last year — which was, incidentally, on the same exact day. 
In the 53-second video, Brady, who appeared to be on a beach, choked up as he thanked his fans, family, teammates, and competitors for supporting him and allowing him to live his "absolute dream." He also explained that he "wouldn't change a thing" before expressing his love and signing off.
ESPN reports that Brady informed the Buccaneers of his decision early on the morning of February 1. The team, as well as the NFL, later shared tweets thanking Brady.
Tom Brady's astounding career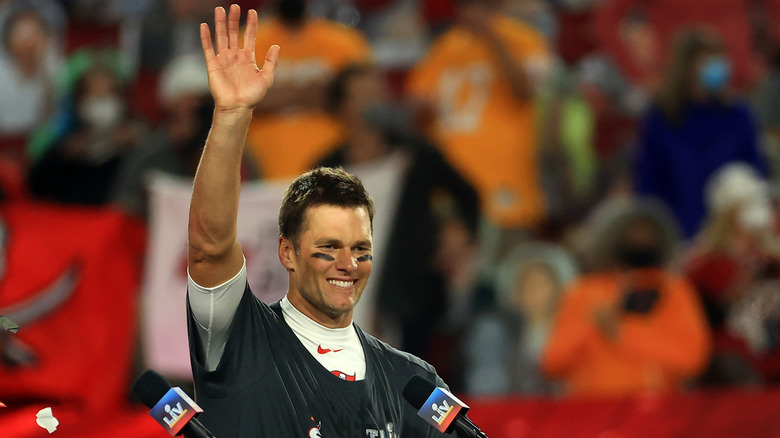 Mike Ehrmann/Getty Images
Brady's NFL career is so spectacular that the Buccaneers report that it will "never be replicated." He ranks first all-time in many categories, including passing touchdowns, wins, Super Bowl MVP awards, and completions. Along with a stellar postseason record, Brady is the most accomplished player in the league, rightfully earning him the G.O.A.T. moniker.
Even in his final season, Brady still broke records. He holds the top spot in the NFL for career passing yards (a whopping 89,214) and touchdown passes (649) (via Pro Football Reference). Brady also owns more of those giant, sparkly Super Bowl rings than any franchise in the league, according to Sporting News. But more than his accomplishments, Brady is admired for his drive, commitment, and passion for the game — not bad for a guy who spent most of his first season with the New England Patriots on the bench (via CBS Sports). However, he proved himself in his second season, and the rest is nothing but NFL history.
Teammates shared their respect for the greatest of all time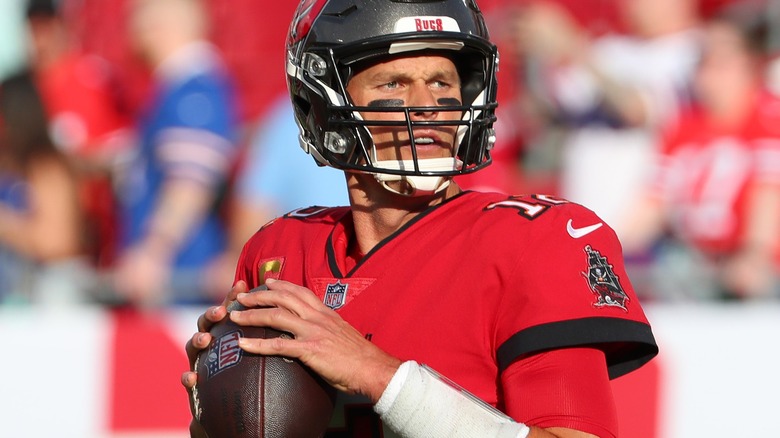 Steve Jacobson/Shutterstock
It didn't take long for reactions to the news of Brady's retirement to start pouring in. Several teammates responded to the news — Tampa Bay offensive lineman Ryan Jensen thanked Brady for pushing him every day, adding that he was glad to take the field with him one last time. Buccaneers wide receiver Julian Edelman shared that learning from Brady as a "player, teammate, leader, son, brother, and father has been the experience of a lifetime." Cornerback for the Bucs, Logan Ryan, shared that he was thankful that he experienced greatness daily.
Other NFL players to chime in included Kansas City Chiefs quarterback Patrick Mahomes, who simply replied to Brady's tweet with three goat emojis. Former defensive end J.J. Watt tweeted that there was no question or debate that Brady was the greatest of all time, and Former New York Jets cornerback Darrelle Revis tweeted that Brady was a "special one" who would go down in the history books as the "greatest to ever play the game."