Tom Brady's Retirement Explained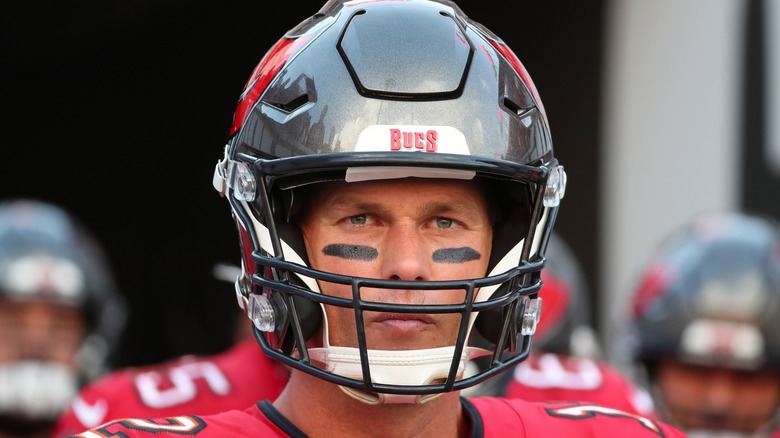 Steve Jacobson/Shutterstock
After more than two decades in the league, the makeup of the NFL in the 2022 season and beyond will be very different following the retirement of superstar Tampa Bay Buccaneers quarterback Tom Brady. Following weeks of speculation, the winner of seven Super Bowl championships — six with the New England Patriots and one with Tampa Bay in the 2021 season, according to Sports Illustrated — officially announced his plans to retire via Instagram. The Michigan quarterback was picked sixth in the 2000 NFL draft by the New England Patriots, as Insider reports. Brady played in New England for 20 years before signing with Tampa Bay for the 2020 season.
Brady's statement comes on the heels of Tampa Bay's three-point loss to the Los Angeles Rams in the divisional round of the 2021 AFC playoffs, per USA Today. At the age of 44, Brady played well in the 2021 NFL season, putting up numbers that were among the best of his career and certainly among the best in the league, including completions, passing yards, and passing attempts, as Sporting News reports. This strong showing led some NFL pundits to theorize Brady was far from finished. He had previously hinted he might play until he was 50 years old but later walked those comments back (via NBC Sports). As the 2021 season wound down, though, conjecture intensified that NFL fans had finally seen the last of the superstar quarterback.
It's time to devote his energy to other things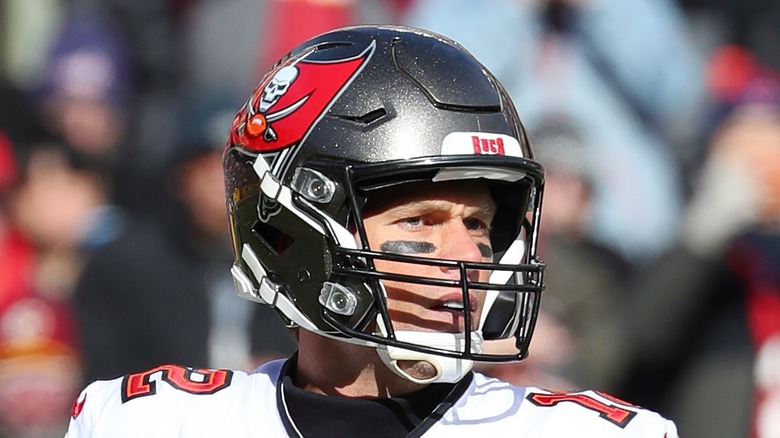 Steve Jacobson/Shutterstock
News that Tom Brady may in fact retire leaked early. Just prior to his official announcement, Brady tamped down the rumors with a statement on the "Let's Go!" podcast, stating the decision-making process was still ongoing. When official word finally arrived from Brady himself, he thanked his Bucs teammates, coaches, ownership, and general manager, before providing additional insight into what led the quarterback to finally call it quits. "My teammates, coaches, fellow competitors, and fans deserve 100% of me, but right now, it's best I leave the field of play to the next generation of dedicated and committed athletes," Brady wrote on social media (per Fox News).
Brady went on to say, "This is difficult for me to write but here it goes: I am not going to make that competitive commitment anymore. I have loved my NFL career and now it is time to focus my time and energy on other things that require my attention." Brady also called his NFL career a wild ride, adding, "As I sit here now, however, I think of all the great players and coaches I was privileged to play with and against the competition was fierce and deep, JUST HOW WE LIKE IT [Emphasis Brady's.] But the friendships and relationships are just as fierce and deep. I will remember and cherish these memories and revisit them often. I feel like the luckiest person in the world."