Baseball Legend Ty Cobb's Early Life Was Fraught With Violence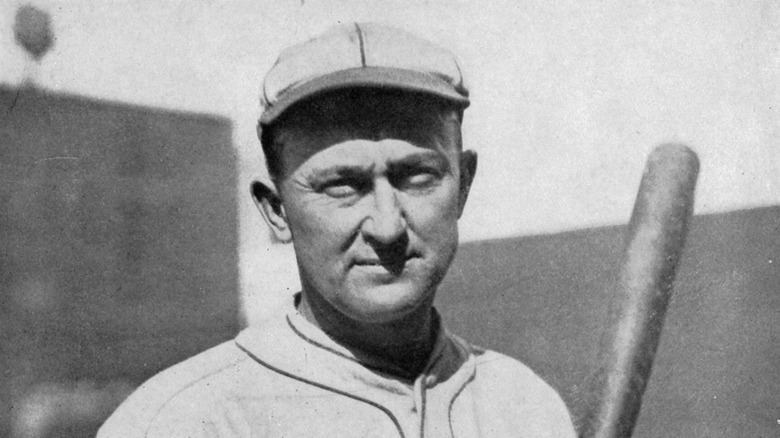 Transcendental Graphics/Getty Images
The baseball legend Tyrus Raymond "Ty" Cobb hated losing. He always had, and when he lost or felt slighted or maligned, he often turned to violence to settle the score. "I was a boy with a vying nature," Cobb once recounted, according to the 2009 book Ty Cobb. "I saw no point in losing, if I could win." And woe be to anyone who stood in the way. When Cobb was 10, he was suspended from his Royston, Georgia school for beating up a fellow student who had the misfortune of misspelling a word in a class spelling bee that caused the boys' team to lose to the girls.
By the time Cobb hit his teens, he'd found his life's calling, but his quarrelsome nature seemed to grow alongside his athletic skills. When the Detroit Tigers drafted him in the summer of 1905, he'd already garnered a reputation for violence in an era when violence was common. "During those early years, I found Cobb to be an extremely peculiar soul — brooding and bubbling with violence, combative all the way, a steak, incidentally, he never lost," the famed early sports writer Grantland Rice recalled in his memoir, The Tumult and the Shouting: My Life in Sport. It seemed to run in the family.
A death in the family
Just weeks before Ty Cobb made the jump from the minors, playing for the Augusta Tourists, to the Big Show with the Tigers, his mother, Amanda, shot his father, William Herschel Cobb, twice, killing him, per the New Georgia Encyclopedia. The elder Cobb, a politician, had been on the porch roof of the house looking through a window trying to catch his wife cheating on him when she gunned him down, allegedly believing him to be an intruder (a court eventually acquitted her of manslaughter), per Smithsonian Magazine. Cobb called it the "blackest of days."
The days remained stormy after Cobb arrived in Detroit. Hazing was rampant for rookies, who were expected to take it without complaint, but Cobb's personality just wouldn't allow him to stand for it, per Ty Cobb: A Terrible Beauty. He battled it out with his teammates, causing a rift that lasted for years. Besides his fellow players, he took on others, including a fan of a rival team.
Cobb's legend grew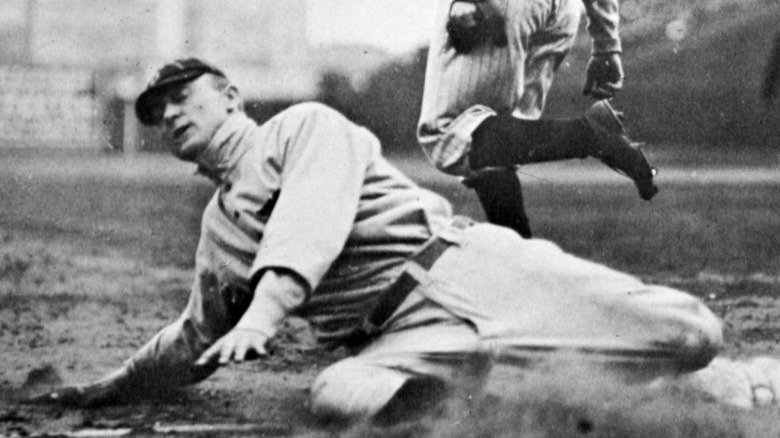 Transcendental Graphics/Getty Images
In 1912, during an away game against the New York Highlanders, Ty Cobb jumped into the stands and beat a New York fan who'd been heckling him the whole game. He only stopped when several police officers pulled him off, per Smithsonian Magazine. The bloody deed earned Cobb a 10-day suspension. Cobb's violent tendencies and his racism emerged one day in 1908 when a Black laborer yelled at him for stepping in some fresh asphalt. Cobb beat the man, garnering the baseball star a battery conviction with a suspended sentence.
While Cobb earned much of his reputation as a brawler, Christy Mathewson, the legendary pitcher for the New York Giants whose personality and reputation were the exact opposite of Cobb's, recalled in a 1914 syndicated newspaper article in the Winnipeg Tribune that Cobb "had a terrible temper when he came into the league, but he's quit breaking loose." The "Christian Gentleman," as the press dubbed Mathewson, said that Cobb regretted attacking the New York fan and was "very sensitive about it." Unfortunately for Cobb, his incredible record as one of the all-time great offensive players in history continues to be overshadowed by his penchant for violence.