The Super Bowl Won't Be The First Clash Of The Kelce Brothers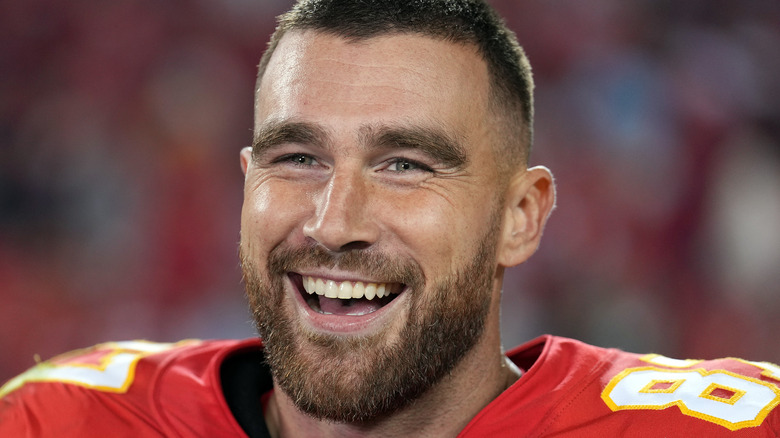 Jason Hanna/Getty Images
Super Bowl LVII — set to take place on February 12, 2023 at State Farm Stadium in Glendale, Arizona, per CBS Sports — will be more than just a matchup between the Philadelphia Eagles and the Kansas City Chiefs. It will also be the first time in history two brothers from different teams will face off in the competition, as TODAY reports. As NBC Sports notes, it's not so uncommon for brothers to play against one another in regular season NFL games, and in 2012, the Baltimore Ravens and San Francisco 49ers, coached at that time by brothers Jim and John Harbaugh, did meet in Super Bowl XLVII (via Bleacher Report).
Super Bowl LVII, though, will be the first time in the Super Bowl era that two brothers — in this case Travis Kelce, who plays tight end for Kansas City, and Jason Kelce, who plays center for the Eagles, two years apart in age — will compete against one another for the Lombardi Trophy, pro football's highest honor. Both Jason and Travis also played college ball at the University of Cincinnati. Speaking with TODAY in the lead-up to the big game, the Kelce brothers' mother, Donna Kelce, weighed in on her sons' notable accomplishments, as well as what it was like raising two football-obsessed future NFL stars. And like many siblings, Jason and Travis were highly competitive with each other even early on, as their mom, Donna, explained.
Donna Kelce couldn't watch both her sons' conference championship games in person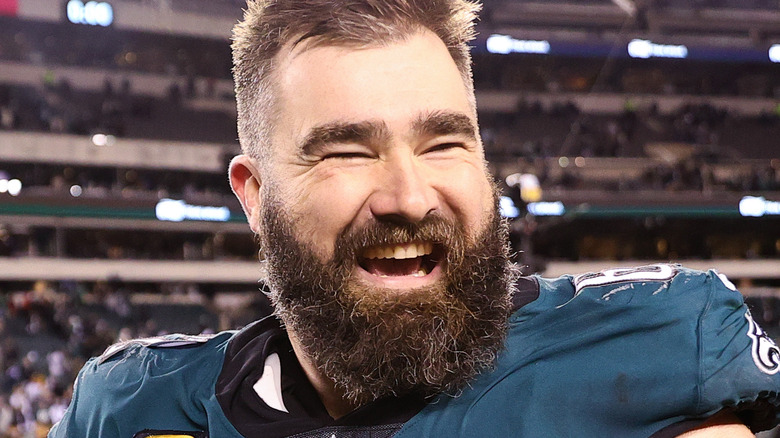 Tim Nwachukwu/Getty Images
Before Jason and Travis Kelce officially made the Super Bowl, Travis' team, the Chiefs, had to defeat the Cincinnati Bengals, and Jason's team, the Eagles, had a battle of their own with the 49ers in the AFC and NFC championships games respectively. Those two games happened on the same day, back to back, and as a result, Donna Kelce, their mother, and their father, Ed Kelce, could not watch their sons play in person as they had been able to in previous postseasons. Still, Donna and Ed watched the Eagles win from Lincoln Financial Field in Philadelphia, and then caught Travis play on TV, as CNN writes.
Notably, when asked which team she'll root for in Super Bowl LVII, like a good parent, Donna simply replied "the offense" (via TODAY). Both Jason and Travis play on that side of the ball for their teams, and therefore will never directly face each other in Arizona. On that note, once the Chiefs' ticket to the Super Bowl was punched after their 23 to 20 defeat of Cincinnati, Travis mentioned his mom's possible mixed allegiance in comments posted by the NFL on Twitter. He called it a cool scenario for the Kelce family to be in. "My mom can't lose," Travis said. The Eagles reached the Super Bowl after their 31 to 7 trouncing of San Francisco.
With Jason and Travis Kelce, everything's a competition
Regardless of the outcome of Super Bowl LVII, both Jason and Travis Kelce have tasted victory in the Super Bowl before. Jason, when Philadelphia defeated the Patriots in Super Bowl LII after the 2017 season (via Sports Illustrated) and Travis, who won in Super Bowl LIV when the Chiefs defeated the 49ers after the 2019 season, per Pro Football Reference. Travis' team made it back to the Super Bowl after the 2020 season but lost that matchup to the Buccaneers. Inevitably, with sons on opposing sidelines in Super Bowl LVII, one Kelce brother will end up disappointed. On that note, Donna Kelce responded on TODAY, that there won't be much she can say but simply hug both her sons and let them know she loves them at the conclusion of the game.
She also added that while young, there were a lot of hair-raising conflicts between the two brothers. Unsurprisingly, that often led to fights. "Everything was a competition," she said. "It was a competition to see who could get to the table first, who could get in the front seat of the car. It's just typical sibling rivalry. They egged each other on. Travis was always trying to get at his older brother, to (make him) pay attention to him, so there were a lot of fights. That's the way boys are." As for the Kelce brothers' dad, Ed, the fact that his sons will remain on opposite sidelines in the Super Bowl " ... probably rules out any fist fights" (via CBS News).