How Prince Avoided Electrocution During The 2007 Super Bowl Halftime Show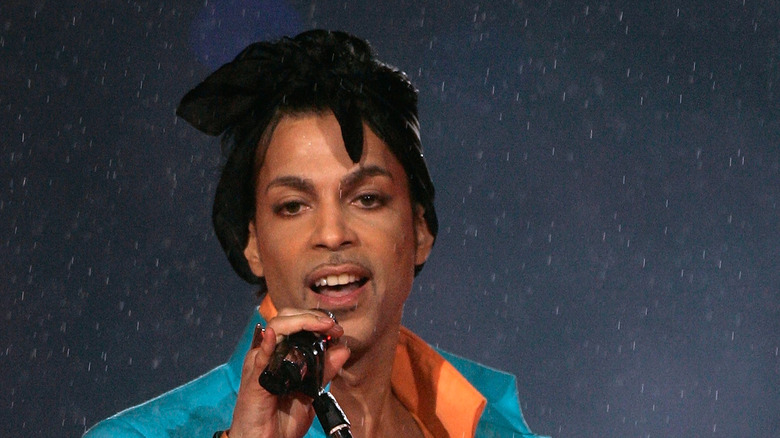 Donald Miralle/Getty Images
Yardbarker reports that Super Bowl XLI in 2007 was unforgettable for more reasons than one. For starters, it was the first time in 36 years that the Colts participated in the Super Bowl since the franchise departed Baltimore (per SB Nation). Also, it was famed football star Peyton Manning's first Super Bowl (and Super Bowl win), and it was also the first-ever Super Bowl played in the rain. Then, of course, there was Prince's now-iconic performance — the NFL had announced that prior December that he would perform the halftime show in South Florida's Dolphin Stadium.
According to The Ringer, NFL executives sought Prince to mediate the disastrous 2004 Super Bowl halftime show with Janet Jackson and Justin Timberlake. Prince's tour promoter, John Meglen, later recounted that Prince had NFL executive David Saltz over for dinner and gave him a private concert in his living room. The show sold Saltz, and the rest is history. Ever the perfectionist, Prince meticulously planned his performance and setlist. There was just one problem, though — the rain.
Fox Weather likened the Super Bowl rain storm on February 4, 2007, to a deluge. Both NFL executives and Prince's bandmates were fearful that the show would go wrong and someone would get hurt. Nonetheless, Prince was not unnerved by mother nature.
One man risked it all for the Super Bowl halftime show
The Ringer writes that the torrential rain put everyone involved in the halftime show's production on edge. NFL executives and producers attempted to devise safety solutions, including having Prince lip sync, but Prince dismissed their efforts and told them that the show would go on. He famously said (via Fox News), "Can you make it rain harder?" With Prince ready to perform, production frantically got to work. Executive producer Charles Coplin explained, "That stage had a bunch of moving parts and it was pouring rain. Supposedly part of the stage wheeled over a cable and severed the cable, and some very heroic guy had to plug in this cable in a pouring rainstorm and probably risk serious electrocution."
That guy, Per The Ringer, was Tony Ward from the lighting crew. Another executive producer, Don Mischer, stated, "And Tony, realizing we were now counting down to going on the air, took his pliers and stripped the insulation off the three cables. And he inserted them into a plug, just raw, and held that for the entire 12-and-a-half-minute duration, in the rain. To keep the lights and all that working. I'm glad I didn't know about that until afterward because that would've scared the hell out of me."
Ward ultimately saved the day and perhaps Prince. Moreover, Slate adds that the rain did not electrocute Prince thanks to wireless equipment that ensured the electricity went into the ground.
Critics believe Prince's halftime show is the best of all time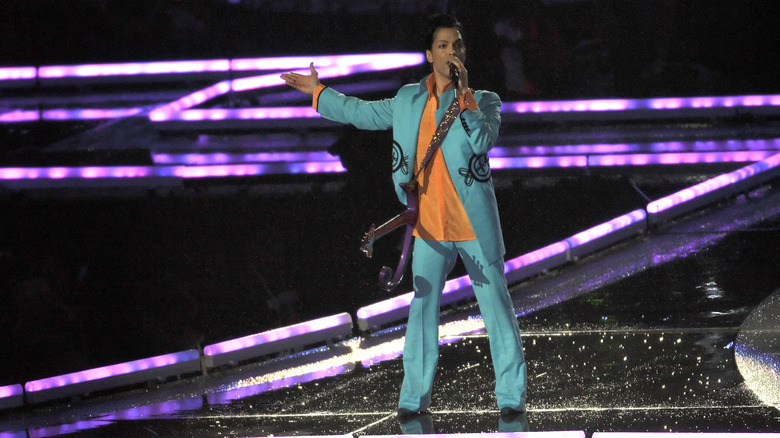 Anthony Correia/Shutterstock
Slate writes that Prince's halftime show went on without a hitch. The Ringer adds that as soon as Prince began to perform, anxious executives sighed a breath of relief. Don Mischer explained, "When we hit air I was really worried and concerned. And then after about 45 seconds, I began to say, 'This actually looks incredible. This could be a blessing in disguise.' Mist was dripping across the stage, creating this ethereal mood. Drops of water began to create stars on the lenses." Interestingly, Prince appeared dry on screen. His hairstylist, Kim Berry, stated, "That man was pure magic. He was one that could dance underwater and not get wet."
SB Nation reports that Prince performed for 12 minutes in the pouring rain. His setlist had covers along with his most popular hits, including, "We Will Rock You," "Let's Go Crazy," "1999," "Baby I'm a Star," "Proud Mary," "All Along the Watchtower," "Best of You," and "Purple Rain." Morris Hayes, Prince's keyboardist, later said (via the Chicago Tribune), "The fact that it did rain when it did and how (Prince) did 'Purple Rain' in the rain, you can't beat that ... It was magical, you know."
ABC News states that Prince died on April 21, 2016. Nevertheless, the Chicago Tribune notes that Prince's 2007 halftime show continues to inspire halftime show performers and fans alike. In 2023, NBC Sports ranked his halftime show as the best in Super Bowl History.