MMA Fighters Who've Fought Each Other In Real Life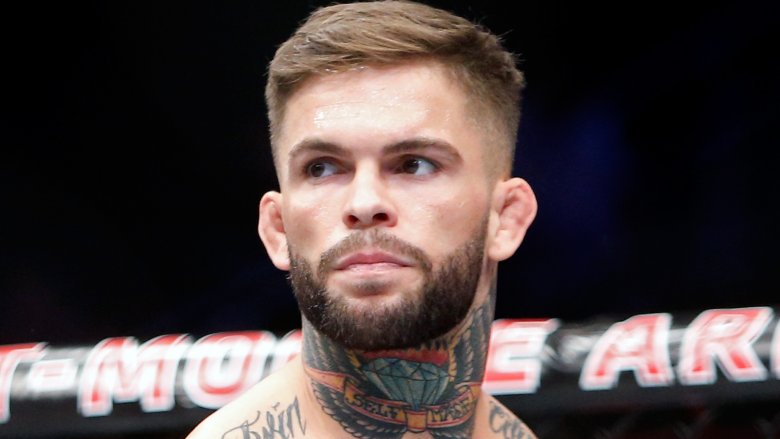 Getty Images
Mixed martial arts is a violent, bloody sport. Two athletes step into the cage and try their best to punch, kick, or submit their opponent. Obviously, people are going to get hurt. But at the end of the day, it's a contest of skill between professional fighters, men and women who respect one another and admire the craft and technique that MMA has to offer. 
Well, most of the time.
Occasionally, fighters hate each other so much they toss the artistry right out the window. Sometimes the tension gets so bad that these men and women just can't wait to step into the cage. Their rage spills out into the streets, locker rooms, or even a press conference stage. Instead of waiting for a referee and a rulebook, these angry men and women let the fists fly wherever they stand, fighting each other in real life instead of the ring.
Cody Garbrandt gets grabby
From Chuck Liddell and Tito Ortiz to Anderson Silva and Chael Sonnen, the MMA world is full of great feuds. Some are a little more manufactured than others, but some are completely organic and downright hateful, like the rivalry between Cody Garbrandt and T.J. Dillashaw. Garbrandt and Dillashaw were once both members of Team Alpha Male, a Sacramento gym lead by former WEC champion Urijah Faber. But the good vibes disappeared when Dillashaw left Alpha Male to train with striking coach and Faber rival Duane Ludwig.
Once Dillashaw joined Ludwig, all of Alpha Male turned on the then-UFC bantamweight champ. Both Faber and Garbrandt accused their former teammate of being an overzealous training partner, a guy who hurt people in the gym. Garbrandt labeled Dillashaw a sell-out, a liar, and a snake, and things finally exploded when the two were picked as rival coaches on UFC's reality show The Ultimate Fighter.
The plan was for Garbrandt and Dillashaw to coach separate teams of upcoming fighters, and after the show was over, the two would duke it out in the Octagon. (At the time, Garbrandt was champion.) But during the series, things got a little too personal, and Garbrandt lost his cool. After a heated argument, Garbrandt grabbed Dillashaw's throat hard, but before T.J. could fire back, the coaches were pulled apart by their teams. The two bantamweights finally settled their differences at UFC 217, where Dillashaw got his revenge, dropping Garbrandt with a nasty shot and walking away with the belt.
Don't mention Michael Chiesa's mom
There are some things you can't do in mixed martial arts. You can't pull hair, gouge eyes, or hit below the belt. You also can't talk about Michael Chiesa's mom. The UFC lightweight is a self-proclaimed momma's boy, so when he attended a press conference in May 2017, he got a little annoyed when Kevin Lee mentioned his dear mom.
Chiesa and Lee were set to fight at UFC Fight Night 112, and to promote their upcoming match, they were part of the UFC's Summer Kickoff, a conference featuring some of the sport's biggest stars. But the duo stole the show when Lee made an innocent comment about Chiesa's mom. "I just hope [Chiesa] shows up," Lee taunted, "because I know his momma got tickets." For some reason, Chiesa reacted like Lee had just called his mom the dirtiest word ever invented. Furious, the lightweight jumped up and began screaming, "Don't talk about my mom!" before rushing across the stage.
Never one to back down from a fight, Lee ran to meet Chiesa in the middle of the stage. Security guards tried to break them up, but before they could grab Lee, he clocked Chiesa hard with a right hand. Fortunately, Lee was pulled off before he could do any more damage. Admittedly, his comments seem pretty harmless, but as Chiesa explained to reporter Ariel Helwani, you can do pretty much anything to promote a fight, "but you just don't bring families into it." Sadly, Chiesa didn't get a chance to defend his mom's honor, as Lee won their fight due to a controversial stoppage.
Never taunt a Cyborg
Cris "Cyborg" Justino is widely considered the greatest female MMA fighter of all-time. A featherweight who's competed in both Invicta and the UFC, Cyborg has left 20 victims bruised, battered, and thoroughly beaten. And that's not including Angela "Your Majesty" Magaña, a strawweight known for her inflammatory Twitter account. In April 2017, Magaña decided to mock Cyborg on social media, comparing Justino's face to Billy the Puppet. (You know, the creepy little toy from the Saw franchise.) Unfortunately for Magaña, Cyborg isn't the kind of person who forgives and forgets.
About a month later, Cyborg and Magaña were both attending a Las Vegas retreat hosted by the UFC, and when they finally came face to face, Cyborg wanted to "discuss" Magaña's unflattering tweet. According to fighter Chris Weidman, Cyborg got in Magaña's face and began screaming things like, "Who the [expletive] do you think you are?" As a crowd grew, Magaña began swearing back, which was a big mistake. Especially since, physically speaking, Cyborg versus Magaña is kind of like the Hulk versus Loki. (Cyborg fights at 145 pounds. Magaña fights at 115.)
Eventually, Cyborg got tired of feeding the troll and socked her online opponent in the mouth. UFC president Dana White condemned Cyborg for her actions, and the featherweight was cited for misdemeanor battery by the Las Vegas Metropolitan Police Department. But most MMA fighters — like UFC bantamweight Miesha Tate — praised Cyborg for punching Magaña, saying she had it coming. The strawweight was even kicked out of her gym for her behavior after the incident. It just proves that you should never bully anyone online, especially someone who outweighs you by around 50 pounds.
The backyard brawl
The Ultimate Fighter first aired in 2005, and this reality show had a simple premise. Stick a bunch of up-and-coming fighters in a house, split them into teams, and make them fight each other. The winner gets a UFC contract. Some very successful athletes have come off the show, including Forrest Griffin, Michael Bisping, and Nate Diaz. Of course, if you lock a bunch of young hotheads inside a house for weeks and weeks — a house stocked with alcohol — sooner or later, things are going to get out of hand.
Perhaps the most infamous incident came in Season 5, when Marlon Sims and Noah Thomas had a backyard brawl. There was tension between them from the start, and it only got worse when both fighters lost their respective matches and were eliminated from the competition. Still, the two were allowed to stay in the house, and their increasingly bad moods only added to the drama. And after a couple drinks, Sims decided he'd had enough of Thomas' attitude.
After trading insults, the two began trading blows, with Thomas shooting in for a takedown. Soon, they were rolling on the ground and hurling haymakers. There was a guillotine attempt, an eye gouge, and a head kick before Thomas put Sims in an arm bar. Of course, that's way more effective when you aren't fighting on concrete: Sims broke free by slamming his opponent's head into the sidewalk. But while the backyard brawl was great for promotional material, the UFC brass wasn't happy. They didn't want audiences thinking all UFC fighters were wild men, so Sims and Thomas were kicked off the show and banned from ever competing in the Ultimate Fighting Championship.
Fabricio Werdum and his deadly boomerang
The UFC is full of good guys and lovely people, but the MMA organization has its fair share of problematic characters, like Colby Covington and Fabricio Werdum. Covington is an American welterweight and notorious troll who's insulted Brazilian fans by calling them "filthy animals." As for Werdum, he's a Brazilian heavyweight with a history of picking fights with smaller athletes. Even worse, he's pretty tight with Ramzan Kadyrov, a Chechen dictator accused of murdering gay men.
So when Covington and Werdum crossed paths, the two were destined to thrown down. Both fighters were visiting the Land Down Under for an upcoming UFC event, and when they bumped into each other on the street, things took a violent — and very Australian — turn. According to Werdum, he was seeing the sights with his coach, Rafael Cordeiro, but as they walked past Covington, the slurs started flying. As Werdum tells it, Covington made a remark about "filthy Brazilians," so Werdum slapped Covington's phone out of his hand. Covington then allegedly threw a kick before things got really weird.
However, Covington tells a totally different story. The welterweight claims he was minding his own business when the heavyweight punched him in the head. Then Werdum and Cordeiro allegedly threatened to kill him. Covington says he never threw a kick, although he does admit to hurling an anti-gay slur. But what happened next is indisputable as it was caught on camera. Earlier that day, an Australian fan had given Werdum a boomerang, and in the heat of the moment, the Brazilian pegged Covington with the wooden weapon.
Naturally, Covington went to the cops, and Werdum had to pay a $460 fine. Of course, he didn't apologize. Instead, the heavyweight just said he would've thrown whatever he was holding. "If I had maybe a burger or a cake in my hands," Werdum said, "I'd throw that for sure, but I had a boomerang."
The American Gangster vs. the Axe Murderer
Conor McGregor is the undisputed king of MMA trash talk, but before the notorious Irishman, the trash talk game belonged to Chael Sonnen. Nicknamed "The American Gangster," Sonnen wasn't the most exciting competitor, but he could hype a fight like nobody's business. The man brought WWE-level insults to the UFC, and he was always ready with a quip or a put-down. Unfortunately, a lot of his jokes were aimed at Brazilian fighters and fans, as Sonnen had a bitter rivalry with middleweight champion Anderson Silva.
But "The Spider" wasn't the only Brazilian Silva who wanted to punch Sonnen's face. Wanderlei "The Axe Murderer" Silva was a man with absolutely no sense of humor. Unable to take a ribbing, this guy despised Sonnen for his anti-Brazilian remarks. So when the two were chosen as coaches for The Ultimate Fighter: Brazil 3, it was only a matter of time before things got crazy. And in Episode 6, audiences got to watch as Silva took a swing at Sonnen's head, marking the first time coaches had fought on the actual show.
In fairness, the Gangster tried to stop the fight from happening. As the Axe Murderer moved in for the kill, Sonnen pushed him away and said, "I can't let you get close." But Silva kept coming, ignoring Sonnen's pleas to stop. So after Silva threw his punch, Sonnen shot for the takedown. The two ended up on the ground, and that's when things got even crazier. Instead of pulling them apart, Silva's assistant coach started throwing shots at Sonnen before everyone else in the room could separate them. Unfortunately, MMA fans would have to wait years — courtesy of failed drug tests, a bizarre escape attempt, and a couple of suspensions — before getting to see Sonnen and Silva fight for real in Bellator MMA, where Sonnen left the cage with a decision victory.
No pride at Pride: Shockwave
Once upon a time, the UFC had a serious MMA competitor, a Japanese organization called Pride. Known for its violent rules and stable of famous fighters (Quinton "Rampage" Jackson, Dan Henderson, Fedor Emelianenko), Pride might've been based in the East, but it felt like the Wild West. You could soccer kick an opponent in the face, fighters could wear shoes, and the opening round was ten minutes long. And sometimes, thing could get pretty bloody ... backstage.
In December 2005, in Saitama, Japan, Charles "Krazy Horse" Bennett had just defeated Ken Kaneko. This didn't sit well with Kaneko's cornerman, Cristiano Marcello, a member of the Chute Boxe Academy. When the fighters retired to the locker room, Marcello challenged Bennett to a fight, and Krazy Horse accepted, right then and there. Bennett bounced up from his chair, and punches were thrown before Krazy Horse took Marcello down to the ground and began raining punches.
The exchange was caught on tape, but there's an edit in the film, causing some to suspect the camera was turned off when Marcello's Chute Boxe buddies allegedly ganged up on Bennett. Whatever happened, Marcello somehow caught Bennett in a triangle choke, squeezing until the man went unconscious. But hey, fighters can be forgiving fellows, and ten years after the unofficial fight, Marcello posted a photo on Facebook of himself hanging out with Krazy Horse, which suggests time really does heal wounds.
Khabib Nurmagomedov vs. the Diaz brothers
A lot can change in three years. For proof, just look at the careers of Khabib Nurmagomedov and Nate Diaz. These days, Nurmagomedov is the UFC lightweight champion and considered to be an all-time great grappler. As for Diaz, he's one of the sport's most popular fighters, thanks to his rivalry with Conor McGregor, his brash attitude, and his love of herbal remedies. But in 2015, Diaz and Nurmagomedov were nowhere near as famous as they are today, but that didn't mean they were any less violent. And when these two lightweights crossed paths at a World Series of Fighting (WSOF) event, thing got a tad physical.
Diaz and Nurmagomedov were both attending the WSOF event as spectators, watching friends on the card. But there was bad blood between them, and when Nate saw Khabib, he immediately launched into trash talk. His older brother, Nick, was also involved, and while Khabib claims he tried to remain calm, you can only do so much when both Diaz brothers are coming your way. Eventually, things escalated, with a WSOF official claiming Nate threw the first punch. Nick also threw a can of beer, and the showdown turned into a gang fight.
But once the groups were separated, they just went to war outside the arena, with people kicking downed opponents and throwing metal chairs. It was absolute madness, and while there was no clear winner, we'd love to see an official rematch between Diaz and Khabib someday.
The Jones-Cormier smackdown
In the history of MMA, there's never been a rivalry like Jon Jones versus Daniel Cormier. They're the two greatest light heavyweights on the planet, and they hate each other's guts, perhaps because they're so radically different. Cormier is the family man, widely considered one of the sport's good guys, even if he's had a rocky history with the fanbase. Jones, on the other hand is the bad boy, the wild man, and a dude who knows how to press Cormier's buttons.
On top of all the hatred, the Jones-Cormier feud is incredibly complicated. It's a saga full of drug tests, canceled bouts, a car crash, a pregnant woman, a highly-coveted title with a bizarre backstory, and two actual fights — one of which ended in a disqualification. We can't even begin to parse the madness of Jones-Cormier here, but before their first official fight, these two titans threw down outside the Octagon, in a brawl that involved unlucky security guards and flying footwear.
In 2014, Jones (then the champion) and Cormier were squaring off for a photo op at the MGM Grand Hotel. However, Jonny "Bones" got a little too close for "DC's" comfort, resting his forehead against Cormier's. The challenger freaked out, shoving Jones away, and that's when the champ came back with some heavy duty punches. Poor Dave Sholler, the UFC's public relations man, tried to step in between, but Jones just tossed him out of the way. And that's when Cormier tried to shoot for a takedown ... only instead of getting Jones, he landed on the head of security.
Having tumbled off the stage, Cormier looked up to see Jones coming down hard, raining down with all his fire and fury. After the two were separated, a furious DC pulled off his shoe and threw it at Jones, missing the champ and hitting a reporter. As Cormier was escorted from the room, Jones stormed onto the stage and started screaming like a madman. It was an embarrassing moment for the UFC, but one that would cement the Jones-Cormier rivalry for all time.
The Diaz gang attacks Jason 'Mayhem' Miller
Before it was purchased by the UFC in 2011, Strikeforce was an important organization in the MMA world. It was home to fighters like Ronda Rousey, Fedor Emelianenko, and the Diaz brothers. Unfortunately, both Nick and Nate played a big part in bringing the organization to its knees, with an unofficial MMA brawl for the ages.
The madness started in April 2010, when Strikeforce put on Dan Henderson vs. Jake Shields in Nashville. The fight was being aired on CBS, which was too bad for viewers — the fight was a drag. But fans got their adrenaline rush after Shields defeated Henderson. During the post-fight interview, another fighter named Jason "Mayhem" Miller (also the host of MTV's Bully Beatdown) stormed into the ring, grabbed the mic, and demanded to fight Shields.
This was a huge mistake.
Shields was a member of the Cesar Gracie team, a group that included both Nick and Nate Diaz, as well as the legendary Gilbert Melendez. And as soon as Miller started mugging for the camera, pretty much the entire Cesar Gracie camp swarmed Mayhem and began kicking and punching the man into a bloody mess. The whole fight was aired live, and it prompted CBS to pull the plug on Strikeforce, which was a deathblow for the company. It was a truly crazy moment in the history of mixed martial arts, but as commentator Gus Johnson pointed out, "Sometimes these things happen in MMA."