The Slippery Super Bowl Grass Took Two Years And Almost A Million Dollars To Produce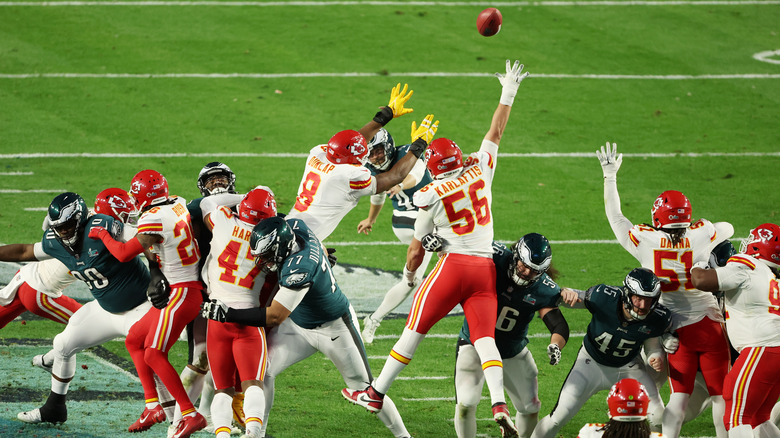 Sean M. Haffey/Getty Images
It takes a good deal of effort to ensure the Super Bowl goes on without a hitch. The stadium is chosen years in advance, and a litany of tasks are carried out so that everything goes according to plan when game day comes, and that includes preparing the field. State Farm Stadium in Glendale, Arizona, was the location for Super Bowl LVII, and as reported by Fox Weather, unlike other stadiums, State Farm grows grass in another location and transports it to the stadium before an event. The grass was grown for more than a year before it was placed on the field weeks before the big event (via Fox 10 Phoenix).
As noted by the stadium's website, the grass was grown on a retractable tray with wheels. It was rolled out in the open to get its daily dose of sunshine and then rolled back inside to protect it from the cold weather at nighttime. According to CNN, the grass breed — Tahoma 31 — is a mixture of two types of Bermuda grasses and Rye grass. The result is a high-quality turf that can withstand and recover from heavy foot traffic, which is ideal for the Super Bowl. "We believe that, right now, this is one of the strongest varieties of hybrid Bermuda grass you can get," NFL field surface director Nick Pappas told ESPN.
The second-best field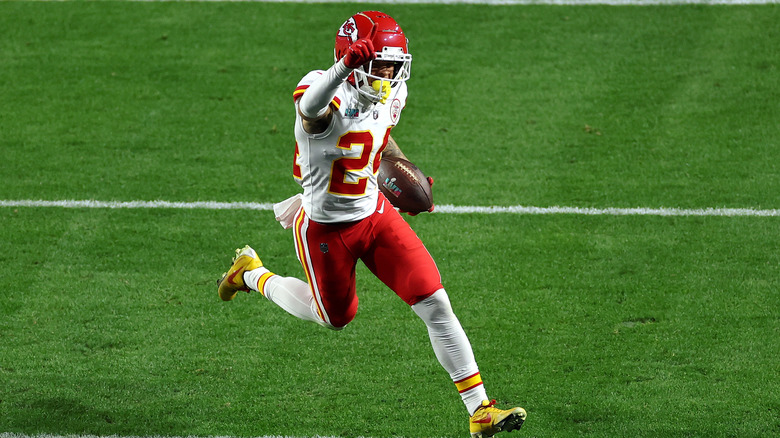 Sarah Stier/Getty Images
George Toma, also known as The Sodfather, is a groundskeeper that has been in charge of taking care of the grass for all Super Bowl games. As he told Insider, the Super Bowl LVII turf is the second-best he's seen in his decades of work. Toma also compared how much the cost of preparing the field has increased. He claimed that they never spent over $1,000 for the turf on the first 27 Super Bowls. For Super Bowl LVII, the field cost a whopping $800,000 and took 18 months to prepare for the big day.
Despite the fortune and time that was spent on the grass, many were less than impressed on game day. A lot of people noticed that players lost their footing or fell more than usual, and the playing surface was blamed, as reported by SB Nation. Many took to Twitter to voice out their opinions and called the field a giant Slip 'N Slide. ESPN's Booger McFarland surmised the slippery surface may have been caused by moisture due to the desert environment, while former Kansas City Chiefs general manager Scott Pioli said it may be caused by the painted grass. The NFL said that it will be looking into donating the field after its use, per Insider.