The Wildest Things To Happen During The Murdaugh Murder Trial
Alex Murdaugh's murder trial has everything true crime fans could want; family drama, corruption, and the downfall of a prominent person. On June 7, 2021, Murdaugh's wife, Maggie, and their son Paul were shot to death at the family's South Carolina property known as Moselle. Prosecutors indicted Murdaugh on two counts of murder and two counts of possession of a weapon in July 2022. Murdaugh claims that on the day of the murder, he was with Maggie and Paul but later left to visit his mother. Maggie and Paul, he said, were murdered while he was with his mother.
When Murdaugh returned home, he found their slain bodies and called 911. Although Murdaugh claims he's innocent and pled not guilty, the murder charges are only the beginning of his legal woes. Murdaugh, a former attorney, has been in jail since October 2021 over allegations that he defrauded his clients out of millions of dollars. Murdaugh's murder trial began in January 2023, and the disgraced lawyer faces up to 30 years in prison if convicted. Prosecutors allege that Murdaugh murdered his wife and son to divert attention from his financial crimes. Having said that, Murdaugh's trial has been anything but smooth and includes disruptions from his family and a bomb threat.
The Murdaugh family's courthouse misbehavior
Alex Murdaugh's surviving family has been front and center in the murder trial. Amongst those who attended the proceedings included Murdaugh's son Buster, his sister Lynn, and his two brothers, Randy and John Marvin Murdaugh. Although Randy and John followed courthouse etiquette, the same can not be said for Murdaugh's son and sister. Buster is reported to have flipped off Mark Tinsley while on the Stand. Tinsley is a lawyer for Mallory Beach's family, per CNN. Beach died in a boat accident in 2019. Paul Murdaugh was allegedly under the influence and driving the boat at the time of her death.
As a result of this obscene gesture, officials moved Buster to the back of the courtroom. He allegedly responded by kicking a water bottle, according to Fits News. Likewise, in court, CNN reported that Lynn gave Murdaugh a book, "The Judge's List" by John Grisham. This is not allowed, and Lynn is said to have become upset by this. Officials also moved her to the back, and they later seized the book. They warned Buster and Lynn that if they continued this disruptive behavior, they would ban them from the courtroom.
COVID-19 also caused upheaval in the courtroom. In February 2023, two jurors out of 12 tested positive for the virus. Both the defense and prosecution hoped to delay the trial to prevent the possibility of a mistrial, but Judge Clifton Newman decided against it.
Someone called in a bomb threat to the courthouse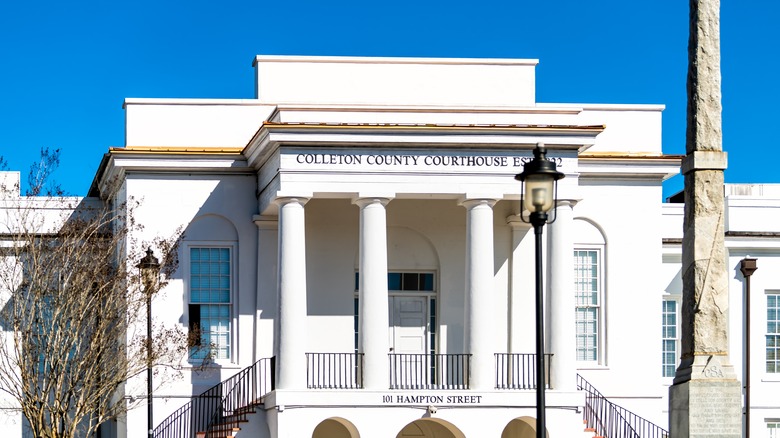 Andriy Blokhin/Shutterstock
Beyond the family and COVID-19 drama, Alex Murdaugh's murder trial had a bomb threat. In early February 2023, Judge Clifton Newman ordered everyone in the Colleton County Courthouse in South Carolina to leave after the courthouse received a call about a bomb. Spectator Marty Yates recounted what he witnessed. He said, "Alex was taken by the police, but they grabbed the family and rushed them out ahead of us," according to NBC News. The authorities and police dogs cleared the scene, and as of the time of this writing, it's unknown who made the call.
However, officials note that the voice on the line sounded like a man. The bomb scare ultimately led to a two-and-a-half-hour halt of the trial. Nonetheless, this did little to distract the jury from claims that Murdaugh murdered his son and wife. Prosecutors presented the jury with damning evidence regarding his financial crimes and a Snapchat video. Paul Murdaugh took this video of a dog shortly before his murder. No people are seen in the video, but three voices can be heard. Prosecutors contend that one of the voices is Alex Murdaugh.
However, Murdaugh alleges that he was not at the crime scene until after his son and wife were murdered. According to NBC News, a member of his defense team said that the prosecution has a "whole lot more evidence about financial misconduct than they do about evidence of guilt in a murder case."