Who Was Morganna, The Kissing Bandit Of The MLB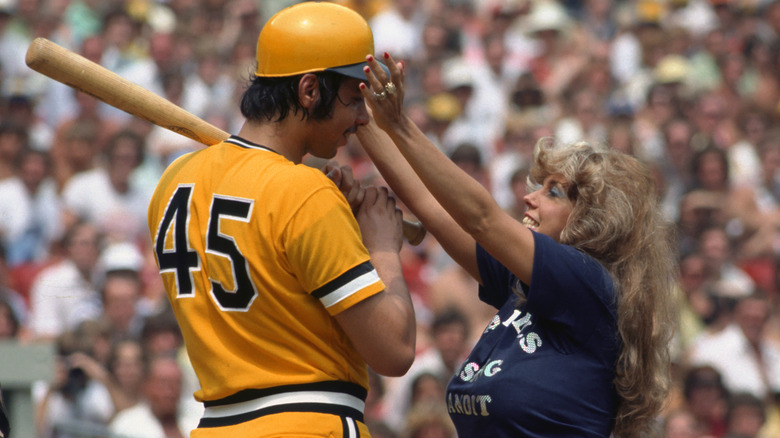 George Gojkovich/Getty Images
The year was 1969. Neil Armstrong walked on the moon, the Woodstock Music and Art Fair set a new standard for musical festivals, "Sesame Street" debuted and changed children's entertainment forever, and, of course, Morganna The Kissing Bandit made her way onto a baseball diamond and became a legend. Morganna Cottrell Roberts became a baseball fan as a small child after her grandfather took her to a game in her hometown of Louisville, Kentucky. At 13, she ran away from a Catholic boarding school to Baltimore, Maryland, where she lived on the streets for a time before starting a successful career as an exotic dancer at 17 after telling a club owner she was 18. Roberts was known for her comedic work and dancing, even throwing an impersonation of film critic Gene Shalit into her act.
Morganna Cottrell became a national figure in 1969 while attending a Cincinnati Reds game with some friends at Crosley Field. The pals noticed that several Reds baseball players had taken notice of them as they were sitting in the stands close to the field, except Pete Rose, who remained aloof. Cottrell's friends bet her $5 that she wouldn't run onto the field, approach Rose, and give him a kiss. Undaunted, she hopped the fence and ran over to Rose in the center field. She told him she was a fan of the Ballpark Franks he advertised on television before kissing him on the cheek and returning to her seat. 
It all started with Pete Rose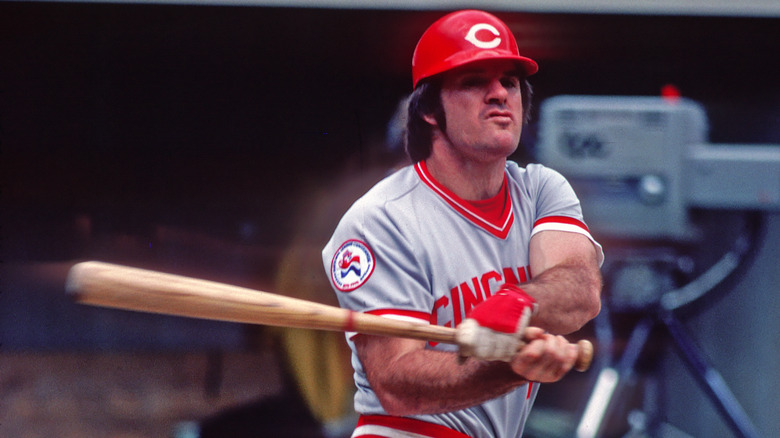 George Gojkovich/Getty Images
In 2016, Fox Sports 1 tweeted out a short animated video in which Pete Rose (above) told the story of his unusual introduction to Morganna Cottrell: "Before I could even see who it was, these arms were around me and I'm ready to swing at them when I realize it's this beautiful young girl and she keeps chasing me." He remembered telling her she was going to get in trouble for being on the field, to which he said she replied, "I sure in hell hope so." At that point, Morganna embraced Rose and kissed him on the cheek, noting, "There's no kissing on the lips in the middle of a baseball diamond." She then reportedly thanked him and walked away as he stood in shock.
Cottrell didn't get in trouble for her stunt. The next day, a Cincinnati sports writer referred to her as "Morganna The Kissing Bandit," and a star was born. According to Pete Rose (via Fox Sports 1's tweet), " ... for a while, I swear she was bigger than any one baseball player!" In a 2019 interview with USA Today, Morganna had a slightly different memory of how Rose reacted to her approach: "And he turned to me, and I remember exactly what he said, 'You crazy blanking broad.' But he used a big word, 'Are you out of your blanking mind?'" She would go on to rush the field and kiss many more baseball players, including such legends as Nolan Ryan, Cal Ripken, and George Brett. 
The millionaire kissing bandit
By 1990, Morganna The Kissing Bandit had smooched 37 Major League Baseball players, 12 National Basketball Association players, many minor league baseball, basketball, and hockey players, as well as managers, umpires, mascots, and owners. She went on to be a partial owner of the Utica Blue Sox minor league baseball team, had a line of peanuts by Carolina Fine Snacks named after her, got her own line of baseball cards, and once bungee jumped onto a baseball field as CNN's "Play of the Day." Her presence at games often doubled the number of fans in the stands, and she reportedly made millions of dollars off her Kissing Bandit persona. 
It wasn't all fun and kisses, though. She was arrested 19 times for running onto fields and suffered a broken kneecap, tailbone, and three cracked ribs, noting, "You know, sometimes the rent-a-cops get a little carried away. That's just part of it. That and the jail is just part of it." Morganna retired from The Kissing Bandit in 2000. As of 2019, she lived in Ohio while spending summers in Florida along with her husband, Bill, and dog Bella. She told USA Today that she still gets fan mail and wants "to live to be 200 but not look over 100." She still enjoys a ballpark frank, saying she asked her husband to take her to Costco for her birthday "because I love their hot dogs."