Why A Wild Discovery In The Pacific Sparked Cocaine Shark Jokes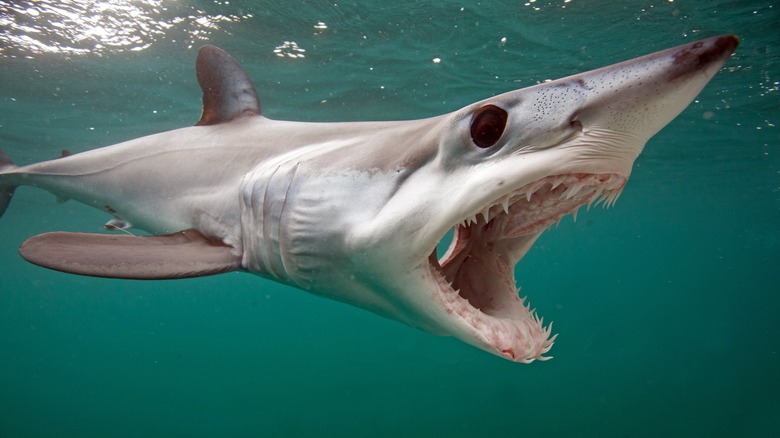 Jessica Heim/Shutterstock
It's hard to determine the whys and wherefores of what will catch the social media zeitgeist, at least for the short time our brief attention spans will allow before moving on to the next distraction. Sometimes it's a picture like the Tumblr dress way back in 2015 that the internet fought over, unable to determine if the piece of clothing was blue and black or white and gold. Or the stock photo dubbed "distracted boyfriend" from 2017 that gave rise to a million memes, and left the photographer behind the image scratching his head in wonder, per Wired.
And sometimes it's a news story too strange to ignore that ties in with another internet sensation. On February 8, 2023, the New Zealand police reported finding something in a remote area in the Pacific Ocean that Twitter users suddenly became obsessed with, billing the story as the water-logged version of the infamous Cocaine Bear incident (and now movie), according to The Daily Beast.
Blow me down!
New Zealand police, working with New Zealand Customs Service and the New Zealand Defence Force, recovered 3.5 tons of cocaine floating in the ocean after international drug smugglers dropped the 81 bales at a floating transit point, per the Associated Press. A navy ship brought the drugs, valued at $316 million U.S., back to New Zealand to be cataloged and then destroyed. "We believe there was enough cocaine to service the Australian market for about one year, and this would be more than New Zealand would use in 30 years," New Zealand Police Commissioner Andrew Coster told the AP.
Although the police have yet to make any arrests, Coster said that the drug seizure dealt a blow to smugglers, dealers, and South American producers, per a New Zealand Police press release. The news immediately spawned jokes and memes on Twitter, including one by a user with the handle NUFF showing a photo of bales of cocaine being hauled out of the ocean with a great white shark photoshopped into the image, titled "Cocaine Shark d-doo, d-doo, d-doo."
Cocaine bear and the lesser-known cocaine boar 
Cocaine Shark is a reference to a real-life animal-finds-cocaine-and-overdoses story that most recently made the jump to the big screen as "Cocaine Bear," a thriller and dark comedy directed by actor and filmmaker Elizabeth Banks that was released in February 2023. AMC Theatres set up a Twitter poll to determine who would win in a fight, Cocaine Bear or Cocaine Shark, saying "there can be only one!"
The actual story of Cocaine Bear happened nearly 40 years ago when an American black bear in Georgia stumbled onto 40 plastic containers of cocaine, which it ingested and then promptly died of a massive overdose, per The New York Times. Cocaine Boar, another real-life incident that took place in Italy in 2019, didn't receive the same media attention, and therefore less social media chatter and no memes to speak of. Perhaps because the boar didn't actually ingest the nearly $22,000 worth of cocaine that drug dealers had buried in the forest, but just rendered it unusable, per Toscana Media News.