Lisztomania Has 'The World's First Rock Star' To Thank For Its Name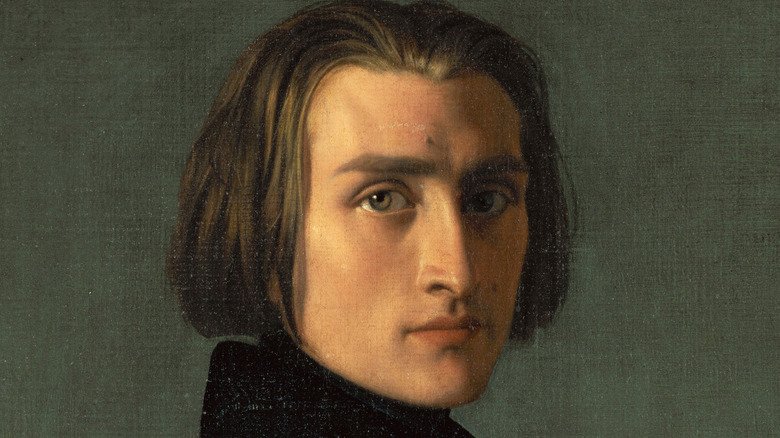 Brandstaetter Images/Getty Images
Most people have heard of "Beatlemania," the term given to describe the enthusiastic reception Beatles fans gave to the band, particularly when they landed in the United States for the first time on February 7, 1964, only to be met by 3,000 screaming, cheering fans, per History. However, the term "Beatlemania" isn't meant to imply a literal medical condition caused by feelings of excitement or adoration for a celebrity and their body of work. This was not the case for "Lisztomania," a term that described the absolute craze many European music fans felt for Hungarian pianist and composer Franz Liszt as he rose to fame through the 1840s. 
The term is thought to have been coined by writer and Liszt contemporary Heinrich Heine in his "Music Feuilletons" as published in The Music Quarterly in 1922. Heine described "fainting spells that broke out in Germany and specifically Berlin when Liszt showed himself there." The composer ignited a mass mania of sorts according to One Music, saying fans experienced a "nearly-mystical ecstasy" at his performances. For this reason, in recent times, Liszt is often coined "the world's first rock star" by various media outlets. 
Franz Liszt was born on October 22, 1811, in Raiding, Hungary, per Biography. His father was an amateur musician who began working with Franz when the boy was very young, teaching him how to play piano and encouraging him musically. Liszt was considered as a child prodigy by the age of 6 and was composing by the age of 8.
A child prodigy with a dramatic performing style
By the time Franz Liszt was 9, he was performing publicly, per Biography. The BBC notes that he became known not only for his musical works but for his distinctive performing style, in which he'd throw his head and hair back and sway dramatically to the music as he played. Eventually, composer Antonio Salieri offered to teach him composing for free. His reputation continued to grow and flourish, although he was denied admittance to the prestigious Paris Conservatory at the age of 12 due to his lack of French citizenship. He began private study with Ferdinando Paer and wrote his first and only opera during this time period. 
After the death of his father in 1826, Liszt, then 15, experienced a period of profound depression and gave up music for several years in favor of extensive reading on religion and art. Per Britannica, between 1830 and 1832 he met composers Hector Berlioz, Niccolo Paganini, and Frederic Chopin, all of whom influenced him and inspired him to compose and perform once more.  In 1833, he met his future partner, writer Marie d'Agoult, and was further inspired by his feelings for her. They would go on to have a long-term relationship that produced three children. In 1839, the couple separated and Liszt spent the next eight years touring Europe, playing over a thousand shows in many countries, from Ireland to Russia, and Portugal to Turkey. The BBC quoted Heinrich Heine: "In the process, he effectively invented the profession of the international concert pianist."
Why did Franz Liszt cause such chaos?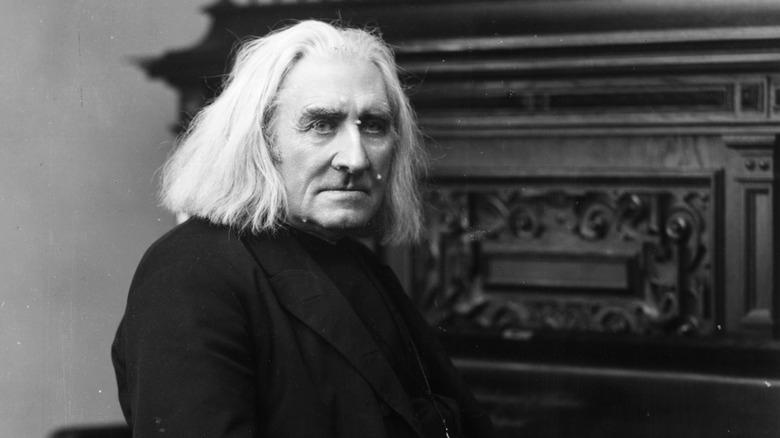 W. And D. Downey/Getty Images
Why did Franz Liszt inspire "Lisztomania" in so many 1840s music fans? In addition to his dramatic, unconventional playing style and good looks, he got lots of attention from the press, which helped drive up people's excitement. The BBC further quotes Heinrich Heine: "The popular press of the time reported at length on Liszt's concerts and at even greater length on the numerous escapades that fueled their feverish interest in him." 
Concertgoers at the time were generally expected to behave calmly and with decorum; as word spread about the "mania" that accompanied Liszt everywhere he went, this challenged formerly strict expectations about how to react to composers and their music. According to Heine, "One eyewitness recalled that 'on one occasion a woman snatched up a half-smoked cigar that Liszt had cast aside and in spite of repeatedly retching she continued to smoke it with feigned delight.'" Far Out Magazine also notes the physicality of his performances; not only did his complicated compositions require a great deal of stamina, but he would also perform in profile so the audiences could see his sweaty face shining with effort as he swung his famous hair around.
According to Biography, Liszt stopped touring in 1847 after meeting Princess Carolyne zu Sayn-Wittgenstein, who encouraged him to concentrate on teaching and composing and live with her. He went on to create the "symphonic poem," an orchestral composition devoted to a poem, story, or physical work of art, and continued teaching and composing until his death in 1886.