Why Jimmy Carter Owes His Presidency To The Allman Brothers Band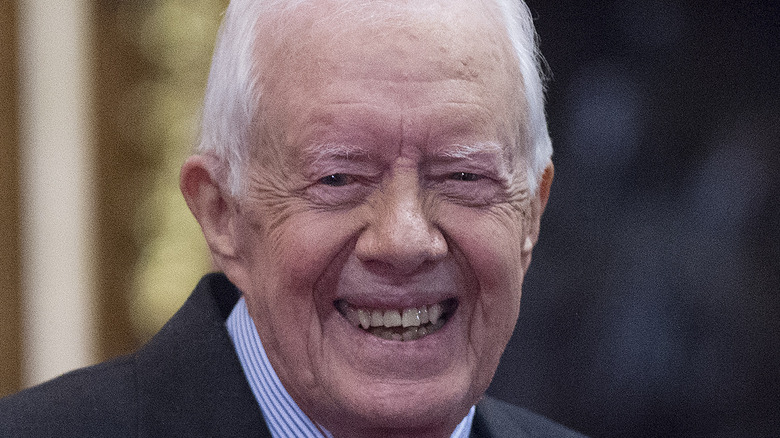 Wpa Pool/Getty Images
Jimmy Carter, wearing a dark suit and wide tie with a geometric pattern, stood on stage amid the roar of the crowd, which looked more rock 'n' roll than most traditional political rallies. It was November 25, 1975, in the Providence Civic Center in Rhode Island's state capitol. "Thank you very much," the Georgia governor, who was amid a grass-roots run for the presidency, told the audience to a roar of approval (via YouTube). "I'm gonna say four things. First of all, I'm running for president. Secondly, I'm gonna be elected. Third, this is very important, I need your help. Would you help me? And fourth, I want to introduce to you my friends and your friends, the ones that are gonna help me get elected, along with you, the great Allman Brothers."
With that, the crowd went wild for the Macon, Georgia-based band that combined rock, blues, country, and jazz into a package that launched Southern rock in the 1970s. And they were instrumental in helping Carter raise money for his shoe-string political campaign for the White House.
Gregg Allman laughed at Jimmy Carter's ambitions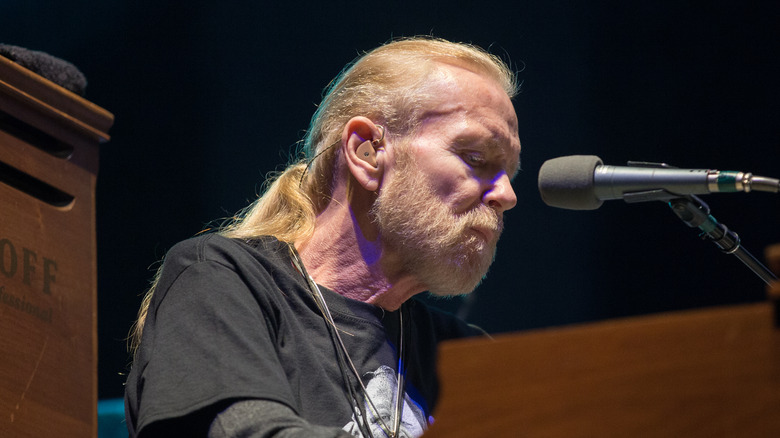 Sterling Munksgard/Shutterstock
The members of the Allman Brothers, including guitarist Dickey Betts and Gregg Allman, the keyboardist and singer, met Jimmy Carter in 1971 when Carter was running for governor of Georgia. During this time, the politician began spending time at the Allman Brothers' record label, Capricorn Records, after becoming friends with the label's founder, Phil Walden. "He came by for a session — turned out to be two or three times," Betts told Rolling Stone.
When Carter initially told Gregg Allman he was planning on running for president, his friend's response wasn't exactly what he'd hoped. "I laughed so hard I about choked," Allman told Conan O'Brien during his TBS talk show "Conan" in May 2012. But when Allman realized Carter was serious, he and the rest of the band volunteered to help him get elected. The Allman Brothers Band's show in Providence, Rhode Island netted $64,000 (nearly $350,000 in 2023) for Carter's campaign when it was deep in dept.
Gregg Allman goes to Washington 
Hulton Archive/Getty Images
Jimmy Carter would later credit the band with helping to get him elected. "Gregg Allman and the Allman Brothers just about put me in the White House," Carter recalled, according to The Atlanta Journal-Constitution. "They were the best fundraisers that we had. In those days, they would charge somebody $15 to come hear them play. And we were getting the whole $15 plus 15 more matching dollars! So we got $30 every time someone came to hear the Allman Brothers Band play." The matching dollars came through a new federal campaign fund. The band helped raise millions for the Carter campaign.
Carter repaid the favor in various ways, including having Gregg Allman over for the Carter family's first dinner at the White House after the band had been guests at the president's Inaugural Ball. Carter also presented Allman with an honorary degree from Mercer University in 2011 and attended the musician's funeral the next year to pay his respects. "Gregg Allman was there when I needed him and Rosalynn and I have always been grateful to him," Carter said in a statement, per The Atlantic Journal-Constitution.