Athletes With Children In Different Sports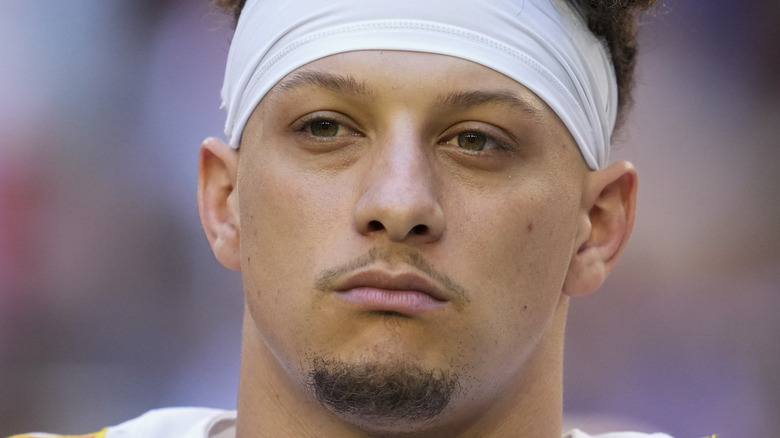 Cooper Neill/Getty Images
For some families, it seems like playing and excelling at sports is second nature. While most towns are lucky to see one or two kids grow up to make it into a professional sporting league, other families have multiple children who make it to the majors — sometimes at the same time. From the brothers Rogers, Taylor and Tyler, who both pitch for the San Francisco Giants in MLB, to Jason and Travis Kelce who faced each other in Super Bowl LVII, some bloodlines just seem to have the perfect combination of sports intelligence and physical athleticism to make it to the big leagues.
Even rarer are the families that can dominate in different major league sports for multiple generations. Most know about the Manning and Matthews dynasties in the NFL, and the Currys and Bryants in the NBA, but much less known are the families who were able to transcend into different major league sports.
It's not always easy to follow in the footsteps of your parents, especially if they are ultra-famous and successful. So instead of living in the shadow of their parents, some athletes' kids decided to branch out and try brand-new sports. While it certainly doesn't work for every family, these are the most successful stories of athletes with children in different sports.
Pat Mahomes and Patrick Mahomes II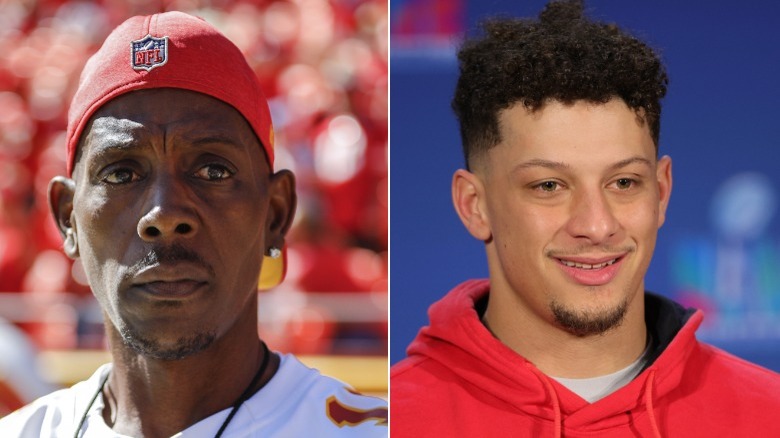 Carmen Mandato/Getty & David Eulitt/Getty Images
If you want one of the most successful family dynasties that transcend sporting prowess, look no further than the Mahomes household. Long before Patrick Mahomes II was winning MVPs and Super Bowls in the NFL, his father Pat had carved out a significant career for himself in MLB. Pat pitched for 11 seasons in the show from 1992–2003, including stints with the Minnesota Twins, Boston Red Sox, and New York Mets.
Pat appeared in more than 300 games during his career, racking up more than 40 wins and striking out over 450 batters. His son, Patrick, was drafted by the Kansas City Chiefs in 2017 in the first round, and boy, has it paid off for them. In just six seasons in the league, he has already won two Super Bowls — being named MVP of both of them — as well as the league MVP twice. He is widely considered one of the best young players in the game, and some people even think he has already put together a hall-of-fame caliber career (via Sports Illustrated).
Following Patrick's win at Super Bowl LVII, he and his father Pat shared a warm embrace in the midst of the celebration (via Twitter). The closeness of their relationship was clearly evident, and Pat was congratulating his son on the biggest stage in professional sports, as a very proud papa.
Mychal Thompson and Trayce Thompson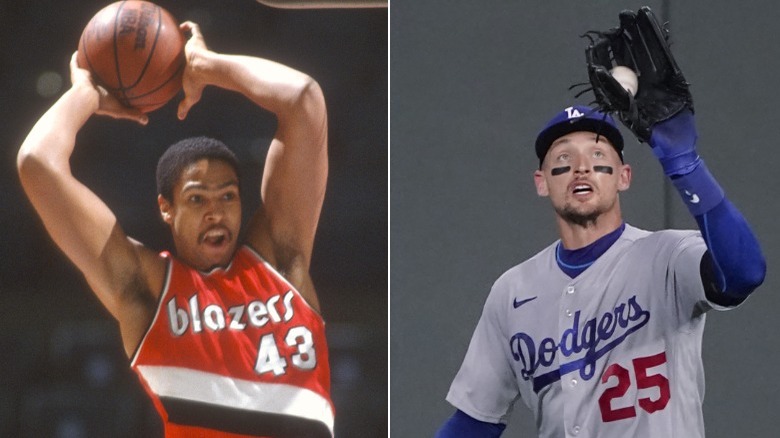 Ed Zurga/Getty & Focus On Sport/Getty Images
From the late-'70s until the early-'90s, Mychal Thompson was a mainstay in the NBA. He burst onto the scene in 1978 and was named to the All-Rookie team. He would later win back-to-back championships in 1987 and 1988 as a member of the Los Angeles Lakers after being traded to them partway through the 1987 season. During his career, he appeared in more than 900 games and was on the court over 27,000 minutes. In addition to his time in Los Angeles, Mychal also played for the Portland Trail Blazers (who initially drafted him) and the San Antonio Spurs.
His son, Trayce Thompson, did not follow him into playing basketball, but instead was able to play professionally in MLB. He was drafted by the Chicago White Sox in the second round of the 2009 draft, finally making it up to the big leagues with them in 2015. While he hasn't had the most successful run in MLB, since first being called up, he has appeared in more than 275 games in parts of six seasons. Like his father, he has played for multiple California sports teams, including the Los Angeles Dodgers and Oakland A's. Mychal also has another son, Klay, who plays in the NBA.
Ken Norton Sr. and Ken Norton Jr.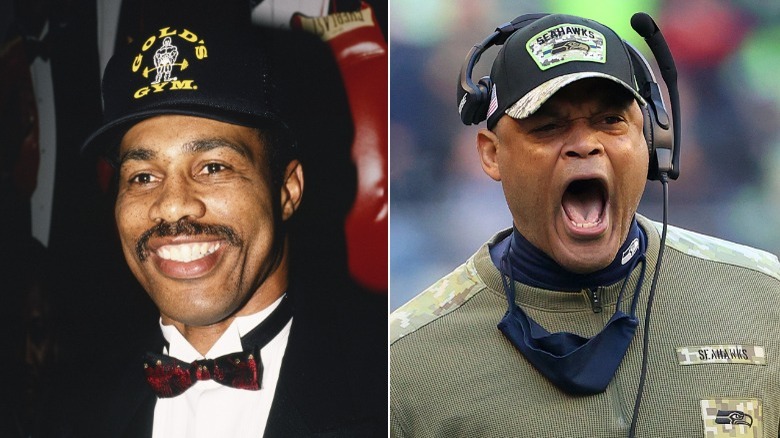 Abbie Parr/Getty & George Rose/Getty Images
For 13 seasons, linebacker Ken Norton Jr. was one of the top defensive players in the NFL. Named to three Pro Bowls and an All-Pro honor in 1995, Norton's first few seasons in the league were actually a bit slow. While he was a prodigious tackler, personal and team success largely eluded him. That was until the 1992 season, when Norton Jr. would win the first of three back-to-back-to-back Super Bowls. The first two were with the Cowboys, but the third was with the San Francisco 49ers. In 1995, he was nearly named the Defensive Player of the Year, coming in third in the voting.
Norton Jr.'s professional career was wildly different from his father, Ken Norton Sr., who was a famous heavyweight boxer. Ken Sr. was born in 1943 and was a professional boxer from 1967–1981 — though he had a brief retirement in the late '70s. He fought superstars like George Foreman, Muhammad Ali, and Larry Holmes, beating Ali and breaking his jaw in 1973 (via The New York Times).
Ken Sr. died in 2013 at the age of 70 after his health had been declining for years. Norton Jr. ended his playing career following the 2000 season after failing to win another Super Bowl. In March 2022, he was named as the linebackers coach at UCLA, where he had previously played in college, after being a longtime coach on the Seattle Seahawks staff (via UCLA).
Jerry Goff and Jeff Goff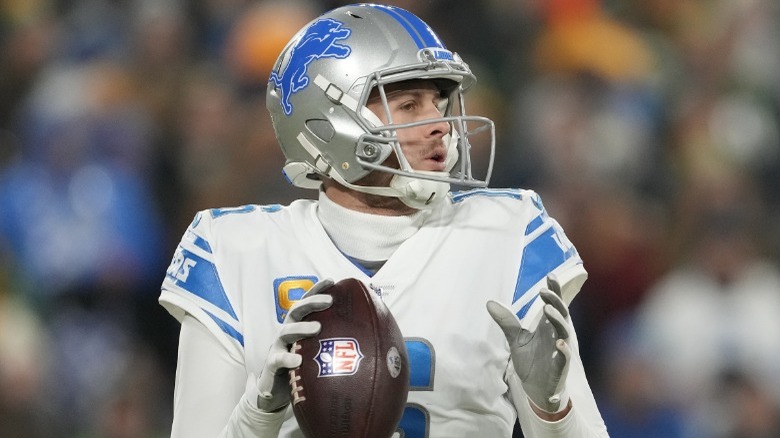 Patrick Mcdermott/Getty Images
If there is one thing the Goff family has in common, it's a strong and accurate right arm. This propelled father Jerry and son Jeff to success in both the MLB and NFL, where they excelled as a catcher and a quarterback, respectively. Jerry was a catcher for the Montreal Expos, Pittsburgh Pirates, and Houston Astros in the MLB, while Jared has played under center for the Los Angeles Rams and Detroit Lions.
From 1990–1996, Jerry appeared in just shy of 100 games, with his best season coming in 1990. That year, he appeared in 52 games and hit a career-high three home runs with seven runs batted in. Jared was drafted with the first overall pick in the 2016 NFL draft, and he would lead them to the 2018 Super Bowl, which they would lose to the Tom Brady-led New England Patriots.
Still, Goff has thrown for more than 25,000 yards and 150 touchdowns, and was named to the 2017, 2018, and 2022 Pro Bowls. Just prior to the 2021 season, Goff was traded from the Rams to the Lions for fellow quarterback Matthew Stafford (via NFL.com). Prior to getting drafted, Jerry helped Jared prepare for life in the big leagues, keeping him focused on playing the game rather than worrying about outside influences (via The New York Times).
Yannick Noah and Joakim Noah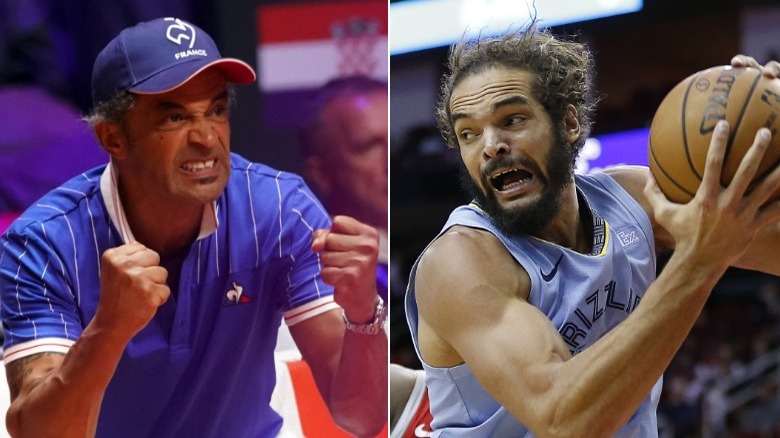 Bob Levey/Getty & Sylvain Lefevre/Getty Images
In 1977, Yannick Noah first turned pro, inaugurating one of the finest careers in tennis history. Hailing from Sedan, France, Noah would finish his career with an incredible 689 victories, including 476 in singles play. He won the 1983 French Open to an adoring home crowd playing singles, and followed that up with another victory there the following year playing doubles with Henri Leconte. Capping off an incredible three-year run, in 1985 he was a finalist at the U.S. Open, playing doubles again with Leconte. In 2005, Yannick was inducted into the Tennis Hall of Fame.
Yannick's son is basketball player Joakim Noah, who has had a very successful career himself in the NBA. Since being drafted in the first round in 2007 by the Chicago Bulls, Joakim has been named to two All-Star teams and was the 2014 Defensive Player of the Year. He has played in more than 650 games, compiling over 18,500 minutes of playing time.
Unfortunately, Joakim was suspended during the 2017 season for 20 games due to using performance-enhancing drugs (as reported by The New York Times). He had recently signed a massive $72 million contract with the New York Knicks prior to his suspension, but was waived by the team following the 2018 season for subpar performance.
Dan Petry and Jeff Petry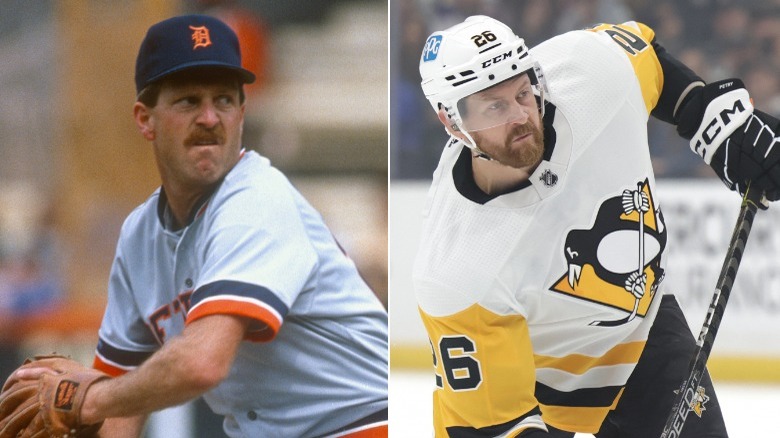 Harry How/Getty & Focus On Sport/Getty Images
Since being drafted in the second round of the 2006 NHL draft by the Edmonton Oilers, Jeff Petry has been a solid force on defense for numerous teams. Over his 13 years in the league, Jeff has appeared in more than 800 games, with over 300 points to his credit. In addition to suiting up for the Oilers, Jeff has also played for the Montreal Canadiens and Pittsburgh Penguins.
Jeff was born on December 9, 1987, right around the time his father Dan Petry was hitting his prime in MLB. Dan had been in the league since 1979 after being drafted three years earlier in 1976 by the Detroit Tigers. In 1984, he won the World Series with the Tigers and also came in 5th place in the Cy Young award voting that year, an award which is given annually to the best pitcher in each league in MLB. He was well known for his intense mental preparation before games, and was a relatively low-key member of the Tigers' championship team that included hall of farmers like Jack Morris and Alan Trammell (via SABR). Following his career as a player, Dan jumped to the booth as a studio analyst for the Tigers (via MLB.com).
In 2021, Jeff made it to the Stanley Cup finals with the Canadiens. Luckily, he was able to rely on his father's big-game experience, when Dan watched him take on the Tampa Bay Lightning in person (via The Athletic).
Calvin Hill and Grant Hill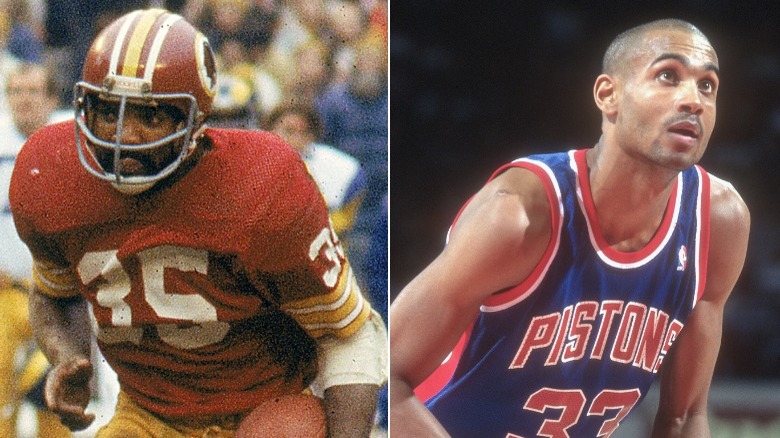 Focus On Sport/Getty & Nate Fine/Getty Images
Any fan of the 1990s and 2000s NBA has undoubtedly heard of basketball great Grant Hill. During his 19-year career, Grant was often one of the best players in the entire league. He was named the Rookie of the Year and voted to the All-Rookie team during his first season from 1994–1995, and would eventually be named to seven All-Star teams and five All-NBA teams. Grant played for the Detroit Pistons, Orlando Magic, Phoenix Suns, and Los Angeles Clippers during his career, and also won a gold medal in the 1996 Olympics as a part of Team U.S.A. In 2018, Grant was inducted into the NBA Hall of Fame.
While most NBA fans probably don't realize it, Grant's father, Calvin Hill, was also a professional athlete. Calvin played in the NFL from 1969–1981 as a member of the Dallas Cowboys, Cleveland Browns, and Washington football teams. Though he did not make it to the hall of fame, Calvin won the 1969 Rookie of the Year award in the NFL, 25 years before his son Grant would win it in the NBA.
Additionally, Calvin also won the 1971 Super Bowl with the Cowboys and made it to four Pro Bowls. He was the first Cowboy to run for more than 1,000 yards in a single season, which he did in back-to-back years in 1971 and 1972.
Mark Schlereth and Daniel Schlereth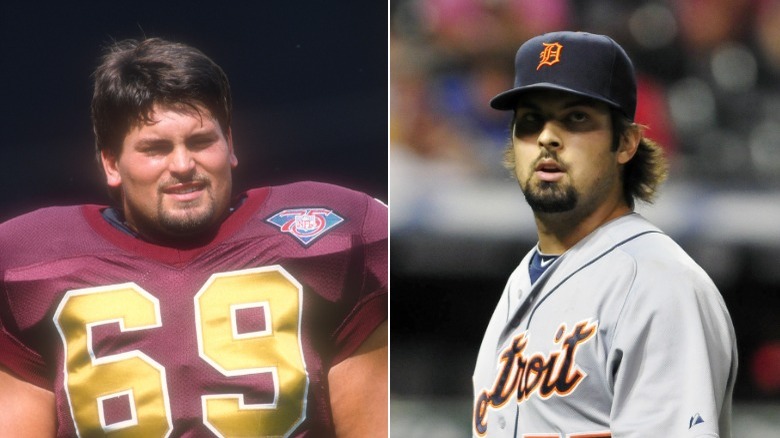 Jason Miller/Getty & Mitchell Layton/Getty Images
In the NFL, offensive linemen rarely get their due. While they play some of the most important positions on the entire team — keeping the quarterback safe and opening holes for running backs — it's not often that the linemen themselves are singled out for individual praise. For many years, for both the Denver Broncos and Washington football teams, Mark Schlereth played the thankless positions of right and left guard. During his career, he selflessly blocked his way to two Pro Bowls and, more importantly, three Super Bowls – two of which he won protecting and blocking for hall of famers John Elway and Terrell Davis.
When Mark entered the NFL, he already had a young son, Daniel Schlereth, who would eventually grow up to be a major leaguer himself. Daniel was a first-round pick in 2008 by the Arizona Diamondbacks, and would wind up appearing in parts of 94 games for both the D-backs and Detroit Tigers, from 2009–2012.
Following his time in the majors, Daniel continued his career in baseball. In 2022, he was named the Western Michigan pitching coach, after previously spending time in the Pittsburgh Pirates organization as a scout (via the Western Michigan Broncos). He was part of the blockbuster 2013 trade involving Max Scherzer, Curtis Granderson, and Austin Jackson, though he never performed to his draft or trade potential (via Sports Illustrated).
Joe Laurinaitis and James Laurinaitis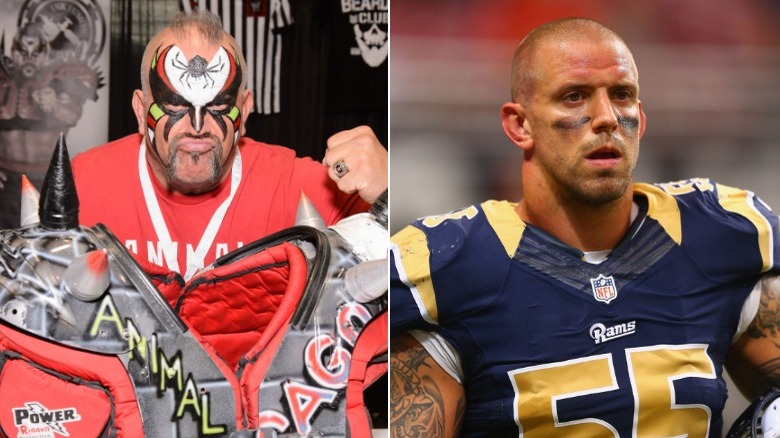 Dilip Vishwanat/Getty & Daniel Boczarski/Getty Images
If you liked to watch tag-team wrestling in the WWF in the 1980s, chances are you were a fan of the Road Warriors. Composed of Road Warrior Animal and Road Warrior Hawk, they were one of the brashest and most successful acts in wrestling history. The character of Animal was played by Joe Laurinaitis, who created the tag team with his friend Michael Hegstrand (via The New York Times).
Joe had a son James in 1986, who would go on to play in the NFL. He was drafted in the second round of the 2009 draft and played for eight years, primarily for the St. Louis Rams but also with the New Orleans Saints for a season. He started every game for the Rams during his seven seasons in gold and white, making more than 100 tackles every single year. He ended his career with more than 870 tackles and 10 interceptions, though he was never named to any Pro Bowls, and he never won a Super Bowl.
Joe passed away in 2020 at the age of 60 while on vacation in Missouri (via The New York Times). In 2023, James became a defensive graduate assistant at Ohio State, after previously serving in the same position at Notre Dame the season prior (via ESPN).
Ted Irvine and Chris Jericho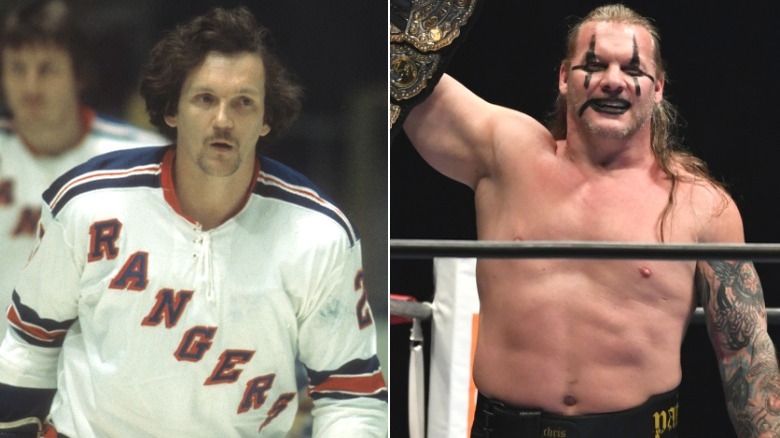 Masashi Hara/Getty & Melchior Digiacomo/Getty Images
Ted Irvine had a very successful career in the NHL, playing for several teams over an 11-season career. He appeared in an incredible 724 games for various clubs, including the New York Rangers, St. Louis Blues, and Los Angeles Kings. He scored more than 150 goals playing left wing, and he also acquired nearly 11 hours of total penalty minutes. Irvine's career ended following the 1977 season, and just over a decade later it was his son's turn to take over the spotlight.
Though you might not know it, Irvine's son is none other than Chris Jericho, a WWE legend. Jericho got into wrestling in the 1980s, and by the mid-1990s was one of the biggest draws in professional wrestling (via WWE). He joined WWE and Raw in 1999, and two years later became the organization's first "Undisputed Champion."
After a lengthy career in the WWE, Jericho moved to the upstart AEW wrestling, where he served as a veteran presence for a young promotion (via The Washington Post). And while he certainly doesn't wrestle, Irvine found a chance to appear on screen with his son during a 2019 event, where he ridiculed his former rivals the Chicago Blackhawks — much to Jericho's bemusement (via Twitter).
Dennis Rodman and Trinity Rodman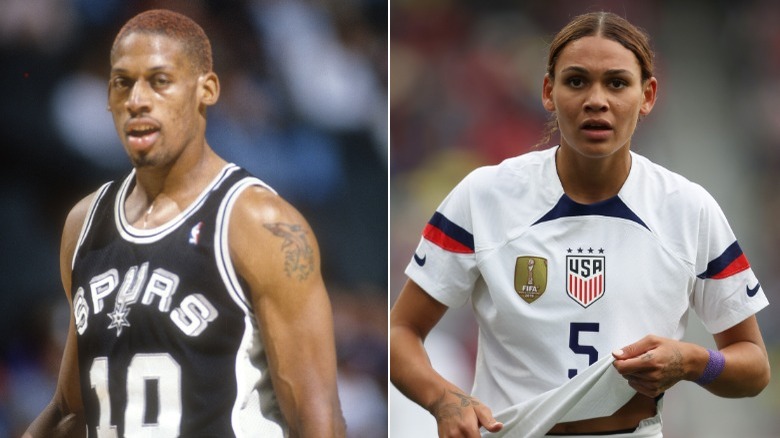 Omar Vega/Getty & Focus On Sport/Getty Images
As far as controversial NBA players go, it's hard to exclude Dennis Rodman from the conversation. From his odd fashion choices that involved non-traditional wardrobes and various hair colorings, to his violent outbursts that included kicking a camera operator, and finally, to his boasting about his sexual promiscuity, it was hard to escape the attention that Dennis brought to himself in the 1990s while playing basketball (per The New York Times). Still, for all the bluster, Rodman had some serious skills.
Dennis was a five-time NBA champion, a two-time Defensive Player of the Year, and was named to the NBA's 75th Anniversary Team. He played for 14 seasons in the league, ending with more than 6,600 points and 28,800 minutes played over 911 games. He started his career with the Detroit Pistons, winning two championships, before winning three more with the Chicago Bulls from 1995–1998. He was elected to the NBA Hall of Fame in 2011.
His daughter, Trinity Rodman, is a budding star in her own right for the Washington Spirit of the NWSL. She entered the league in 2018 at the young age of 18, and immediately scored during her first game (via ESPN). Four years later, in 2022, she became the highest-paid player in NWSL history, a testament to her remarkable ability. Dennis was reportedly largely out of Trinity's childhood, but has since shown up to her NWSL games to cheer her on.
Delino DeShields and Diamond DeShields
Christian Petersen/Getty & Mitchell Layton/Getty Images
From 1990–2002, second baseman and left fielder Delino DeShields was an everyday player in MLB. He played in more than 1,600 games during his career, accumulating over 1,500 hits and scoring 872 runs. He was the runner-up in the Rookie of the Year voting in his first season, and his best year was probably 1992. That season, his batting was 16% better than the league average, and he came in the top 20 in the MVP voting. He made the postseason twice, in 1995 and 1996 with the Los Angeles Dodgers, appearing in a total of five games.
In 1995, just prior to the beginning of the season, he had a daughter, Diamond DeShields. A basketball prodigy by the time she was in middle school, she played college ball at Tennessee for the Lady Volunteers, before being drafted third overall by the Chicago Sky in 2018 (via The New York Times).
In five seasons since entering the league, Diamond has already had a successful career. In her second season in the WNBA, she was named to the All-Star team, and in 2021 she won the WNBA championship. She was traded by the Sky to the Phoenix Mercury in February 2022, just after winning the championship. Almost exactly a year later, she was traded again, this time to the Dallas Wings.