The 2001 Spring Training Game That Turned Diamondbacks Pitcher Randy Johnson Into A Killer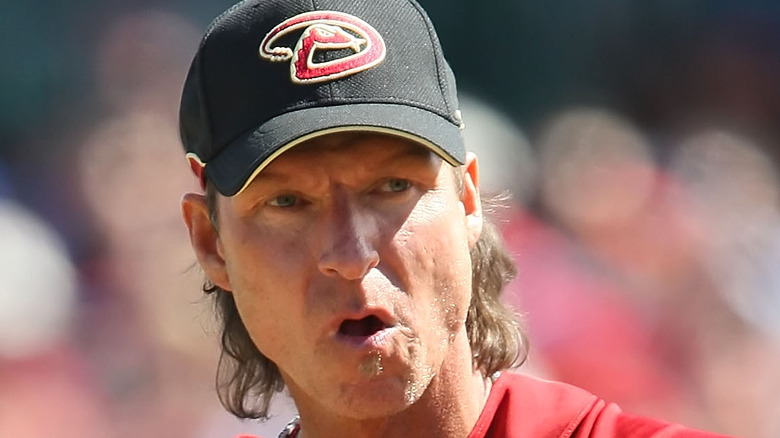 Lisa Blumenfeld/Getty Images
Among the many things major league baseball pitcher Randy Johnson is known for, one shocking moment that happened in spring training in 2001 ranks among the most notable. That year the future Hall of Fame left-handed pitcher was with the Arizona Diamondbacks, and with Johnson's help, the team would go on to win the World Series that season. Before all that, though, Johnson took the mound in Arizona for his team in a spring training game against the San Francisco Giants, as USA Today explains.
In his career, Johnson threw 102 mph, and facing Johnson in that game was right-hander Calvin Murray. (In a sports trivia side note, Murray is Arizona Cardinals quarterback Kyler Murray's uncle). In footage viewed millions of times on YouTube, the lanky, 6-foot-10 pitcher threw the ball with his iconic, near-sidearm delivery. What happened next would secure Johnson's place in baseball history. As Diamondbacks catcher Rod Barajas later recalled (via The Athletic), "I remember Randy being very angry at some point that game. There was something building ... "
It looked like whatever it was had exploded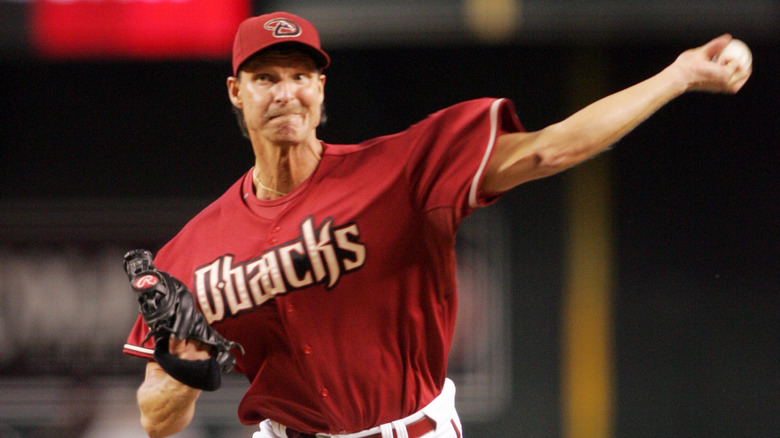 Nick Doan/Getty Images
Just before Randy Johnson's pitch reached the plate in that game, it seemed to strike something mid-air, and whatever it was exploded. Per The Athletic, Diamondbacks general manager Joe Garagiola Jr. later said, "I remember the sound. It was this muffled thump. Did the ball come apart? That happens on rare occasions." Batter Calvin Murray also offered his perspective. Had something really been hit by Johnson's pitch, or could it have been some kind of practical joke intead?
Murray added,  "My initial reaction was the ball had exploded. I thought it was a practical joke or something that he threw some tricked-up exploding baseball. It just took a minute for it to process." The pile of feathers in front of the home plate offered a clue about what happened.
In a tragic case of bad timing, a mourning dove was hit and killed by Johnson's pitch, struck down in a flurry of feathers. Diamondbacks first base coach Eddie Rodriguez later said (via The Athletic), "I saw the bird coming across. But I didn't think it'd get in the way ... All you heard was 'poof.'"
No one knows how fast Johnson's pitch was traveling
Unbelievably, Randy Johnson's 2001 spring training bird incident was not the first time in MLB history a bird was killed. According to Bluebird Banter, a Toronto Blue Jays website from SB Nation, in 1983, Hall of Famer Dave Winfield hit and killed a seagull in an exhibition game, possibly on purpose. Winfield was arrested and charged with animal cruelty, but those charges were later dropped. The Johnson pitch-mourning dove midair collision is otherwise the only known time a major league pitcher accidentally killed an animal with a pitch. (A similar incident did occur in 2014 in the minor leagues.)
Notably, since the ball Johnson threw in 2001 never reached the plate, it was called a no-pitch. To this day, no one knows for sure just how fast Johnson threw that baseball for that same reason. Recalling the unfortunate accident, Diamondbacks catcher Rod Barajas said (via The Athletic), "It's not Randy's fault the bird got in the way. It should have been called a strike. The projection of the pitch was definitely in the strike zone. It was probably about 98 miles an hour. Calvin wouldn't have had a chance to put the bat on it." Speaking with Fox Sports (via USA Today), Johnson later said he didn't find the bird's death " ... all that funny."