The Legacy Of Football Legend Walter Payton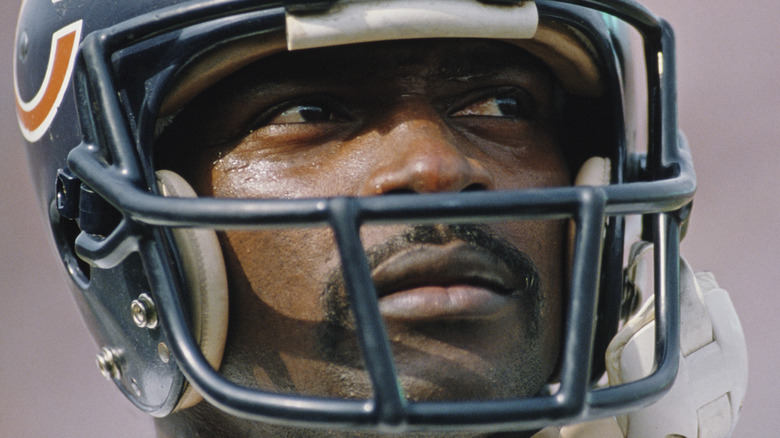 Mike Powell/Getty Images
Chances are, if you have been a football fan for any length of time over the past 50 years, you have probably heard of Walter Payton. Long regarded as one of the best running backs in NFL history, Payton played for 13 seasons in the league as the starting running back for the Chicago Bears. He earned a reputation as a fearsome competitor on the field, and by the time he retired in 1987 he held multiple NFL records, including most career rushing yards and most career rushing touchdowns. He was among the most beloved by Chicago sports fans until his untimely death in 1999.
Born in Columbia, Mississippi in 1954, Payton first made it to the league in 1975 after a solid career at Jackson State University in his home state. He would win the 1985-'86 Super Bowl with the Bears, and was an integral part of their "Super Bowl Shuffle" music video. 
He passed away at the age of 45 in Barrington, Illinois, just over a decade after retiring. Even more than 20 years later, his memory still lives on, strong in the hearts and minds of millions. This is the legacy of football legend Walter Payton.
Never Die Easy
Focus On Sport/Getty Images
If there was ever a phrase that encapsulates Walter Payton's attitude on the football gridiron, it's "never die easy." It was Payton's motto during his career, and it was important enough to him that he even ended up naming his autobiography after it. According to his autobiography "Never Die Easy," Payton acquired the motto from his football coach at Jackson State University, Bob Hill. Payton and Hill had a very close relationship during Payton's time at the school, and he credits him with helping him both on and off the field.
"Never die easy" was Hill's motto, and he passed it onto Payton during their time together. For Payton, the motto meant that he would always fight for the extra yard when rushing. Payton viewed running away from contact and going out of bounds as a form of giving up, and he wanted to always go down fighting whenever he was tackled.
Considering how legendary of a career Payton has had, it's little surprise that his motto was about running hard and mean. Today, with injuries like CRT becoming more prevalent and researched, the motto rings a little differently. But for men like Payton, it defined an era of football when players left everything on the field and truly gave their bodies to the game.
Growing up in the racially charged south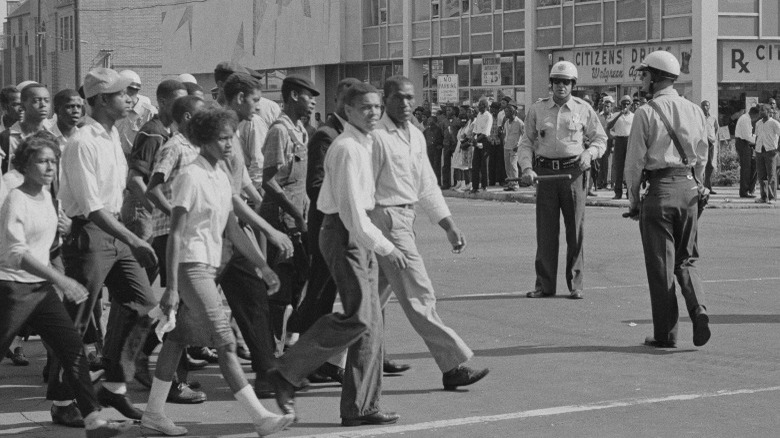 Michael Ochs Archives/Getty Images
In 1954, the same year that Walter Payton was born, the United States Supreme Court made one of the most fateful decisions in the court's long history. In the famous Brown v. Board of Education of Topeka court case, the justices ruled that segregation on the basis of skin color was illegal, and ordered that public schools be integrated. Yet, for most of Payton's upbringing, he went to segregated schools. Integration didn't begin in his hometown until 1967, and it was not until 1969 that Payton himself experienced integration.
Payton was attending the Black Jefferson High School, which was soon merged with the white Columbia High School, according to Jeff Pearlman's "Sweetness: The Enigmatic Life of Walter Payton." Walter was playing football and basketball at the time, and the basketball team was the first to merge with Columbia. The white players were scared about potentially losing their starting positions, but seemed to get along with their new Black teammate Payton.
When the school officially integrated on January 5, 1970, there were some racial protestors who picketed out front. There were simmering tensions as the new students got used to each other, but Payton forged a friendship with a white classmate, Wayne Phillips, which helped ease some of the pressure and hostilities. His success on the football field also helped ease tensions, and he even scored the first touchdown of the season for his new team.
He began playing football in high school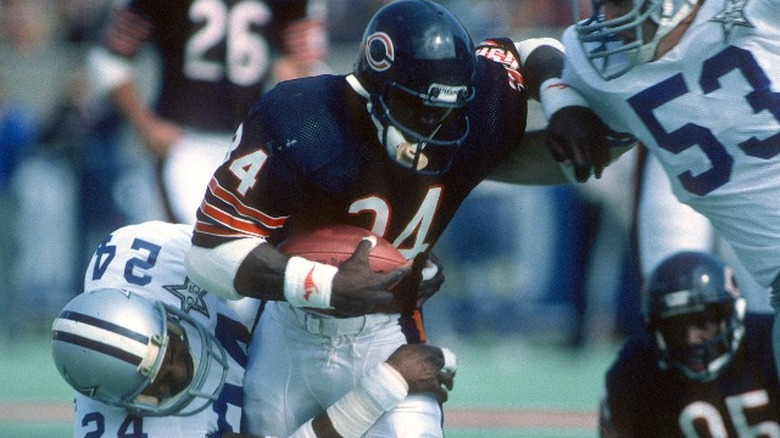 George Gojkovich/Getty Images
Given how successful and talented Walter Payton turned out to be playing football, you might think that he was practically born with a pigskin in his hand. Yet, as it turns out, Payton's first love in high school wasn't even sports at all, it was music. As described by Jeff Pearlman's "Sweetness: The Enigmatic Life of Walter Payton," he had played in games of tackle football as a kid with neighborhood friends, but when he got to high school he initially wanted to pursue music and the marching band, instead. He was a drummer, and his parents wanted him to be a musician rather than a football player.
His older brother, Eddie Payton, was one of the best football players at school, and he even played on semi-pro teams over the summer. However, it wasn't until after Eddie graduated that Walter also found himself pursuing football for Jefferson High School. He was incredibly inexperienced, and soon found that his sandlot football skills didn't always translate to the organized game the same way.
Pushed by coach Charles Boston, Walter soon began making an impact just like his brother. He started playing as a sophomore, but saw limited action. However, in his junior year he took off, earning the respect and admiration of newspapers, and even from the white families at the neighboring Columbia High School.
He attended a historically Black university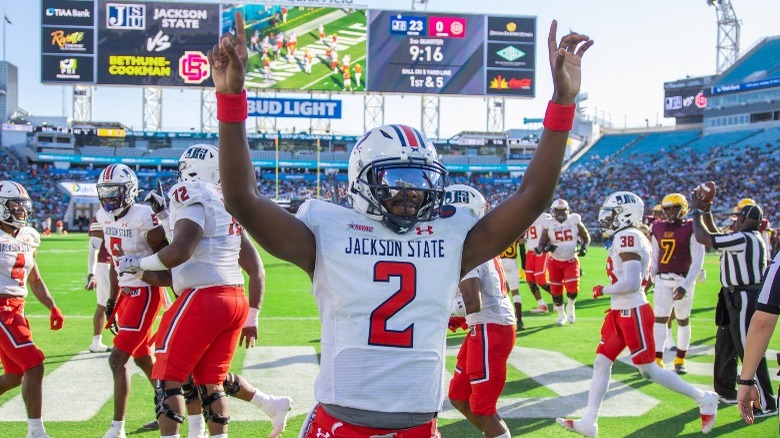 April Visuals/Shutterstock
Despite playing well as a running back in high school, Walter Payton graduated with a relative dearth of offers, according to his autobiography "Never die easy." Unfortunately, this was a time when racism still prevailed in large parts of the south. Payton's skin color was unfairly held against him by the top schools in the SEC at the time, and as a result he was not even recruited by them, despite his good numbers. Instead of attending a powerhouse like Louisiana State, Ole Miss, or Alabama, Payton ended up attending Jackson State University (JSU), located in his home state of Mississippi, and one of many historically Black colleges or universities (HBCUs).
His older brother Eddie Payton was on the football team there, and in hindsight attending JSU ended up being a positive for Walter. Understanding that he was not being recruited by the bigger schools due to his skin color, he embraced going to JSU, where he excelled. JSU did not have nearly the same expectations or media coverage as the bigger schools, which allowed Walter to concentrate on playing good ball instead of getting distracted by fame and attention.
And concentrate on football he did. He made it into the NCAA record books and was an All-American, and eventually was put in both the College Sports Hall of Fame and the JSU Hall of Fame. He attended JSU from 1971–1975, and even had a "Walter Payton Day" in his honor. JSU is a historically Black university (HBCU), making Walter's attendance even more important.
Getting drafted in the first round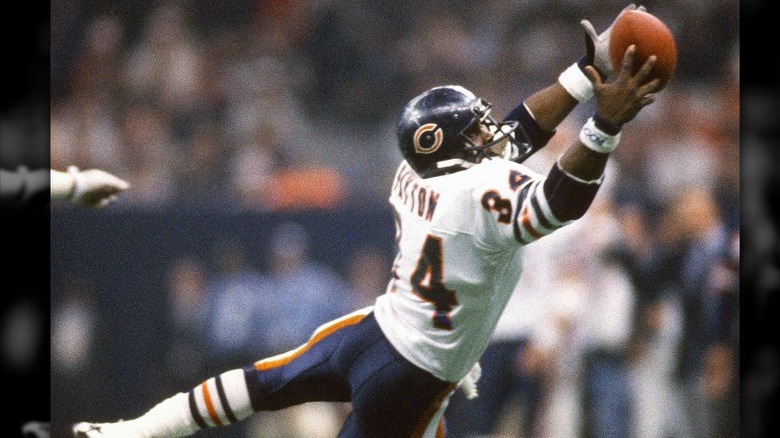 Focus On Sport/Getty Images
While Walter Payton may not have been very heavily recruited coming out of high school, it was a completely different story when he was drafted coming out of Jackson State. Having excelled there as a record-setting All-American, Payton was highly sought out by teams for the 1975 draft. Unfortunately for Payton, the NFL draft works where the worst teams in the league pick the earliest, making it likely he was going to go to a poorly performing team.
If he had gotten his wish, Payton would have gone to the Dallas Cowboys, who had future hall of famers Roger Staubach as quarterback and Tom Landry as coach, as described in Jeff Pearlman's "Sweetness: The Enigmatic Life of Walter Payton." However, they ended up selecting a defensive player named Randy White instead, who would end up becoming a hall of famer himself. Payton was then drafted by the Chicago Bears with the number four overall pick, who at the time were considered one of the worst teams in the entire league.
Payton was so upset about being drafted by the Bears that he actually started crying. Still, he toughed it out in his rookie season after dealing with an elbow injury, and by the end of the year was the Bears' lead back.
His amazing career on the field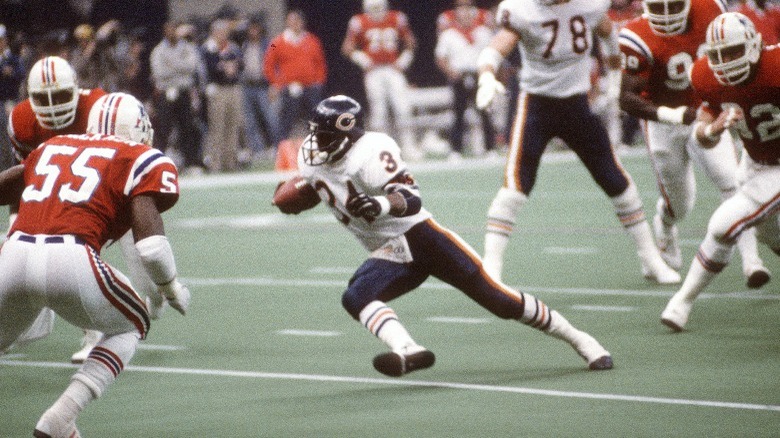 Focus On Sport/Getty Images
It is not an overstatement to call Walter Payton one of the greatest and most effective running backs in the history of the NFL. His accolades are almost too numerous to list: 1977 MVP, 1977 Offensive Player of the Year, Super Bowl Champion, selected to the Hall of Fame All-1970s and All-1980s teams — and the list still goes on. He went to the Pro Bowl nine times in 13 seasons, and was a first-team All-Pro — the award given to the best player at each position in the entire league — as a running back five times.
He consistently ran for more yards than any other running back in his conference, and held most of the meaningful records for running backs at the time of his retirement. During his career, he broke the record for most career yardage with more than 16,000 yards, and had a then-NFL record 110 rushing touchdowns. Once, he ran for 275 yards in a single game against the Minnesota Vikings in 1977.
Incredibly, even though he embraced such a hard-nosed running style, Payton never found himself injured for any considerable length of time, which contributed to his massive yardage totals. He scored at least one touchdown every single season, and was one of the most feared backs in the league while he played.
His one Super Bowl regret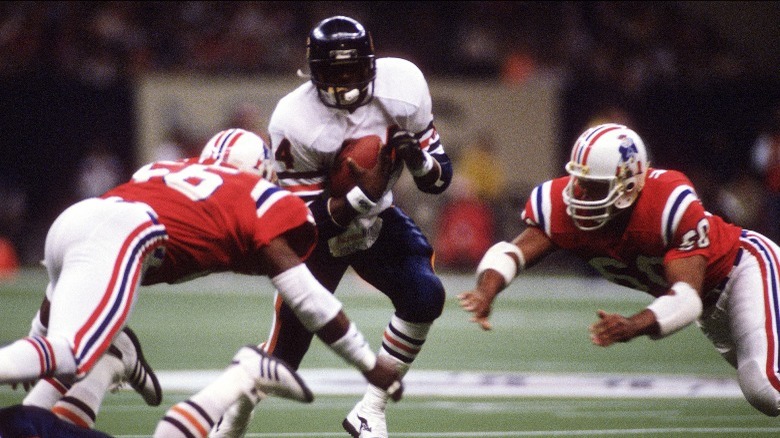 Focus On Sport/Getty Images
For Walter Payton and the Chicago Bears, the 1985 season will go down in history as one of the greatest. As an individual, Payton rushed for more than 1,550 yards, scored 11 total touchdowns, was voted to the Pro Bowl, and was a First Team All-Pro for the season. He narrowly missed out on both the MVP and Offensive Player of the Year awards, coming in second in the voting for each.
The Bears went 15-1 on the season, making it all the way to the Super Bowl behind legendary coaches Mike Ditka and Buddy Ryan. In the championship, they thoroughly dominated the New England Patriots for the entire game, to the tune of 46–10. Yet, what should have been one of the happiest moments and biggest accomplishments of Payton's career, ended up turning into one of the most upsetting.
Payton ended the game with just 62 yards and a fumble, but worst of all, he didn't get a chance to reach the end zone, as Jeff Pearlman's "Sweetness: The Enigmatic Life of Walter Payton" describes." One of the most prolific touchdown scorers in history, and he was shut out in the big game. Even worse, in crucial moments Ditka turned to other players to punch the ball in, like defensive tackle William "the Refrigerator" Perry, who scored a rushing touchdown. Payton was so upset afterwards that he threw his pads in disgust and started crying. Eventually, he would pull himself together for the team, but he remained incredibly bitter about the experience.
Making the Hall of Fame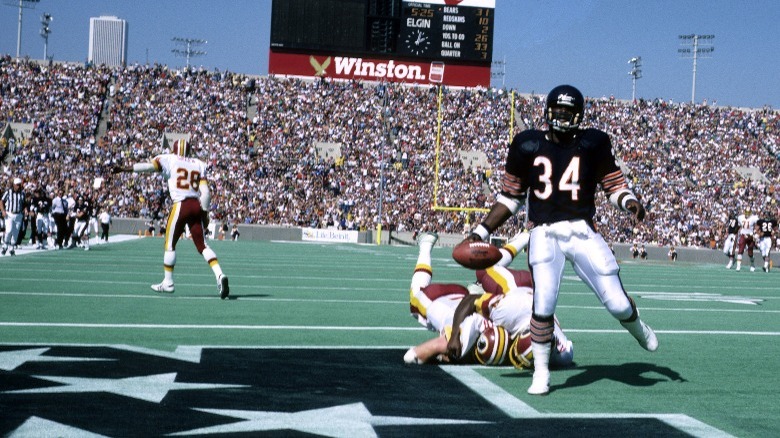 Bruce Dierdorff/Getty Images
For many professional athletes, the highest achievement they can be honored with is an induction into their respective hall of fame. Being a hall of famer doesn't just mean that they were good at their position or that they broke a few records. It's much more than that. It's a signifier that they were one of the very best competitors in the league year in and year out for their entire career, and that the impact they made on the field will be talked about far longer than they actually played.
All of this absolutely describes Walter Payton to a T, which is why he was honored with induction into the NFL Hall of Fame in the first year he was eligible, as part of the 1993 class. For someone with a resume like Payton, his election was really more of a foregone conclusion than anything.
While most athletes have former teammates, coaches, or executives to deliver their enshrinement speech, Payton's was given by his 12-year-old son Jarrett Payton, according to "Walter Payton" by Adam Woog. Payton's first choice was Chicago Bears GM Jim Fink, but he was unable to do so due to illness. In the speech, his son was very gracious towards his father, and Walter then talked glowingly about his career and all of the people who had impacted him along the way.
Sweetness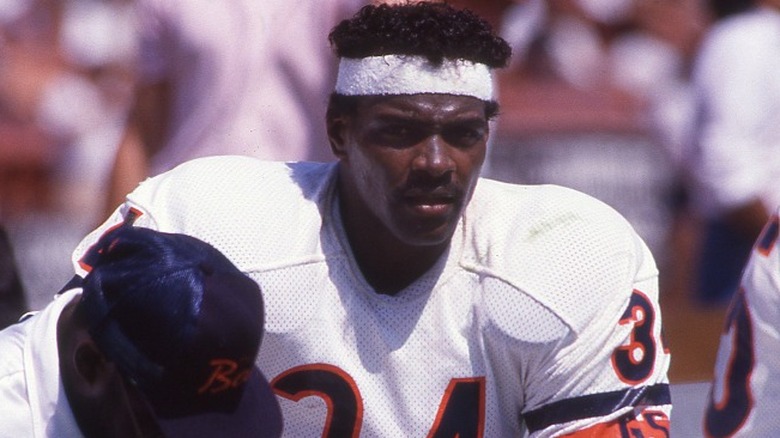 Owen C. Shaw/Getty Images
While most younger fans know Walter Payton only by his first and last name, those who watched him play remember him by a different moniker, "Sweetness." This was Payton's nickname for virtually his entire career, and he originally picked it up just as he was turning pro. Instead of joining his teammates on the Chicago Bears at training camp, Payton instead went to train with the College All-Star team to play an exhibition match against the Pittsburgh Steelers, according to Jeff Pearlman's "Sweetness: The Enigmatic Life of Walter Payton."
One afternoon, Payton was ribbing defensive back Neal Colzie when he told him, "sweetness is your weakness!" before running past him. Yet, instead of Colzie getting the nickname, it was Payton who ended up becoming known as "Sweetness."
While the nickname might have been a fit for his off-the-field persona, in which he was much more collected, it was a bit at odds with his tough-as-nails running style. This is a guy who, after all, used the phrase "never die easy" as his motto. The name might have been a hit with fans, but as for defensive players who had to try and tackle him, Payton's sweetness was probably the furthest thing from their minds.
The tragic loss of his father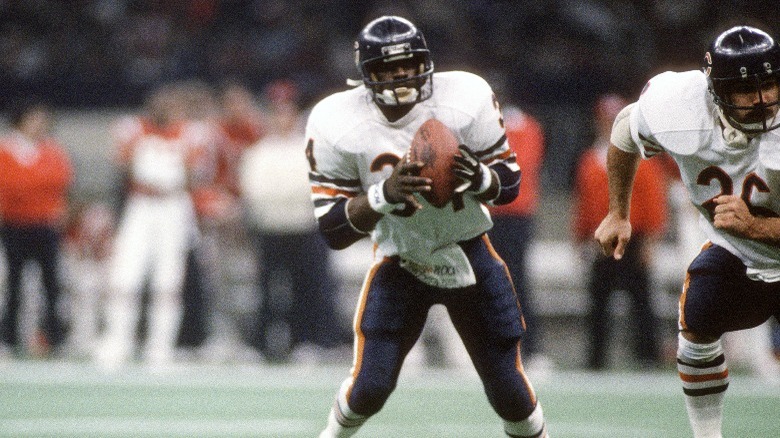 Focus On Sport/Getty Images
In 1979, just a few years after Walter Payton entered the NFL, personal tragedy struck him. His father, Edward Payton, died at the young age of just 54 years old. As reported by the Chicago Tribune, the circumstances under which he died remain troubling and confusing even now, more than four decades later. Edward had been behind the wheel of a car driving around in Walter's hometown of Columbia, Mississippi, when he was pulled over by a white police officer.
The officer thought that Edward was under the influence of alcohol and brought him to jail until he sobered up. However, what the officer mistook as drunkenness was likely the fact that Edward was suffering from a stroke. Edward died while in jail, and the autopsy revealed that he was completely sober and thus could not have been under the influence of alcohol, which was the reason he was arrested in the first place.
The Payton family refrained from filing a lawsuit, and the officer was officially cleared of any wrongdoing. His father would not be able to share in the many joys Walter would go on to experience, like winning the Super Bowl or getting elected to the Hall of Fame, due to his tragic and untimely death.
His near death experience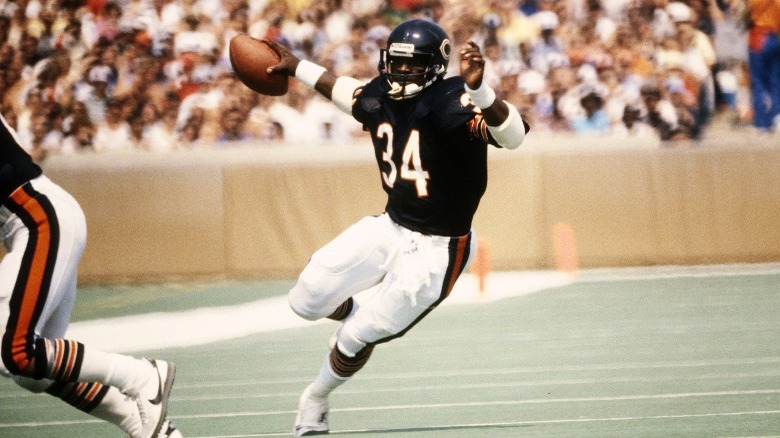 James Biever Photography Llc/Getty Images
In addition to Walter Payton's love for football, as told in Jeff Pearlman's "Sweetness: The Enigmatic Life of Walter Payton," Walter Payton also had another important passion: automobiles. When he was in college, he drove a Datsun 280Z sports car, and according to Adam Woog's "Walter Payton," he was known by the nickname "Mississippi Maniac" on the CB radio. Yet, Payton didn't just like collecting and driving nice cars, he also had a love for racing them, too. Following his retirement from the NFL, Payton got briefly involved in the world of automobile racing, until an accident almost killed him and caused him to stop.
As he described in his autobiography, while participating in the Road America race in 1993 as a part of Paul Newman's race team, Payton lost control of his car. It ended up flipping and catching on fire, and Payton suffered from minor injuries as a result. Thankfully, he ended up surviving the crash without anything worse than a concussion, but it was the end of the line for his racing career. His kids were in the audience when he crashed, and they were nearly traumatized by the incident.
Payton soon shifted away from racing and towards ownership, where he could still be close to the action but without having to risk his life. He thoroughly enjoyed his time in racing, besides the accident, which reminded him of the competitiveness of the football field he had just retired from.
His incredible philanthropy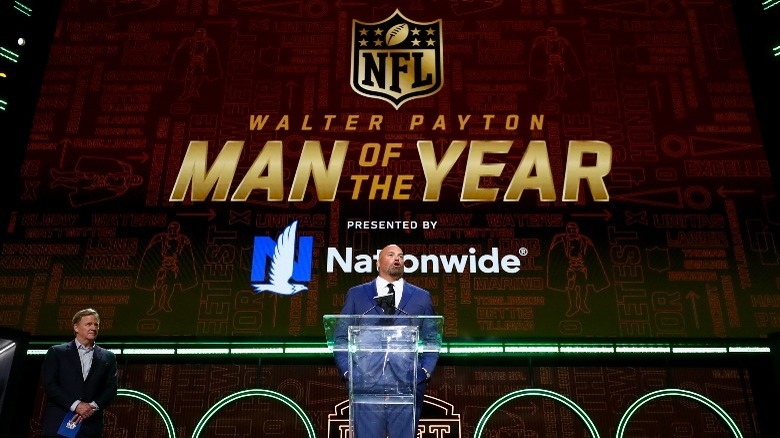 Kevin Sabitus/Getty Images
While he is mostly known for his contribution to the world of football, many people also remember Walter Payton for his incredible humanitarian and philanthropic benefaction. During his career, he made sure to take care of the underprivileged and disadvantaged members of his community, by doing things like donating gifts anonymously. Part of his motivation stemmed from his own upbringing, which was very modest as his family experienced considerable poverty.
His most well-known bit of philanthropy is probably his foundation. He established the Walter Payton Foundation (later renamed the Walter and Connie Payton Foundation) in 1988, when he was still active in the league. The foundation focuses on everyone from young children to elderly veterans, and has largely been run by his widow Connie since his death.
In recognition of his charitableness, the NFL annually gives out the Walter Payton NFL Man of the Year Award to the player who best exemplifies the traits of philanthropy and outreach. They named the award after Payton the year that he died in 1999, and each year every team sends their own nominee, before a winner is selected.
His untimely death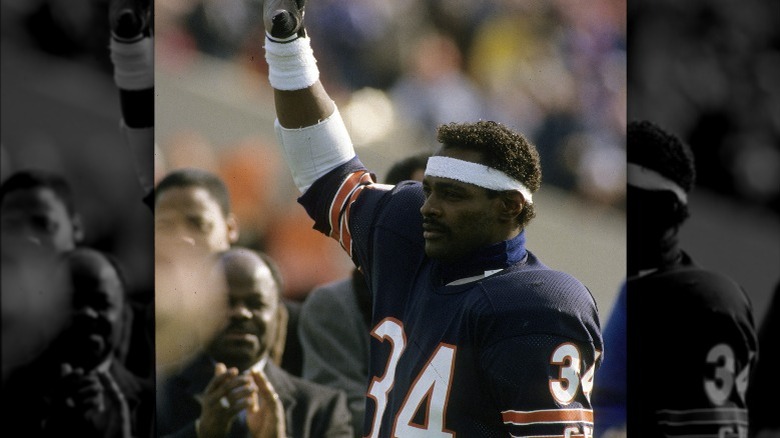 Damian Strohmeyer/Getty Images
On November 1, 1999, the world lost an icon when Walter Payton died. Though over a decade removed from his football career, he was still one of the most recognizable and beloved sports stars in all of Chicago, and maybe even America. Earlier that February, after falling ill the previous year, Payton bravely told the world that he had been diagnosed with a rare liver disease known as primary sclerosing cholangitis. He was only 44 years old at the time.
Due to the illness, Payton lost a lot of weight, roughly 25 pounds, and his physical appearance was notably worse. Initially, doctors were optimistic that a liver transplant would be effective in saving Payton's life. Unfortunately, Payton was unable to make it to the end of the year. Later, it was revealed that Payton also had bile duct cancer, which was the ultimate cause of his death.
Chicago sports fans mourned Payton following his death at the Bears' stadium Soldier Field, the same field he had used to smash his way into their hearts. He was eulogized by friends and former teammates, and was given the touching public sendoff that he truly deserved.