How Gary Rossington Masterminded The Iconic Free Bird Solo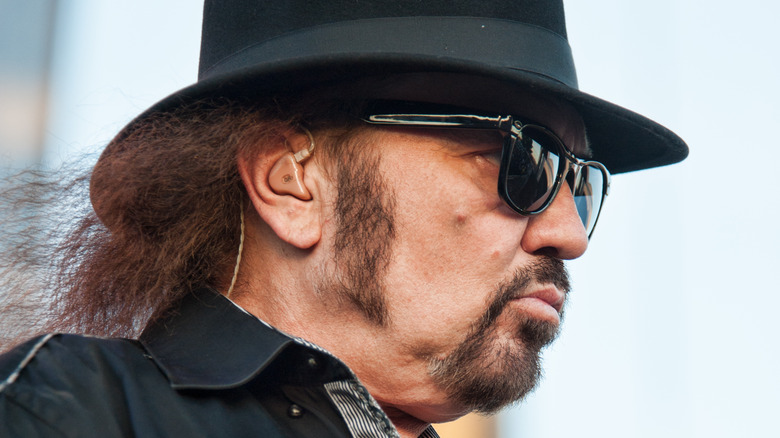 Randy Miramontez/Shutterstock
Allen Collins began playing a series of chords that he'd been tooling around with for two years. It was 1970, and he and the rest of Lynyrd Skynyrd were rehearsing. Lead singer Ronnie Van Zant really liked the sound but hadn't been able to figure out a proper melody — much less lyrics — for it. That day, when Collins played them, Van Zandt's ear pricked up. "Those are pretty," he told Collins (via "Guitar World Presents the 100 Greatest Guitarists of All Time!"). "Play them again." Collins obliged, and the band's other guitar player, Gary Rossington, joined in, repeating the chords over and over.
A few minutes later, Van Zant shouted, "OK, I got it!" He sat down and banged out the lyrics to "Free Bird" in four minutes flat. Soon they were playing a truncated version of the Southern rock classic at gigs, but Van Zant wanted to stretch it out to rest his voice. "Why don't you do something at the end of that so I can take a break for a few minutes," he asked Rossington, who began working on the iconic guitar solo with Collins.
Friends since school days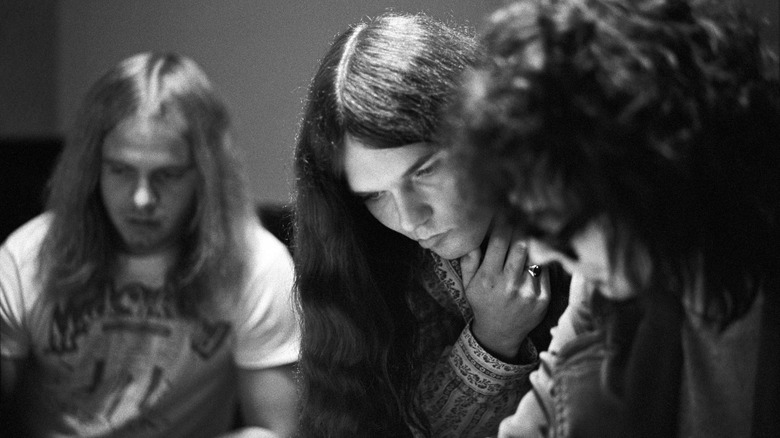 Tom Hill/Getty Images
Gary Rossington, born on December 4, 1951, met his future bandmate Ronnie Van Zant in the mid-1960s when the two teenagers were both playing baseball for local teams in Jacksonville, Florida. By the time Rossington met Van Zant, he'd scraped together enough money to put a down payment on a Sears' brand Silvertone guitar, but feeling the guitar lacked the proper rock 'n' roll sound, he suggested his friend Allen Collins join them as the second guitarist in the band they were forming. Collins agreed and, along with Bob Burns on drums and Larry Junstrom on bass (he left the band in 1971), Lynyrd Skynyrd — after various name changes — was born.
In 1970, after Van Zant suggested adding a guitar solo at the end of "Free Bird," Rossington, who'd just learned to play slide guitar, began working something up, but his slide kept clinking against the frets since the strings were too close to the fretboard. He needed to improvise.
A screwdriver and an alternate tuning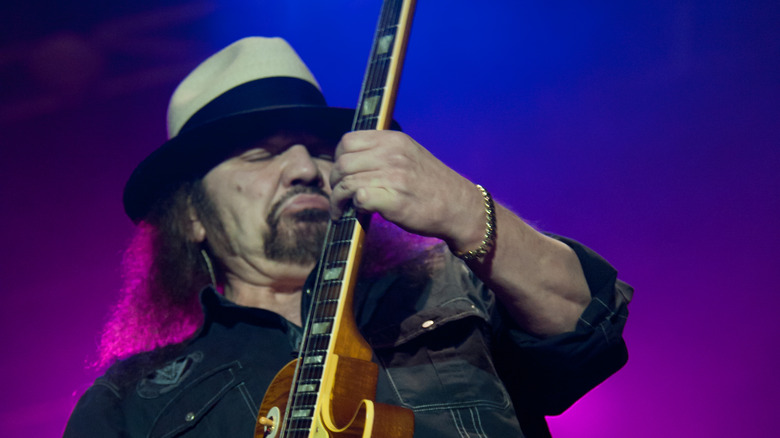 Randy Miramontez/Shutterstock
"I took a screwdriver, of all things, and stuck it under the strings up at the nut, so it would raise the strings up like a steel guitar," Gary Rossington recalled in a March 2022 interview with Guitar Player. "Then, I tuned the B string down to G, so the G and the B strings were both tuned to G. With the two Gs, it creates a drawling, doubled sound." He came up with three chords, and Allen Collins played over him, and then they took turns soloing. On the version that appeared on their debut album "(Pronounced 'Lĕh-'nérd 'Skin-'nérd)," Collins played the solo and Rossington the rhythm part and slide fills.
Rossington, who died on March 5, 2023, survived the plane crash on October 20, 1977 that killed bandmates Ronnie Van Zant, guitarist Steve Gaines, and backup singer Cassie Gaines, along with three others. He was the last surviving original member of the band.