Worst Crimes Committed By NFL Players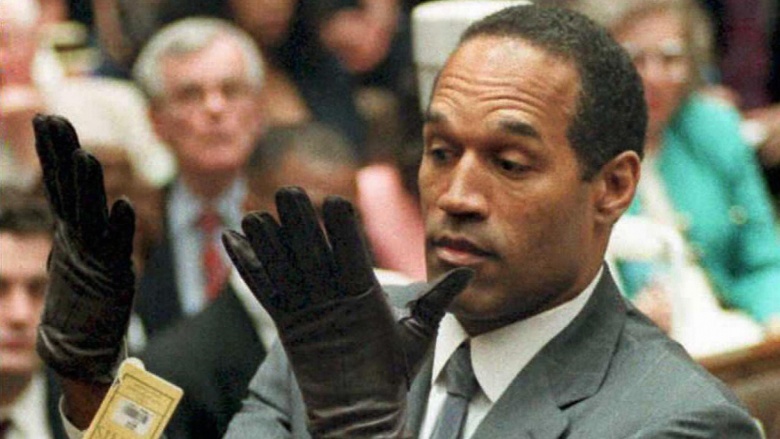 Getty Images
Just when you thought it was safe to back to your television, O.J. Simpson is in the news again thanks to the hit FX drama American Crime Story: The People Vs. O.J. Simpson. There's just an endless fascination with Simpson, the media circus that surrounded his 1995 trial, and the horrible murder of his ex-wife Nicole Brown Simpson. To think that an NFL superstar like Simpson could (allegedly) be a cold blooded killer is mind boggling. But you know what's even harder to understand? Simpson isn't the only NFL player accused of committing a terrible crime. Not even close. In fact, history is littered with cases of football stars who seemed to have everything, only to go completely off the rails. Here's a sad and shocking look at the worst crimes committed by NFL players.
O.J. Simpson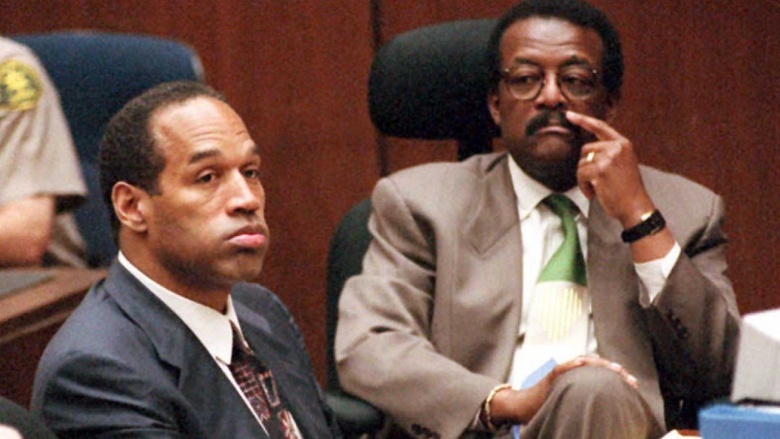 Getty Images
It might be hard for younger generations to understand now, but once upon a time O.J. Simpson was not only a world famous and beloved NFL superstar, but also an icon of both television and film. A high profile pitchman for companies like Hertz, as well as a commentator on Monday Night Football, Simpson also had a successful movie career in films like The Towering Inferno, and most famously the Naked Gun trilogy. It's not a stretch to say he was beloved by millions.
That's what made it all the more shocking and terrible when he was accused of cold-bloodedly murdering both his ex-wife Nicole Brown Simpson and her friend Ronald Goldman in 1994. Despite overwhelming evidence, including DNA from blood samples found in Simpson's car and home, he was acquitted by a jury in one of the most publicized trials in American history. Universally believed to be guilty, Simpson was eventually sent to prison on unrelated charges and is currently serving a 33-year sentence. Justice? You decide.
Ray Rice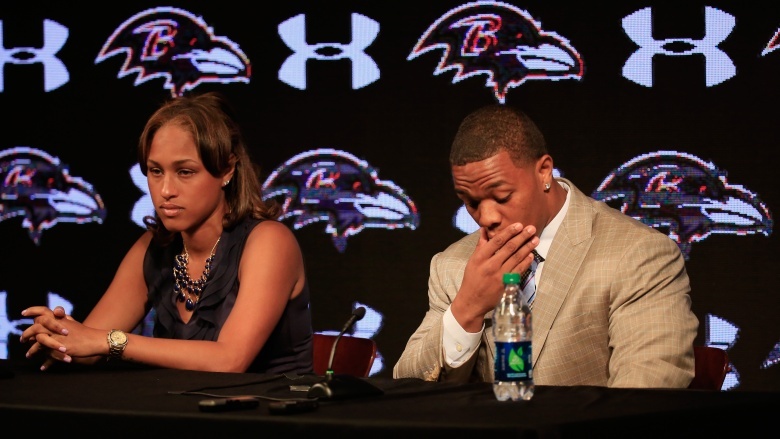 Getty Images
If there's any NFL case nearly as infamous as the O.J. Simpson murder trial, it's Ray Rice's assault on his then- fiance Janay Palmer. And make no mistake, there was nothing "domestic" about this assault. It was a vicious, sadistic attack that would have likely gone unnoticed and nearly unpunished if the NFL and the Baltimore Ravens had anything to say about it. Unfortunately for Rice, though, the brutal punch he delivered to Palmer's face—instantly knocking her out cold—and his subsequent total disregard for her well-being were both caught on film.
Though the NFL and the Ravens attempted to cover things up and smooth them over in the holy name of sacred football, TMZ leaked the recording. Public outcry led to Rice being cut and blacklisted from the sport, and to a national discussion of domestic violence in and out of sport. Will anything actually change, in society or the NFL, as a result of the Rice case? Only time will tell.
Robert Rozier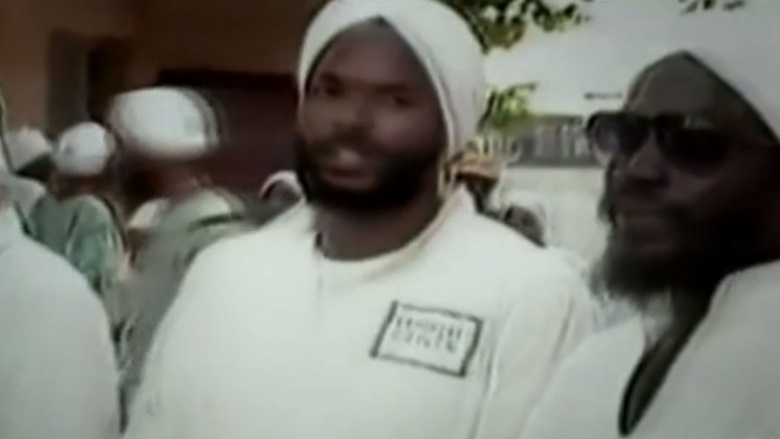 Defensive end Robert Rozier isn't a household name like O.J. Simpson or Ray Rice, but in 1979 he was drafted by the St. Louis Cardinals. Despite being a ninth round pick—so low in the draft that the NFL eventually eliminated the round entirely because it was so unlikely anyone good would still be left to draft—Rozier rose quickly on the depth chart and played in six games to start the 1979 season. But before his career could take off, he was released due to drug use, and a downward spiral began, culminating in a series of bizarre murders that would reveal Rozier to be nothing short of a serial killer.
After bouncing around the Canadian Football League, Rozier joined a black supremacist cult called The Brotherhood that required its members to prove their allegiance by murdering white people and bringing back body parts as trophies. Rozier went on a sick killing spree, murdering seven people over the course of 1985 and 1986. After turning state's evidence against the cult, though, he got off with a just a ten year sentence and placement in the witness protection program. But after being caught passing bad checks in 1999, Rozier was sent back to jail—this time for life. Justice delayed is still justice served.
Jovan Belcher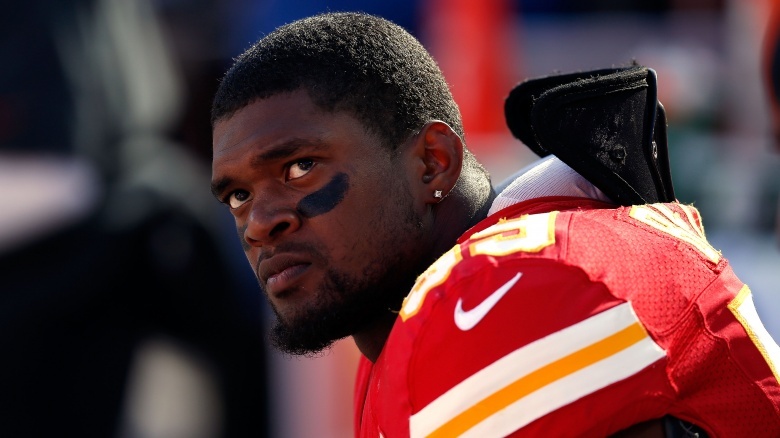 Getty Images
An undrafted free agent, linebacker Jovan Belcher was signed by the Kansas City Chiefs in 2010 and went on to become a regular contributor on defense for the next three seasons. But while his career on the field was going well, off the field things weren't so good, as he and his girlfriend Kasandra Perkins frequently squabbled, especially over the care of their newborn daughter Zoey.
On the morning on December 1, 2012, Belcher arrived home after a long night of drinking. Belcher pulled out a gun and murdered Perkins in front of his own mother, who was helping take care of the baby. After shooting Perkins nine times, Belcher drove to the Chiefs practice facility and confronted the team's general manager, Scott Pioli, and head coach, Romeo Crennel. Pioli and Crennel attempted to convince Perkins to put his gun down and turn himself in. But instead Belcher fatally shot himself in the head in front of them. Perkins was 22 when she was murdered. Their daughter Zoey became an orphan at just three months old.
Aaron Hernandez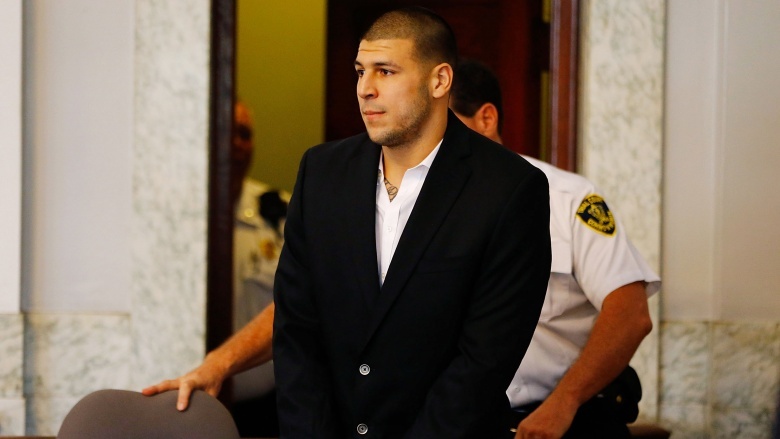 Getty Images
As a star tight end for the New England Patriots, Aaron Hernandez seemed to be living the dream. Playing opposite Rob Gronkowski and alongside legendary quarterback Tom Brady, Hernandez and the Patriots were poised for years of offensive dominance. But Hernandez harbored a dark secret that would derail his career and life: he was a murderer.
Semi-pro football player Odin Lloyd was murdered on the night of June 17, 2013. Evidence linked Hernandez to the shooting, and in 2015, he was found guilty and sentenced to life in prison. The investigation also turned up evidence incriminating Hernandez in the July 16, 2012 murders of Daniel Jorge Correia de Abreu and Safiro Teixeira Furtado; Hernandez was indicted on double murder charges but was later acquitted. He has also been linked to two other shooting incidents in Florida, in 2007 and 2013. Hernandez won't be shooting anyone else, though. In April 2017, he took his own life in prison.
Rae Carruth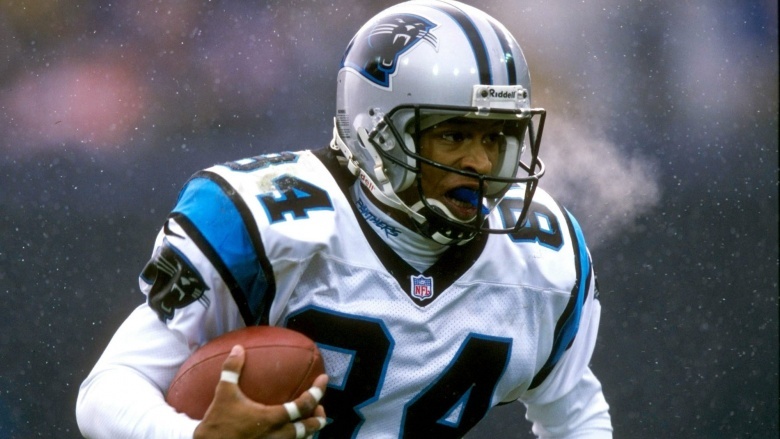 Getty Images
A first round draft pick of the Carolina Panthers in 1997, receiver Rae Carruth was on track to become a superstar when his career was suddenly derailed partway through the 1999 season. The reason? He was sent to jail for the heinous crime of assassinating his pregnant ex-girlfriend in a cold blooded, carefully orchestrated hit.
It happened on the night of November 16, 1999 in Charlotte, North Carolina. Cherica Adams, a local real estate agent, was then eight months pregnant with Carruth's child. Carruth hired a night club heavy named Van Brett Watkins to be the trigger man, while Carruth blocked Adams' vehicle with his car so she couldn't get away. But there was a hitch: after being shot, Adams survived long enough to call 911 and identify Carruth as the killer. She then died of her wounds, though doctors were miraculously able to save the baby.
Carruth fled, and was found hiding in a car trunk . He's currently serving an 18 year prison sentence for conspiracy to commit murder and is expected to be released in 2018—just a month before the 19th birthday of his son.
Dave Meggett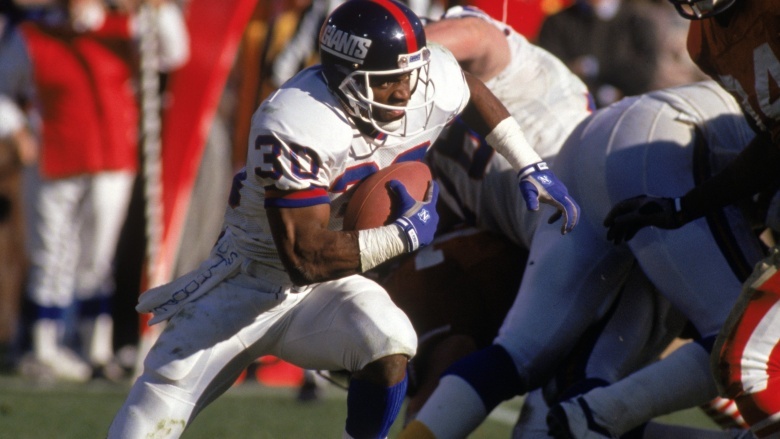 Getty Images
With all the money and fame at their disposal, you'd think that NFL players would be able to pretty much get women whenever they want. But for some criminals, even that isn't enough, which might explain how New York Giants and New England Patriots star Dave Meggett—a ten-year veteran with two Pro Bowls and a Super Bowl ring to his name—ended up as a convicted serial rapist.
First charged in relation to a sex crime in 1990, Meggett was dogged with accusations and arrests throughout his playing career and beyond, including an arrest in 1997 for raping a prostitute, another rape charge in 2001, and yet another in 2006. In fact, Meggett was arrested on assault, solicitation, or rape charges no fewer than seven times, getting off with probation or settling out of court on each occasion. Until the last, that is; in 2010, he was finally found guilty of rape and sentenced to 30 years in prison. He won't be eligible for parole until 2035—still too soon for my taste.