Why Tiger Woods Wears A Red Shirt On Sundays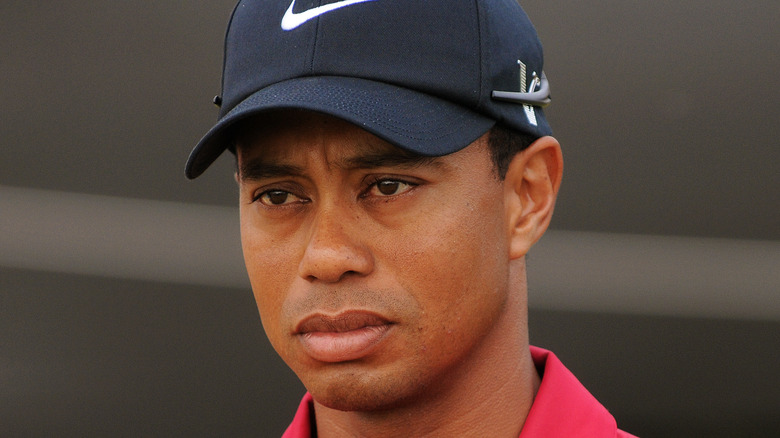 Tony Bowler/Shutterstock
When golf fans think of Tiger Woods, they likely remember the 15 major professional golf championships he's won so far in his career, or that at the age of 24, he was the youngest player ever to complete a career grand slam: win a PGA championship, a U.S. Open, and an Open Championship. In addition to those victories, Woods also won the Masters in 2001, making him the only golfer ever to put all four major trophies in his awards case (via Golf.com).
Throughout it all, Woods has worn an iconic red shirt at every competition appearance he's made on Sundays. Paired with black slacks, those red Nike shirts have become a recognizable part of Woods' legacy. The reason that he always wears red on Sundays relates to something his mom told him when he was young. And given Woods' track record of success having followed his mom's words of advice, it's unlikely that Woods' pattern of red shirts on Sunday will change for as long as he swings a 9 iron.
Red is Woods' power color, his mom told him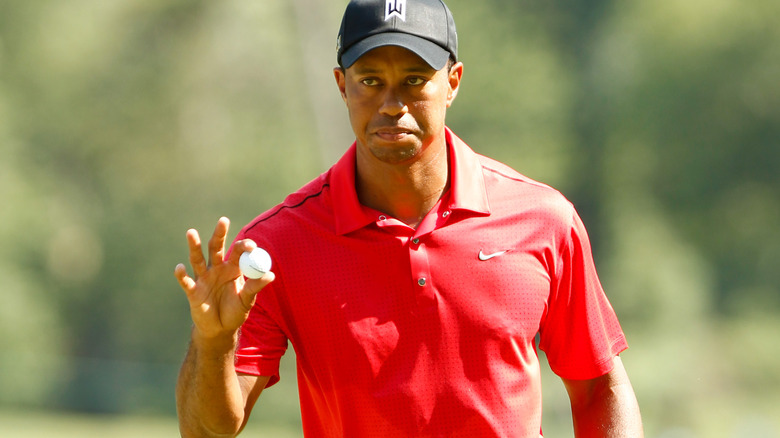 Debby Wong/Shutterstock
According to Tiger Woods himself, the reason he always wears a red and black combo on Sundays has to do with something his mom, Kultida Woods, said to him as a child. Per Golf Magic, Tiger said his mom told him as a boy that red was his "power color." As Kultida was born in Thailand, red may have also held cultural significance for Woods' mother. According to Duke Language School, wearing red on Sundays is a Hindu tradition, a religion practiced by some in her native country.
Red also stands for the bloodshed in battle from those fighting for Thai independence. The color is also significant in Buddhism, a major religion in Kultida's home country. Based on what his mom told him, Woods has worn red each Sunday while in competition, beginning from the time he was a young golfer. And as Wood told the press in ​​2013 at the AT&T National gold tournament, based on his success (via the Golf News Net): "It's not going to change."
Red was also Woods' college color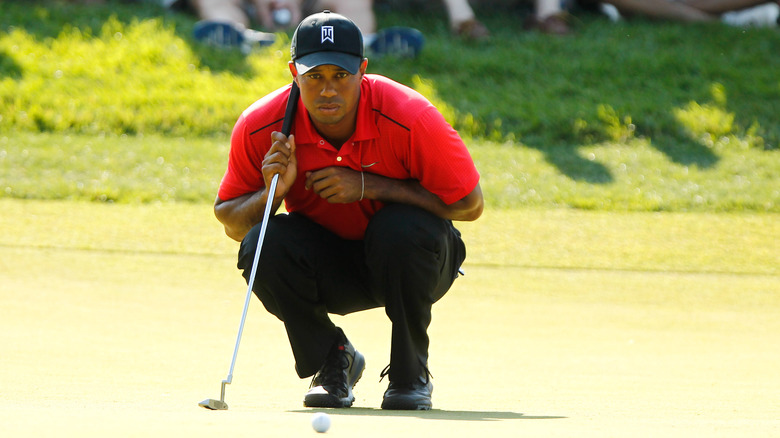 Debby Wong/Shutterstock
Another instance of red showing up in the life of Tiger Woods is in the colors of Stanford University, where he played college golf. Since then, Woods has worn red Nike while competing as a pro-golfer, Nike being Woods' long-time sponsor. Based on the habit, Woods has reportedly even picked up the nickname "Red Shirt." In 2021, Woods was involved in a serious car wreck, and in honor of the athlete whom many consider the greatest of all time, other well-known golfers wore red while he recovered.
In response to the gesture, Woods wrote on Twitter: "It is hard to explain how touching today was when I turned on the tv and saw all the red shirts. To every golfer and every fan, you are truly helping me get through this tough time." Though he failed to perform to his standards, when Woods came back at the 2022 Masters Tournament, he wore his red shirt (via Golf Channel). Of those red shirts, Woods has also said: "I just stuck with it out of superstition, and it worked."