How The Menendez Brothers Gained A New Wave Of Support From TikTok
A new generation of true-crime fans has learned of the Menendez brothers' story via TikTok, and as a result, some have taken a very different stance on the verdict, according to The New York Times. In 1996, Erik and Lyle Menendez received two consecutive life sentences without an opportunity for parole in the shocking 1989 shooting deaths of their mother and father, José and Mary "Kitty" Menendez, in their Beverly Hills home. Prosecution in the case said Lyle and Erik shot and killed their parents for their money, while the Menendez brothers' defense team said the murders came after years of living with sexual abuse from their father.
At the 1996 trial, the defense failed to prove its case to the jury, leading to the Menendez brothers' conviction. For many too young to remember the case when it happened, as the story trends and gets retold on TikTok, the sexual abuse narrative offered by the defense seems to deserve a second look. In turn, some who now consider themselves Menendez brothers "believers" have launched social media accounts in support of the convicted criminals. Jordan Whynn, who believes the Menendez brothers' abuse defense (and who was born years after Erik and Lyle entered prison), told the NYT, when Kitty and José's murders happened, in his view: "[T]he brothers had an unreasonable but genuine belief that their lives were in danger." 
Thousands now call for the Lyle and Erik to be released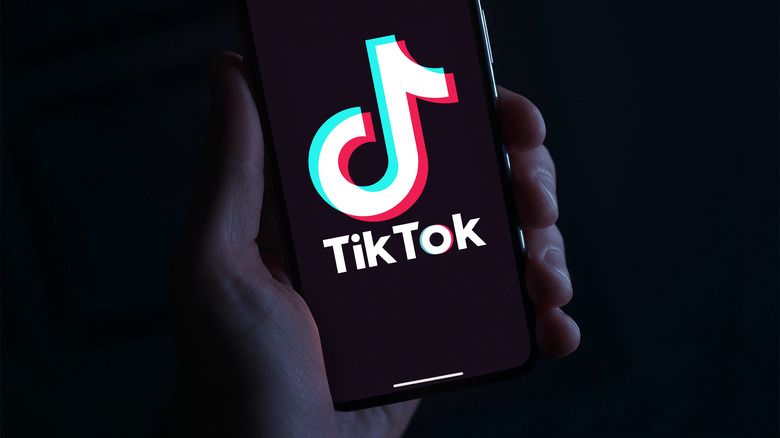 Eliseu Geisler/Shutterstock
In light of the spike in popularity of the Menendez brothers' case both on TikTok and on other online platforms, Newsweek reports that calls have grown for Erik and Lyle to be released from prison because of those abuse allegations. In 1993, the Menendez brothers received the first of two trials for double murder, at which time, Erik and Lyle accused their father of emotional and sexual abuse in their testimonies. The defense claimed José and Kitty were killed, instead, in a mob hit, corroborated by detectives familiar with the crime scene. Erik and Lyle were soon prime suspects, though, and the two brothers were arrested and put on trial.
During the first Menendez brothers trial, at which time both brothers pleaded not guilty, allegations of sexual and emotional abuse from their father came to light, and that recorded testimony from the first Menendez trial now gets replayed on TikTok and Instagram, mostly out of context. Shifting views on abuse may have informed current perspectives on the case, and that testimony in particular, according to Columbia College Chicago media studies professor, Sharon Ross. In an email to The New York Times, Ross wrote: "We are right now much more attuned as a society to the realities of the impact of domestic violence, sexual abuse and harassment, and racist violence and harassment ... This allows us to look at 'reactions' to such elements with 20/20 hindsight."
The first Menendez jury deadlocked
At issue in the first trial of Erik and Lyle Menendez was the admissibility of a therapist tape in which the brothers' admitted they shot and killed their parents but gave no motive, among other complications, questioning the veracity of the abuse defense. Menendez brothers' attorneys were clear that the Menendez brothers' committed the crime, but the issue at hand was why they did it: Could it have been self-defense? Still, at the conclusion of the first trial of Erik and Lyle, the jury deadlocked and a mistrial was declared. In the second trial, sexual and emotional abuse testimony was not allowed. At the end of the second trial, Erik and Lyle Menendez were found guilty of first-degree murder with special circumstances.
It's the sexual and emotional abuse testimony not admitted in the second trial that has newfound Menendez brothers supporters fuming, calling for the release of the Menendez brothers more than three decades into their prison sentence. Controversially, the two have also become sex symbols to the Gen Z TikTok generation, much like they were to members of Generation X when the case first made headlines. These next-gen true-crime armchair sleuths say the Menendez brothers are guilty, but in their view, the self-defense testimony should be reconsidered. One young woman referred to only as Janne, a Menendez brothers-believer who runs a TikTok feed of her own laying out her feelings on the case, told ABC News: "Watching someone describe these types of experiences is always very sad and very compelling."
If you or anyone you know has been a victim of sexual assault, help is available. Visit the Rape, Abuse & Incest National Network website or contact RAINN's National Helpline at 1-800-656-HOPE (4673).