The Parents Of The Menendez Brothers Had Far-From-Happy Childhoods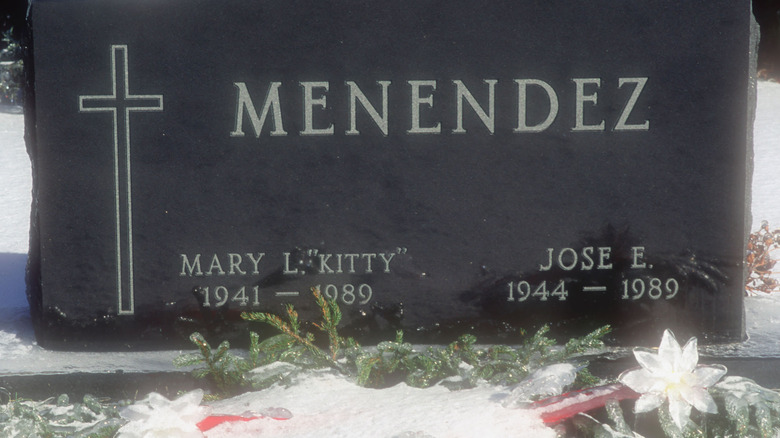 Yvonne Hemsey/Getty Images
As much as for the shocking manner in which they were killed, what perhaps most transfixed the public about the 1989 double murder of Mary "Kitty" and José Menendez — a crime for which their two sons, Lyle and Erik Menendez, were convicted and sentenced to life behind bars — was the affluent lifestyle the Menendez family enjoyed before those murders took place. As a look back at the childhoods of both Kitty and José reveals, though, the lives of the Menendez parents were far less happy than the opulent manner in which they lived might imply (per Biography).
Both José, an entertainment executive, and Kitty Menendez, a teacher and stay-at-home mother, were killed in their Beverly Hills estate by 15 rounds from two 12-gauge shotguns, reportedly leaving both bodies almost unrecognizable (via The U.S. Sun). The legal defense team for Lyle and Erik Menendez claimed the boys were physically, sexually, and emotionally abused by their father, and that the shooting was an act of self defense. The two sons were nonetheless convicted and sentenced to life in prison in 1995. In the wake of renewed interest in the Menendez case on social media, a 2022 Investigation Discovery documentary, "Menendez Brothers: Misjudged?" reconsiders the Menendez murders, with a trailer to watch now on YouTube.
If you or someone you know may be the victim of child abuse, please contact the Childhelp National Child Abuse Hotline at 1-800-4-A-Child (1-800-422-4453) or contact their live chat services.
José Menendez was born in Cuba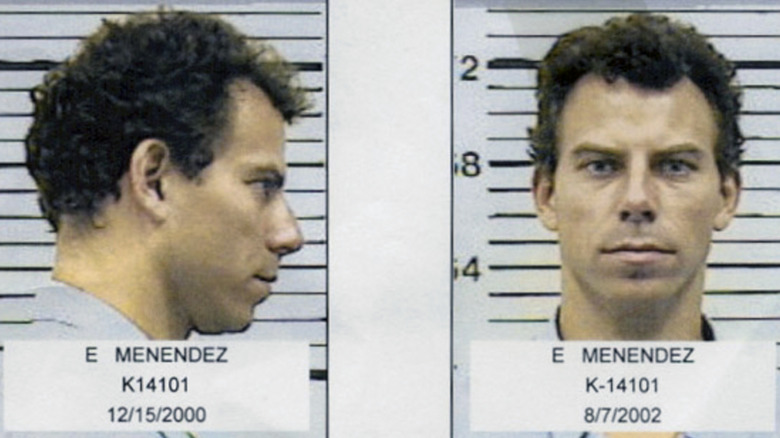 Kypros/Getty Images
According to Biography, José Menendez was born to a wealthy family in Cuba. When the Castro regime took over his family lost much of their fortune and helped José flee to the U.S. while still a teenager. Once in the U.S., he lived in an attic with relatives in Pennsylvania, as the Los Angeles Times reports. Born in Illinois, Kitty's childhood was also turbulent, with alleged abuse in her home and a philandering father, who was a small business owner, who abandoned his family to live with a mistress.
Kitty, a beauty queen, met José while they were both enrolled at Southern Illinois University. After the couple married in 1963, they first moved east to New York, and then to the Los Angeles area, where José was employed as a high-powered entertainment industry executive. José was known as an ambitious and hardworking businessman, and Kitty became a stay-at-home mother when Lyle and Erik Menendez were born in 1968 and 1970, respectively. From the outside, José and Kitty Menendez accomplished the American dream, but there was a dark side to the family.
Allegations of sexual abuse haunted the Menendez family
Throughout their teen years, Erik and Lyle Menendez were driven hard by their ambitious father, both in athletics — the family's chosen sport was tennis — and in academics, which over time, seemed to turn his sons against him, as Biography goes on to note. After Erik and Lyle confessed to killing their parents, allegations of sexual abuse at the hands of their father emerged at their first trials, one for each brother, both of which ended in a hung jury. According to the prosecution, the Menendez brothers killed their parents for the inheritance. Each brother was subsequently retried and convicted, sentenced to live behind bars, where they remain today.
Supported by defense attorney Leslie Abramson, a Menendez cousin named Diane Vander Molen testified in the first Menendez trial that Lyle confessed to her when he was 7 years old that he was sexually abused by José (via ABC News). Vander Molen also said she told Kitty Menendez what she learned. Both Lyle and Erik Menendez also testified they experienced abuse from their father. Sexual abuse allegations in the Menendez family were also corroborated by Kitty's sister, according to All That's Interesting. Also revealed in testimony, Kitty was reportedly behaving strangely in the weeks leading up to her murder. In the years leading up to her death, she had reportedly abused substances like alcohol and prescription medication, and had even attempted suicide (per IMDb). 
If you or anyone you know is having suicidal thoughts, please call the National Suicide Prevention Lifeline by dialing 988 or by calling 1-800-273-TALK (8255)​.