How Donald Trump's Lawyer Is Connected To The Natalee Holloway Case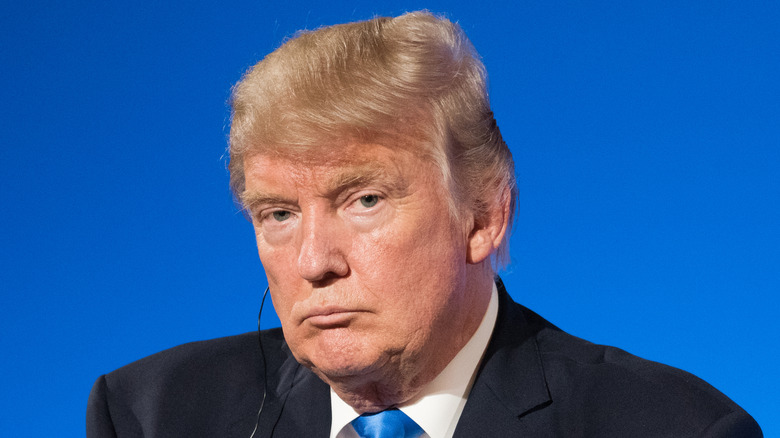 Frederic Legrand - COMEO/Shutterstock
The lawyer potentially defending Donald Trump on charges related to the former president's late March 2023 indictment in New York state is connected to another high-profile crime: the 2005 disappearance of American teenager Natalee Holloway while in Aruba (via Business Insider). Holloway's remains were never found, and in 2012, she was declared legally dead in her home state of Alabama, per The Guardian. Trump's lawyer, Joe Tacopina, represented Joran van der Sloot, a leading suspect in Holloway's death. Tacopina helped secure van der Sloot from police custody. The suspect was never tried in Holloway's unsolved disappearance,
Tacopina first worked for Trump in another ongoing legal matter facing the former president: American journalist E. Jean Carroll's lawsuits accusing the reality TV star and politician of rape, battery, and defamation, Business Insider notes. Trump could stand trial on Carroll's accusations in April 2023. However, as of March 2023, the role Tacopina may play in defending the former president for charges relating to hush money paid to adult film actress Stormy Daniels was undetermined. Prior to Trump's official indictment, Tacopina spoke with NewsNation's Dan Abrams (via YouTube). At that time, Tacopina told Abrams that Trump's claims he knew nothing of Daniels' financial agreement were "not the truth" but also "not a lie" (via Daily Mail).
Joren Van der Sloot is in prison in Peru
Gilbert Carrasquillo/Getty Images
A native of the Netherlands, Joran van der Sloot — the prime suspect in the disappearance and potential death of Natalee Holloway — is currently in prison in Peru. Van der Sloot received that sentence for the 2010 murder of Stephany Flores Ramírez, to which van der Sloot confessed, Dutch Review reports. He reportedly killed Ramírez after she confronted him regarding a possible connection to the Natalee Holloway case.
Prior to the van der Sloot trial for Ramírez's murder, his lawyer, Joe Tacopina (pictured) — who now represents former president Donald Trump in ongoing legal matters — appeared on CBS' "The Early Show" when van der Sloot was taken into custody. At that time, CBS News said Tacopina urged no one "rush to judgment" about the potential guilt of his client. In that same interview, Tacopina said there were, in his view, inconsistencies in the official narrative surrounding Ramírez's murder.
Speaking on "The Early Show," Tacopina added: "I'm not taking the position that [van der Sloot, his client, was] being wrongly accused. ... What I do say is that Joran van der Sloot is an easy guy to point the finger at. He's a popular suspect, he's someone who people believe — people have very strong opinions about this — that he got away with murder, literally, in Aruba which, the evidence says otherwise, the judges have said. otherwise. But he's someone who is easy to point the finger at, he wears a bulls-eye on his back."
Tacopina had earlier secured Van der Sloot's release from custody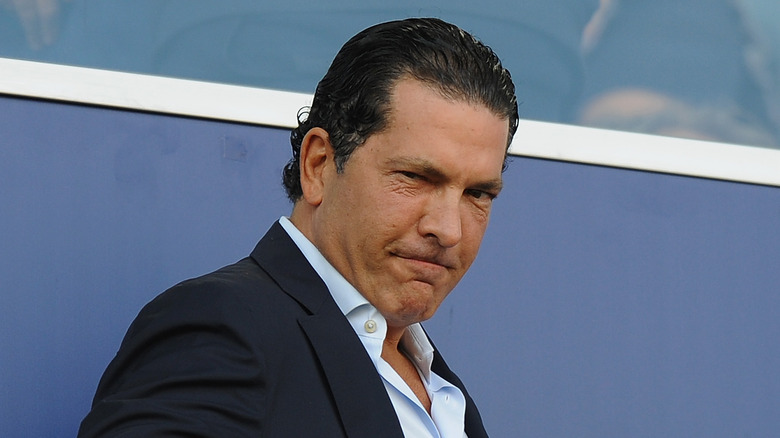 Mario Carlini / Iguana Press/Getty Images
Prior to Joran van der Sloot's conviction for the 2010 murder of Stephany Flores Ramírez, he was in custody for a possible connection to Natalee Holloway's 2005 disappearance and possible death in Aruba. Joe Tacopina also represented van der Sloot at that time. Van der Sloot was released from custody after a judge ruled there was insufficient evidence to continue detaining him, NBC News reports. Two other suspects in the case were released just days earlier. After van der Sloot's release, Tacopina reportedly told the Associated Press (via NBC News): "It's been a long road, and we're very relieved and feel very much vindicated" by the judge's ruling. 
Former President Donald Trump and convicted murderer van der Sloot are not the only famous clients Tacopina has provided legal services. In 2018, Tacopina also helped secure rapper Meek Mill's release from prison in a parole agreement on gun and drug charges, Now This News writes. He also represented retired MLB player Alex Rodriguez in a case related to steroid use and Rodriguez's subsequent suspension from the game, per New England Sports Network.