Where Is Ghislaine Maxwell Now?
In 2022, a 20-year prison sentence was handed down to Jeffrey Epstein associate Ghislaine Maxwell. By 2023, Maxwell was once more in the headlines for appealing the verdict. Related to Epstein's alleged sex trafficking operation, Maxwell's sentence stemmed from a conviction on five charges of soliciting four underage girls over a 10-year period. A convicted pedophile and billionaire financier, Epstein, once romantically linked with Maxwell, died by suicide in 2019 while in police custody. Maxwell's conviction was later reduced to three counts after a judge deemed two counts against her "repetitive", per CNN.
In March 2023, Reuters reported that Maxwell and her legal team asked a New York appeals court to void her conviction or reduce her sentence. In the lead-up to her trial, among other complaints, Maxwell was housed in a Brooklyn jail in what her attorneys called "inhumane conditions" with "vermin in her cell." In the view of Maxwell and her attorneys, this prevented her from adequately preparing for her trial, Page Six writes.
Page Six goes on to report that Maxwell's lawyer, Arthur L. Aidala, wrote in a statement, by the time Maxwell appeared in court, "she was so disoriented and diminished that she was unable meaningfully to assist in her own defense, much less to testify." Her legal team asserted these conditions were in violation of Maxwell's Constitutional rights. At the time of her appeal, Maxwell, the daughter of the late Robert Maxwell, a controversial British media executive and politician, was serving her sentence at FCI Tallahassee, a low-security Florida prison facility.
Maxwell said she was exposed to raw sewage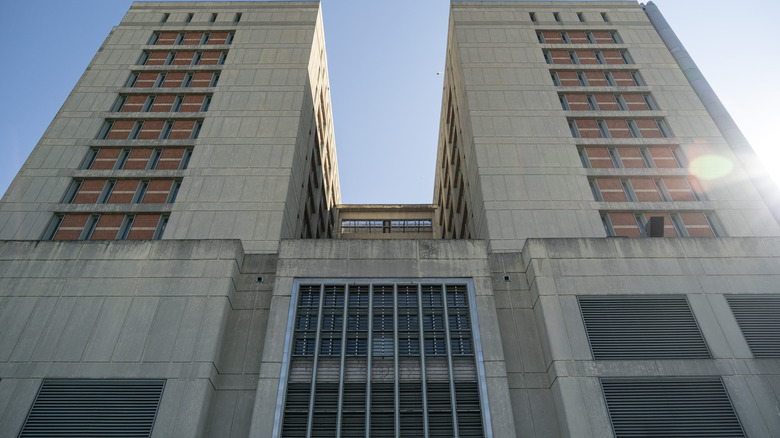 Drew Angerer/Getty Images
Maxwell's 2023 appeal to overturn her sex trafficking conviction was not the first time she and her legal team raised alarm over the alleged poor conditions she experienced while in custody. In 2021, Reuters reported that Maxwell and her lawyer said she was exposed to raw sewage at the Metropolitan Detention Center in Brooklyn, as well as excessive surveillance, harassment, sleep, water, and food deprivation, according to Maxwell and her attorneys.
Around that same time, Maxwell's lawyer, Bobbi Sternheim, wrote (via Reuters) the conditions in Brooklyn were "reprehensible and utterly inappropriate for [a] woman on the cusp of turning 60 with no criminal record or history of violence. The surveillance rivals scenes of Dr. Hannibal Lecter's incarceration despite the absence of the cage and plastic face guard," she added, referring to the villain from "The Silence of the Lambs" book and movie franchise. 
The next year, Maxwell was sued by the legal firm representing her for close to a million dollars in unpaid legal fees, CNN writes. Maxwell's representation threatened to quit over lack of payment before her trial even began. As of CNN's report, less than $150,000 had been paid by Maxwell's brother, Kevin Maxwell, who reportedly offered to help cover Maxwell's bill. Because of the unpaid legal fee lawsuit, Maxwell obtained a new legal team for appeal that had also represented the convicted sex offender and movie producer, Harvey Weinstein. 
An Epstein agreement should have immunized Maxwell, her attorney said
Also according to Maxwell's appeal, the convicted sex trafficker claimed that an earlier non-prosecution agreement Jeffrey Epstein entered into in 2008 is grounds to overturn her conviction. Under that agreement related to Epstein's solicitation of a minor for prostitution in Florida, he would plead guilty to state charges and serve a 13-month sentence in a work release program in lieu of possible life in prison, based on 2020 reporting from The Associated Press. 
The offer to Epstein at that time is now widely considered an error in judgment on the part of the prosecution. According to CNN, the wording of the agreement does cover any potential Epstein co-conspirators, although Maxwell's name is not mentioned. Nonetheless, in the view of Epstein and her lawyers, the agreement is reason enough to have Maxwell's conviction thrown out or to greatly reduce her sentence.
Also according to Maxwell's defense, the statute of limitations related to the criminal charges against her had run out. According to Maxwell's appeal, a juror in the case also failed to disclose he had experienced sexual abuse.
The mix-gendered Florida FCI Tallahassee facility where Maxwell is residing seems a step up from the purported conditions in her New York jail cell, with access to yoga, movies, and other luxuries, the AP reported in 2022. In interviews given from prison,  Maxwell has said she wishes she never met Epstein, according to The Guardian, and that an incriminating photo with herself, Prince Andrew, and Virginia Giuffre, an alleged Epstein victim, was doctored, per CBS News.
If you or anyone you know has been a victim of sexual assault, help is available. Visit the Rape, Abuse & Incest National Network website or contact RAINN's National Helpline at 1-800-656-HOPE (4673).