The Time Two Politicians Spoke Out Against The Jerry Springer Show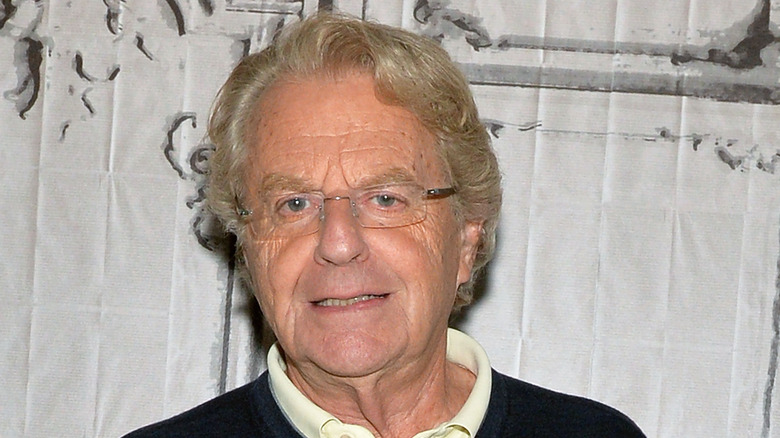 Slaven Vlasic/Getty Images
In production from 1991 to 2018, the nationally-syndicated talk show "The Jerry Springer Show" covered such controversial topics as marital infidelity and sex work. At one point, on-screen fights and profanity-laced outbursts were common. The shocking nature of Springer's show made it a ratings success. Over time, though, those aspects of the program garnered attention of a different sort.
In 1998, former Secretary of Education William Bennett and then-Connecticut Senator Joseph Lieberman spoke to the National Association of Broadcasters in Las Vegas. They described certain Springer episodes as a new low for network television, according to New York Daily News. Bennett and the Connecticut Democrat's Vegas appearance was just one example of the work undertaken by both politicians against Springer's series while it was on the air.
In his '98 remarks to broadcasters in Vegas, Lieberman said (via New York Daily News), "Drop it, or if you won't drop it, urge the producers to clean up the show," referring to Springer's program. "We're here for three reasons," Bennett added. "The first is to remind broadcasters of the high standards they once had; the second is to remind people in the business how low much of it has sunk, and also to remind people of the enormous influence and responsibility they wield."
Lieberman and Bennett complained to the USA Network about Springer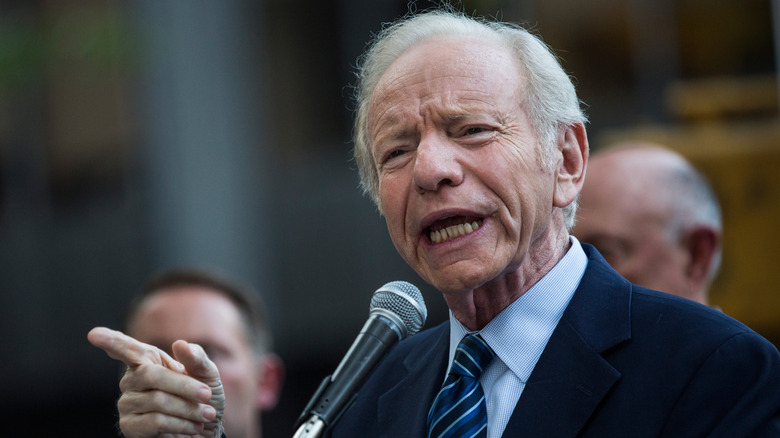 Andrew Burton/Getty Images
In 1998, "The Jerry Springer Show" had plans to air an episode involving people who participate in bestiality — humans engaging in sexual contact with animals. As well as their Las Vegas appearance at the National Association of Broadcasters convention, former Secretary of Education William Bennett and Senator Joe Lieberman (pictured) wrote a letter to the USA Network, the parent company of the "Springer Show", SBC Life reports. In that letter, the two politicians urged USA Network not to air the installment. USA Networks Inc. owned Studios USA Television Distribution, which produced and distributed the program.
By that point, USA Network had already put a stop to the on-screen violence that had made Springer's show popular for some viewers. In their letter to USA Networks President Barry Diller, Lieberman and Bennett wrote they were outraged to learn that an upcoming Springer episode would feature three guests who regularly engage in sexual relations with animals. "The decision to broadcast this repugnant segment for any adult, adolescent, or toddler to see is reprehensible, and sends a disturbing message to America's families about the lengths that the TV industry will go to make an extra dollar," the letter read (via SBC Life). The bestiality episode never aired.
Lieberman asked the Department of Education to cut off Springer funding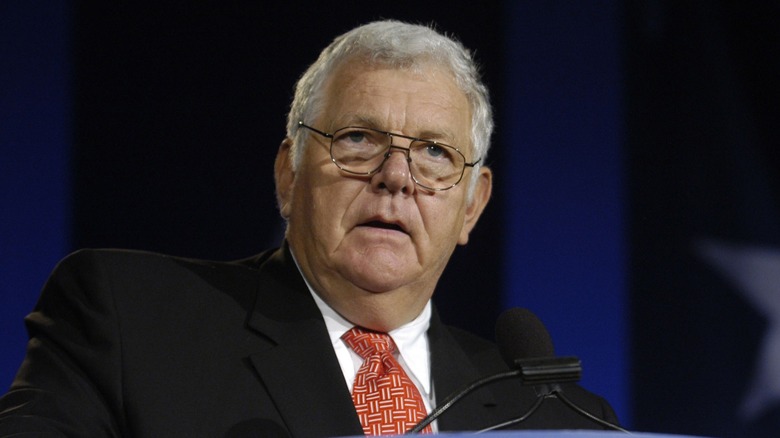 Stephanie Kuykendal/Getty Images
Another tactic against Jerry Springer adopted by Senator Joe Lieberman — separate from William Bennett (pictured) — was to target Department of Education funding for the program's closed captioning. Many hearing-impaired U.S. citizens disagreed with Lieberman's stance. In response, Lieberman said (via The New York Times): "[T]his is not the most egregious expenditure of Federal money. But to be true to the principle about the negative impact of a show like Springer's, we felt obliged to speak out." The closed-captioning grant remained in place.
At the 1998 Las Vegas convention, the chorus against Springer was joined by then-ABC President Robert Iger. In his speech, Iger said (via New York Daily News), "I'll take the criticism for shows like 'NYPD Blue' and 'Ellen' because I believe there is room on the air for adult-oriented programs, provided they are high in quality. Programs like 'Jerry Springer' are another matter. I question the logic of putting him on the air." 
In response to those criticisms, a USA Networks spokesperson said the show was voluntarily rated TV-14 — in accordance with a recently developed TV content rating system. It had also voluntarily added a disclaimer that warned parents against children watching. Otherwise, "[I]t is up to parents and individual viewers to decide whether to watch the show," they said.