How Close Are King Charles And Princess Anne?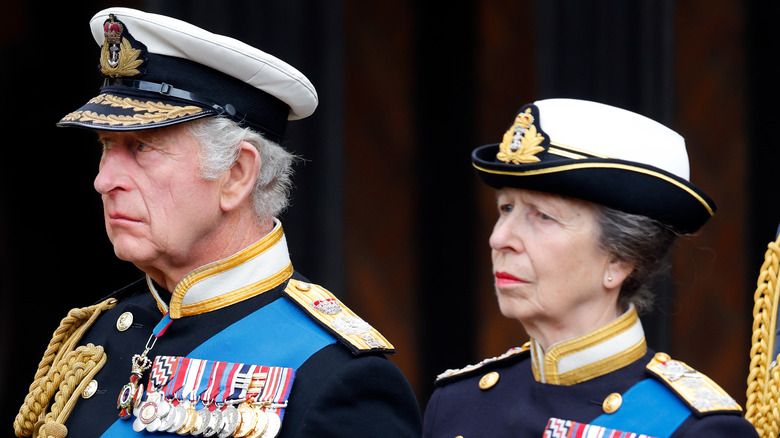 Max Mumby/indigo/Getty Images
King Charles III and Princess Anne are members of the British royal family, but they are also siblings, after all. And as anyone who has a brother or sister can attest — or anyone who has simply observed the relationship between siblings is well aware — that's no guarantee they get along. Despite the pressures of royal life, as it turns out, King Charles III and Princess Anne, the late Queen Elizabeth II's only daughter, are quite close, according to Town & Country.
Princess Anne, for example, had the prestigious role of Gold-Stick-in-Waiting in King Charles III's coronation procession, from Westminster Abbey in London (per London World). But that strong bond doesn't mean Anne and Charles always agree. For example, Anne seemingly shut down Charles' reported desire to "slim down" the royal family under his purview. "It doesn't sound like a good idea from where I'm standing," Anne remarked in a CBC interview before her brother's crowning ceremony (via CNN). "I'm not quite sure what else we can do."
Still, many royal observers expect Anne, often described as the "hardest working" member of the royal family, will play a prominent part in Charles' reign, per Insider. That's unsurprising, considering what both he and Anne have been through and all they've shared: being born into a royal household, gardening at Buckingham Palace as children, and finally their public grief at the deaths of their father, Prince Philip, and their mother, Queen Elizabeth II one year later (via Woman & Home).
Anne and Charles have very different personalities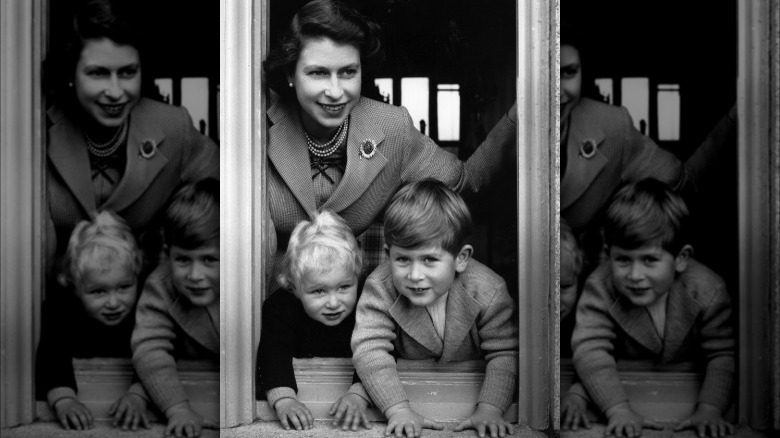 Lisa Sheridan/Getty Images
Their tight bond aside, Anne and Charles are reportedly quite different people and fought as young brothers and sisters often do, Express reports. According to a former royal nanny, Anne was always more extroverted, while Charles was less boisterous and noisy. As children, Anne and Charles "fought like cats and dogs," the princess said, though they did share an interest in gardening.
Two years apart, Anne and Charles were very young at the time of their mother's coronation in 1953, and they were there for each another under intense media scrutiny as members of the royal family, Hello! writes. According to Princess Anne biographer Nicholas Courtney, "[Anne and Charles] spent all their time together, at least when Charles was not in the schoolroom." 
Elizabeth's other two children, Andrew and Edward, were born years later, so there was plenty of time for Anne and Charles' relationship to coalesce. Anne and Charles "[G]rew up in the 1960s, where you had this social change within the United Kingdom, within the world, people being freer, but you still have the constraints of the monarchy," royal historian Marlene Koenig said.
The royal siblings had marital problems around the same time: Charles with the late Princess Diana, and Anne, with her first husband, Mark Phillips (via Express). Of that period, Koenig told Insider, "I don't think she ever condemned him for his extramarital affairs, simply because she knew the people and she knew how miserable his marriage was."
Anne and Charles are among the last royals standing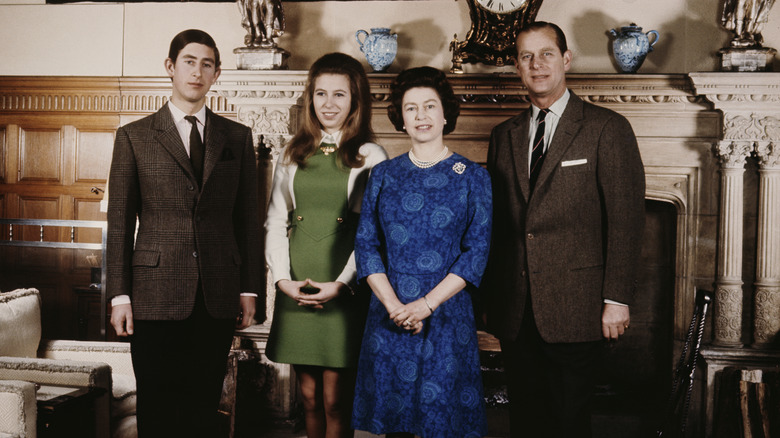 Hulton Archive/Getty Images
Charles and Anne's relationship has only strengthened with age, according to royal historian Marlene Koenig. "She knows what he has been through. And I think their relationship as two senior citizens is far better than when they were kids because they understand each other," Koenig said (via Insider).
Meanwhile, the British royal family has shifted. Charles' second son, Prince Harry and his wife Meghan Markle, opted for life in California, and Prince Charles' brother, Prince Andrew, embroiled in controversy, also left the fold and had his military titles stripped (via Fox News). In that CBC interview, Anne said the trend toward a trimmed-down royal family may have made sense at one time.
Now, though, Anne might think it might put too much pressure on Prince William and Kate, who are next in line for the British throne. "We have got a slimmed down monarchy by default, but you can go too far ... There is a danger that they become short of numbers. Anne is in her seventies, as are the King and Queen," royal expert Phil Dampier said (via Daily Mail).
Still, going forward, Princess Anne's role in the life of her brother and the monarchy is unlikely to change. As a source close to the royal family told Vanity Fair, "[King Charles III] knows he has a loyal and faithful ally in the Princess Royal. She is committed to supporting the crown and devoting herself to the work of the monarchy. Charles absolutely plans to include her."