Twin Criminals Who Committed Horrible Crimes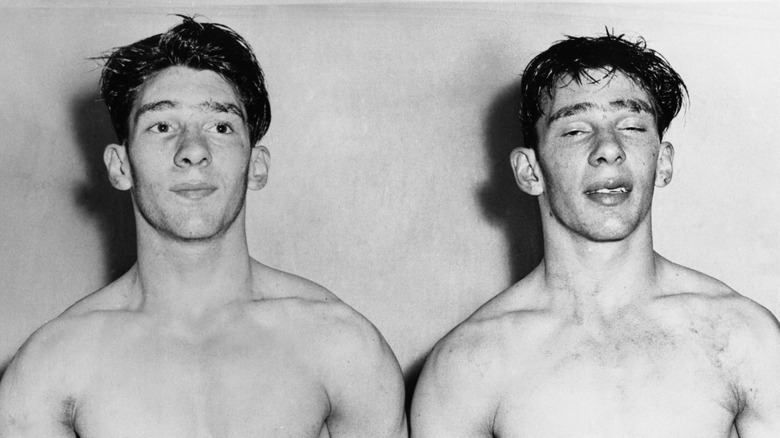 Evening Standard/Getty Images
When we meet twins, people often ask in jest — who is the evil one? But history has shown that sometimes ... both twins are evil. There have been many cases of scary siblings following similar paths in life and sometimes those paths are dark ones. Terrifying and deeply creepy killer twins are not just the reserve of twisted horror movies.
Some of these brothers and sisters worked together, keeping crime in the family and strengthening their tight bonds with acts of pure evil. Others committed terrible crimes separately, mirroring each other in more than just their appearance.
Sometimes bad childhoods are to blame, although in other cases it is tempting to blame genetics; mental illness and psychopathic traits seem to run in the families of these dastardly duos. From rapists to murderers to fraudsters, these men and women have gone down in infamy as some of the world's very worst twin criminals.
This article has references to drug misuse, sexual assault, suicide, and extreme violence.
British Mobsters the Krays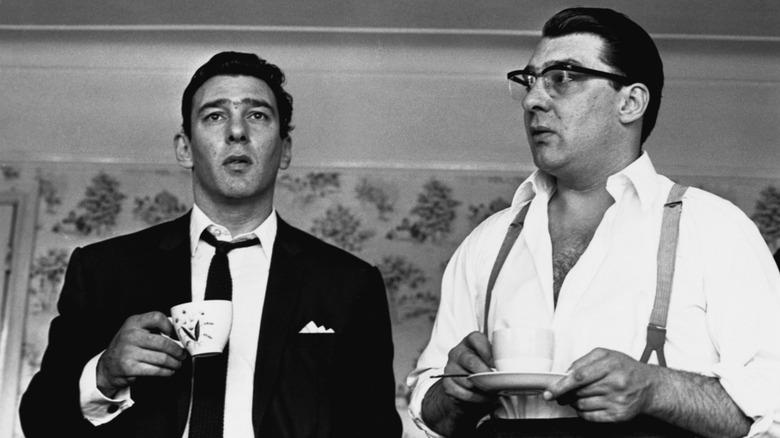 Hulton Deutsch/Getty Images
Twin brothers Ronnie and Reggie Kray were a couple of small-time crooks who grew to become celebrity gangsters in London in the 1960s. Hailing from London's then-notorious East End, they initially worked as petty criminals, involved in the nightclub business, and running protection rackets on the side. At their height, they took over a West End gambling establishment graced by many well-known celebrities. The pair avoided prosecution for their crimes for many years, before finally going down for a string of murders in 1969.
Under different circumstances, the Krays may well have lived and died in obscurity. However, in 1964, Ronnie Kray shot to fame thanks to a tryst with a well-known Conservative aristocratic politician, something that was illegal at the time. The following year, an iconic portrait of the criminal pair drinking tea (pictured), further increased their celebrity. A string of books and films about the pair kept their legend alive while they were in prison, netting them thousands in royalties.
Although the twins charmed many people throughout the course of their lives — even generating a campaign for their release in the 1990s — they both committed some fairly ghastly crimes, and violence followed the Krays wherever they went. For example, during one particularly notorious incident, Ronnie is known to have branded one of his enemies with a white-hot poker. Ultimately, Ronnie would be jailed for shooting another mobster, who insulted him with a homophobic slur, and Reggie was caught for stabbing a gangster to death in North London.
The multiple murders of the Spahalski Brothers
Twin brothers Robert and Stephen Spahalski committed a huge array of crimes throughout their lives, including a string of murders. According to Michael Benson's book "Killer Twins," the Spahalski brothers began experimenting with crime at a young age, daring each other to commit bigger and bigger robberies. The pair would ultimately find themselves in prison together a number of times and they even hatched a failed escape plot together.
Of the two men, Stephen is perhaps the less frightening brother, having killed "just" one person. According to his own account given in the Democrat and Chronicle, Stephen killed his only victim, Ronald Ripley, when he was just 17 after Ripley made an unwanted advance on him. When his back was turned, Stephen smashed Ripley's head in with a hammer and stabbed him from behind. Although he was jailed for the murder, it would not be his last crime. Shortly after his release, Stephen kidnapped a cashier after staging a gas station robbery and was only talked down from killing his victim by the pleading of his accomplice. Stephen would spend most of the rest of his life in-and-out of prison for various offenses, including a handful of robberies.
Robert (pictured), on the other hand, killed at least four people, and he was only caught because he went to a police station to confess. Among his victims were a sex worker he choked to death with an extension chord and an old girlfriend he strangled during intercourse. Stephen was reportedly surprised to learn that they were both killers when Robert finally confessed.
The Whitehead sisters' matricide
In 2010, twin sisters Tasmiynah and Jasmiynah Whitehead alerted the police that their mother, Jarmecca "Nikki" Whitehead had been brutally murdered. Police arrived to discover Whitehead's body in the family bathtub, covered in horrific stab wounds that had punctured her lungs and jugular vein.
Despite their young age — just 16 at the time of the killing — the eye of suspicion immediately fell on the twin girls who were well known to the police, having already been to juvenile court for their uncontrollable behavior. Leading up to the murder, the sisters had grown more and more at odds with their mother, who was both a heavy drinker and marijuana smoker and whose attempts to discipline her daughters had often fallen on deaf ears. To make matters worse, according to The Covington News, one of the girls had recently told her mother that she had been raped, and was not believed.
During the ensuing investigation, officers noticed cuts, bites, and scratch marks on the girls' bodies, a key giveaway that they had been involved in a scuffle. After being charged with murder, the pair eventually confessed to the killing while awaiting trial. Although the exact version of events was never fully established, the girls claimed that their mother had started the fight by waving a knife at the twins during an argument. Their mother then briefly left the house during the fight and rang a neighbor's doorbell in a state of distress. When she returned, the girls succeeded in killing her. Both twins were charged with voluntary manslaughter and given 30 years in prison.
The Moore Brothers: A thief and a Murderer
After a difficult childhood, identical twins Carey Dean (pictured) and David Moore both grew up to be criminals. Placed in the exact same prison for the crimes of theft and murder, their story made headlines when the pair were caught switching places in prison.
Of the two, Carey Dean was the more violent brother — and he was put on death row for the murder of two cab drivers carried out in the space of a week. Carey Dean committed the first of his two killings while accompanied by a third brother, Donald Moore, who was just 14. Showing no remorse, Carey Dean shot a second cab driver just four days later. His twin David, then in prison for the lesser crime of theft, told to AP News that he blamed their impoverished and abusive upbringing, growing up in a house of 11 children, for the amount of criminality in their family. Both men expressed regret about their wrongdoings later in life, with David stating, "Back then we were both animals. We weren't fit to be allowed in society, I guess ..."
Although Carey Dean was arrested for the murders in 1979, he was not executed until 2018. In the meantime, the pair made news in 1984, when they switched places in jail, hoping to give Carey Dean a brief respite from his lengthy stay on death row. The twins were caught in the act when a food service manager at the prison noticed that David had inexplicably gained 10 pounds overnight.
The Stovall Brothers attack on the police
The Stovall brothers are well known in Colorado for a bloody shootout with the police in 2001, that left one officer dead and wounded many others. That September, officers came to arrest Joel Stovall after receiving a report that he shot at a neighbor's dog. With the help of his twin Michael, the two men resisted arrest in a dramatic fashion.
At the scene of the arrest, Michael quarreled with the arresting officer, and both men were bundled into the back of a police car. Taking their chance to escape, they shot the cop in the back of the head as he was driving away. It transpired that Michael had somehow snuck both a makeshift handcuff key and two guns into the vehicle, enabling the men to break free. After shooting the officer 16 more times for good measure, the pair made a run for it, stealing a truck that they loaded up with weapons. Over the course of the next few hours, they would engage in a lengthy high-speed chase that wound down a canyon and into the mountains. Shooting at the police as they went, they left 17 officers wounded.
The terrible battle deeply shook the local community of Fremont County, and it left one of their best officers, Police Corporal Toby Bethel (pictured), paralyzed. He was awarded a purple heart for his bravery in action in 2021. After they were apprehended, both men were sentenced to a whopping 896 years without parole. Michael's attempt to appeal the decision in 2012 was denied by a local judge.
The Bondurant Brothers drug den killings
The unpredictable and murderous Bondurant brothers ran a drug den out of a Tennessee farmhouse for many years and stacked up multiple murders between them. The physically imposing brothers, weighing in at around 300 lbs each, were notorious locally for their shocking antics as well as their small group of loyal devotees. Both brothers were quick to react with anger in tense situations, and between them, they carried out at least four murders. The first, committed by Pete in 1975, saw the twin stab his roommate to death with a screwdriver for no apparent reason.
Unfortunately, Pete served just five years of his 25-year sentence and went on to kill again in 1986. According to Oxygen, Pete's estranged wife, Denise Bondurant, walked in on her husband having sex with heavily-drugged victim Gwen Dugger one night, and when she started screaming at them, Pete hit Dugger with an axe handle before shooting her in the head.
Pat was also implicated in Dugger's murder, as well as the murder of his girlfriend Terry Lynn Clarke. Clarke died of an overdose after having been fed pills by both brothers. The twins were arrested for killing both women, as well as a third victim, Pat's coworker Ronnie Gaines, in 1990. Pat had accused Gaines of stealing his wallet shortly before he disappeared. At trial, it was revealed that the brothers had dismembered Gaine's body and burned both his corpse and his house to hide the evidence. Despite being convicted of the triple murder Pete was released once again, in 2016.
If you or anyone you know has been a victim of sexual assault, help is available. Visit the Rape, Abuse & Incest National Network website or contact RAINN's National Helpline at 1-800-656-HOPE (4673).
Donte and Dante Hall shoot up a party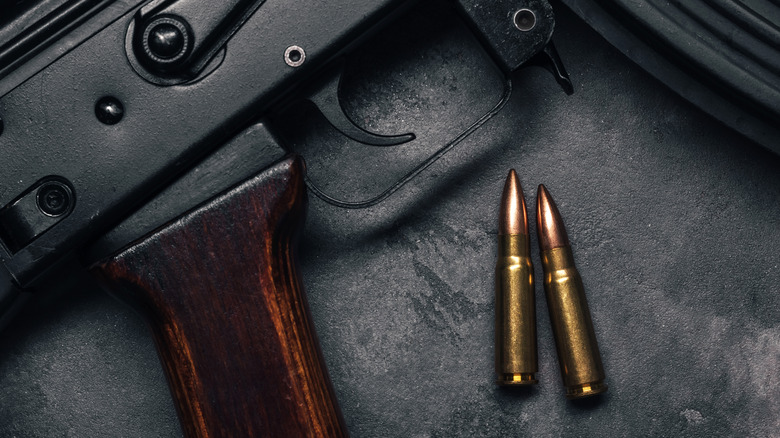 Mariia Demchenko/Getty Images
Twins Donte and Dante Hall caused an outcry in 2006 when they shot guests at a house party during a deadly robbery. The pair had originally intended to loot the place after being informed by Donte's girlfriend that a large amount of money, drugs, and jewelry was present.
According to The Palm Beach Post, the twins arrived with two other suspects dressed in masks and shot out the lights. After letting off a hail of bullets into the crowded room, two people were killed and another two were injured.
At the trial that followed, the defense claimed that Donte was borderline intellectually disabled and should be treated with leniency. For a time it was believed that the Halls might become the first identical twins on death row, although Dante's legal council argued that he wasn't even there at the crime scene, referring to Donte as the "evil brother." The story did not convince the judge. Donte, who shot his AK-47 first, was sentenced to death, while Dante was given a lesser life sentence.
If you have been impacted by incidents of mass violence, or are experiencing emotional distress related to incidents of mass violence, you can call or text Disaster Distress Helpline at 1-800-985-5990 for support.
The rapes of the Spitzer Brothers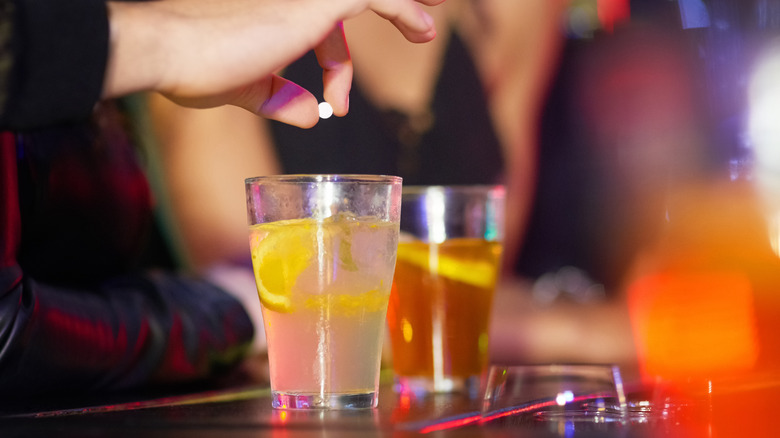 Peopleimages/Getty Images
Twisted Canadian brothers, Stefan and George Spitzer, have been nicknamed the "Roofie Romeos" for their shocking involvement in a major date rape case in the 1990s. Together, the brothers routinely drugged and kidnapped multiple women, raping them while unconscious and filming the assaults.
Although the Spitzers claimed their involvement with the abused women was consensual, police found plenty of evidence to charge them both. Aside from powerful witness testimony from a string of victims, law enforcement officers also discovered multiple boxes of Rohypnol and 20 tape recordings of the rapes, in which the women were clearly sedated. The twins were convicted and given lengthy sentences in 1998, which they both served only a fraction of.
After finishing their jail time in the U.S., both men were deported back to Canada, however, George would wind up in trouble with the law yet again on the other side of the border. While living in Montreal he has been charged with several new offenses including an attempt to defraud a woman of $100,000. He was accused of rape again in 2020, but acquitted of all charges.
If you or anyone you know has been a victim of sexual assault, help is available. Visit the Rape, Abuse & Incest National Network website or contact RAINN's National Helpline at 1-800-656-HOPE (4673).
The gangster Adiwal brothers
The Adiwal brothers are prominent members of one the most famous street gangs in Canada, the "Independent Soldiers" based in British Colombia. The trouble-making twins have both been convicted of kidnapping in the past and are known to be heavily involved in the bitter rivalries of the Canadian underworld.
Peter Adiwal (pictured) took over leadership of the Indo-Canadian Independent Soldiers group in 2007 after the previous gang leader died in a car crash; both Peter and his brother Manjit "Mike" Adiwal have served multiple stints in prison for their activities. In 2014 for example, Mike was jailed for four months for punching and threatening a man over a dispute involving a lumber mill. Despite a multi-million dollar investigation into the pair's activities, their role in numerous killings has never yet resulted in serious charges.
The Adiwal gang is one of many criminal Canadian outfits in Vancouver, which more often than not are caught up in a series of violent gang wars, and Peter himself was eventually a victim of this deadly environment. According to the Vancouver Sun, he was shot more than two dozen times in 2009 by rival gang members. He miraculously survived the attack but his attackers were never caught.
The George brothers' opioid ring
Florida brothers, Jeff and Chris George made millions by selling opioid pills under the guise of a legitimate business. The twins' chain of pain clinics fast became the largest painkiller drug ring in the country, staffed with crooked doctors who gave out phony prescriptions to anybody looking to get high. After giving patients MRI scans as "proof" they needed the drugs, patients were handed the powerful narcotics — no questions asked. 
Nicknamed the "pill mill kings," the George brothers' operation quickly swelled to an enormous size and they were soon supplying drug dealers and addicts from across the U.S. NBC reports that they made so much money from the operation cash was stuffed into trash bags to take to the bank and one-dollar bills were burned to make more space. Although customers were warned to be discreet, as the clinic's product spread, so did evidence of the operation. Pills began to show up at crime scenes, alerting the authorities to the twins' activities. According to CNN, the FBI estimate at least 3,000 people have died of overdoses as a result of the George's operation.
With the help of an angry father whose son died after taking pills from one of the clinics, the DEA successfully penetrated the operation and began collecting evidence. The drug bust that followed was so massive, the law was changed to tighten up prescription drug regulations shortly afterward. After searching the twins' homes, the pair were arrested along with 13 doctors. Chris was convicted for racketeering and Jeff was convicted for racketeering and second-degree murder.
If you or anyone you know needs help with addiction issues, help is available. Visit the Substance Abuse and Mental Health Services Administration website or contact SAMHSA's National Helpline at 1-800-662-HELP (4357).
Charlene Corley and Darlene Wooten's multiple-million-dollar fraud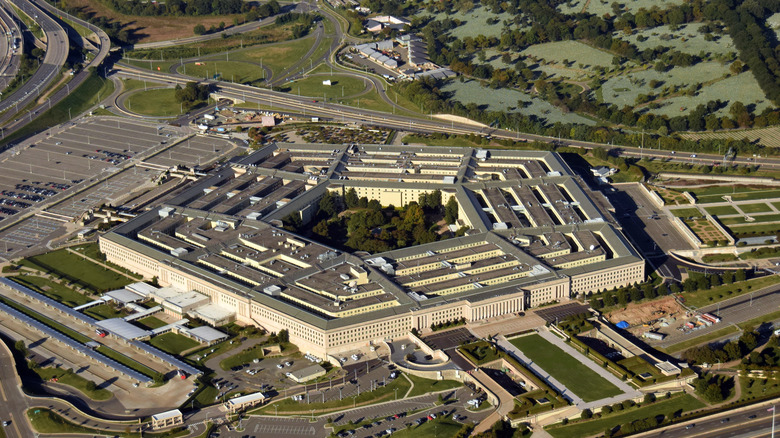 Ivan Cholakov/Shutterstock
Twins Charlene Corley and Darlene Wooten once ran C&D Distributors, a supply company that provided the U.S. Ministry of Defense with much-needed hardware. Although the sisters generally provided the government with small items for plumbing and maintenance, they were able to generate a fortune by creating fake invoices. Giving in to greed, the pair overcharged the Pentagon to the tune of $20.5 million dollars.
The sisters conducted their nefarious scam by adding obscene shipping costs on top of the price of ordered items; in one instance, the pair charged almost $1 million for two washers. The government's automated payment system did not pick up on the issue — allowing the women to get away with the crime for almost 10 years.
Unfortunately, when investigators approached Wooten about the fraud, she died by suicide shortly afterward. In her final days, she wrote the government a check for over $4 million as a form of atonement. During the trial that followed, Corley placed most of the blame for the operation on her dead sister.
If you or anyone you know is having suicidal thoughts, please call the National Suicide Prevention Lifeline​ by dialing 988 or by calling 1-800-273-TALK (8255)​.