Mr. Potato Head Was The First Toy To Make History In This Epic Way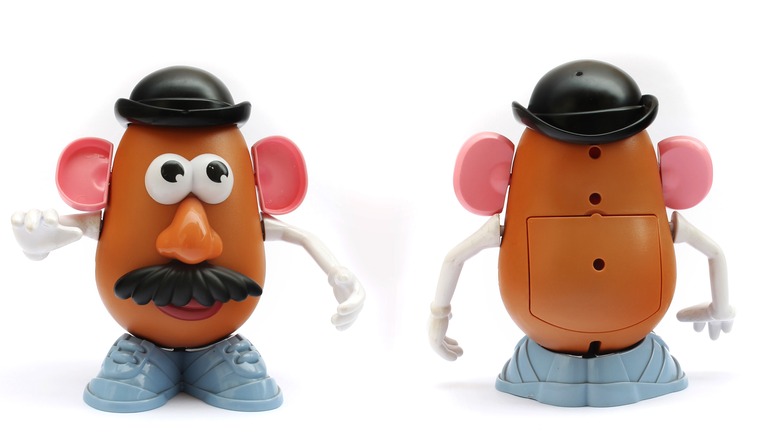 WSY imagens/Shutterstock
In 1949, George Lerner, a Brooklyn toy inventor, came up with the idea for a new toy involving produce and pronged plastic eyes, noses, arms, and accessories — like glasses — that kids could shove into vegetables to create a "funny face man," according to "Timeless Toys: Classic Toys and the Playmakers Who Created Them." Initially, Lerner's idea went nowhere since it was considered controversial. The U.S. had only come off food rationing four years earlier with the end of World War II, and turning food into toys was thought of as wasteful.  But eventually, the toy took off. 
In 1951, Lerner approached two brothers with his toy. Henry and Merrill Hassenfeld, who had a small Rhode Island-based toy company that would soon become famous as Hasbro, paid the equivalent of about $82,000 today for the rights plus a 5% commission for Lerner on each of the toys sold. And soon Mr. Potato Head was born. At the time, the toy didn't include the plastic facsimile of a potato we're familiar with today but required kids to provide their own real spud. On April 30, 1952, Hasbro and Mr. Potato Head made history when the toy became the first to be advertised on television.
Television and toys
Advertising toys on television was an idea that rose to prominence by the 1950s. At the beginning of the decade, only 9% of U.S. homes had a television, but by 1959, that number had jumped to 85.9%, according to Britannica. The decade saw a surge in TV shows aimed at children, from "Romper Room" to the "Mickey Mouse Club." Even so, aiming advertising at kids was a radical notion.
"The idea of putting adverts to children on television was a brand new concept," Paul Kurnit, an advertising executive from New York, told the BBC in a 2012 interview (Kurnit passed away in 2022). "It was revolutionary because it hadn't been done before. It was a dramatically new idea to pitch to children." Hasbro's idea paid off handsomely — the company sold more than 1 million Mr. Potato Heads toys in the first year, per the Idaho Potato Museum.
The nag factor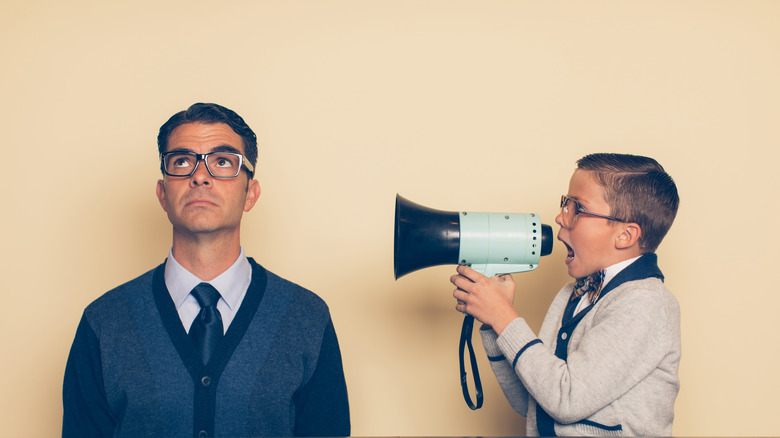 Richvintage/Getty Images
"Meet Mr. Potato Head, the most wonderful friend a boy or girl could have," a disembodied voice told children sitting in front of their television sets, per "Timeless Toys." And with those words, a new era of advertising to the littlest TV viewers began. Soon parents were being inundated with requests from their children for the toys they were seeing on TV, which was dubbed the "nag factor," according to the BBC. By the 1970s, advocacy organizations like Action For Children's Television and the Better Business Bureau's Children's Advertising Review Unit were calling for some sort of regulation. The Federal Communications Commission attempted to curtail the worst aspects of the industry, with toy companies agreeing to be less deceptive in how they presented their products.
Meanwhile, Mr. Potato Head was joined by Mrs. Potato Head, as well as pets (known as Spud-ettes), a car, and a kitchen. And finally, he and his wife became bonafide movie stars with their inclusion in the "Toy Story" film franchise that began in the 1990s, where Mr. and Mrs. Potato Head were introduced to a whole new generation of children (and consumers).