What Jimi Hendrix Was Like The Last Time Other Musicians Saw Him Alive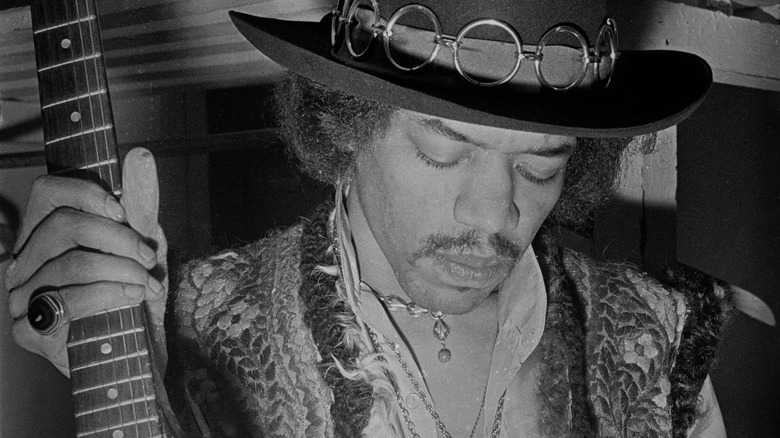 James Andanson/Getty Images
Music history is full of tragedy: The infamous 27 Club is, after all, a very real cultural phenomenon in which a slew of musicians — along with actors, painters, and other public figures — died at the young age of 27. On September 18, 1970, Jimi Hendrix became an early member of the club, dying just a few weeks before fellow 27 Club member Janis Joplin. 
Hendrix's death is still controversial. The official cause was an unintentional overdose of sleeping pills and alcohol, although rumors have long circulated that it wasn't as accidental as official reports had ruled. Some believe he was murdered, and when a 1993 re-investigation couldn't draw any new conclusions, it seemed as though it would remain one of music's greatest mysteries. 
In the weeks leading up to his untimely passing, it's something of an understatement to say that he was dealing with a lot. There were disputes between the guitarist and his manager, a looming paternity case, and health problems stemming from not only illness but exhaustion. It's no secret that Hendrix moved in a circle of musicians that were the elite of their time, and when they realized they had seen him for the last time, those final observations took on the weight of grief.
Roger Daltrey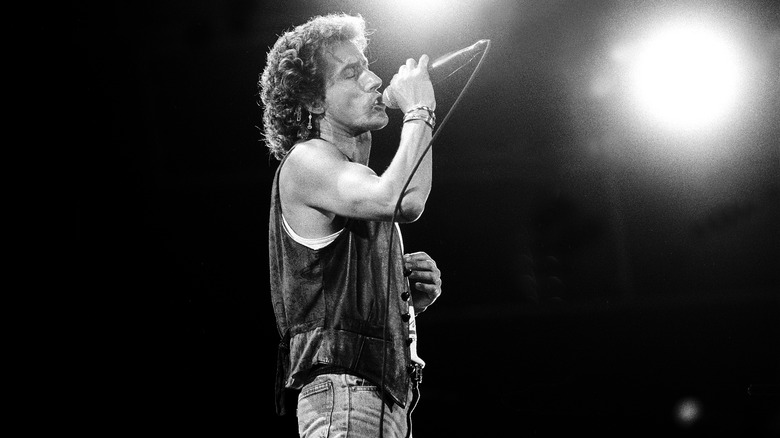 Paul Natkin/Getty Images
One of the innumerable shows of British comedian Romesh Ranganathan is the BBC's "The Misinvestigations of Romesh Ranganathan," and interviewed for the episode about Jimi Hendrix was The Who's Roger Daltrey. It turns out that the weekend before Hendrix's death, they had been hanging out at his home in Berkshire.
Daltrey told Ranganathan (via RTE) that Hendrix had shown up there with groupie-turned-confidante Devon Wilson. At first, Daltrey said, things were hopeful. Hendrix was looking into taking his playing into a more experimental, jazz-inspired realm, and he was also looking ahead to setting up in New York after his time in Europe was over. But things turned first worrying, then weird.
Hendrix and Wilson were doing a call-and-answer sort of singing that got slower and slower, and, according to Daltrey, it became very obvious he was high on barbiturates. "His speech became slurred," he explained. Wilson passed out first, then Hendrix did. Daltrey's companions, his future wife, Heather Taylor, and her friend, Katherine, put them both to bed. He continued, "So they put the kettle on for a cup of tea and blow me if 10 minutes later [Hendrix] doesn't appear in the doorway with his boots back on, his hat on all skewwhiff, and says, 'Right, I'm ready for the interview.' I mean, you can't make it up!" A few hours later, they headed back to London: "I say, he was right as rain in the morning, was like nothing had happened."
Billy Cox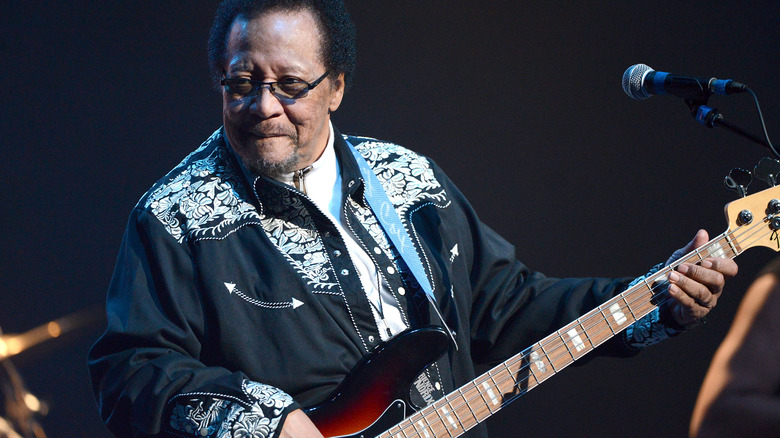 Scott Dudelson/Getty Images
Some friendships just make even the most cynical person believe in destiny, and that's the case with Jimi Hendrix and Billy Cox. After meeting while they were in the army, they toured the United States chitlin' circuit before going their separate ways. They reunited again in 1969, formed The Band of Gypsys, and shared a bright but oh-so-brief time in the recording studio before Hendrix's death. 
Cox spoke with Rock Cellar Magazine about those final months with Hendrix, including that legendary Woodstock performance, their collaboration with Miles Davis, and the last time he spoke with Hendrix. Cox was under the weather, he recalled, but he also recalled Hendrix looking forward to recording, tying up loose ends, and looking out for his longtime friend.
"He was upbeat and said, 'We've gotta get into the studio on Friday man, I've gotta finish up some of those words.' He knew I was feeling sick and said, 'I know you might not be up to it,' and I said, 'I'll be there,' and that was a Monday and then Wednesday, I got the call that he was gone."
Ronnie Wood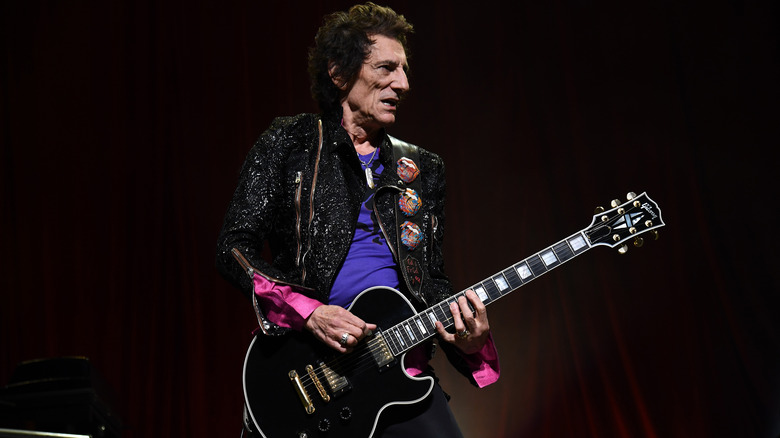 Kevin Mazur/Getty Images
Ronnie Wood has been at the epicenter of the music industry for decades, most famously with the Rolling Stones. Back in the day, though, when he was still finding his feet and breaking into the industry, he was Jimi Hendrix's roommate — and he's had nothing but good things to say, sharing on an installment of his radio show on Absolute Radio UK (via Ultimate Classic Rock), "Jimi was a really sweet, well-mannered boy, and I'm very honored to have shared a little space of time with him back in the late 1960s."
Hendrix's last performance was at a jazz club called Ronnie Scott's, and it was something of an impromptu thing. He was invited on-stage by Eric Burdon of the Animals and War, and Wood happened to be there for those sets. He saw him afterward when the music was over — and little did he know that it wasn't over just for the night.
Wood recalled: "He was walking down the stairs with his arm around this girl and I said to him, 'Jimi, say goodnight' — and he didn't turn round. I said, 'Jimi, say goodnight!' and he turned round really slowly, out of his brain, and just gave me a little stoned wave. And that was the last the world saw of him. Very sad, very sad departure."
Howard Scott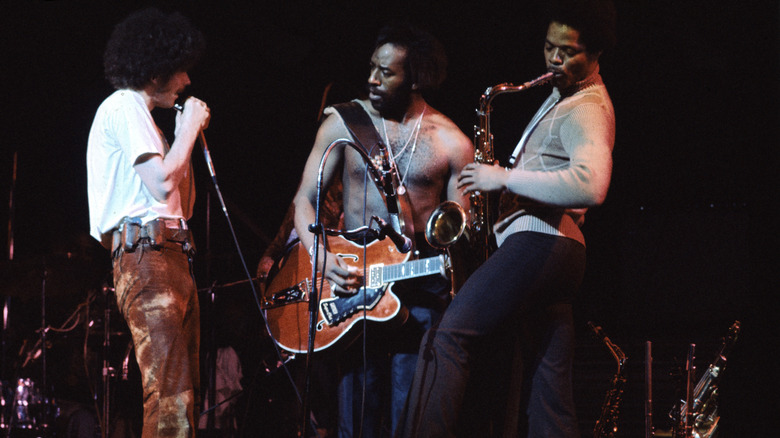 Michael Putland/Getty Images
Howard Scott (center) didn't just have a front-row seat to what would ultimately become Jimi Hendrix's last live performance: As the guitarist for War, he was on stage with him. When he spoke to Blues Blast Magazine in 2019, he recalled that night and told the story of how Hendrix had actually been invited by Eric Burdon to play two nights. The first, though, "he apparently was too lit to play. He chose not to," Scott recalled.
The second night, though, things went differently, and Scott's last memories of Hendrix were of a musician at the top of his game. "That second night, I saw him walking through the crowd with his Strat," Scott said. "His eyes were cobalt white. He was ready. He was Jimi Hendrix and in charge."
Scott says that his first instinct was to unplug his own guitar and step aside, but Hendrix wouldn't let him. Instead, they played — plugged into the same amp — took turns trading solos, and Scott described just what it was like: "It was amazing, a great concert. He was smilin' and feelin' good. After the set, Lee Oskar [also of War] and I walked back to the hotel in the rain. I don't believe the raindrops even touched us."
Mike Nesmith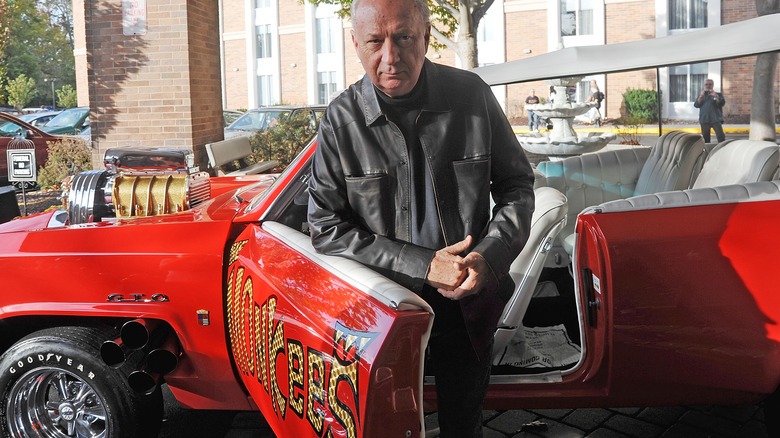 Bobby Bank/Getty Images
It's easy to forget just what kind of juggernaut The Monkees were, and it's even easier to forget that Jimi Hendrix opened for them when they were touring. He only did a few shows — playing "Purple Haze" for fans shouting for Davy Jones "was very embarrassing," according to a Forbes interview with Monkees' drummer Mickey Dolenz — but he didn't forget the group. In fact, Johnny Black's biography "Eyewitness: Jimi Hendrix" notes that just days before he died, he went to a party that was being thrown for The Monkees' Mike Nesmith.
Nesmith said that they spent some time just hanging out and talking about music, but that Hendrix was incredibly melancholy. "I was surprised to see him in somewhat of a funk," Nesmith recalled. "He was not happy with the way his music had developed. He felt stultified somehow. He felt that what he was doing didn't have the substance it once had. We were standing outside, alone, in a lobby, and I felt a great deal of compassion for him. As he stood there, his eyes kind of drifted off, and I could see him trying to come to terms with some devil or something in his own head."
Hendrix said that he wanted to do something entirely different and pitched the idea of an R&B band, or following in the footsteps of Otis Redding. Nesmith said that when he'd asked, "Why are you going through this crisis of self-confidence now," Hendrix didn't actually answer him. Eventually, he only nodded.
Pete Townshend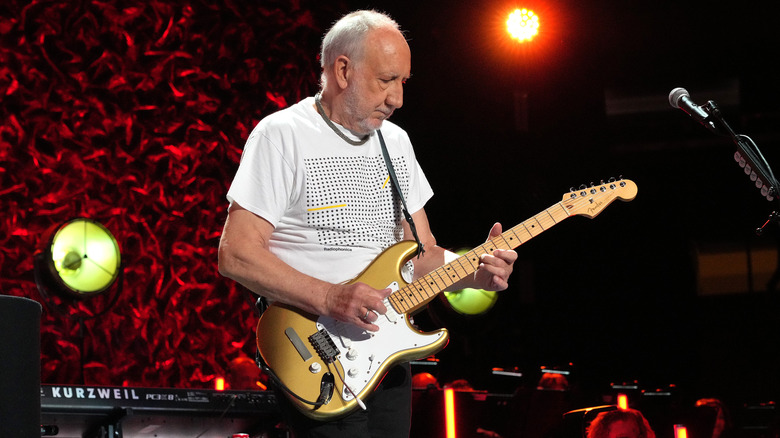 Kevin Mazur/Getty Images
In 1970, the Isle of Wight saw an influx of around 600,000 people, all there to see some of the era's biggest names performing at a single event. Akin to Woodstock, the festival was reported to be the largest outdoor gathering since World War II, and performers were a who's-who of the time: Joining Jimi Hendrix were acts like Joni Mitchell, Jethro Tull, and The Who. 
Johnny Black's "Eyewitness: Jimi Hendrix" recounted how petrified Hendrix was of going on stage at the event. He'd retreated to someone's nearby garden at one point, had difficulties with the long sleeves of the shirt he was wearing, and split a bottle of vodka with a few friends ahead of time. Then? He was booed when he went on stage. Still, his appearance both on stage and off of it had a huge impact on those who saw him — including Pete Townshend.
He recalled, "Hendrix was a psychological mess of a man. Nobody cared. People thought, 'He can play such great guitar, so he's obviously okay.' What made me work so hard was seeing the condition Jimi was in. He was in such tragically bad condition physically, and I remember thanking God as I walked on stage that I was healthy."
Mitch Mitchell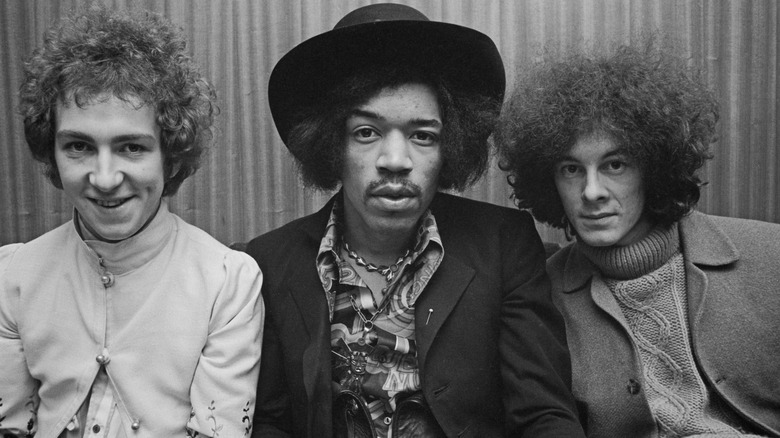 Ivan Keeman/Getty Images
Mitch Mitchell (left) passed away in 2008, and the 61-year-old drummer was the last living member of the Jimi Hendrix Experience. Interestingly, his last conversation with Jimi Hendrix was a little less dismal than the experiences of others, and according to what he shared in Johnny Black's "Eyewitness: Jimi Hendrix," they'd made plans that Hendrix was super stoked about.
They spoke the day before Hendrix died, and at the time, Mitchell was getting ready to go to Heathrow airport to pick up Sly Stone. "Jimi was really excited about Sly, and said, 'Is there any chance of a play?' So I said, 'Funny you should say that, yea, the idea is we're all going down to The Speakeasy for a jam.' Jimi was really up for it, and agreed to meet us there about midnight." Hendrix never made it: "We all thought [that] was very, very strange, 'cos no matter what situation was going on, for Hendrix to miss a chance of a play was very out of character."
Mitchell later got a phone call telling him that Hendrix had died, and his initial response was denial. He's also spoken about how as far as he's concerned, his death wasn't deliberate on his part. "Jimi was the kind of person who'd push things to the nth degree, but I never saw suicidal tendencies there."
Chas Chandler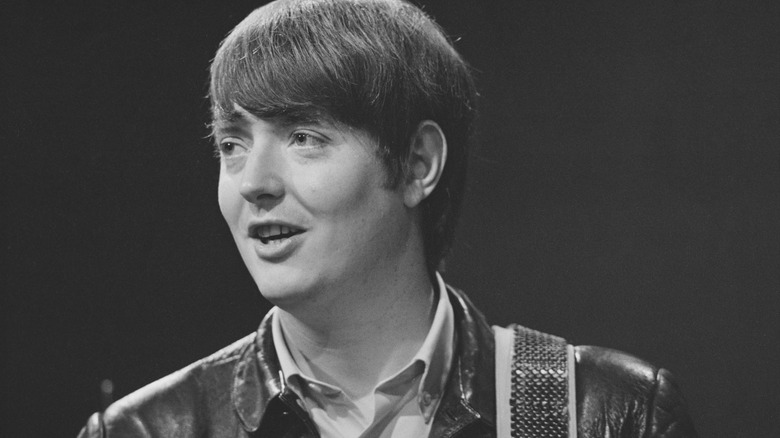 Ivan Keeman/Getty Images
Chas Chandler is widely credited as being the talent scout who spotted a guitarist named Jimmy James, thought he was something super special, and convinced him to head to Britain. Before that, though, he was the bass player for The Animals, and although he had parted ways from Jimi Hendrix in an official capacity, he still moved in the same circles — and saw Hendrix about three weeks before his death. 
According to Johnny Black's "Eyewitness: Jimi Hendrix," Hendrix was in Stockholm at the tail end of August. He was performing at a concert at Stora Scenen, and to set the tone, it's worth mentioning an anecdote told by one of the event's photographers: Hendrix was in his dressing room chugging whiskey when he was asked to take part in a photo shoot with a child. He picked up a little girl, proclaiming that it was his baby — it wasn't.
Chandler recalled seeing Hendrix on stage, in the place that was supposed to be his element: "He was wrecked. He'd start a song, get into the solo section and then he wouldn't even remember what song they were playing at the time. He'd come into a different song. It was a disastrous concert, it was really awful to watch."
Glenn Tipton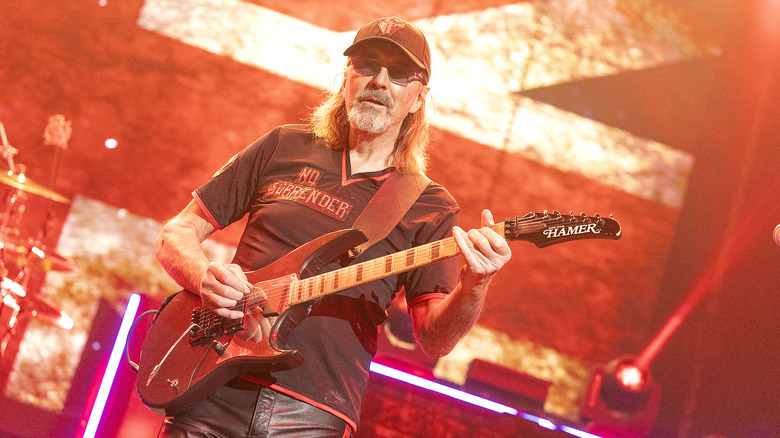 Gary Miller/Getty Images
It's a little strange to think about the guys on the stage being just another face in the audience, but fame isn't always something you're born into. Judas Priest guitarist Glenn Tipton hailed from a working-class family and has regularly cited Rory Gallagher and Jimi Hendrix as being his inspirations ... along with his piano-playing mother. 
And that was always the case. Tipton followed Hendrix from the time he made it big, and as recounted in Johnny Black's "Eyewitness: Jimi Hendrix," when he and some friends drove down to that famous — or infamous — Isle of Wight concert in 1970, he wanted to go specifically to see Hendrix perform live. It wasn't entirely what they'd expected, as Tipton recalled, "He was very much out of tune for the first two or three numbers, but then he got in tune and the rest of the show was amazing. But with Hendrix, even being out of tune was pretty good."
Dave Tiger Taylor
Dave Taylor was a guitarist for Eire Apparent, an Irish band that put out a single album produced by and featuring Jimi Hendrix. Taylor also toured with the Jimi Hendrix Experience, and in the decades following Hendrix's untimely death, he's spoken highly of the man who he remembered not only as a brilliant guitar player, but as a good friend who loved to host jam sessions at his impeccable tidy home.
The Irish Times spoke to Taylor in 2020, and he reflected on the year he spent touring with Hendrix. He painted a picture that was nothing short of incredible, saying that they all got along really well, and making it a point to stress that he didn't see much of the partying everyone always associated with Hendrix. Taylor also spoke of the stresses Hendrix was under, saying that his management rarely let him see anything related to money.
Taylor ran into Hendrix in March of 1970, just a few months before his death. They were in a London club called The Speakeasy and said that even though it was a while since they'd seen each other, he greeted him like an old friend. "He was with Sly Stone. He was asking me what I was doing and he told me that if I needed any help I should give him a shout. He was always willing to help. If he could help you, he would help you — and without asking for money."
Eric Burdon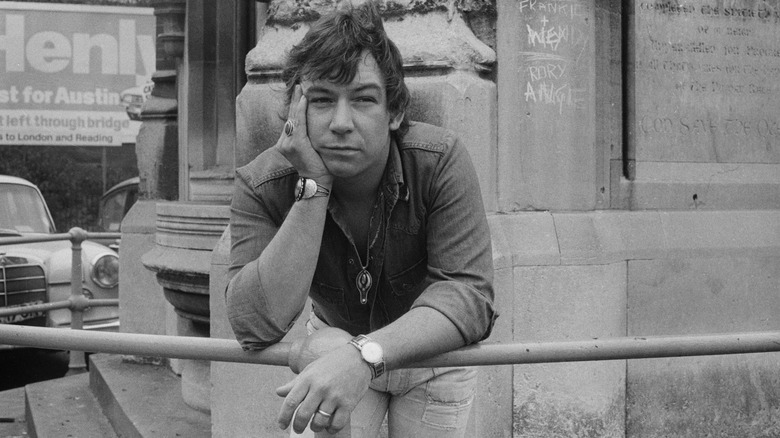 Michael Putland/Getty Images
It was Eric Burdon who invited Jimi Hendrix to play at Ronnie Scott's for what would be his last public appearance, and Hendrix played there on September 16, 1970. Burdon told Louder Sound that he'd stopped by before that. "I had to send him away because he was in such a bad state," Burdon recalled. "You could almost smell the problems that he was having and, believe me, it was tough for me to say, 'No, Jimi, you can't do it, come back when you're in better form.' He did, but it didn't do much good."
In an interview for Straight Ahead Magazine, Burdon said they were hassled by a crowd unhappy they weren't getting the typical jazz set. Hendrix walked off, but after a pep talk from Burdon, "he came back and did a rip-roaring performance in grand Jimi Hendrix style. Afterwards, Jimi said, 'I'll see you around,' and that was it. I never saw him again." Burdon has also said that seeing just how poorly he was doing was something of a wake-up call for him: Even as he spent his time trying to help others in the industry, it made him realize the extent of what was going on around him — and what could happen.
"He was very removed and in Britain, he was a stranger in a strange land," Burdon said. "The people who purported to be his friends were bringing him gifts of poison in the form of bad drugs that he was so ready to consume, he didn't care."