The Iconic Rock Star Tina Turner Had A Crush On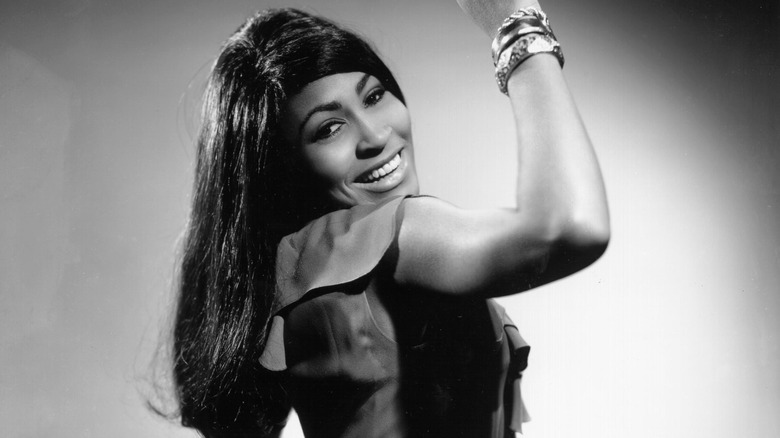 Michael Ochs Archives/Getty Images
Sometimes it's fun to imagine what musical supergroups we might have had if history had taken different turns. Kurt Cobain and Paul McCartney doing a rendition of the Beatle's "Blackbird" in 1992? Excellent. Biggie and 2Pac making up and doing an east-meets-west-coast reunion tour in 2010? Fantastic. Or how about two musical acts that might not, on the surface, seem like they connect at all, like Tina Turner and the Rolling Stones? For anyone fortunate enough to have been alive in the late '60s, this might be more than a fantasy. 
The World of Tina shows us that not only did Tina Turner and her then-husband Ike open for the Stones in 1966 in the U.K., they did so again in 1969 in the U.S. And as Turner confessed to The Guardian in 2023, she "always had a crush on Mick Jagger." Turner described their first meeting in a 1997 interview with Larry King (per TODAY): "My first experience was when Mick Jagger walked in the dressing room without knocking and says, 'I love how you girls dance.' That was my first introduction. I didn't know who he was."
Back in the late '60s, Tina Turner had yet to separate from her abusive husband Ike— either personally or professionally. Ike and Tina had gotten married in 1962, and wouldn't divorce until 1978. Ike had molded the younger Tina Turner — born Anna Mae Bullock in 1939 — into his performance partner in the two-person Ike and Tina Turner Revue, and it was the two of them who toured with the Rolling Stones. As World of Tina says, Ike and Tina's relationship thundered in turmoil backstage, while Tina and her backup dancers the Ikettes thundered on stage. Meanwhile, Tina quietly harbored a celebrity crush. 
When two fireballs collide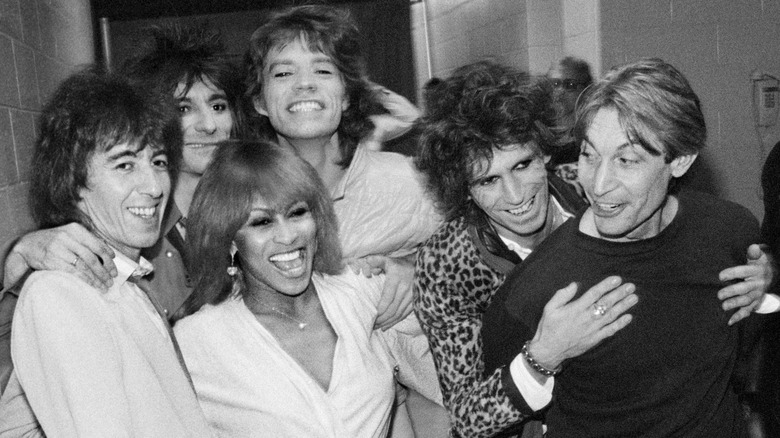 Derek Hudson/Getty Images
In a way it makes complete sense. Mick Jagger and Tina Turner are both potent, rambunctious stage presences. They release their inner fire on stage, sing, dance, juke around a bit, and are so colorful and energetic that they inspire curiosity about their personal lives long after a show has ended. In her 2018 memoir "Tina Turner: My Love Story," Turner confirms this sentiment exactly. 
As People recounts, Turner described her and Jagger's 1985 Live Aid performance, saying, "Mick and I could never just stand there and sing — that wasn't us. We had to do something. He looked me over. I was wearing a tight-fitting black leather top and skirt and I could see a naughty idea forming." Jagger suggested tearing Turner's skirt off while they were singing, and that's exactly what happened. "It was like a boy I knew did it," Turner wrote. "A very old boy." And if anyone — for some unknowable reason — doubts either Turner's raspy-voiced rock cred or her and Jagger's stage chemistry, then have a look at their Live Aid performance of "State of Shock."
So yes, this means that 1966 and 1969 — the first and second time that Turner and Jagger performed together — were just the first two times in a long history of collaboration. On The Guardian, Turner talks about loving touring with the Stones. Whether she was thinking of those first two times — or all times altogether — is unknown.
A lifelong musical collaboration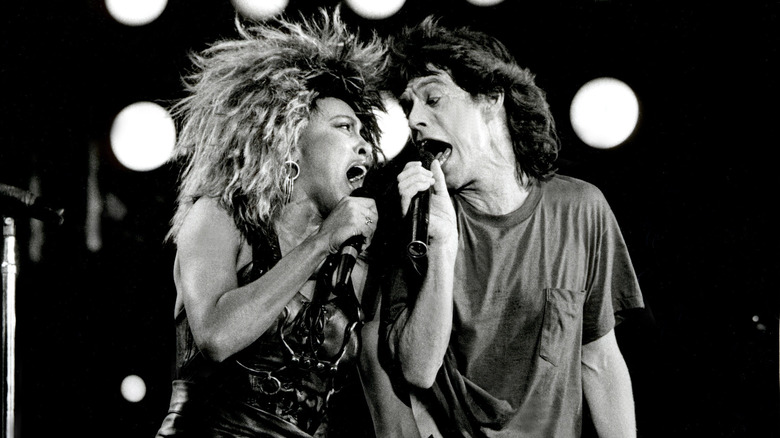 Paul Natkin/Getty Images
The World of Tina has a full breakdown of every collaboration between the Rolling Stones and Tina Turner, both in her solo career and when she performed with her husband Ike. The year after the Stones and Turner's 1969 tour, Turner covered the Stones' "Honky Tonk Women." The next year in 1971 she released her rocking, fan-favorite cover of the Creedence Clearwater Revival song, "Proud Mary." Both songs, but especially "Proud Mary," helped propel Turner into mega-stardom. 
Years later in 1989 — after 1985's Live Aid skirt-tearing incident — Turner and Mick Jagger performed "Honky Tonk Woman" together at the Rock & Roll Hall of Fame inductions, as well as "(I Can't Get No) Satisfaction." And even before this, Turner teamed up with the Stones in 1981 for three Stones shows on their "Tattoo You" tour. In 1988 Jagger joined Turner on stage in Osaka, Japan for her "Break Every Rule" tour. In other words, there was plenty of time not only for musical collaboration, but for Turner to develop her crush.
For his part, it seems like Jagger reciprocated Turner's sentiments. When Turner died Jagger took to Instagram, saying, "I'm so saddened by the passing of my wonderful friend Tina Turner. She was truly an enormously talented performer and singer. She was inspiring, warm, funny and generous. She helped me so much when I was young and I will never forget her."