The Complicated And Extraordinarily Private Life Of Robert De Niro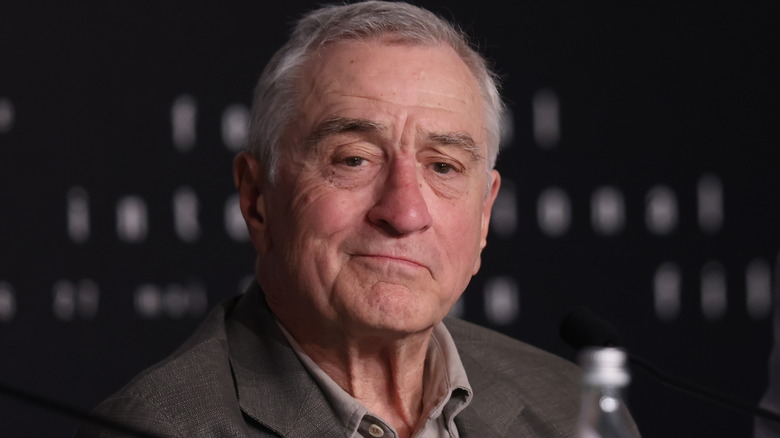 Pool/Getty Images
Some actors need no introduction, and Robert De Niro is one of them. A quick Google search brings up tons of lists, ranking his best performances, the movies that have netted him attention from the Oscars (and countless other awards), the movies that haven't gotten him nominations (but should have), the most iconic lines he's delivered, his best performances as someone on the wrong side of the law ... and so on, and so on. The list, literally, is endless.
And here's the thing: Robert De Niro might be one of the most famous actors of the era, but he's also one of the most elusive. The lengths he goes to in order to prepare for a role are infamous, and almost as infamous as his dedication to his craft is his dedication to keeping his private and personal life completely separate from that.
De Niro is, in a way, De Niro. When GQ interviewed him alongside Al Pacino, they made a fascinating observation: "When he shrugs, you see a dozen iconic movie characters flicker through them." So who, exactly, is he? Has he absorbed some of his most recognizable characters into himself, or does he use them as a shield, hiding the real person? In a world of social media, oversharing, and deep dives into the personal lives of the rich and famous, it turns out that's surprisingly difficult to answer.
Giving an early, personal interview is a great regret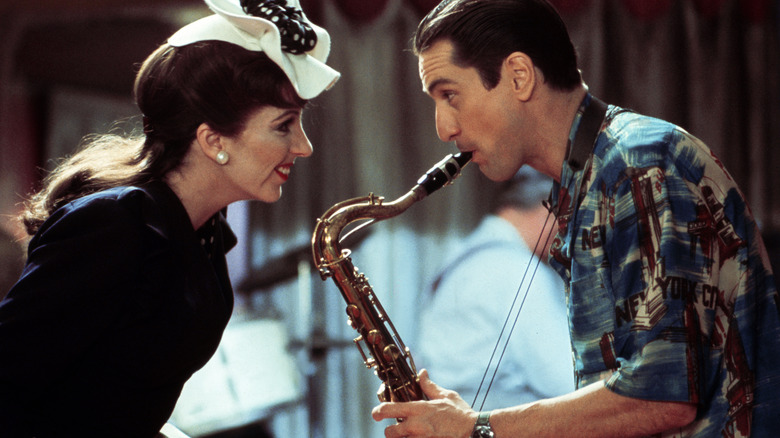 Sunset Boulevard/Getty Images
No one makes it through life without regrets, that's just the way the world works — even if you're Robert De Niro. Surprisingly, one of his great regrets seems to be interviews that maybe got a little too personal. When Vanity Fair reached out to him back in 1987, they were perfectly aware of the fact that an interview probably wasn't going to happen. They quoted him explaining to Time: "After my first movies I gave interviews, then I thought, 'What's so important about where I went to school and hobbies? What does any of that have to do with acting, with my own head?' Nothing."
De Niro does give interviews, but they're mostly restricted to the professional realm — and it seems he learned where his boundaries were a long time ago. One of the people Vanity Fair reached out to in their profile on him was Parade writer Barbara Goldsmith. She spoke at length with him in 1984, and afterward, said he called her to clarify what she was and wasn't going to write about. Then, when the article ran, he called her again to tell her that he regretted ever talking to her. Ouch. 
In Shawn Levy's biography, "De Niro: A Life," he points out that De Niro has always had something of an up-and-down relationship with even professional interviews. The media storm around "New York, New York" was so overwhelming, he says, that for the following four years, De Niro stepped away from doing interviews altogether.
His relationship with his father was complicated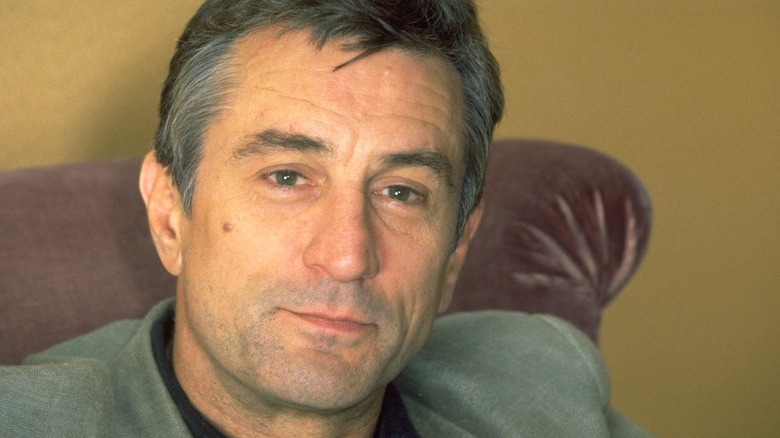 Eric Robert/Getty Images
In 2016, Robert De Niro told Out that even though it had been decades since his death, he had still kept his father's art studio exactly as he'd left it: "It was the only way to keep his being, his existence alive. To me, he was always a great artist."
And he wasn't the only one to think so: Some of the works of Robert De Niro, Sr., were bought by the Metropolitan Museum of Art. The Guardian even went so far as to describe him as a child prodigy. At the same time, though, he would tell his son that struggles were part of being an artist: "He always used to say to me, 'great artists are recognized many, many years after they're gone.'"
His parents divorced when he was young, and De Niro said that as he got older, he realized how much his father loved him — and what he was struggling with. After he passed, De Niro inherited his journals, and could only bring himself to read the parts that would be used in an art history book called "Robert De Niro, Sr.: Paintings, Drawings, and Writings: 1942-1993." In one excerpt, his father wrote (via The Guardian): "If God doesn't want me to be homosexual (about which I have so much guilt), he will find a woman whom I will love and who will love me. But I really don't want my homosexuality cured." De Niro said that reading his father's innermost thoughts was difficult: "He had his demons ... I was sorry."
Taxi Driver and Hinckley are off-limits in conversation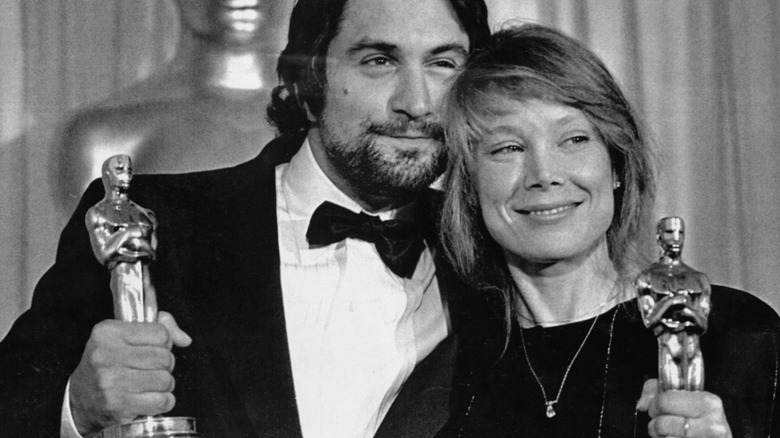 Bettmann/Getty Images
When Vanity Fair tried to do a piece on Robert De Niro back in 1987, he didn't talk to them. He did, however, give them permission to talk to some of his friends and the people he'd worked with, and one of those was the director Ulu Grosbard. Grosbard had some words of wisdom to share, just in case they did get a sit-down with De Niro: "Do not ever bring up the subject of "Taxi Driver" with Robert. He gets extremely upset."
Famously, John Hinckley Jr.'s attempt to assassinate President Ronald Reagan was connected to his obsession with "Taxi Driver" and actress Jodie Foster. As recounted in the Shawn Levy biography, "De Niro: A Life," the assassination attempt actually came on the same day as the 1981 Oscars. They were postponed a day, but that also meant that while De Niro and director Martin Scorsese were waiting to see what luck "Raging Bull" was going to have, chatter was starting about how "Taxi Driver" had inspired a would-be assassin.
De Niro took home an Oscar (pictured), but when journalists swarmed him, all they wanted to know was what he had to say about the assassination attempt. Levy quoted him as being absolutely unwilling to talk, putting an end to the public part of the night by saying, "I don't want to discuss the matter now. Look, I said what I wanted to say [at the Oscars]. You're all very nice, but that's it."
He's never spoken about that last night with John Belushi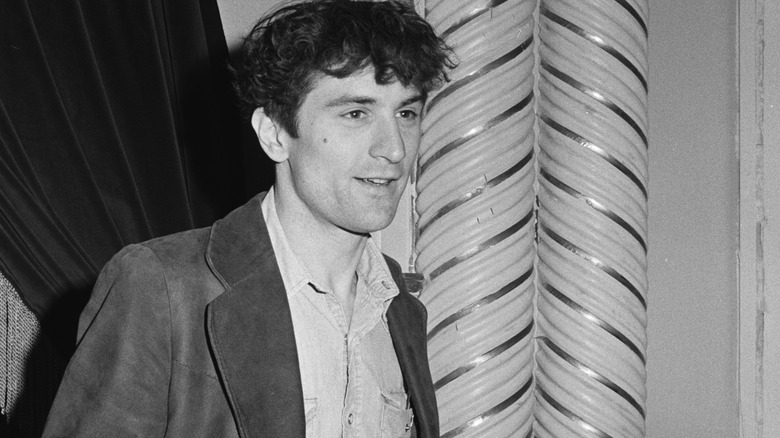 Michael Ochs Archives/Getty Images
Hollywood is full of tragic stories, and among the most tragic is the death of John Belushi. As unlikely as it may seem, the "SNL" mainstay and infamous funnyman was a longtime friend of the not-so-funny Robert De Niro, who was well-known to frequent Belushi's favorite hangout, the Chateau Marmont.
In his book, "De Niro: A Life," Shawn Levy recounts what happened that fateful night in 1982. De Niro was staying nearby, spending some time seeing the local sights with Harry Dean Stanton. After trying to get Belushi to join them and failing, they stopped to try to recruit him into the evening's fun. Belushi, however, was preoccupied with a visitor named Cathy Smith. De Niro — who never liked Smith — bailed, and the next morning, learned that Belushi had died.
Levy suggests there was a little bit of guilt there: De Niro was already known for committing to a role wholeheartedly, and it was suggested that Belushi's experimentation with heroin was an attempt to emulate his friend. (Belushi was prepping for a role as a rock star.) De Niro spoke at a grand jury inquest into Belushi's death, but publicly stayed silent on the matter. In their attempt at a deep dive into De Niro's life, Vanity Fair agreed that his friendship with Belushi was a private thing that was off-the-table as far as interviews went.
He's gone to extreme lengths for his roles ... even if it's never on-screen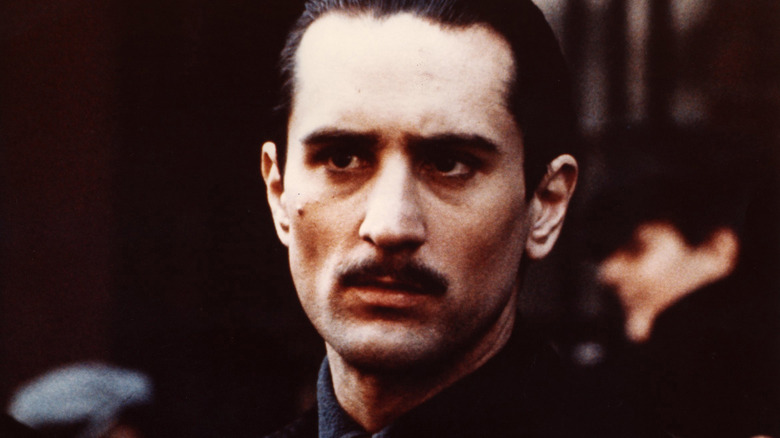 United Archives/Getty Images
Robert De Niro goes to extremes with prepping for a role ... even if audiences never find out about his behind-the-scenes work. Take "The Godfather II." While Francis Ford Coppola was filming scenes without him, De Niro decided to head to Sicily, immerse himself in the culture, and learn the entire language. In "De Niro: A Life," biographer Shawn Levy says that he became so fluent after a relatively short period of time, that he helped re-write the film's Sicilian-language dialogue to include some of the nuances he'd picked up.
No less impressive is the fact that he learned how to actually play the saxophone for "New York, New York," even though the actual music was dubbed. Is that more or less difficult than becoming a New York City taxi driver? Only De Niro can answer that: For "Taxi Driver," he legitimately got his cab driver's license. 
Even harder, though, was gaining about 60 pounds for "Raging Bull." The movie stopped filming for four months while he did it, and he later reflected that it had been awful: "I began to realize what a fat man goes through. You get rashes on your legs. Your legs scrape together. You feel your weight on your heels when you stand up. It was like going to a foreign land." There is, however, perhaps one that's even worse: For "Cape Fear," he really did go to a dentist to have his teeth ruined, and then remade after filming was over.
Why did he make the jump to comedies?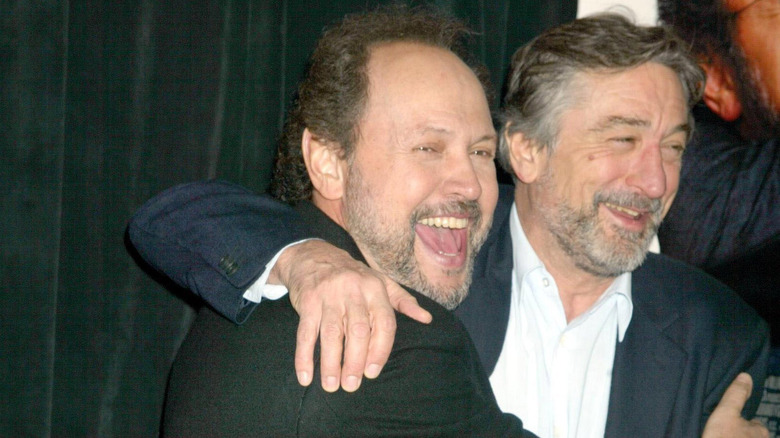 Sylvain Gaboury/Getty Images
Robert De Niro is, well, Robert De Niro because of his dramatic roles. They're not just dramatic; they're heavy: Who else could carry the weight that made "Raging Bull" a classic, or a young Vito Corleone believable? It's understandable, how his jump into comedy with 1999's "Analyze This" may have been met with some skepticism. It left many people wondering, but fortunately, De Niro can be much more open to talking about his professional decisions instead of his personal life.
Years later, he told Forbes, "With 'Analyze This,' I thought it would be interesting and fun to do." Was it that simple? Yes: He sat down, had a read-through with Billy Crystal, and he was in. De Niro continued: "Then I started getting offers like for 'Meet The Parents,' ... I don't know how, but I wound up committing to that, and then that whole thing started."
Comedian Rob Riggle sat down with CinemaBlend around the release of "The War with Grandpa," and said that one of the things he could absolutely attest to is that De Niro's acting abilities extended even to comedy — and that it was even harder than drama. "De Niro doesn't get enough credit for his comedy chops," Riggle said. "He knows what's funny and he knows why it's funny, so he knows how to play that. He's not afraid to look foolish. If you're not willing to look foolish, that's a hard sell." Who would have thought?
His lawyer has suggested he has no choice but to keep working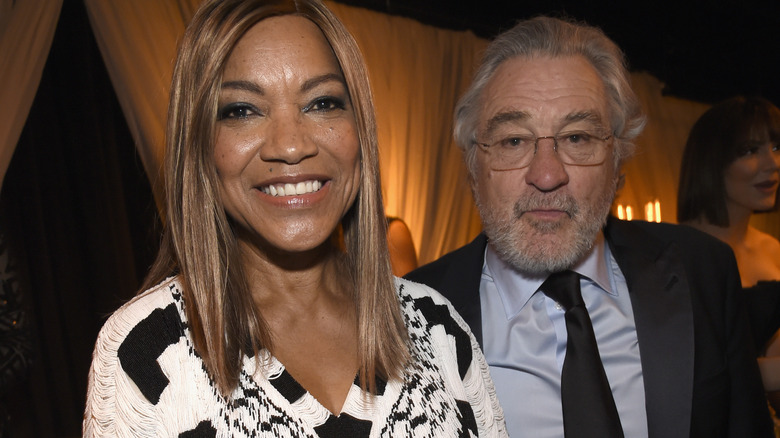 Kevin Mazur/Getty Images
In 2020, Yahoo! Entertainment asked Robert De Niro if he had any intention to retire any time soon. He was pretty clear in his answer, saying, "I always say, the next thing is grandfathers, then great-grandfathers, then great-great-great grandfathers, so who knows. I'll go as long as I can."
That's great, if a person loves what they're doing and gets to a point where they can work at their own pace. But according to his attorneys, that's not what's going on here. In 2021, Page Six reported that De Niro's lawyers were in court arguing that he was being forced to keep working in order to pay his divorce settlement. He and longtime wife Grace Hightower (pictured) split in 2018, and even as De Niro's lawyers argued the then 77-year-old couldn't keep working to keep up with the payments, Hightower's lawyers claimed he "has unfairly" cut her monthly allowance from $375,000 to "just $100,000."
De Niro's lawyer, Caroline Krauss, reportedly explained just why he might have to keep working: "... while he loves his craft, he should not be forced to work at this prodigious pace because he has to. When does it stop? When does he get the opportunity to not take every project that comes along, and not work six-day weeks, 12-hour days, so he can keep pace with Ms. Hightower's thirst for Stella McCartney?"
He was targeted by a bizarre home invasion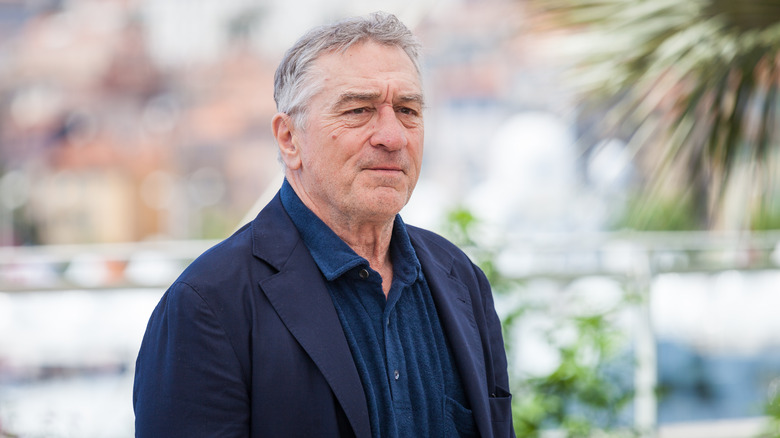 taniavolobueva/Shutterstock
Hear someone was accused of breaking into Robert De Niro's home — while he was there — and it might seem like it's going to be the story of an over-zealous fan. That apparently wasn't the case at all when, in 2022, a woman named Shanice Aviles was arrested on charges of breaking into De Niro's New York City property.
As it happens, the NYPD had been keeping tabs on her for some time. After she was allegedly seen trying to get into a series of area buildings, law enforcement reported that they followed her into De Niro's townhouse, where she was arrested. Police officials shared what she was accused of; stealing Christmas presents.
De Niro — who had one of his daughters staying with him at the time of the break-in — confirmed to reporters that they were absolutely fine. Aviles later claimed that she had been set up, and said to the New York Post that she wanted to apologize to De Niro: She loved his movies. A judge was less than understanding when it came time for her to share her claims in court, and she was initially held on $40,000 bail.
He made headlines with his seventh child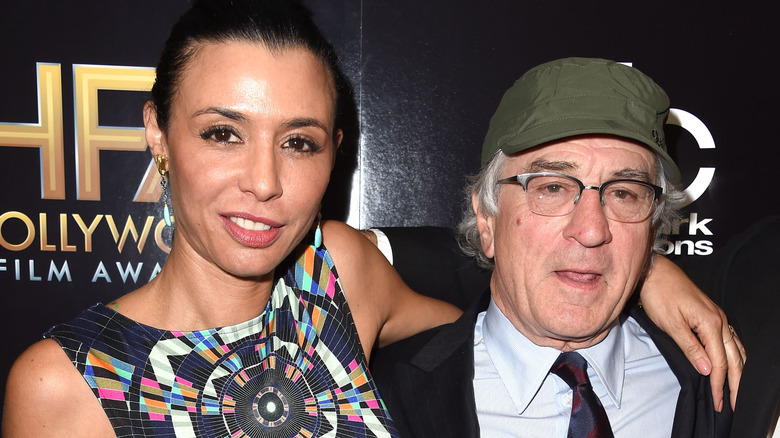 Steve Granitz/Getty Images
Families come in all different shapes and sizes, and that's what makes the world go around. Still, the 79-year-old Robert De Niro's surprise confession raised the eyebrows of an interviewer from ET Canada, who — while asking him about his film, "About My Father" — asked him what kind of dad he was to his six children. He corrected her: He had seven now.
By the time De Niro revealed more details, about a month had passed since her birth. He shared a first photo with CBS News, saying that little Gia Virginia Chen-De Niro was the daughter of his girlfriend, Tiffany Chen. As a sign of just how closely-guarded De Niro keeps his private life, his "About My Father" co-star, Sebastian Maniscalco, told Extra that no, he had no clue there was a baby on the way: "I was informed today that he had the baby. I didn't know, leading up to this, that he was going to have a baby, but yeah, God bless him!"
The newborn addition to the family joined his adopted daughter, Drena (pictured with him in 2015), son Raphael, twin sons Julian and Aaron, son Elliot, and daughter, Helen. And as for what kind of father he is? He said, "I don't think I'm a cool father. ... I'm ok. My kids disagree with me at times, but they're respectful. ... And my youngest now, that'll be more to come. But, it is what it is."
Is there any truth to the rumor of a De Niro/Pacino feud?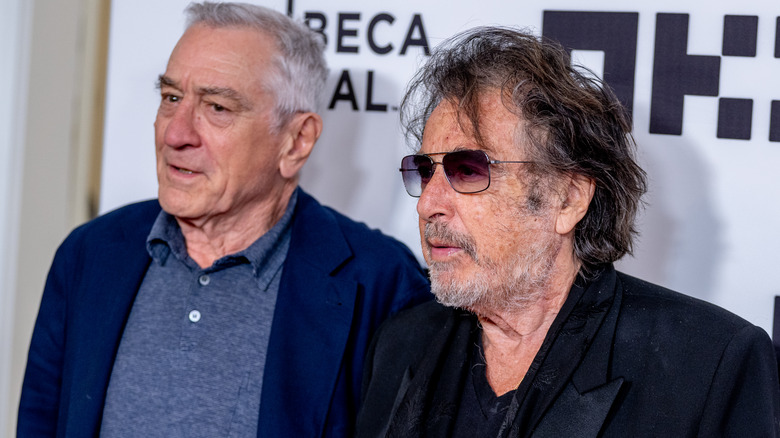 Roy Rochlin/Getty Images
Robert De Niro and Al Pacino are both Hollywood icons. When The Guardian spoke to both around the release of "The Irishman," it was Pacino who said, "We're really close. We don't see each other very much, but when we do, we found we shared certain things. In a way, I think we've helped each other throughout life." Then, it was "Heat" that got a shout-out: They famously played the cop and the criminal, but what about that story of the dinner scene?
The oft-told tale is that at the time, they hated each other so much that Michael Mann needed to shoot them separately and splice the scenes together ... or, so the story goes. Is there any truth to the tale that's become Hollywood legend?
None whatsoever, and that's according to an interview with Pacino, De Niro, and Mann, moderated by Christopher Nolan. "[The scene] started with the consummate respect for the great artists that these two guys are," Mann explained. "... I knew the little, tiny, organic details, it would be different from take to take. So, what I wanted to do was shoot with two cameras." They were positioned over the shoulder to create a sort of call-and-answer scene, and that's all there was to it. So, there it is: There was no feud, and no demands to be shot separately, just a directorial choice that led to one of those long-running yet untrue Hollywood rumors.