Pee-Wee's Playhouse Actors Who Sadly Passed Away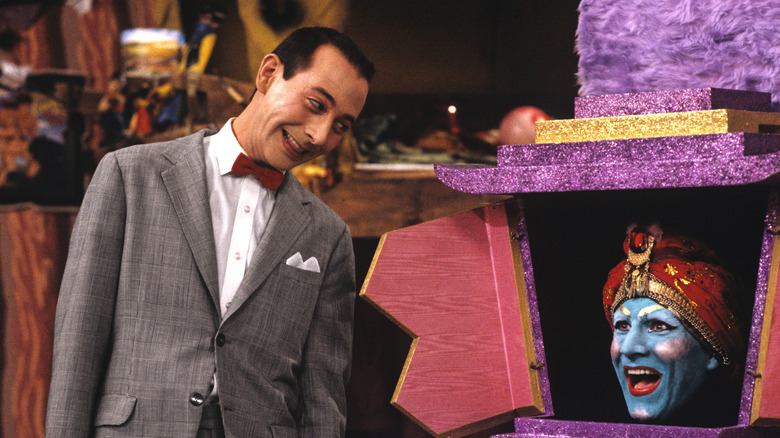 John Kisch Archive/Getty Images
With its original run now more than 30 years in the past, a large number of cast members of the zany, colorful, and ridiculously fun Saturday morning TV classic "Pee-wee's Playhouse" have since died. Airing amidst fare like "The Smurfs" and "Saved by the Bell," the live-action, well-crafted, fantasy comedy "Pee-wee's Playhouse" offered a dazzling alternative to the usual weekend morning fluff. Built like an old-fashioned kiddie TV show while also parodying one, and with a hefty dose of adult humor, camp, and special effects added in, "Pee-wee's Playhouse" was an unlikely and child-friendly extension of "The Pee-wee Herman Show," a hip live Los Angeles comedy show conceived by and starring Paul Reubens as the titular, bow tie-wearing man-child.
The Playhouse left the CBS schedule in 1990, and the actors who portrayed, voiced, and puppeteered its residents scattered to other showbiz projects. Here are all the "Pee-wee's Playhouse" cast members who have since died.
Paul Reubens - Pee-wee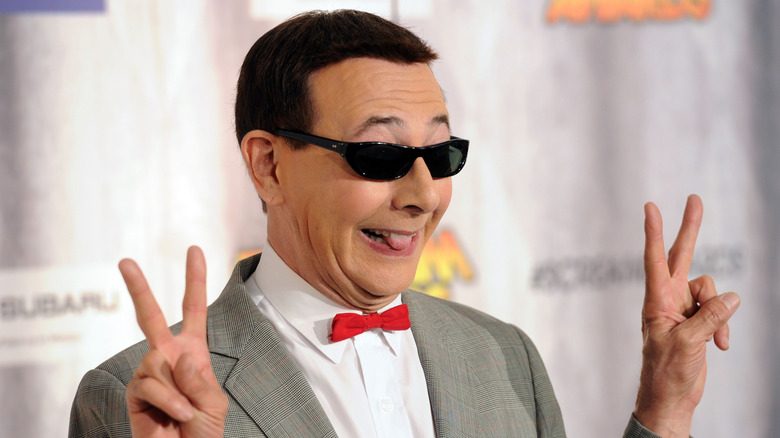 Jason Merritt/Getty Images
The owner of the surreal Playhouse on "Pee-wee's Playhouse," and the ringleader of all the magical chaos and puppet-based antics inside: Pee-wee Herman, a perpetually positive, fun-loving, full-grown child. With a screeching laugh, Pee-wee ran through all of his favorite Playhouse activities on a weekly basis, like playing "Connect the Dots," asking Jambi for a wish, listening to some puppets play jazz, and screaming real loud whenever someone said the "Secret Word."
After a taped version of "The Pee-wee Herman" show presented by the L.A. comedy troupe The Groundlings became a hit for HBO in the early 1980s, Paul Reubens became a superstar and comedy icon, rarely breaking out of the Pee-wee character on screen and in public for the rest of the decade. Reubens portrayed his bubbly, edgy, frenetic clown in the films "Pee-wee's Big Adventure" and "Big Top Pee-wee" as well as on the TV series "Pee-wee's Playhouse," over which he exercised major creative control. Following the end of "Pee-wee's Playhouse" in 1990, Reubens explored other roles, reuniting with "Big Adventure" director Tim Burton on "Batman Returns" and "The Nightmare Before Christmas," portraying a vampire henchman in "Buffy the Vampire Slayer," a flatulent superhero in "Mystery Men," and a ghoulish royal on "30 Rock."
On July 31, 2023, Reubens' Instagram account broke the news that the actor and man behind Pee-wee Herman had died the previous evening. "Paul bravely and privately fought cancer for years with his trademark tenacity and wit," the item shared. Reubens was 70.
John Paragon - Jambi and Pterri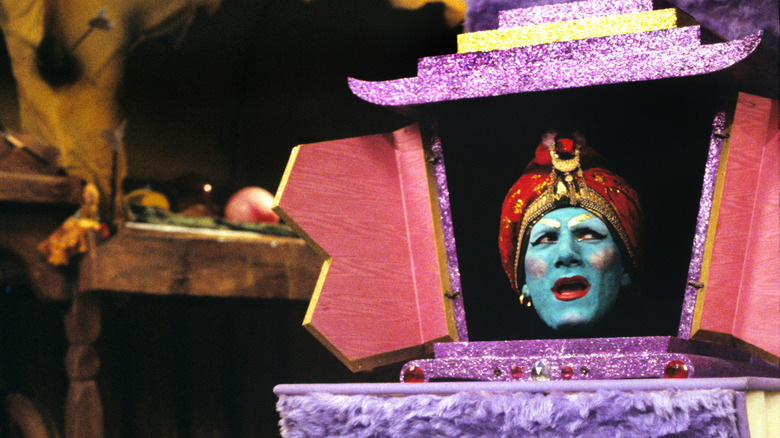 John Kisch Archive/Getty Images
One of the most beloved recurring features of "Pee-wee's Playhouse" was Pee-wee's weekly visit to his private genie. Rendered as a floating and disembodied, scar-clad head in a magical box, Jambi enforced a lot of rules with his wishes, which wouldn't come true without a recitation of "mecca lecca hi, mecca hiney ho." As the magic happened, Pee-wee's puppet friends looked on in wonder, including Pterri, a wacky-voiced and hyperactive green pterodactyl.
As a member of the Los Angeles comedy group The Groundlings, John Paragon met his two closest collaborators and would go on to help them create and hone their signature characters: Cassandra Peterson and Elvira; and Paul Reubens and Pee-wee Herman. Paragon co-wrote "Elvira: Mistress of the Dark" and Peterson's many TV specials, as well as the original "The Pee-wee Herman Show" for the stage. When the latter came to TV as "Pee-wee's Playhouse," Paragon directed 20 episodes, served as a staff writer, voiced the puppet Pterri and portrayed the mischievous genie Jambi.
In June 2021, the Riverside County Sheriff's Coroner confirmed that Paragon had died the previous April in Palm Springs, California. Dying from a combination of chronic alcohol overuse and heart disease, Paragon was 66 years old.
If you or anyone you know needs help with addiction issues, help is available. Visit the Substance Abuse and Mental Health Services Administration website or contact SAMHSA's National Helpline at 1-800-662-HELP (4357).
Gilbert Lewis - The King of Cartoons
The Playhouse on "Pee-wee's Playhouse" stood nearby a realm called Cartoonland, ruled by a benevolent, crown-wearing monarch called the King of Cartoons. Each episode, he'd stop by the Playhouse to show a portion of a random, weird, and very old cartoon to the delight of Pee-wee and his puppet friends.
An East Coast-based actor, Gilbert Lewis appeared only sporadically in film and TV productions, amassing about 40 credits across four decades, including single episodes of "Cheers," "Designing Women," and "Spenser: For Hire." Cast as the King of Cartoons during the first season of "Pee-wee's Playhouse," when production was based in New York, Lewis didn't move with the show when it shifted taping to Los Angeles for Season 2.
On May 7, 2015, Lewis died near his hometown of Philadelphia. The news wasn't widely reported until the following June by Hollywood trades and by "Pee-wee's Playhouse" star Paul Reubens, who called Lewis "a terrific actor and wonderful man" on his website.
William Marshall - The King of Cartoons
The King of Cartoons remained a fixture throughout the five-year run of "Pee-wee's Playhouse," although the character changed a lot. In Season 2, he dropped his chauffeur and started showing up to the Playhouse on foot to showcase his cartoons. He also looked a lot different, because original portrayer Gilbert Lewis left the show, leaving the role of King of Cartoons to William Marshall, who had taken the part at the behest of his grandchildren.
A theatrically-trained actor who starred in multiple stage productions of "Othello" and who racked up dozens of TV credits from the early 1950s through the mid-1990s, Marshall was best known for two roles: as the second and longest-serving King of Cartoons on "Pee-wee's Playhouse," and Blacula in two "Blacula" movies. In the cult horror and "blaxploitation" franchise, Marshall played 18th-century African prince Mamuwalde, uncovered in 1970s Los Angeles for some blood-sucking rampages.
Marshall died in June 2003 from a heart attack. The actor was 78.
Phil Hartman - Captain Carl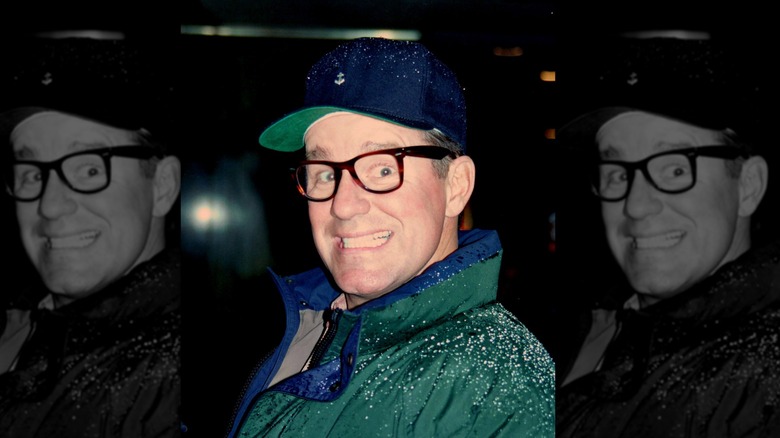 Derek Storm/Getty Images
A recurring character throughout the run of "Pee-wee's Playhouse," Captain Carl is a rough-around-the-edges, raspy-voiced sea captain usually out on a sea voyage, when he's not hanging out the Playhouse getting frustrated by Pee-wee's silly shenanigans.
"Pee-wee's Playhouse" was a television adaptation of "The Pee-wee Herman Show," a theatrical presentation by the Los Angeles comedy troupe The Groundlings, and member Phil Hartman played Captain Carl in the original production before reprising the role on TV. A close collaborator with co-star Paul Reubens, Hartman co-wrote the 1985 movie "Pee-wee's Big Adventure," released right around the time that Hartman began a nine-year run on "Saturday Night Live," originating characters like Frankenstein, the Unfrozen Caveman Lawyer, and the Anal Retentive professional, as well as impressions of Ronald Reagan, Bill Clinton, and Charlton Heston. "SNL" launched Hartman to major comedy star status, and he'd also co-star on the sitcom "NewsRadio," as well as voice sleazy lawyer Lionel Hutz and washed-up actor Troy McClure on "The Simpsons."
Investigating reported gunshots, police arrived at the Hartman family home in Encino, California, on the morning of May 28, 1998. As Phil and his wife Brynn Hartman's children were being removed from the house, police heard another shot, and discovered Brynn's body, who had died by a self-inflicted gunshot wound, and that of Phil Hartman, apparently shot to death while he slept. The comedian was 49.
If you or someone you know is struggling or in crisis, help is available. Call or text 988 or chat 988lifeline.org
Shirley Stoler - Mrs. Steve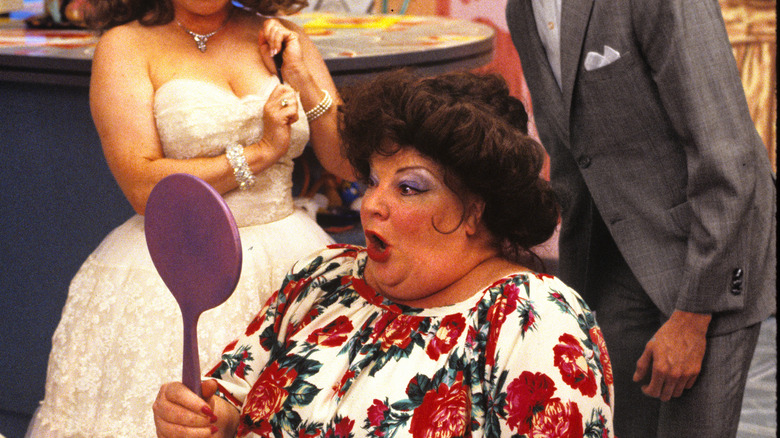 John Kisch Archive/Getty Images
A nosy, outspoken, and rude neighbor was once a sitcom cliché, and on "Pee-wee's Playhouse," that role was filled by Mrs. Steve. Said to live next door to the Playhouse, everything about the joyful place of fun annoyed Mrs. Steve, including Pee-wee and the scream-inducing "Secret Word," and she'd march over loudly to voice her displeasure and issue a threat.
Replaced by Suzanne Kent as neighbor Mrs. Rene in later seasons of "Pee-wee's Playhouse," Shirley Stoler played Mrs. Steve throughout the first season of the children's TV series. Prior to that flashy role, Stoler was best known for some seriously dramatic work in dark 1970s movies such as "The Deer Hunter," "Klute," "Honeymoon Killers" (in which she played a murderous nurse), and "Seven Beauties." In that Oscar-nominated film, she portrayed an evil prison camp commandant.
Stoler suffered from a lengthy illness and died from heart failure on February 17, 1999, at St. Vincent's Medical Hospital and Medical Center in New York City. Stoler was 69 years old.
Leslie Jordan - Busby
The mild-mannered, enigmatic Busby appears just once on "Pee-wee's Playhouse," in the Season 5 episode "Mystery." Reportedly a new resident of the neighborhood, he shows up to the Playhouse right around the time when Herman's possessions mysteriously start to disappear. It turns out Busby was just borrowing the stuff without asking, and that he also has a hard time making friends.
Likely best known as Karen Walker's nasty socialite rival and dear friend Beverly Leslie on "Will and Grace," and baker Philliam on "Call Me Kat," Leslie Jordan was a prolific comic actor who usually played vivacious, over-the-top characters that allowed him to steal his scenes. His face and rapid-fire Southern-accented speech became familiar to TV viewers through appearances on "Ally McBeal," "Sabrina the Teenage Witch," "Desperate Housewives," and "American Horror Story." During the COVID-19 lockdowns of 2020, Jordan became a social media sensation for his funny Instagram videos.
On the morning of October 24, 2022, Jordan was driving his car in Hollywood when he experienced a sudden medical emergency. He crashed his car into a building and was pronounced dead at the scene. Jordan was 67.
Bernard Fox - Dr. Jinga-Janga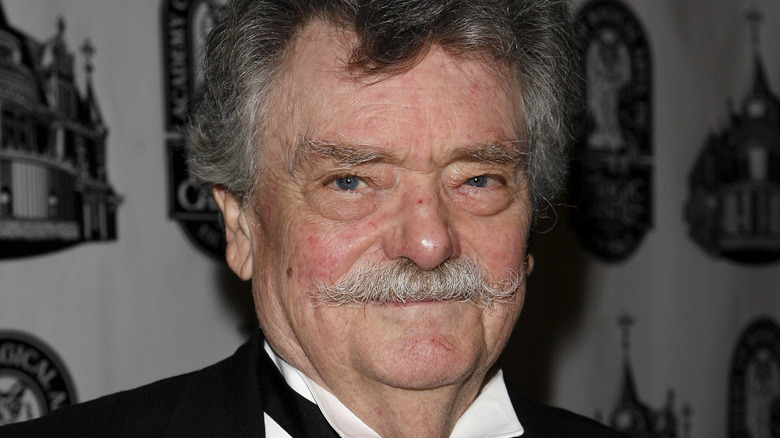 Jean Baptiste Lacroix/Getty Images
When magical beings get sick, they have to consult with a magical doctor. And so, in the Season 4 "Pee-wee's Playhouse" episode "Sick, Did Somebody Sick," Jambi calls in a trusted professional when he comes down with a bad case of the wish flu. Dr. Winslow J. Jinga-Janga, a genie-oologist, makes a call to the Playhouse to help Jambi recover.
Bernard Fox turned out guest spots on many 1960s and '70s sitcoms, including "The Dick Van Dyke Show" and "I Dream of Jeannie," but he's best known for two recurring roles: as hapless British buffoon Colonel Rodney Crittendon on "Hogan's Heroes," and as Dr. Bombay on "Bewitched." His "Pee-wee's Playhouse" role was an obvious and affectionate nod to the latter, an over-the-top, wildly dressed doctor for witches who could cure spells and prescribe potions. Fox also played small roles in both major movies about the Titanic disaster. In 1958's "A Night to Remember," he portrayed the crew member who spotted the fateful iceberg, and in 1997's "Titanic," Fox popped up as survivor Archibald Grace.
Fox died in Van Nuys, California, in December 2016. The television veteran died from heart failure at the age of 89.
Calvert DeForest - Rusty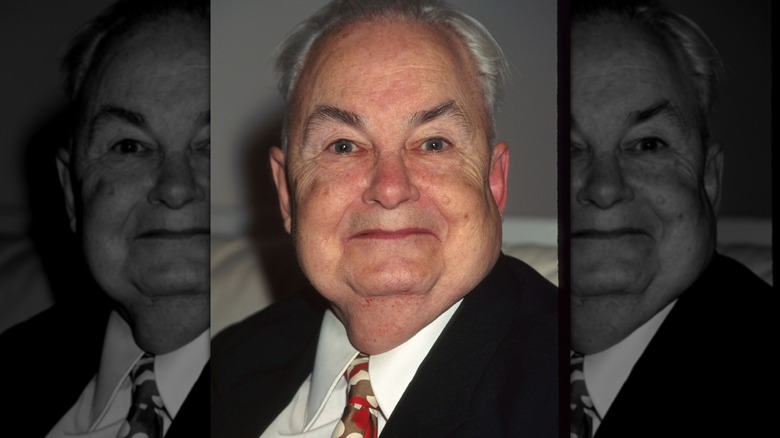 Evan Agostini/Getty Images
Showing up along with all the other members of the Playhouse Gang of children in the episode "The Gang's All Here," Rusty is the most childlike child of all time. He dresses in shorts and a ball cap, yells a lot, and obnoxiously causes a lot of mischief and property damage. There's just one thing noticeably off about Rusty, whom Pee-wee doesn't really care for: He's not a kid at all, but very obviously an older man.
Calvert DeForest came late to fame, landing a few bit parts in '70s movies before becoming a cult comedy figure for his numerous appearances on "Late Night with David Letterman" throughout the 1980s as an odd character named Larry "Bud" Melman. (He kept his job at a drug rehab center for the first two years of Letterman spots.) DeForest continued to play the character under his real name when Letterman moved his show to CBS in the 1990s, all of which led to work in Run-DMC's "King of Rock" video, hosting "The Couch Potato Workout" VHS, and guest-starring on "Pee-wee's Playhouse" and "Wings."
After a lengthy period of living with a long sickness, DeForest died on March 19, 2007, at Good Samaritan Hospital in Long Island, New York. The actor and television personality was 85.
The Del Rubio Triplets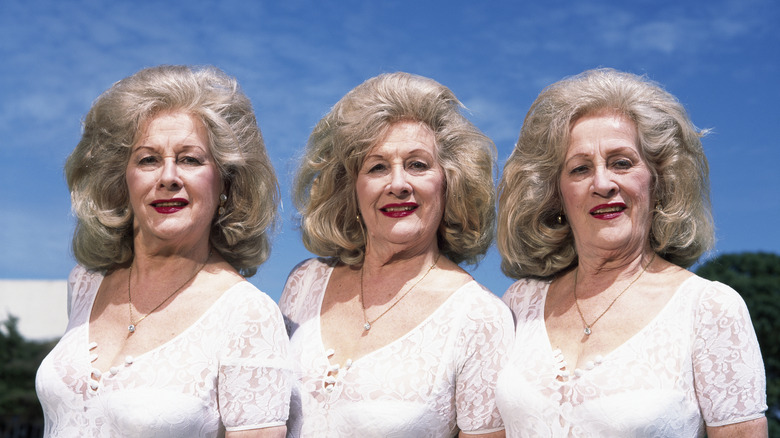 Evan Hurd Photography/Getty Images
The rare performers to appear on "Pee-wee's Playhouse" as themselves, the singing, harmonizing, guitar-playing, and identically clad Del Rubio triplets made their first visit to Puppetland in 1988. They performed the holiday classic "Winter Wonderland" on the "Pee-wee's Playhouse Christmas Special" in 1988. About a year later, they paid Pee-wee and the gang another visit in a Season 4 episode centered around them, where they sang the '60s pop hit "These Boots are Made for Walkin.'"
The Del Rubio Triplets performed together for decades, reportedly pulling from a catalog of hundreds of songs, before becoming a minor pop culture phenomenon in the mid-1980s when they were in their late sixties, thanks to TV show appearances on shows like "Pee-wee's Playhouse" and playing at prominent private parties around Los Angeles.
Since their brief but memorable appearances on "Pee-wee's Playhouse," all three Del Rubio Triplets have since died. Eadie Del Rubio died in December 1996 at age 75, followed by sister Elena Del Rubio, who died in March 2001, also in her 70s. The third Del Rubio Triplet, Milly Del Rubio, died at age 89 in July 2011.
Steve James - Derek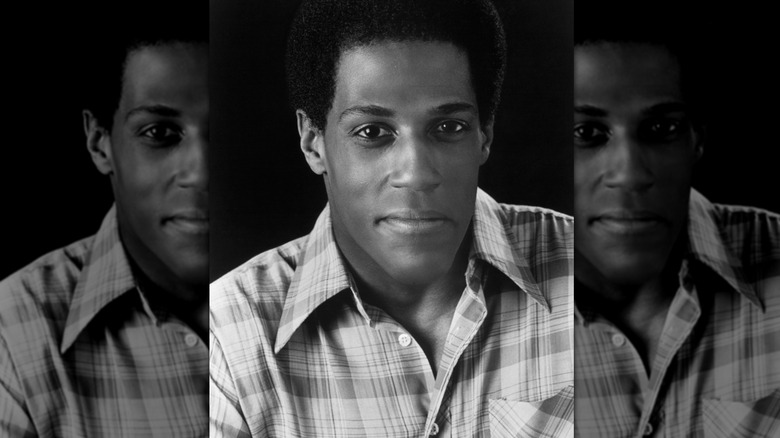 Michael Ochs Archives/Getty Images
In the Season 4 "Pee-wee's Playhouse" episode "Rebarella," Reba the Mail Lady schedules a big date to the firemen's ball. That turns into a makeshift drive-in movie date at the Playhouse after a fire in the ballroom, ironically, so viewers get to meet Reba's boyfriend, a towering firefighter named Derek.
Portraying Derek in his one and only appearance: actor, stunt worker, and martial arts star Steve James. Just before his time at the "Playhouse," James was best known for his work as a supporting player in a string of martial arts action movies. After popping up as a bat-wielding Baseball Fury in "The Warriors," he appeared in '80s flicks like "Vigilante," "To Live and Die in L.A.," "P.O.W. the Escape," "The Delta Force," and co-starred as main sidekick Curtis Jackson in three "American Ninja" installments.
A few weeks before James appeared in the first episode of the superhero TV show "M.A.N.T.I.S.," James died in December 1993 from complications of pancreatic cancer. The actor and stunt performer was 41 years old.