Where Is The Cast Of Pee-Wee's Playhouse Today?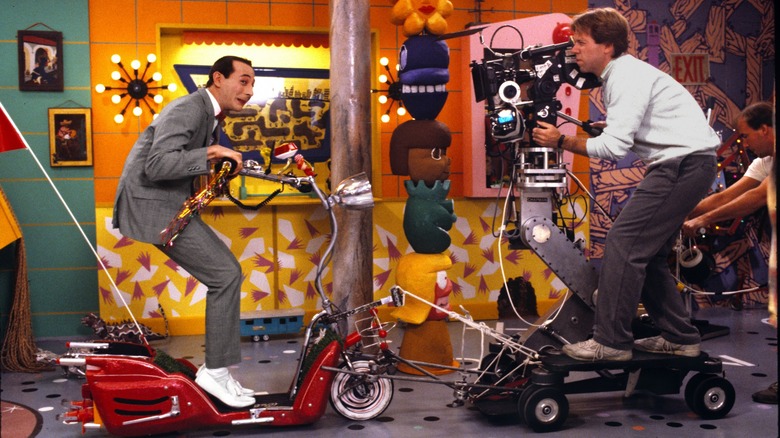 John Kisch Archive/Getty Images
From 1986–1990, "Pee-wee's Playhouse" was one of the top kid's shows on TV. It lasted for five seasons spanning 45 episodes, and is still fondly remembered by the youth of the era for its outrageous hijinks and comedy. The character of Pee-wee Herman itself dates back to 1978, and he first transitioned from a stage and stand-up character to the screen in 1985 with "Pee-wee's Big Adventure." He also appeared on "Saturday Night Live" that year, and the following September of 1986, "Pee-wee's Playhouse" first aired on CBS.
The show was immensely successful during its time on CBS, both with audiences and critics, and it was a perennial Daytime Emmy nominee and winner. Paul Reubens, of course, starred as Herman, the title character and basis for the show, and looking back, he had quite the cast alongside him. Some of the people who starred with Reubens on "Pee-wee's Playhouse" included future Hollywood heavyweights like Laurence Fishburne, S. Epatha Merkerson, and Phil Hartman. Even part-time rocker and horror director Rob Zombie worked on the set as an assistant for the first season.
With the untimely passing of Reubens from cancer in 2023, let's look back at the other cast members of "Pee-wee's Playhouse" to see what happened to them after the show aired. Sadly, some of them have passed away, but more than a few are still active and continue to inspire audiences with their work.
Paul Reubens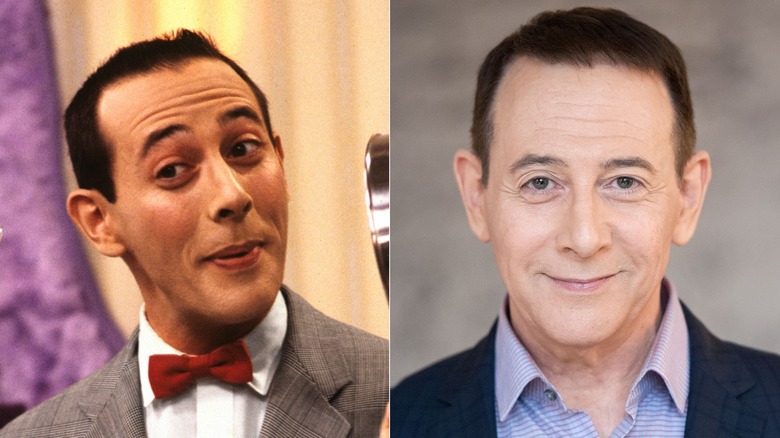 D Dipasupil/Getty & John Kisch Archive/Getty Images
Playing the main role of Pee-wee Herman for the entire duration of the "Pee-wee's Playhouse" was Paul Reubens, the creator of the character. Depending on how you interpret Herman, he is either a child, a man pretending to be a child, or someone completely unexplainable and unhinged. Yet, kids loved him, and his goofy presence was always good for a lot of laughs. In addition to doing all kinds of wacky and bizarre hijinks, Herman's character also played an important role in educating and relating to the youth. His quirky and often flamboyant antics were on full display during "Pee-wee's Playhouse," and were a big reason the show was such a success.
Unfortunately, just months after the show had ended, Reuben's career was marred by an ugly arrest for indecent exposure. Being a kid's role model at the time, the charges and incident were shocking and disturbing, leading to Herman and Reuben's unofficial cancellation for several years. Another arrest in 2002 on child pornography charges — later reduced — almost destroyed his career for good, but Reubens managed another comeback.
For the final few decades of Reubens' career, he worked largely as a character actor, including memorable roles in "Blow," "Reno 911!," and "Portlandia." He later revived Herman's character in the 2010s, with internet shorts, a movie, and a Broadway show. Sadly, Reubens passed away in June 2023 from cancer, which was shocking to many, given that his illness had not been publicly disclosed.
John Paragon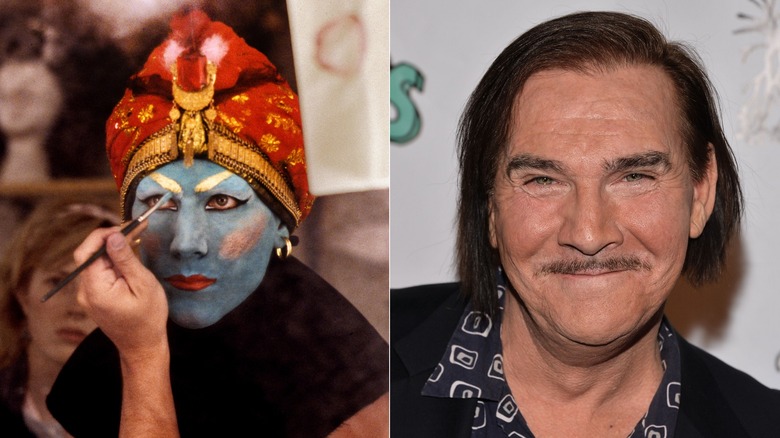 Amanda Edwards & John Kisch Archive/Getty & undefined
Fans of "Pee-wee's Playhouse" almost assuredly remember John Paragon, who played the memorable roles of Pterri and Jambi the Genie. Jambi was a central character on the show, and was only a head without a body. His magical powers were aided by the audience, who chanted "Mekka-lekka-hi, Mekka-lekka-hiney-ho" on his cue. Paragon was in almost every episode of "Pee-wee's Playhouse," being credited with 40 appearances out of 45 episodes.
In addition to performing on screen as Jambi and Pterri, Paragon was also involved in the production, directing, and writing of the show alongside creator Paul Reubens. After helping to invent Herman, Paragon also helped create the comedy horror character Elvira, famous from the 1988 movie "Elvira: Mistress of the Dark." After "Pee-wee's Playhouse" ended in 1990, Paragon continued to be sporadically active in the movie business, appearing in several productions with both Herman and Elvira through the 2010s.
He took part in the 2010 Broadway revival of "The Pee-wee Herman Show," and he had a memorable arc as the character Cedric on "Seinfeld" in the 1990s. Paragon also has several other writing and directing credits to his name in addition to "Pee-wee's Playhouse," including "Twin Sitters" and "Ring of the Musketeers." Besides still doing shows as a member of the Groundlings into the 2010s, Paragon also worked with up-and-coming performers at various Disney theme parks, sharing his vast expertise in the ways of improvisation. Sadly, Paragon died in April 2021 at the age of 66.
Laurence Fishburne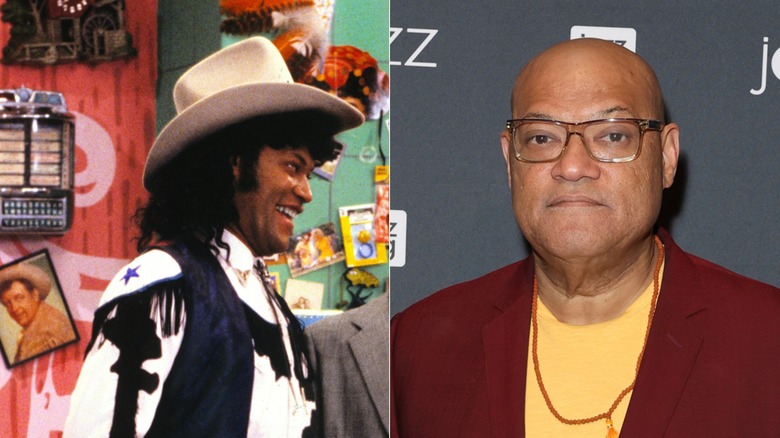 Michael Loccisano/Getty & John Kisch Archive/Getty Images
When Laurence Fishburne played the part-time role of Cowboy Curtis on "Pee-wee's Playhouse," few could have imagined the incredible career that would soon blossom. At the time, he still went by Larry Fishburne, and it was one of his earlier roles. Cowboy Curtis was one of the human characters on the show, and he would spend time with Pee-wee Herman inside his magical and (oddly psychedelic) playhouse. He wore a variety of multicolored cowboy outfits, including fringed vests and a cowboy hat, which was complete with a Jheri curl.
In 1988, while still playing Cowboy Curtis, Fishburne got his breakthrough in Spike Lee's "School Daze." Two years later, in 1990, he played one of the most memorable roles of his career as New York City gangster Jimmy Jump in "King of New York" alongside Christopher Walken. He has since starred in some of the most famous movies of all time, including "Boyz n the Hood," "The Matrix" trilogy, "Akeelah and the Bee," and more recently as the Bowery King in the "John Wick" franchise.
Still, even with all of the work he has done, Fishburne is particular about the roles that he takes. According to a 2020 interview with Vulture, Fishburne has turned down several major roles, including in "Do the Right Thing" and "Pulp Fiction," over concerns about the characters and the storyline. Today, Fishburne is one of the premier actors in Hollywood, and by far the most successful ex-"Pee-wee's Playhouse" cast member.
Kevin Carlson
Besides the human characters on "Pee-wee's Playhouse," some of the most fun on the show came courtesy of the many different puppet characters. Several different people played and voiced the various puppets, including famous puppeteer Kevin Carlson. Carlson joined the show in 1987 for Season 2 and appeared in 32 episodes of the series. He most prominently portrayed Clockey and Conky 2000, but did many others, including Floory and Knucklehead. Conky was responsible for the weekly "Secret Word," and was a robot built out of old electronic pieces of equipment.
Carlson got his start on screen in "Pee-wee's Playhouse," and he has continued to puppeteer since the show ended in 1990, including playing the musical puppet Timmy the Tooth in the many different "Timmy the Tooth" productions. More recently, he appeared in an episode of "The Office" as the puppet Edward R. Meow, "Crank Yankers," and "Lady Gaga & the Muppets' Holiday Spectacular."
In a 2020 interview with MediaMikesPresents, Carlson talked about his time on "Pee-wee's Playhouse," saying his favorite character to voice was Floory because of its "weirdness." He also talked about his time working with Matt Stone and Trey Parker on "Team America: World Police" as the principal puppeteer, which he appreciated because of its higher level of comedy. As of 2023, Carlson was still puppeteering and voice acting, most recently appearing as a marijuana-smoking koala bear in the 2023 reboot of "House Party."
Wayne White
While most of the cast members from "Pee-wee's Playhouse" went on to have solid — if not spectacular — careers acting or puppeteering in TV and movies following the series' end, Wayne White took a decidedly different path. White joined "Pee-wee's Playhouse" as a designer in addition to doing voiceover and puppeteer work, something he has parlayed into a lifelong career. During his time on "Pee-wee's Playhouse," White puppeteered and voiced several different iconic characters, including Dirty Dog, Randy, and Mr. Kite. He was credited in every single episode except one in the first season and won three Emmys.
 In addition to his work in film and on TV, White also has a separate career as an artist. He does paintings and creates installations featuring puppets and historical events, as well as 3D structures, largely made from cardboard and wood. His work is featured in many different galleries, and he also wrote his own monograph in 2009 called "Maybe Now I'll Get the Respect I So Richly Deserve." 
He has worked as a designer and an art director within the industry on several different shows and music videos, and also as an illustrator for several magazines. In 2013, filmmaker Neil Berkeley and PBS created a documentary about White, called "Beauty is Embarrassing," which chronicled his life story and career in Hollywood and making art, and he continues to work as an artist as of 2023.
Lynne Marie Stewart
Playing the role of Miss Yvonne for 30 episodes, across all five seasons of "Pee-wee's Playhouse," was none other than Lynne Marie Stewart. Miss Yvonne was a fashion queen on the show, frequently wore a bright pink dress with high heels, and had outrageously big brunette hair. Miss Yvonne was the closest thing to Pee-wee Herman's love interest in the show, and she was a frequent guest at the playhouse.
In an interview with The Hollywood Reporter in 2013, Stewart reminisced about her time in the Groundlings with Paul Reubens, as he was creating the Pee-wee Herman character, where she called Reubens a "genius." "Pee-wee's Playhouse" was far from Stewart's first credit in Hollywood. Her career began in the early 1970s, and one of her earliest parts was a small but memorable role as a teenager in "American Graffiti."
Since the show's end in 1991, Stewart has appeared in many TV shows and movies. Some of her parts in the 1990s and 2000s included roles in "Clear and Present Danger," "Arrested Development," and "Curb Your Enthusiasm." Since 2011, Stewart has been extremely active, especially on TV, appearing in shows like "Good Luck Charlie," "Comedy Bang! Bang!," and "2 Broke Girls." In addition, Stewart's most memorable role is probably that of Bonnie Kelly, the mom of Charlie Kelly in the FX comedy "It's Always Sunny in Philadelphia," which she has played since 2005.
S. Epatha Merkerson
John Kisch Archive/Getty & Roy Rochlin/Getty & John Kisch Archive
In one of her earliest TV roles, S. Epatha Merkerson played the character of Reba the Mail Lady for 16 episodes of "Pee-wee's Playhouse," beginning in 1986. Reba was another frequent companion of Pee-wee Herman's in his playhouse, and she was known for falling into his many traps and for giving Herman all of the letters from his many international pen pals. Later in the series, she is seen dating Derek the fireman for the episode "Rebarella," where they have a date at the playhouse.
Merkerson is originally from Michigan, and her mother was a truck driver for the post office, which may have served as some inspiration for her later portrayal as Reba. Before entering the TV world with "Pee-wee's Playhouse," Merkerson was a Tony Award nominee who appeared in several shows both on Broadway and off-Broadway. After getting parts in "She's Gotta Have It" and "Jacob's Ladder," she would get the role of Lieutenant Van Buren on the show "Law and Order," and would play it for nearly 400 episodes over 17 years. Most recently, Merkerson has portrayed Sharon Goodwin within the "One Chicago" franchise since 2015.
Merkerson has appeared on the PBS show "Finding Your Roots" multiple times to learn about her family history through her DNA. Through the show, Merkerson was able to learn that her ancestry was descended from Maryland enslaved people, one of whom was enslaved by Georgetown University for a time.
Phil Hartman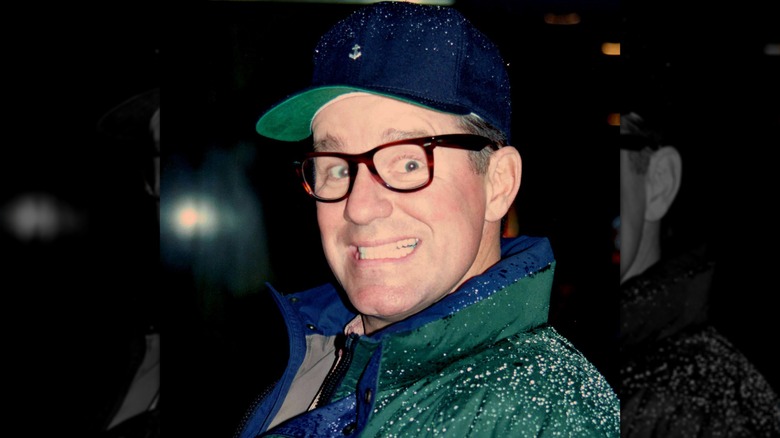 Derek Storm/Getty Images
Though he was not on the show for long, without Phil Hartman "Pee-wee's Playhouse" might never have existed at all. Many don't realize, but Hartman was an integral part of the Pee-wee Herman character from the very beginning. Unfortunately, things later turned sour, even leading to a personal estrangement between Hartman and Paul Reubens, the actor playing Herman. 
According to an interview Hartman gave with Howard Stern on "E! News," Hartman was one of the creators of the original "Pee-wee Herman Show" when he and Reubens were both Groundlings. However, once Reubens shifted the show from the big screen to TV, Hartman felt cut out of his contractual royalties, leading to some animosity between them. In all, Hartman only appeared in six episodes of "Pee-wee's Playhouse," all in the first season in 1986. He played the part of Captain Carl, a character Hartman created himself, who was a sea captain that would often get frustrated with Herman's over-the-top antics.
The same year "Pee-wee's Playhouse" debuted, Hartman became a regular on "Saturday Night Live," which would skyrocket him to superstardom. He would appear on "SNL" for more than 150 episodes over the next 12 years, where he became famous for his various impressions and hilarious characters. Tragically, Hartman died in 1998 at the hands of his wife, when he was just 49 years old. One of the most admired and cherished comedians in modern history, Hartman's loss was deeply felt and widely mourned throughout the country.
George McGrath
Apart from Paul Reubens playing Pee-wee Herman himself on "Pee-wee's Playhouse," nobody had a bigger presence on-screen than George McGrath. McGrath appeared in all 45 episodes of the show, voicing several different characters such as Globey, Fish, Dog Chair, Cowntess, and the red dinosaur of The Dinosaur Family. Of those, Fish and Globey appeared in almost every episode, and were fan favorites in the playhouse.
Yet, McGrath's contributions were far greater than what you could just see on screen. As he recalled during a 2020 interview with MediaMikesPresents, he was largely responsible for the show's theme song, which he wrote in a hotel room and originally recorded with Paul Reubens on a tape recorder. Since "Pee-wee's Playhouse" ended in 1990, McGrath has acted sporadically, but has been more active in writing. 
His most notable work was probably "Tracey Takes On...," which he acted in, wrote, and produced a few episodes of. Some of his other recent writing credits include "Bloody Hands," "The Reverie," and the short "Helping Hand." McGrath was also credited as an associate producer on the 2018 short "A Touch of Aurora," which won more than a dozen awards at various film festivals worldwide. As of 2023, McGrath was still performing with the Groundlings, doing improvised hour-long comedy shows at the Groundlings Theater in Los Angeles (according to his Instagram).
William Marshall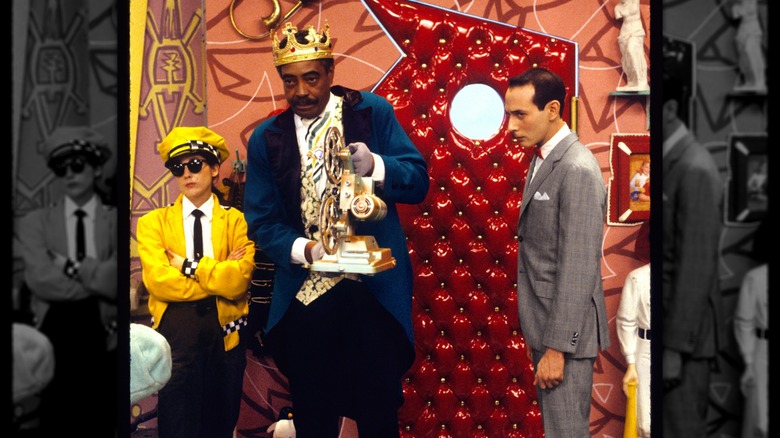 John Kisch Archive/Getty
Appearing in "Pee-wee's Playhouse" for 22 episodes over four seasons was actor William Marshall. Marshall played the role of the King of Cartoons, one of the show's most beloved characters. Whenever the King of Cartoons shows up, the kids (predictably) know they are going to see some sort of crazy and outrageous cartoon, prompted by him saying, "Let the cartoon begin!" His kingdom is that of Cartoonland, and he is married to the Queen of Cartoonland.
Besides his role as the King of Cartons, Marshall is probably most well known for his portrayal of Blacula in 1972's "Blacula" and its 1973 sequel "Scream Blacula Scream," which were some of the most influential films in the Blaxploitation genre. Marshall was already a veteran actor by the time he appeared on "Pee-wee's Playhouse," and it was actually one of his last roles. After the show ended, he had a few small parts in the 1990s, with his last coming in 1996, narrating the TV movie "Vampires: Thirst for the Truth."
Marshall was originally from New York City, and he was also a trained singer who appeared in many Broadway productions early in his career. His stage credits include being an understudy in "Peter Pan," "The Green Pastures," and William Shakespeare's "Othello." Sadly, Marshall passed away at the age of 78 in 2003 from a heart attack.
Ric Heitzman
Fans of "Pee-wee's Playhouse" definitely remember the various characters of Ric Heitzman, who were among some of the funniest on the entire show. Heitzman played Mr. Window, Cool Cat, Salesman, and Flowers, among others, and appeared in all 45 episodes over all five seasons. In addition to doing voice work and puppeteering, Heitzman was also the co-production designer on the set, something he has continued in the years since the show went off the air.
Heitzman's only official acting credits are from "Pee-wee's Playhouse" and the 1988 Christmas special, and he has not appeared in another film or TV show since. He did however work as a director for a few pieces around the turn of the millennium. However, while Heitzman might not be a major player in Hollywood, he is big in academia and the art world. Heitzman is a very accomplished artist, and his art has even been in the Museum of Modern Art in New York City. He does everything from paintings to sculptures with numerous mediums, and he makes some intriguingly bizarre figures and images.
Heitzman is respected enough that he has worked as a college professor at many different prestigious institutions, and he is actually professor emeritus at the private Woodbury University in Los Angeles. As of today, Heitzman continues to work and sell his art, and he even has his own book featuring many of his original drawings.