What Is Gilgo Beach Really Like Since The LISK Murders?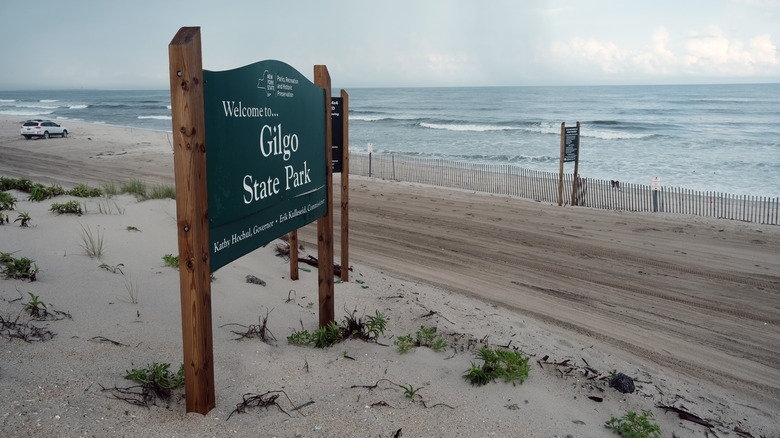 Spencer Platt/Getty Images
Roughly 30 miles from midtown Manhattan, Gilgo Beach and Gilgo Beach State Park on the Long Island South Shore are beautiful destinations that conceal a dark secret. Since 2010, 11 sets of human remains have been found in the underbrush surrounding the park's entrance along Ocean Parkway — since attributed to the Long Island Serial Killer, or LISK, and known collectively as the Gilgo Beach murders, The New York Times reports. In 2023, 59-year-old Manhattan architect Rex Heuermann was arrested in connection to four of those 11 killings, but he is only charged with three murders thus far.
In the years between the first grisly discovery in the area and Heuermann's arrest, visitors perhaps unaware of the LISK investigation were greeted by expansive views of both the Atlantic Ocean and Great South Bay, attracted to the area by abundant saltwater fishing and other forms of recreation. Gilgo Beach is also a popular surfing destination. And while there, some visitors may even choose to stay at Gilgo Beach Inn. Babylon, New York, residents, though — for which Gilgo is one of three Atlantic-facing beaches — might tell a different story, as The Times elsewhere writes.
As former general manager of the Long Island State Parks Commission Wayne Horsely told The Times, the protracted LISK investigation left Babylon and many other nearby beach communities on edge. "It was very upsetting ... I know that they were all scared," he said. And for Gilgo Beach area residents, the publicity surrounding the LISK murders was "awful," he added.
Less than 200 people lived in Gilgo, New York as of 2020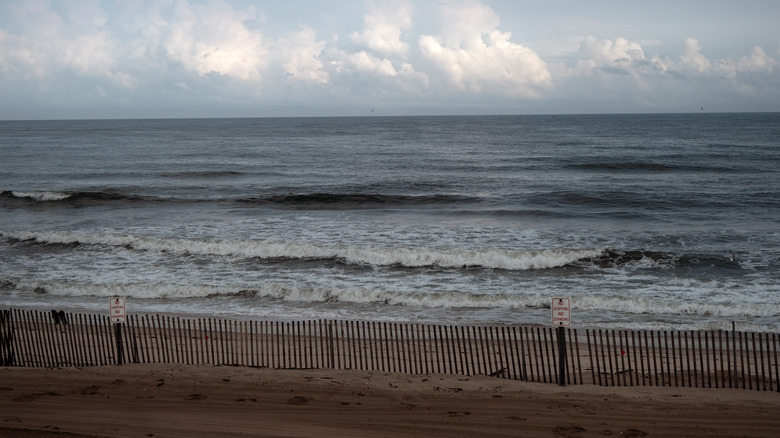 Spencer Platt/Getty Images
According to the United States Census Bureau (via Newsday), Gilgo, New York — located within the Town of Babylon, in Suffolk County — is a hamlet with a population of only 185 people as of the 2020 census. Like many beach communities, most homes in the area, built on public land, are part-time residences as people travel from all over to vacation and spend time in the area. Relatively secluded, Gilgo Beach itself is near both Jones Beach State Park and Fire Island's Robert Moses State Park, attracting millions of visitors every year.
Drawing people to Gilgo Beach is fishing for blue fish or striped bass, as well as beautiful views, and birdwatchers might also spot protected piping plovers or sea beach amaranth. Rex Heuermann, the man arrested in connection to four of the 11 human remains found at Gilgo Beach, lived less than 6 miles away in Massapequa Park, according to CNN. Referring to the Gilgo murders, Massapequa resident Cheryl Lombard toldThe Times, "We all followed it. It's scary. I know a lot of people avoided that beach."
"It's an amazing place," former Long Island State Parks Commissioner Wayne Horsely added (via NYT), referring to Gilgo Beach. "And to have that reputation marred on TV stations about murders and mayhem, it's just a shame."
The Gilgo Beach murder investigation was thrown off track by controversy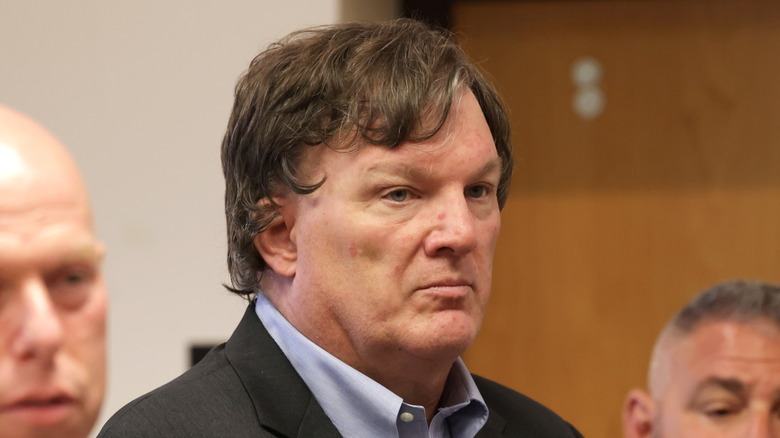 Pool/Getty Images
Worsening tensions for residents living in the Gilgo Beach area, the LISK investigation was slowed in 2016 when former Suffolk Country Police Chief James Burke was sentenced to 46 months in prison for assault in a cover-up of his own solicitation of sex workers, according to Daily Mail. Burke himself was also a suspect for a time in the string of unsolved murders and took steps to prevent FBI involvement in the investigation related to his own case. Local law enforcement was otherwise uncertain for a time if the 11 murders were the work of a single killer, or if there might be a number of murderers responsible.
In 2022, John Ray, a family lawyer for Shannan Gilbert, one suspected LISK victim, told The Guardian, "Police incompetence, along with certain willful conduct by members of the police department, was a bad mix that destroyed the ability to solve this case." That same year, a Gilgo Beach area resident also said (via The Guardian), "Bad things happen all over, but some make the headlines. Other than gosh, who'd have thought that would happen here." LISK suspect Rex Heuermann is pictured in a court appearance, above. He pleaded not guilty to all charges against him.
If you or anyone you know has been a victim of sexual assault, help is available. Visit the Rape, Abuse & Incest National Network website or contact RAINN's National Helpline at 1-800-656-HOPE (4673).