Inside Robbie Robertson And Bob Dylan's Friendship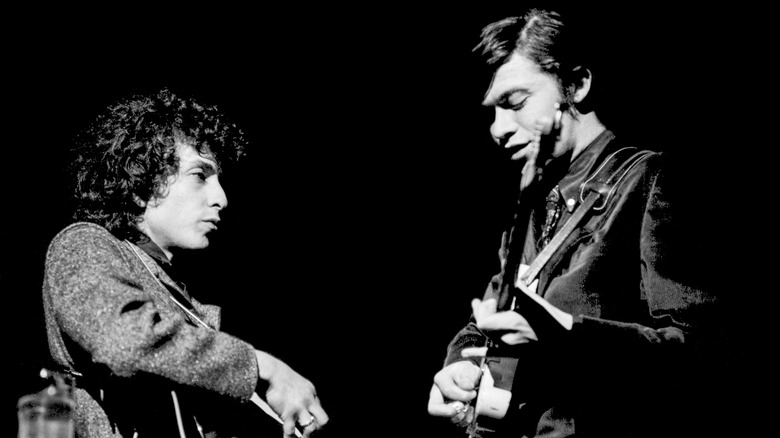 Charles Steiner/Getty Images
One of Robbie Robertson's most fruitful musical partnerships began in 1965, when the Canadian-American musician had a room next to Bob Dylan at New York's infamous Chelsea Hotel. At that time, Robertson played guitar for The Hawks, who became Dylan's backing band as the now-legendary singer-songwriter transitioned from his early folk hits to the controversial, electrified folk-rock sound he helped innovate. In this period, the two friends formed a lasting bond that faded as time went on, according to Robertson, speaking with The Guardian in 2019. But a few years before Robertson died — on August 9, 2023 at the age of 80 — the two musicians reconnected and were inspired to collaborate.
Dylan's decision to plug in and play loud was unpopular with his fanbase, particularly in 1965 and 1966, as he toured the world with Robertson and The Hawks. (The Hawks later became The Band, Robertson's most well-known project, which also worked with Dylan on occasion). While touring, Dylan and his band were often booed — most famously at the 1965 Newport Folk Festival and in 1966, in Manchester, England when an audience member called Dylan "Judas," as BBC News reports. When Dylan fans pushed back on the new direction, a "brotherhood" formed, Robertson remembered to The Guardian in 2019. "It was like we went through the war together," he added. After what they'd been through, "We're going to be in it for ever," he said.
The Hawks were a house band in New Jersey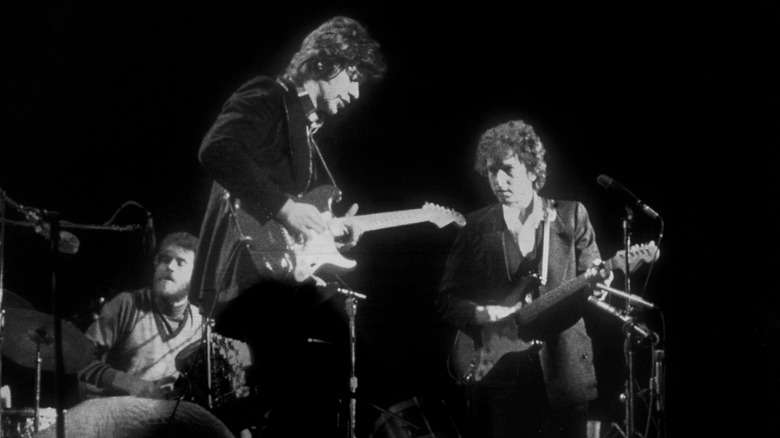 Gijsbert Hanekroot/Getty Images
Before The Hawks were Bob Dylan's backing band, they were the house band at a New Jersey club called Tony Mart's, according to The Philadelphia Inquirer. Dylan and The Hawks met when the latter group traveled into New York City. As Robbie Robertson recalled in his 2016 memoir "Testimony," Dylan's representatives called Robertson and invited him to join Dylan in the studio, and he ended up watching him record his now timeless classic song, "Like a Rolling Stone," per the Los Angeles Times. And after that time, Robertson and Dylan grew so close the guitarist was the only witness present at Dylan's 1965 wedding to Sara Lownds. 
At first, Dylan approached Robertson for just a couple of concert appearances, as he planned to switch his sound. But soon enough, Robertson recommended he bring the rest of The Hawks on board, and one of Dylan's most famous electrified backing bands was born, according to The Band's official website. On how the audience responded to Dylan's new music, Robertson told The Guardian, "When people boo you night after night, it can affect your confidence. Anybody else would have said, 'Well, the audience isn't liking this, let's change what we're doing.' We didn't budge." 
And the more the audience booed, "the louder we got," Robertson said. "Inside of us we felt, 'This is a revolution. And we're part of this revolution, and we're going to go through with it."
Robertson and Dylan grew apart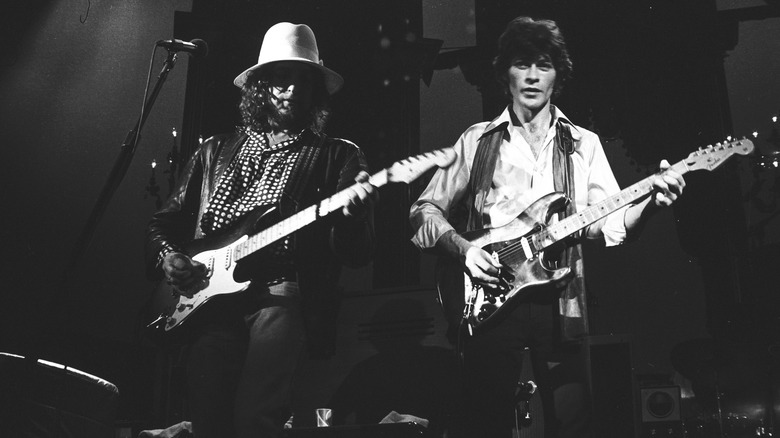 Lester Cohen/Getty Images
By 1968, Robbie Robertson and his band lived together in Woodstock, New York, where Bob Dylan and The Band recorded "The Basement Tapes"in the lower level of their home. Robertson and The Band appeared on Dylan's 1974 album "Planet Waves." Meanwhile Dylan and The Band toured together that same year. Dylan also performed in The Band's 1976 farewell concert, "The Last Waltz." But from there, Robertson pursued his own career, and they began drifting apart. 
By 1993, Robertson was the only member of The Band who didn't rejoin Dylan at his 30th-anniversary concert at Madison Square Garden in New York City. (According to the Chicago Tribune, the decision had more to do with Robertson's contentious relationship with his former bandmates in The Band than his friendship with Dylan.) But many years later, Robertson almost rejoined Dylan on his 2020 release, "Rough and Rowdy Ways."
Robertson told Rolling Stone in 2020, "I would have loved for us to work together on that. But I just couldn't do it at that time ... I was gonna check in with him and just say, 'God, I'm sorry I wasn't available then, but let's see if we can cause some trouble down the line.'" But referring to Dylan one year earlier, Robertson said (via The Guardian), "He's always on the road, and I'm never on the road. He's out there, and I think that keeps the blood flowing for him, and I admire that very much. But that's not what I'm interested in."