The Unprecedented MLB Stat That's Buzzing Among Baseball Fans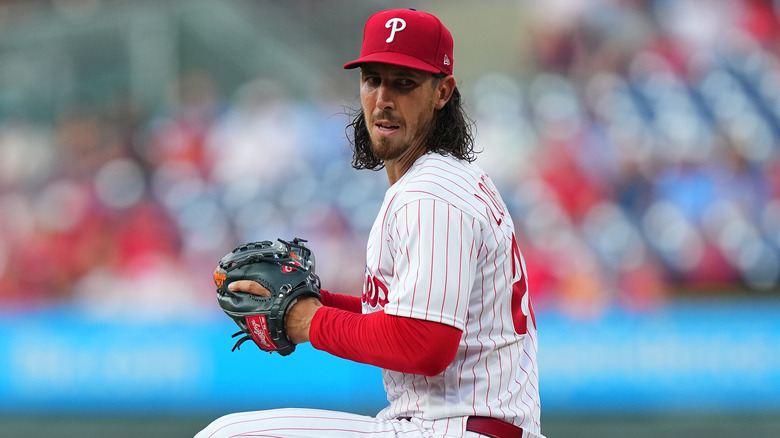 Mitchell Leff/Getty Images
Philadelphia Phillies pitcher Michael Lorenzen made his mark in the Major League Baseball record books in two distinct categories when he threw a no-hitter against the Washington Nationals on Wednesday, August 9, 2023. With the achievement, the 31-year-old right-hander became just the fifth MLB pitcher to throw a no-no in his home debut with a new team, which has only happened twice since 1900, according to the Associated Press. But also, Lorenzen is now the fourth pitcher to reach the Major Leagues from Fullerton Union High School in Southern California and then pitch a no-hitter.
According to the Society for American Baseball Research (SABR) there was one other Fullerton grad to pitch in the Big Show — Bob Ross, who never had a no-no, making it four out of five Fullerton grads to pull it off. It's unclear why Ross is excluded from Baseball-Reference.com. Ross aside, the first Fullerton grad to pitch a no-hitter was Hall-of-Famer Walter Johnson in 1920, when Johnson's Washington Senators beat the Boston Red Sox 1–0. Fullerton alumnus Steve Busby was the second with Kansas City Royals — in 1973 when he led them to a 3–0 victory against the Detroit Tigers. Finally, Mike Warren did it with the Oakland Athletics in a 3–0 win over the Chicago White Sox in 1983.
Steve Busby did it twice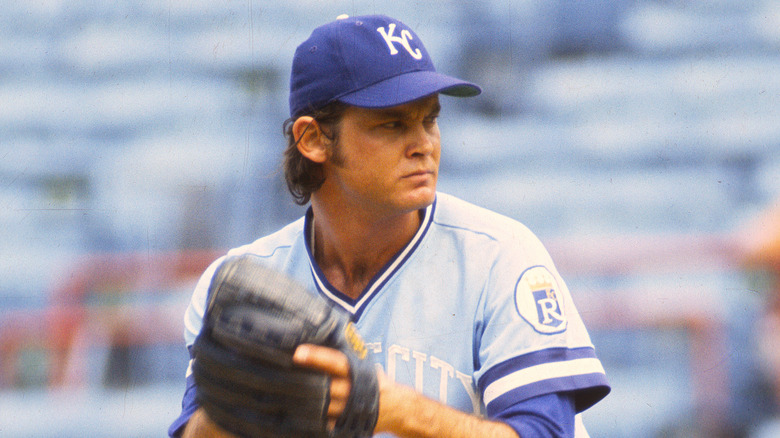 Focus On Sport/Getty Images
As for Steve Busby, he had yet another pitching feat in his career: Not only did the Fullerton Union graduate throw a no-hitter, he did it twice. First in 1973 against the Tigers, as mentioned, and then again the next season, against the Milwaukee Brewers in a 2–0 decision, making him the only MLB hurler to throw a no-no in each of his first two full seasons, per SABR. In that 1974 appearance against the Brewers, Busby almost also threw a perfect game, but he walked George Scott in the second inning.
Referring to the second no-no in his career, Busby said (via SABR), "I was much more aware of what was going on this time. I wasn't nervous as much as I was fighting myself to keep my concentration. When I lose my concentration, I pipe the ball, throw it down the middle and give up maybe four or five hits in a row or else walk everybody. For about the last three innings I really had to fight myself to keep my head in the game. But this was the biggest thrill of all, bigger than last time because this was my type of game."
The missing Bob Ross and Lorenzen's feat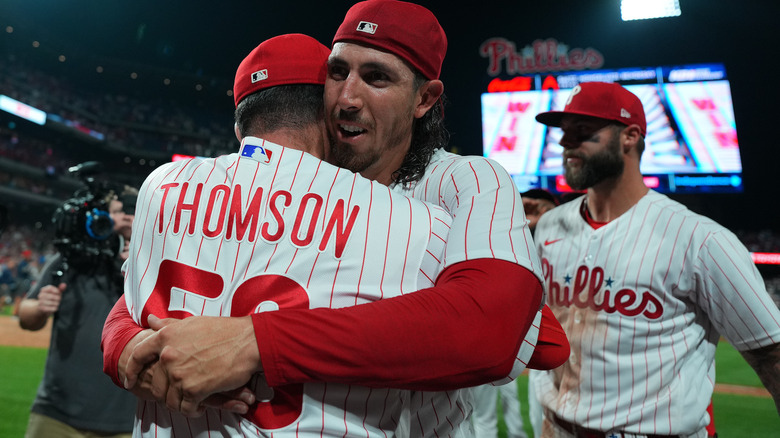 Mitchell Leff/Getty Images
After Steve Busby's no-no in 1974 and Mike Warren's in 1983, no Fullerton grads pitched a no-hitter until Phillies pitcher Michael Lorenzen took the mound against the Nationals in the 2023 season. As news spread in sports media that Lorenzen was the fourth-out-of-four MLB pitchers from Fullerton Union High School to do it, some pointed out on Twitter that in fact there was one other Fullerton grad, Bob Ross, to reach the Majors but who never pitched a no-no. According to SABR, Ross signed a pro deal before his senior year, and although he graduated, he didn't play for his high school team his last season, possibly explaining his exclusion from the list. 
Whether or not Fullerton Union High's record is perfect or not, Lorenzen commented on the fan reaction as he entered the ninth inning (via the Associated Press).
"Just walking out of the dugout, hearing the fans go wild, it gave me the chills. It gave that boost of energy that I needed, for sure." And on his approach, he added, "You've just got to live in the strike zone and hope they continue to hit balls right at guys." Lorenzen ended the night to get the final three outs with a personal record of 124 pitches in what was also Lorenzen's first career complete game.