Yankee Pitcher Jim Abbott's Iconic 1989 No-Hitter Game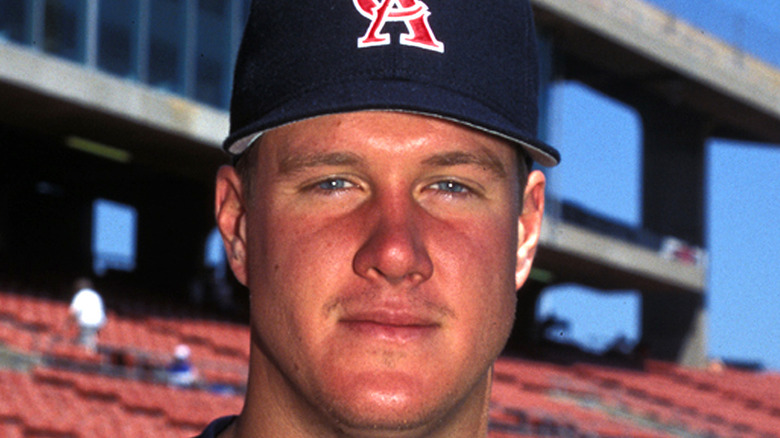 Ron Vesely/Getty Images
Jim Abbott (above) was, by all rights, a marginal baseball player at best. As Baseball Almanac notes, over 10 seasons as a pitcher, he racked up 87 wins and 108 losses, with a career ERA of 4.25. His first nine years were with American League teams, which in his day was the only league with the designated hitter rule, meaning he never got to bat. However, his final season was with the Milwaukee Brewers, a National League team, and in 21 at-bats, he managed to get two hits. "My career statistics weren't that great. ... The truth is, I won't go to the Hall of Fame," he admitted, prosaically, via Baseball Almanac.
Despite his forgettable career, Abbott remains memorable for two reasons. The first is that he was born without a right hand. The second is that, in 1993, he threw a no-hitter. "I can't ever remember a greater feeling ... Amazing things can happen," he said afterward, via Major League Baseball's website.
The One-Handed Pitcher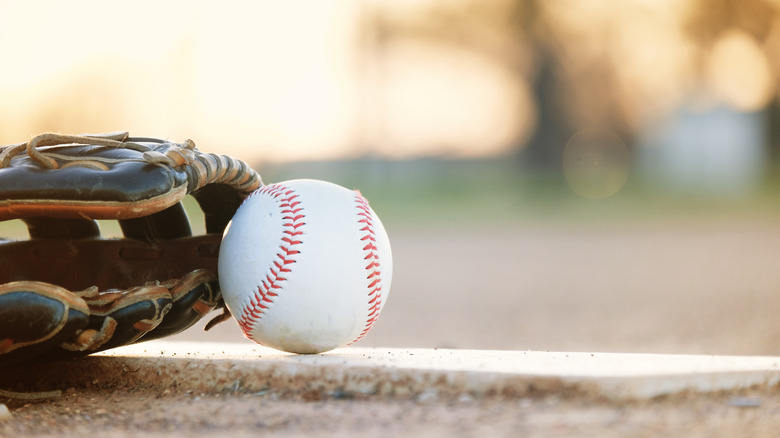 cctm/Shutterstock
Jim Abbott was born on September 19, 1967, in Flint, Michigan. As the Society for American Baseball Research notes, he went on to become a star athlete at all levels, from peewee leagues, through high school and college, and even the U.S. Olympic team.
Pitchers need only one hand to throw the ball, of course, but fielding it when it's put into play is a different beast entirely. Abbott overcame that by resting his glove on his shoulder while he pitched and then quickly inserting his hand into it to field the ball, should he be required to do so. Then, he'd stash his glove in the crook of his right arm, retrieve the ball, and throw it where it needed to go. This worked most of the time, but not always, and Abbott even threw a few double plays in his day. Opposing batters would try to take advantage of this disability by bunting to him — which didn't always work.
Though he was a star, and though making a Major League Baseball roster — let alone playing for 10 seasons — is a rare feat for any athlete, his career was mostly lackluster. But if his run can be said to have a high point, it was on September 4, 1993.
The No-Hitter
As the 1993 Major League Baseball season entered its final weeks, Jim Abbott's Yankees were in the mix to make the postseason (although they ultimately didn't, per Baseball-Reference). As they prepared to play Cleveland's team (now known as the Guardians) for a series in the Bronx, every last win was precious beyond measure. However, in his previous start against the team, Abbott had been "absolutely shelled," as he described it, via Major League Baseball. He and catcher Matt Nokes talked things over and decided to shake things up a bit. It proved to be the right decision.
The game was routine enough for its first few innings, as the Cleveland team failed to get on base despite a few walks and thanks to some stellar defense on the Yankees' part. But by the sixth inning, the "energy had picked up a little bit," as Abbott described it. An ill-received (by the crowd) attempt at a bunt failed to put the batter on first base. A few outs later and Abbott was one batter away from history. Carlos Baerga hit a routine grounder to shortstop Randy Velarde, and that was it. "I can't ever remember a greater feeling. It really is sort of a dream come true," Abbott said later.
Despite a history-making game, Abbott's career failed to reach these lofty heights, and he retired after the 1999 season. As of 2018, according to Baseball America, Abbott was working as a motivational speaker.