Nolan Ryan's Final No-Hitter Is Even More Impressive Than You Thought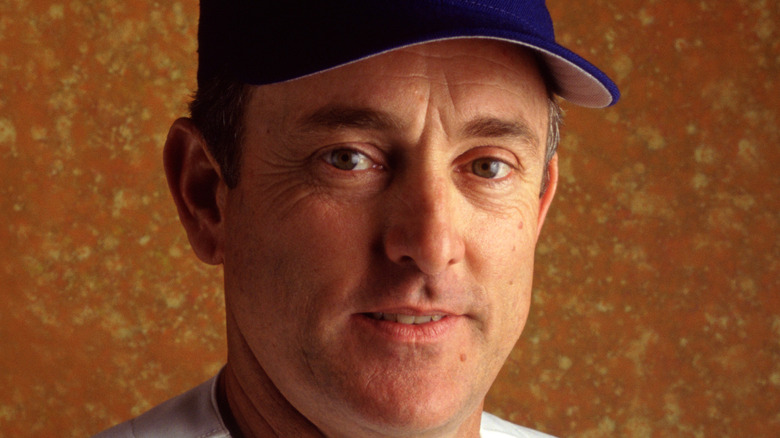 Ron Vesely/Getty Images
In September 1966, a 19-year-old Texan named Nolan Ryan made his Major League Baseball debut as a pitcher for the New York Mets, who drafted him in the 12th round a year prior. It was his first of two appearances that season, and with a 15.00 ERA in three innings, his numbers didn't exactly point to future greatness. However, the kid had tons of potential, as his minor league statistics indicated. Besides, it was a proverbial "cup of coffee," and three unremarkable innings are far too few to write a promising prospect off.
Almost 25 years later, with the Texas Rangers, Ryan's greatness was unimpeachable, and he had long since carved out a reputation as a strikeout artist. Even more impressive than that was the fact he was still striking out opposing batters with regularity, despite already being in middle age and at the tail-end of his career. But aside from leading the MLB in career strikeouts, he also had six career no-hitters at the start of the 1991 season, putting him two no-nos ahead of second-placer Sandy Koufax (via MLB.com). Early that season, Ryan compiled his seventh and last no-hitter, and compared to the six that he threw between 1973 and 1990, the final one was particularly impressive. 
Ryan was suffering from severe back pain when he threw his final no-hitter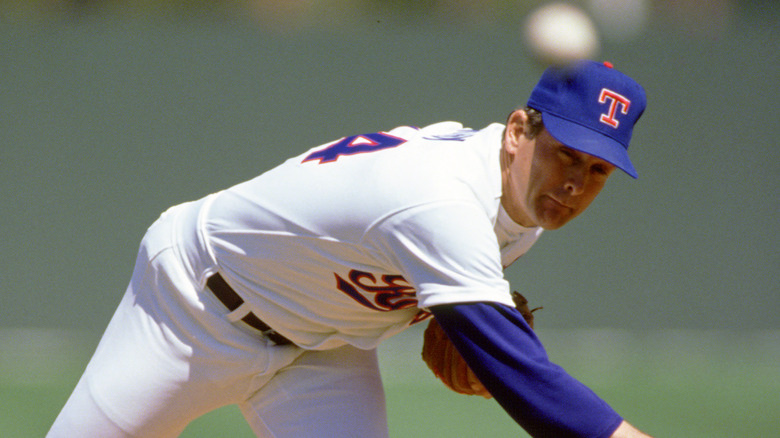 Ron Vesely/Getty Images
Even at 44 years old, Nolan Ryan was still pitching like a man at least a decade and a half younger. According to his Baseball-Reference page, he either led the National League (with the Houston Astros) or American League (with the Texas Rangers) in strikeouts for four straight seasons heading into the 1991 campaign with the Rangers. However, he was dealing with the aches and pains one could expect from a player who was, at that point, in his 25th season in the majors, and on the night of May 1, his back pain was especially bad as the Rangers hosted the Toronto Blue Jays.
Ryan's oldest son, Reid Ryan, was in attendance that night with his University of Texas baseball teammates, and he told MLB.com about how his father was feeling as he warmed up in the bullpen ahead of the game. "He walked into the dugout and told [Rangers manager] Bobby Valentine and [pitching coach] Tom House, 'You better get someone up in the bullpen, because I don't think I'm getting out of the first inning,'" Reid recalled.
As further elaborated by MLB.com, Ryan actually seemed to be contemplating imminent retirement as he exited the dugout and prepared to pitch against the Blue Jays. He was quoted as telling Valentine — who was actually three years younger than the pitching ace — that "this might be it."
Ryan played through the pain and dominated the Blue Jays' batters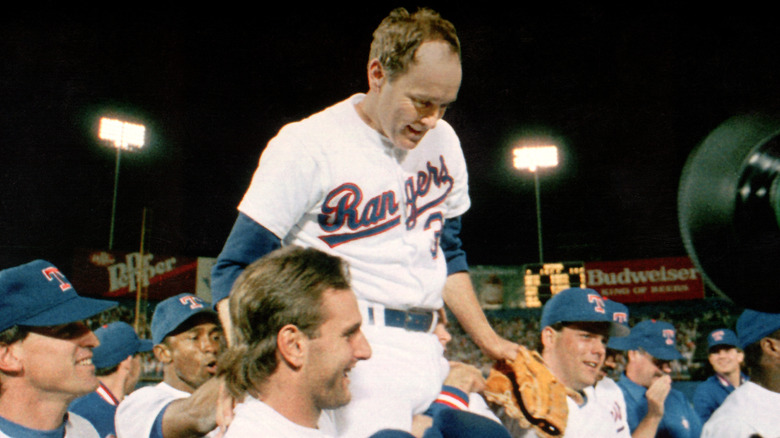 Louis Deluca/Getty Images
There was no doubt that Nolan Ryan was in a lot of pain, but he soldiered on and turned back the clock yet again, with the Arlington Stadium cheering on the Texas Rangers ace as he dominated the Toronto Blue Jays. As pointed out by the Baseball Hall of Fame, the Blue Jays were the MLB's best hitting team at that time, with a lineup that boasted players such as Joe Carter, Roberto Alomar, Kelly Gruber, and John Olerud. But Ryan silenced the Jays' hitters on that night, striking out at least one batter per inning and finishing with 16 strikeouts. "He just had that extra gear on his fastball," Texas shortstop Jeff Huson recalled (via MLB.com).
Most importantly, Ryan secured his seventh no-hitter at the end of the game, making him the oldest player to rack up a no-no and the first Rangers pitcher to finish with one at Arlington Stadium. It was also quite notable that the game ended with Alomar — also a future Hall of Famer — striking out. "It was the most rewarding no-hitter of them all because it came in front of my fans on Arlington Appreciation Night, my career is complete now," Ryan said after the game. "I got one for the fans in Arlington."