Inside Melvin 'Magoo' Barcliff's Iconic Partnership With Timbaland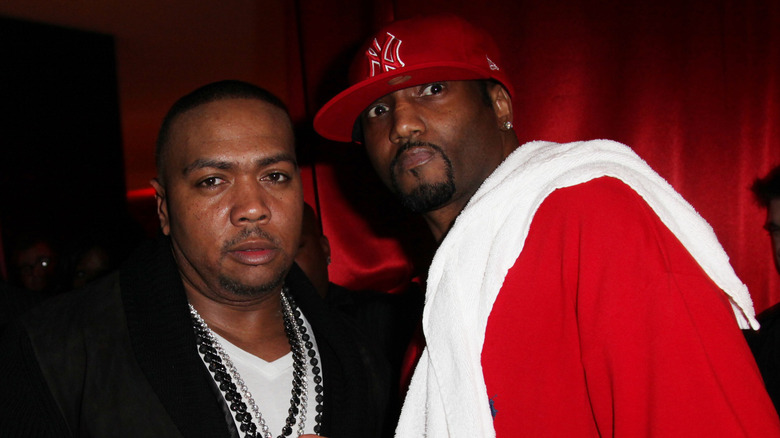 Johnny Nunez/Getty Images
Pop music history is filled with notable songwriting duos, from Paul McCartney and John Lennon to Public Enemy's Chuck D and Flavor Flav. For millennial hip-hop fans, few musical partnerships were more important than Timbaland and Magoo, consisting of two close friends, Melvin "Magoo" Barcliff and Timothy "Timbaland" Mosley. As a duo, Timbaland and Magoo released three bestselling albums and a string of hit singles from 1997 to 2003 featuring some of the biggest rap and hip-hop stars of their era.
Before they found fame and fortune, though, Timbaland and Magoo — who died on August 13, 2023, at the age of 50 — met while still teenagers in Virginia. At first, they made music together as Surrounded by Idiots (S.B.I.), according to Billboard, and then in Da Bassment Cru collective, along with future superstars like Ginuwine and Missy Elliott. After adopting the Timbaland and Magoo moniker around 1990, the pair dominated the charts with songs like "Up Jumps Da Boogie" and "Clock Strikes," among others.
In 2003, Timbaland and Magoo stopped making music as a team, after which time Timbaland had success as a producer and solo artist. Meanwhile, Magoo chose to fade somewhat from the spotlight. On the prospect of a music career on his own, Magoo told Billboard in 2001, " ... [I]f Tim decided he wanted to stop rapping. It would be really difficult for me to think about doing a record without him ... Tim and Magoo is more a friendship than it is a group," he said.
Magoo heard about Timbaland before they met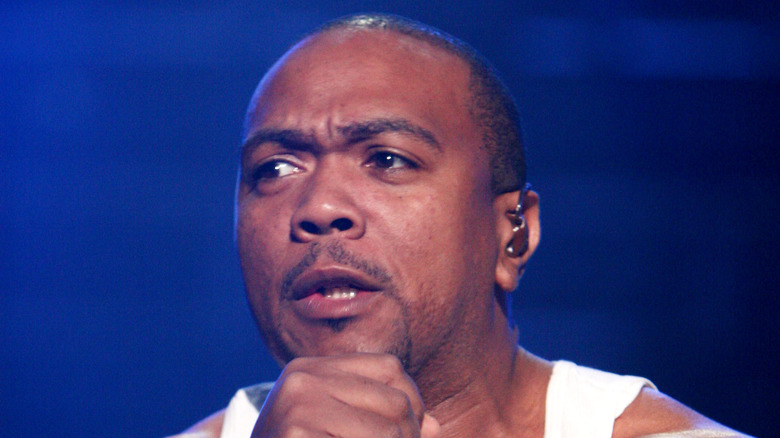 Marcin Kadziolka/Shutterstock
In an interview with You Know I Got Soul, Magoo recalled his early days in Virginia, and how he heard about Timbaland from Larry Live, who would also become a member of S.B.I. Larry introduced the future musical partners for the first time. According to Magoo, Larry Live told him about a "fantastic DJ," and one day, Larry drove Magoo over to Timbaland's house. " ... Tim was better than what Larry had told me," Magoo said.
Magoo went on to add, "Tim could have been Kid Capri, Funkmaster Flex, or Jazzy Jeff. He was that good. Now was he better than Jazzy Jeff? I wouldn't say that, but he was elite." Impressed enough by Timbaland's DJ skills, Magoo was even more dazzled by his beats. When he heard them for the first time, Magoo thought, "'He makes beats too? What else does he do?' ... I had never met anybody in person that was serious about the art and that was that talented at the art," Magoo said (via You Know I Got Soul).
After 2003, when Timbaland and Magoo's final album "Under Construction Pt. 2" came out, the musicians turned to other projects. Timbaland began producing and making music on his own and Magoo explored other ventures. Although he never made music solo, Magoo appeared on a few Timbaland solo records going forward, and their friendship seemed to remain intact, per BET.
Working with Timbaland was Magoo's favorite memory
In the end, working with his friend Timbaland was Magoo's favorite part of his time in the music industry. "The times I enjoyed most were during S.B.I. and whenever me and Tim were in the studio. I loved the creative process of making the songs with my friend. Those were the special times ... I have no regrets though about being in a group with my friend though. That was the best time for me when we would make those songs together," Magoo said (via You Got Soul).
Magoo added, "That's the only thing I miss. I don't miss the fame, I just miss making songs with my homeboy." And when his old friend's death was announced, Timbaland wrote on Instagram, "This one hits different long live Melvin aka magoo !!! Tim and Magoo forever rest easy my king." Timbaland then went on to share on social media other photos, videos, and music he and Magoo made throughout their career.