The Truth About Missy Elliot And Timbaland's Relationship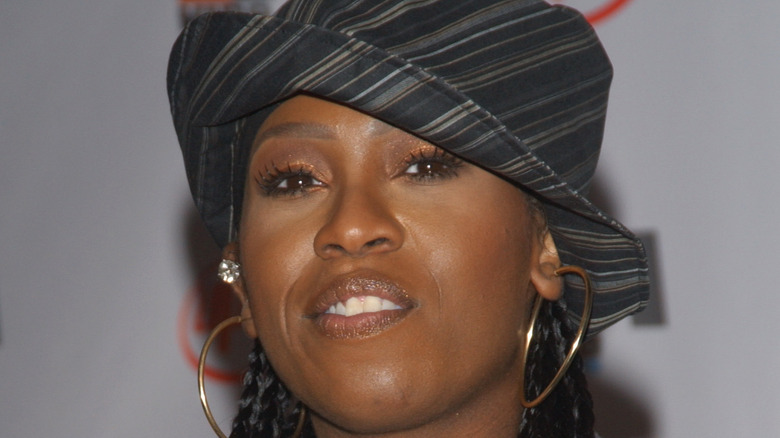 Featureflash Photo Agency/Shutterstock
Timothy Mosley, also known as Timbaland, is one of the greatest producers in all of rap music, on par with the likes of Dr. Dre and Rick Rubin. According to Britannica, the Virginia native first entered the mainstream with a smash hit from one of the biggest pop stars of the era. In 1996, Timbaland's innovative production style for Aaliyah's song "One in a Million" launched his career and gave the singer one of her biggest hits.
After that, it has been an assembly line of hits with several different artists for Timbaland. He continued to work with Aaliyah, and into the new millennium he has written and/or produced songs for artists such as Beyonce, Jay Z, Madonna, Beck, and Justin Timberlake (the latter's work netted him Grammy success). Still, Timbaland's most well-known musical partner is not a former member of Backstreet Boys but a childhood friend and one of the greatest female rappers of all time.
Timbaland's first collaborator in the music industry was a young woman named Melissa Elliot, better known by her emcee name, Missy Elliot. Together, the duo would launch each other into superstardom and place an indelible mark on their genre.
Timbaland Produced Songs on All of Missy Elliot's Albums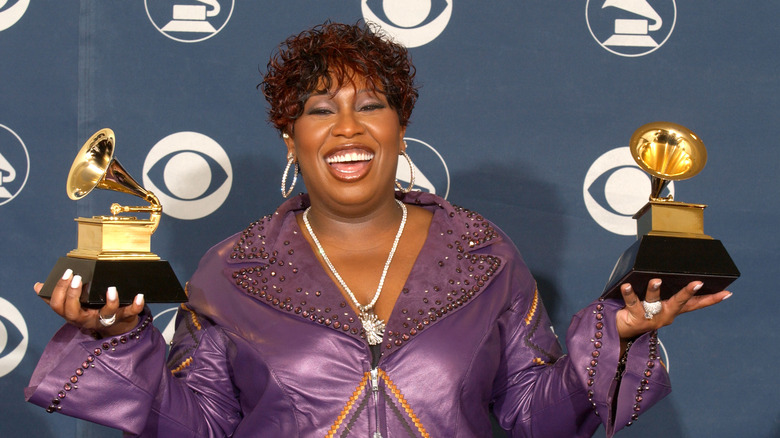 Vince Bucci/Getty Images
In the early 1990s, Timbaland was already at the start of his career and producing music for some of the biggest names in music. While he was with Aaliyah and SWV, Missy Elliot was desperately trying to break into the industry as a performer (via Biography). After forming a girl group, Sista, and signing with the label Swing Mob Records, it looked as though Elliot was going to follow her old friend into the industry. However, Swing Mob went bankrupt before releasing the group's first album, which was mostly written and produced by Elliot.
Elliot moved to New York to partner with Timbaland, becoming a hip-hop version of Gerry Goffin and Carole King, writing and producing songs for other artists but not themselves. And like Carole King, Missy Elliot eventually stepped out into the limelight herself. In 1997, after setting up her own label, Goldmind — with assistance from Slyvia Rhone, the CEO of Elektra Records (formerly Elektra Entertainment Group Inc.) — Elliot released her debut album, "Supa Dupa Fly." The album went platinum, earned her the title of rap artist of the year by Rolling Stone, and launched Elliot from a star behind the curtains to the new face of hip hop. The team of Timbaland and Missy Elliot co-produced and co-wrote the album and continued their collaboration throughout the next decade. While the pair found success together, individually and with different collaborators, Timbaland still had a hand in every one of Elliot's albums up until 2005, when she went on a hiatus (per NME).
Timbaland Hinted at Reuniting with Missy Elliot for another Album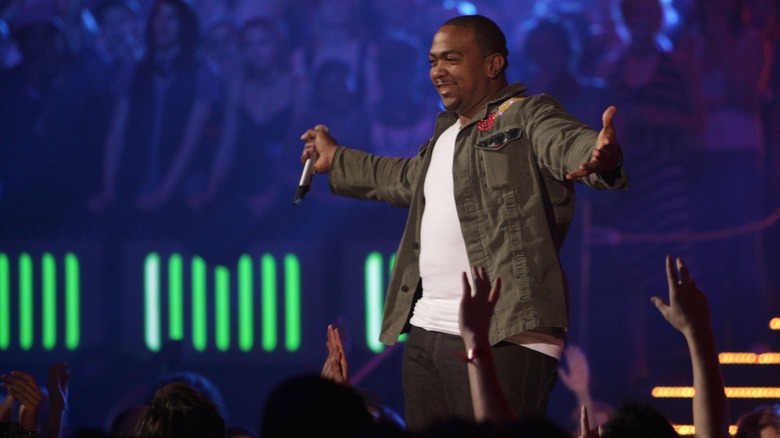 Dave Hogan/Getty Images
After the fifth and last studio album that Missy Elliot released, 2005's "The Cookbook," the rap star took a break from music (per Biography). Elliot's health began to decline as she dealt with the effects of Graves' disease, which caused a dramatic loss in weight. Still, Elliot remained present in the music industry, back behind the scenes writing and producing music for stars such as Kelly Rowland, Monica, and Katy Perry. Notably, Perry featured Elliot during her halftime show at Super Bowl XLIX in 2015, putting her back into the spotlight for the first time in almost a decade.
For Timbaland, he found some of his greatest success in the years that followed. In 2006, Timbaland began a fruitful partnership with Justin Timberlake (via NME). This culminated in the smash album "FutureSex/LoveSounds," which sold 10 million copies and included smash songs like "SexyBack" and "What Goes Around ... Comes Around." But like his old friend and musical partner, Timbaland took a step back from being a full-time producer and has not produced a full album since Timberlake's 2013 albums, "The 20/20 Experience Parts 1 and 2." Like Elliot, Timbaland has worked on music sporadically with stars like Kanye West.
In December 2021, Timbaland hinted on Twitter that he and Elliot were returning to the studio for another album. It seems today, the childhood friends remain as close and musically connected as they did back in Virginia.