Were Money Troubles What Started Prince Andrew's Friendship With Jeffery Epstein?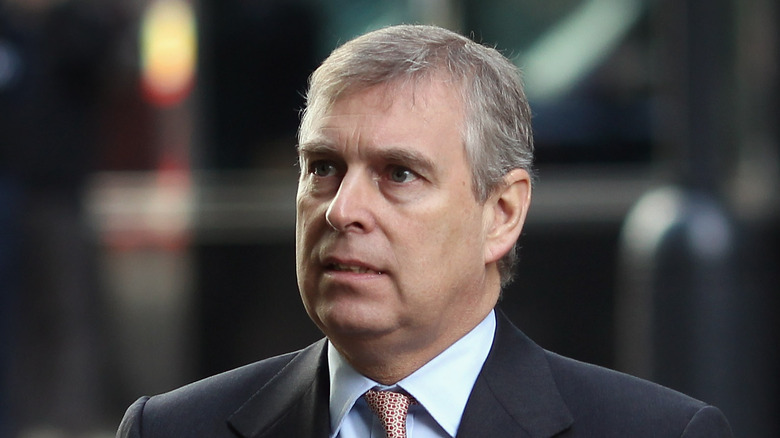 Dan Kitwood/Getty Images
Prince Andrew, Duke of York, the second son of Queen Elizabeth II who in recent years has suffered a fall from grace due to his association with convicted pedophile Jeffrey Epstein and a disastrous 2019 BBC interview with Newsnight's Emily Maitlis, has long had a reputation for being a party animal. Having become known as a war hero after serving in the British Royal Navy during the Falklands War, Andrew became a tabloid mainstay, with royal watchers keen to find out who the eligible bachelor would eventually choose to become his Princess. After years of speculation, Andrew married Sarah Ferguson in 1986, though the two separated and divorced 10 years later, after the revelation of various affairs.
Following his divorce, Andrew was once again a notable man about town in London, a regular fixture at the city's private members clubs and often photographed schmoozing with young female socialites. But as the A&E documentary "Secrets of Prince Andrew" makes clear, being born into royalty doesn't necessarily mean enjoying boundless wealth. It is believed that throughout most of his life, Andrew has relied on an annual allowance from the Queen worth just £249,000 ($270,750) for his living expenses — a surprisingly meager amount compared to those of the kinds of figures he would have socialized with on the exclusive London club scene. Many have since speculated that it was the disparity between Andrew's financial situation and the indulgent lifestyle to which he was growing accustomed that spurred his friendship with Epstein. Epstein was a billionaire who offered the Prince unbridled luxury but also, as we now know, facilitated Andrew's habitual pursuit of young women and girls.
Epstein offered Andrew a lifestyle fit for a king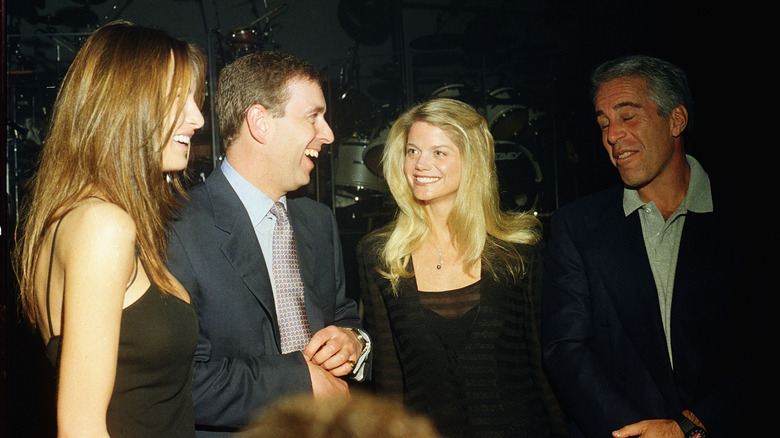 Davidoff Studios Photography/Getty Images
The British Royal Family is exceedingly wealthy and receives a great deal of money each year from the British taxpayer and various interests belonging to the crown. However, only a fraction of this was controlled by Prince Andrew, with the vast majority of what the Queen bequeathed going to her eldest son, King Charles III. 
Given the nickname "Randy Andy" in the British press, Andrew's proclivity for mingling with young women and his sense of entitlement for living a hedonistic lifestyle were well known. Jeffrey Epstein had made hundreds of millions of dollars as a financier, which he used to indulge his hedonism. The two reportedly met through wealthy socialite Ghislaine Maxwell, who is now in prison having been convicted of aiding Epstein in his sex trafficking activities. Though Andrew claimed in his 2019 "Newsnight" interview that he met Epstein in 1999 and that they were now especially close, a letter to The London Times written by Andrew's private press secretary describes the friendship as having begun at the start of the decade, undermining Andrew's account (per ITV).
Epstein facilitated lavish vacations for the Prince, such as on his luxurious yacht in Thailand, which Andrew was photographed using in 2001. In exchange, Andrew seemingly employed his royal privileges to return the favor. He did so early in their relationship, allegedly helping to organize a birthday party for Maxwell at Sandringham — the royal residence in which the Queen later died — in 2000, which Andrew later brushed off as a "straightforward shooting weekend" (via Insider).
The Prince's subsequent money troubles
Max Mumby/indigo/Getty Images
With Jeffrey Epstein dead and Prince Andrew ensnared in the financier's sex trafficking ring, accused of having exploited young women, many of the royal's former allies have since distanced themselves from him. As a result, the Prince's financial situation has reportedly grown dire, impacting the luxury lifestyle to which he became accustomed in his early adulthood.
Before the Epstein scandal destroyed his reputation, Andrew held the cushy role of special representative for trade and investment for the U.K., traveling the world and enjoying the hospitality of rich businessmen and governments with which the U.K. might want to do business. But Andrew's work in trade has also been questioned, with his willingness to host problematic world leaders, including the family of Libyan leader Colonel Muammar Gaddafi, at royal residences suggesting that the Prince may again have seen the role as a chance to make hay with wealthy contacts. Outside of his friendship with Epstein, Andrew's friendships with numerous other rich businesspeople have also come under scrutiny, with critics highlighting that others must have been funding his lavish lifestyle over the decades.
Today, Andrew's exact financial circumstances are unknown. However, it is believed that King Charles has made steps to strip his brother of his royal subsidies and has reportedly given Andrew nothing of the £650 million ($706 million) inheritance he received from his mother. In 2023, it was announced that the Prince had managed to sell his Swiss chalet for £19 million ($20.6 million). ​​Andrew's pension from the Royal Navy is worth somewhere in the region of £20,000 ($21,700) a year.