The Real Reason Larry Bird Dropped Out Of Indiana University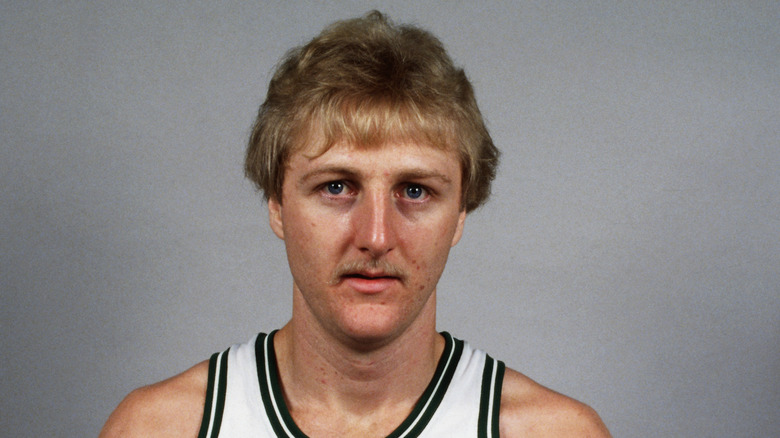 Bettmann/Getty Images
Various origin myths related to Celtics star Larry Bird have been fleshed out by the popular HBO drama "Winning Time." Although the show has been heavily criticized for making things up at times, there is some truth in the show's take on Bird's time at Indiana University.
According to Bird's autobiography, "Drive: The Story of My Life" Bird's whole family really were very keen for him to go to college — any college. He wrote: "It seemed as if everybody wanted me to go to I.U. and they really made the decision for me. In a way, I just went along with what they felt was best for me. My mom was happy, my dad was happy and Coach Jones was happy." But trouble was on the horizon — Bird would be back after just 24 days, stuck explaining to his parents why he couldn't cut it in the big wide world.
In the show, Bird drops out due to his inability to handle his new environment. In reality, this is a half-truth — bullying, school work, and a lack of money all affected his decision. Like many freshmen, Bird was shell-shocked by university life and made the decision to leave, despite the school's stellar reputation for basketball.
Struggling at Indiana University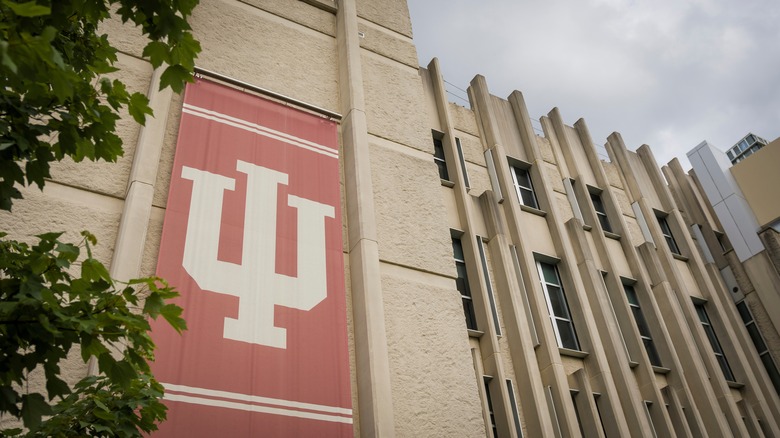 University of College/Shutterstock
Before he went, Larry Bird was excited to arrive at Indiana University, having learned that Basketball legend coach Bobby Knight was there (via Larry Bird, "Drive: The Story of My Life"). However, his experience would prove to be unpleasant and the budding star player was treated quite badly. Bird was pushed around by another star player, Kent Benson, who tried to stop him from playing ball when he first arrived. Bird became so frustrated with Benson in fact, years later he longed to beat him every time they faced each other on the court. Sadly Bird said he was also rudely treated by Knight himself, who even snubbed him one occasion when Bird called out to him; a small slight that had a big impact on Bird's sensitive nature (Seth Davis "When March Went Mad").
Off the court, the young player fared little better. Bird often jokingly lamented "I ain't no genius in school," and he was intimidated by the school's academic rigor. On top of all that, the sheer amount of students simply overwhelmed him — he was a small-town boy at heart and a real introvert.
The final straw for the disheartened basketball player was money. Bird came from a poor background and only had $75 and very few possessions to his name when he arrived. When he was handed a bill for $60 some weeks later for a bowling class, he realized he couldn't pay. Unable to talk his way out of it, he packed up his things and left.
Bird's back in town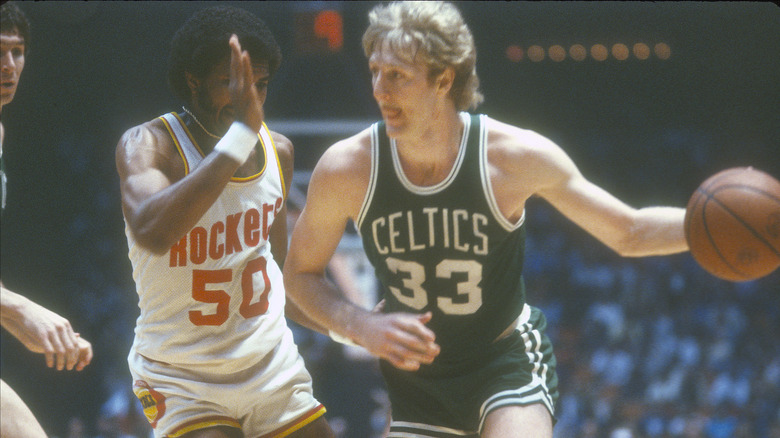 Focus On Sport/Getty Images
After just 24 days, Larry Bird was back in his hometown of French Lick, and before long everyone was mad at him. Initially, he called his mother Georgia Bird to ask for a ride but she wouldn't pick him up (per Seth Davis "When March Went Mad"). The broke student had no choice but to hitchhike home with a friendly trucker, ready to confront his mom and dad.
In his biography "Drive: The Story of My Life," Bird claims that his mother was so furious with him that she stopped speaking to him for a month, and the entire town was surprised that he'd given up a golden opportunity. Nobody had any idea he was unhappy until he showed up at home. But Bird was determined, he recalled, "At first, people kept hoping I had just made a rash decision and they could talk me into going back. I believe I came home on a Friday. On Sunday, somebody in the house said, 'I'll take you back up there if you want to go.' I said no. Once I make my mind up, I make it up."
Bird took a job with the French Lick Streets Department collecting garbage and doing odd jobs around town. No snob, Bird actually enjoyed his time working there and being outdoors with his friends. And in the long run, after all, dropping out did no harm to his stunning career in the world of basketball. Following his father's death in 1975, Bird signed on at Indiana State University instead, where his record-breaking performance won him the attention of the Celtics in 1978.