Inside Pat Smear's Rock 'N' Roll Journey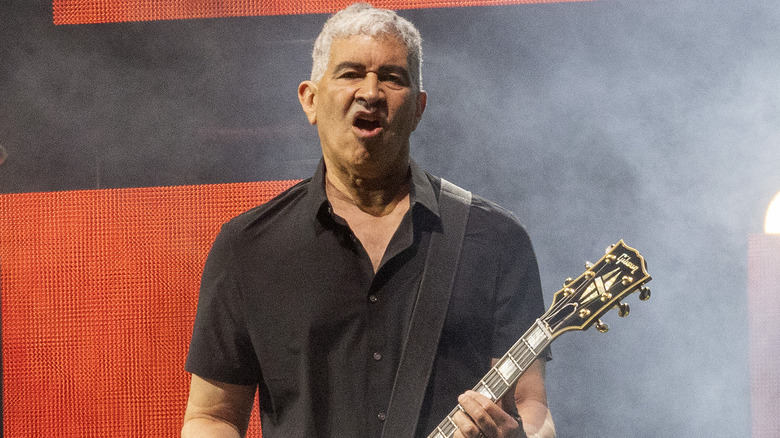 Barry Brecheisen/Getty Images
Before making countless contributions to punk and alternative rock across more than 40 years, Foo Fighters guitarist Pat Smear was born Georg Ruthenberg on August 5, 1959, in Los Angeles. He had an unusual childhood, running away from home when he was only 13 years old and spending time with a religious commune before attending University High near Santa Monica. Smear never quite fit in, and his formative years as an outcast surely played a role in his love for punk rock, a genre friendly to wayward youths.
Smear is mostly known for his time with the Foo Fighters, but his path to the band is just as interesting, and is marked by stints with several important groups. Even though he doesn't have the same name recognition as many other rock stars, Smear has played a massive role in rock music since the late 1970s. Let's take a look at Pat Smear's rock 'n' roll journey.
Pat Smear's early rock 'n' roll influences
Alison Braun/Getty Images
Pat Smear has had such a long and storied career in rock 'n' roll that one would assume he came into this world with a guitar in one hand and a pick in the other. However, while he picked up music at a young age, the guitar was, surprisingly, not his first instrument. In an interview with Nirvana Fan Club, Smear stated that, "My parents forced piano lessons on me when I was a kid and it was really easy for me to play by ear so I just did the same thing with the guitar, learning the parts from my favorite albums."
Smear told Nirvana Fan Club that the album that really made him want to play guitar was Alice Cooper's "Love It to Death," which featured the powerful strumming of Michael Bruce. Some of his other early influences include Mick Ronson (the guitarist of David Bowie's fictional alter ego Ziggy Stardust's band, the Spiders from Mars); Steve Howe, whose guitar playing came to Smear's attention via Yes' 1971 album, "Fragile"; and Brian May, of Queen fame. However, his real inspirations came from the budding punk genre of the 1970s: "Joan Jett of the Runaways, Steven Hufsteter of the Quick, Brian James of the Damned and Steve Jones of the Sex Pistols were the guitarists who inspired me to actually learn to play well enough to start a band," Smear said. 
He forms the Germs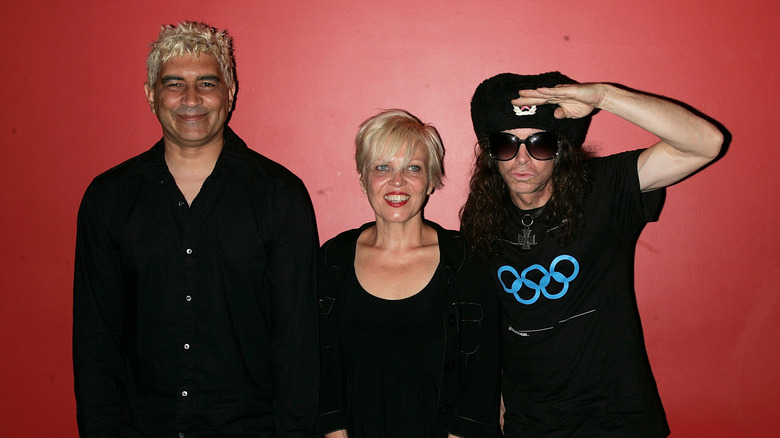 Jim Spellman/Getty Images
Pat Smear and his friends Darby Crash, Lorna Doom (center), and Don Bolles (right) may not have been very proficient on their respective instruments, but that didn't stop them from starting one of the most influential and infamous punk rock bands of all time, the Germs.
The Los Angeles-based outfit has a fittingly punk-y origin: Smear and Crash came up with the idea to start a band called Sophistif*** & The Revlon Spam Queens, but because they had trouble putting it on a t-shirt, they changed the name to the Germs, and punk rock history was made. They made a brief yet memorable splash during their inaugural show at the Orpheum on Sunset Boulevard, when they were kicked off the stage for a range of gross antics.
The Germs may not have lasted long, but they left behind a legacy that's felt today, despite their extremely low output; they only have one studio album, along with a few singles and appearances on various soundtracks and compilations. Still, the band propelled Smear to a much wider audience in the LA rock scene, and paved the way for him to explore even more musical avenues. As far as first bands go, there've been far less impactful outfits than the Germs.
Pat Smear and Twisted Roots
Pat Smear spent much of his early career playing with bands that were both important and short-lived. Following the dissolution of the Germs, Smear signed up with another LA punk band, Twisted Roots, which only lasted about six months. Pretty much everything they ever recorded was gathered on their 1987 self-titled collection, but it gives listeners a sonic taste of a band that could've been truly great if only they'd had more time to grow and develop.
While the Germs stuck to a mostly straightforward proto-hardcore sound, Twisted Roots took a more experimental, varied, and ultimately positive approach to their style. A bit of LA punk nihilism can still be heard on some tracks, but those aggressive tunes are balanced out with keyboard-driven New Wave dalliances, catchy pop hooks, and tail-shaking funk elements. Yes, the few recordings the band made are marred by low-budget production values, but listen long enough and you'll be treated to a surprisingly high amount of imagination and innovation. It's no wonder that most of Twisted Roots' band members would go on to make names for themselves in other, bigger acts, with bassist Kira Roessler eventually playing with Black Flag and her brother Paul Roessler playing with Mike Watt. As for that Smear fella...
His time with 45 Grave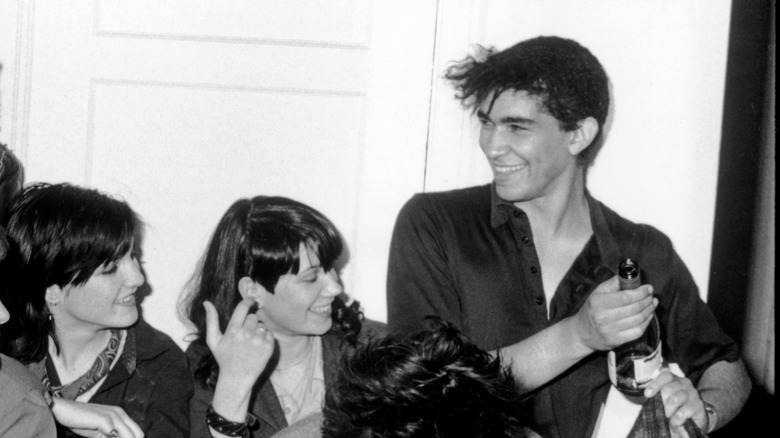 Gary Leonard/Getty Images
Continuing his habit of playing with short-lived yet memorable bands, Pat Smear's next endeavor was handling guitar duties for the death rock outfit 45 Grave, most known for their song "Partytime," heard in the soundtrack for 1985's "Return of the Living Dead." Smear played an even smaller role in the band, having only appeared on one track, "Wax."
In fact, 45 Grave actually featured an old bandmate of Smear's: drummer Don Bolles, who also played in the Germs. As this was Smear's third band, he was already a pretty skilled musician. Bolles told Mark Prindle in an interview that, "Pat was an incredible musician right away. He was really good. He never had a lesson or anything, but he sure could figure stuff out. He got really good; he played a lot." Smear, of course, would go on to bigger and better things after his fleeting 1981 stint with the band, while 45 Grave would reunite several times over the years with different lineups.
Pat Smear goes solo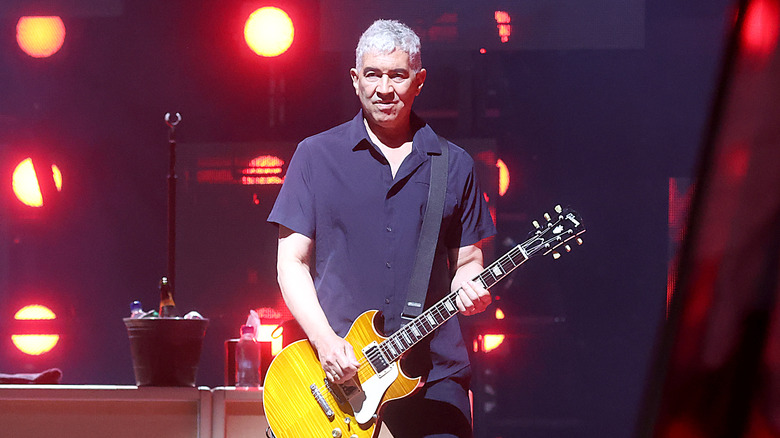 Gary Miller/Getty Images
Perhaps because he was fed up with playing in bands with short lifespans, the late 1980s saw Smear try his hand at cultivating a solo career with a short lifespan. The bulk of his solo work is contained on two albums: 1987's "Pat RuthenSmear" and 1992's "So You Fell in Love with a Musician..."
With support from his old Twisted Roots and 45 Grave bandmate Paul Roessler on keyboards, "Pat RuthenSmear" sees Smear wander away from his punk roots into other, more experimental sonic territory. While Smear's vocals aren't anything to write home about, his guitar playing is more innovative and catchy than anything he'd ever done before. The album may be a bit too weird for most listeners outside of Smear purists, but it's still a fascinating look at what someone as unique as him does outside of a band setting.
Smear's sophomore effort, "So You Fell in Love with a Musician...," is a much stronger album, with more mature playing, singing, and songwriting; Trouser Press states that his "his singing is far more assured and presentable — his explosive yells give the record a bit of Hole's melodrama and suggest a stylistic affinity with Nirvana," and that "his rock chops are likewise in higher, tighter gear." The record still has plenty of quirkiness that may be a bit off-putting to casual listeners more accustomed to mainstream music, but it's perfect for those on the lookout for rock music that isn't afraid to get a little freaky.
A surprising appearance in a Prince music video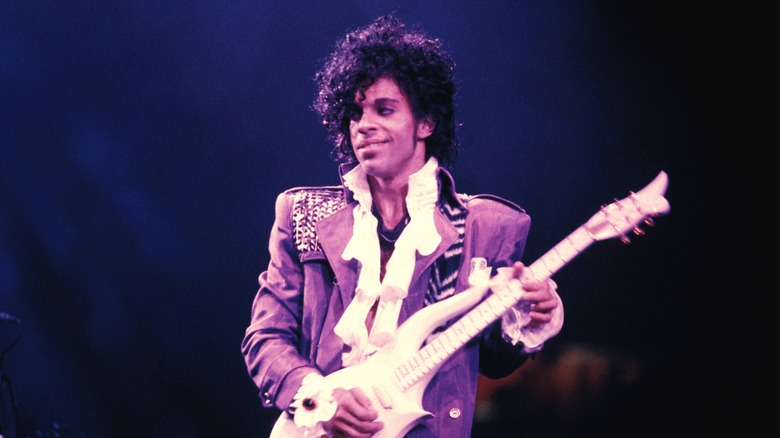 Richard E. Aaron/Getty Images
Pat Smear's appearance in the 1985 music video for Prince's "Raspberry Beret" may hardly be considered a milestone in the famed guitarist's impressive career. Still, it makes for a funny and rare deviation from his usual punk and alternative rock projects.
Spending much of the 1980s without a regular job, Smear sometimes turned to a casting director friend for background extra work. One of these gigs was for the aforementioned music video. Smear recounted the experience to Feel Numb: "Since I have two left feet and can't dance, I assumed I wasn't going to be picked for the video. As I was walking out one of Prince's people stopped me and told me that Prince liked my look and wanted me to sit next to the drum set." Smear's memory is a little off here, as he's actually seen in front of the piano.
However, the rest of his story checks out, and was confirmed by Foo Fighters bandmate Dave Grohl, who claims it was Smear's unique appearance that landed him the job. Grohl revealed in Rob Tannenbaum and Craig Marks' "I Want My MTV: The Uncensored Story of the Music Video Revolution" that, "Pat can't dance. So they sent him home. He starts walking down the hallway and hears, 'Hey, you!' He turns around and there's this big bodyguard standing next to Prince. And Prince whispers in the bodyguard's ear. The bodyguard says, 'You can stay. He likes your hair.' They wanted his hair in the video!"
A brief stint in Nirvana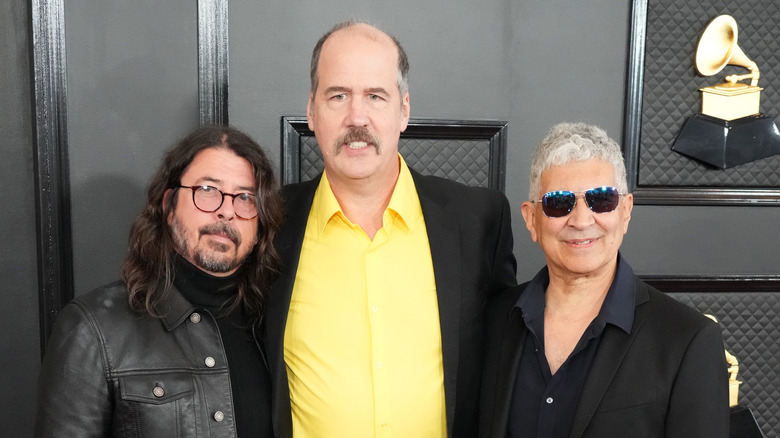 Jeff Kravitz/Getty Images
Nirvana has always been known as a power trio, but not too many fans are aware of the fact that Pat Smear was briefly in the legendary grunge act as a second guitarist during their final months on their tour for 1993's "In Utero." Smear was only vaguely acquainted with the band's singer and guitarist, the late Kurt Cobain; because of Smear's longstanding friendship with Cobain's wife and Hole frontwoman Courtney Love, he'd met him on several occasions. Obviously, Smear was surprised when Cobain reached out to him out of the blue, telling Diffuser that, "At first, I didn't believe it was him. That was weird, and then he gave me his number, and I was like, 'Oh s***, it is Kurt.' And then he just asked if I wanted to be in his band. I was like, 'Yeah!' And that was it."
Smear made his debut with Nirvana on September 25, 1993, as the musical guest on "Saturday Night Live." While he never joined the band in the studio, Smear can be heard playing with them on the live albums "MTV Unplugged in New York" and "From the Muddy Banks of the Wishkah." Nirvana came to an end following Cobain's tragic death in 1994, but Smear's friendship with drummer Dave Grohl continued into another project, one that would really put Smear on the map.
Joining the Foo Fighters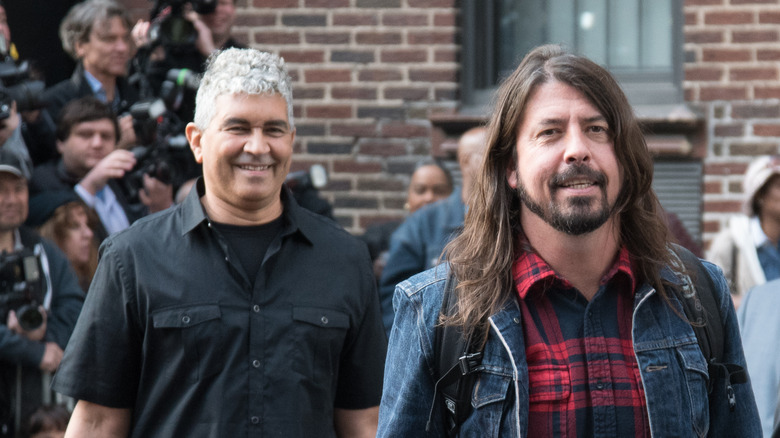 Greg Jannacone/Shutterstock
Dave Grohl was primarily known as the drummer for Nirvana in the early 1990s. However, he experimented with songwriting on his own, leading to the creation of songs that resulted in Foo Fighters. During his brief time with the iconic grunge band, Pat Smear was exposed to Grohl's growing talents as a songwriter; he told Clash Music that, following a jam session with Nirvana, he and Grohl "sat in Dave's car, and he played me some of his solo stuff. I guess they were early demos for what would be that first Foo Fighters album, but I can't be sure. But they blew me away. These were amazing songs, and I remember saying to him, 'Man, you should be doing these properly.'"
Little did Smear realize how right he would eventually be as, following the dissolution of Nirvana, he would soon become a guitarist in Foo Fighters, one of the most popular bands in the world. In fact, it was Smear's insistence that led to his inclusion into Foo Fighters, as he was so impressed with the quality of the songs that Grohl had recorded on a cassette that he sent him. Smear confessed to Guitar.com that, "Dave didn't have to ask me to join the band. I asked him! After I heard the tape I went to him and asked if he was going to make a band, because I wanted in."
Pat Smear consults on a film about the Germs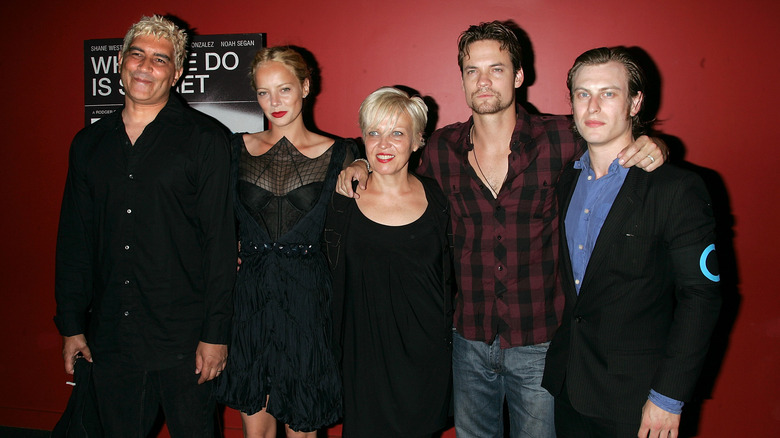 Jim Spellman/Getty Images
Pat Smear's legacy with the Germs was already cemented in rock 'n' roll history by the time production began on the film about the band, 2007's "What We Do Is Secret." However, the film helped bring the Germs to a much wider audience, and shone a spotlight on the tumultuous story of the band's frontman Darby Crash, who tragically passed away in 1980 from a heroin overdose. Because of Smear's time with the band as well as his prodigious musical talent, he was brought on to teach the actors how to play instruments for the film and to produce its music.
The film's director and co-writer Rodger Grossman elaborated further on Smear's role in the film in an interview with Alt Film Guide, wherein he said that, "Pat and I would go over [the] music. He would come with his CDs and vinyl and we chose whatever we wanted. We were just dreaming... Oddly enough, Pat and I both actually wrote personal letters to David Bowie about the songs." When it comes to ensuring a film's fidelity to true events, there's no better source than someone who actually participated in said events.
Reuniting with the Germs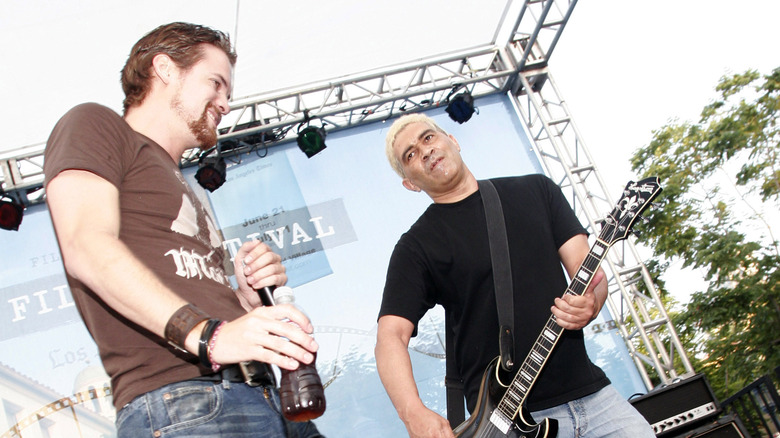 Paul Redmond/Getty Images
Actor Shane West portrayed the Germs' late singer Darby Crash in the film "What We Do Is Secret." His dedication to the role was so strong, apparently, that the surviving members of the band — including original guitarist Pat Smear — decided to reunite, with West on vocal duties, and embark on a tour in 2005. The film's director, Rodger Grossman, told Billboard that, "[West] got so close to being Darby that it actually freaked out a lot of the scenesters that came by the set... He read all the books that Darby read. He got blue contacts and prosthetic teeth permanently affixed to his, which had to be 'chipped out' so his teeth were more like Darby's."
It's one thing to portray a rock 'n' roll singer in a film, but it's another thing altogether to do it in real life. Still, Smear was extremely impressed by the actor's transformation into his old bandmate, telling The Washington Post that, "I'm not sure how much was in character when he was doing it. Because it seemed too natural for him, I never questioned it — he was singing for the Germs." High praise, indeed, especially coming from a talent as big as Smear.
A Foo Fighters reunion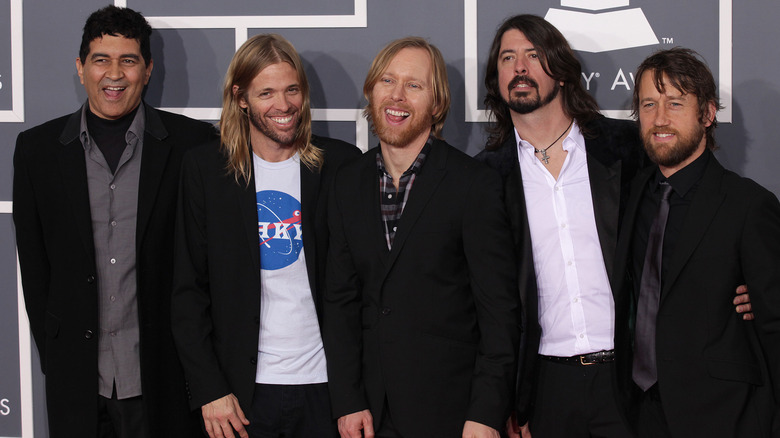 DFree/Shutterstock
Pat Smear left Foo Fighters in 1997 and was replaced by guitarist Franz Stahl. However, 2005 saw Smear gradually make his way back into the band, a process that lasted nearly a decade. He appeared on the band's 2006 live acoustic album, "Skin and Bones," and can be heard on the track "Let It Die" from their 2007 release, "Echoes, Silence, Patience & Grace." Smear described the unusual experience to Rolling Stone, stating that, "I wasn't part of the song, it was just me going in and playing on a song that was already written. That's a little odd. We love to hang out and practice together and work on songs, it's not difficult at all for us."
Smear officially rejoined the band for their 2011 album, "Wasting Light," completing the band's trio of guitarists along with Dave Grohl and Chris Shiflett. While it's pretty rare for a rock band to have three ax-men, Smear told Rolling Stone that it wasn't hard for them to split up six-string duties for their 2014 album, "Sonic Highways," saying that, "We've learned pretty well what our roles should be. We all play really different from each other first of all, and so sometimes we might all be playing different parts, and sometimes we'll say let's bang out these few chords or this riff together. We're just used to the three-guitar thing now and it comes very easily."
A starring role in Studio 666
Pat Smear joined his bandmates in Foo Fighters in making the leap to the big screen with the 2022 horror-comedy "Studio 666." Continuing in the fine tradition of cheesy rock 'n' roll fright flicks started by such films as "Phantom of the Paradise," "Trick or Treat," and "Hard Rock Zombies," "Studio 666" follows the Foo Fighters playing fictionalized versions of themselves as they decide to do something different with their 10th studio album. For whatever reason, they think that that "something different" is to record the album in a mansion in Encino where a previous band was slaughtered under bizarre circumstances. Whatever gets the creative juices flowing, right?
While the film wasn't exactly a hit with critics, fans of the group will surely appreciate its mix of rock-band cliches and over-the-top violence. One thing that certainly comes through is the enthusiasm the band's members clearly had for the project. Smear revealed in an interview with Double J that, "I jumped at it just because it was ridiculous. It just was funny. In fact, it was almost more like a joke when [Dave Grohl] first started talking about it."
Getting inducted into the Rock & Roll Hall of Fame
In 2021, Pat Smear's considerable contributions to popular music were formally recognized when he was inducted into the Rock & Roll Hall of Fame, along with the other members of Foo Fighters. Always a stand-up guy, Smear's acceptance speech referenced many of the bands that he played with before achieving mainstream notoriety (via Rolling Stone): "I will thank the Germs, the Adolescents, 45 Grave, Twisted Roots, Vagina Dentata, Celebrity Skin, Nirvana. ... And most of all, that motherf***er, Dave Grohl, and [to bandmates] you and you and you and you."
Of course, the real treat of the evening for Smear surely must have been Paul McCartney inducting him and the rest of the band into the Rock & Roll Hall of Fame. Most people would be honored simply to be in the music icon's presence. But for Smear, the Beatles were a particular influence on him during his early years, as it was the band's albums "Sgt. Pepper's Lonely Hearts Club Band" and "Abbey Road" that introduced the young boy to rock 'n' roll.