Children's Entertainers Arrested For Serious Crimes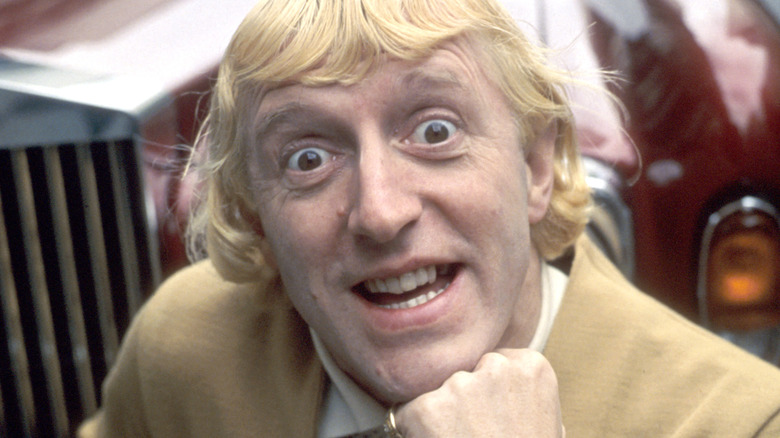 Avalon/Getty Images
Protecting children is a universal cultural value. That's why it's so startling when the people we trust to entertain and shape the minds of our young get arrested — especially when the crimes are dark in nature. Probably because we only want our kids to work with the most trustworthy individuals, we provide a protective armor of innocence and purity for children's entertainers. But when that veneer is shattered by an arrest, we're often shocked and horrified that those individuals are flawed and capable of some awful and illegal acts. 
Every now and then, a previously beloved or seemingly solid figure from the world of children's television or YouTube makes headlines — and ruins their reputation and career — when the police step in to stop or punish some ghastly behavior. Here are some of those most infamous kiddie entertainers who fell from grace after being arrested for very illegal activities.
Orlando Brown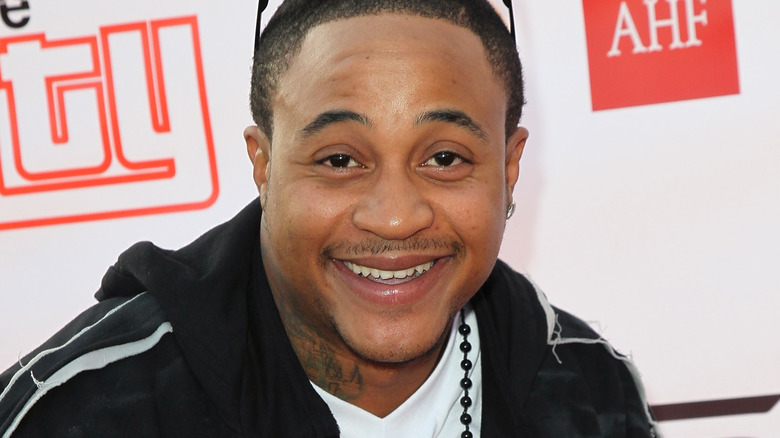 David Livingston/Getty Images
In the '90s and 2000s, young performer Orlando Brown appeared in numerous projects geared toward the youth market. Following brief stints on "Sister, Sister," "Family Matters," and "Lizzie McGuire," Brown was cast on the Disney Channel's Raven-Symoné vehicle, "That's So Raven." Opposite the titular teenage psychic, Brown played Raven Baxter's best friend, the overly confident, smooth-talking Eddie. Concurrent with his role on the popular, long-running 2000s hit, Brown voiced Sticky Webb on Disney's "The Proud Family" and recorded music for the company,
Brown has frequently been in and out of courtrooms in the 2010s and 2020s to answer for a series of serious allegations. Following a 2011 conviction for driving under the influence in California, he failed to complete a court-ordered alcohol education course; a warrant was issued, and Brown was arrested. He didn't show up for that court date and was arrested once more. In 2013, Brown was held by police in North Hollywood for an outstanding warrant following an arrest for suspicion of drunk driving. A little over a year later, in 2014, he showed up late at night at the apartment of a woman he alleged was his stalker and threatened to kill the individual, her mother, and her child, TMZ reported. That earned Brown charges of disturbing the peace and public intoxication. Then in 2022, police in Lima, Ohio, arrested and charged him with misdemeanor domestic violence charges. According to The Hollywood Reporter, the actor allegedly threatened violence against his brother with a hammer and a knife blade.
Debby Ryan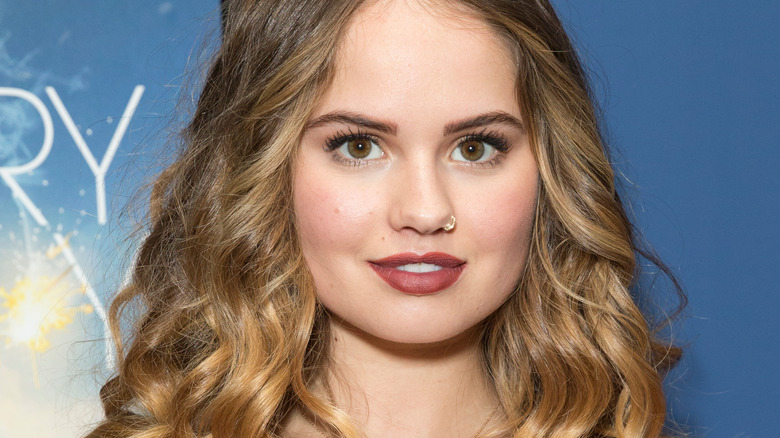 lev radin/Shutterstock
Debby Ryan started her career in kid stuff when she was just a kid herself, appearing in a Barney home video at age 13 before becoming part of the Disney tween entertainment complex. Ryan played Bailey Pickett on three seasons of the Disney Channel sitcom "The Suite Life on Deck," reprising the role on "Hannah Montana" and "Wizards of Waverly Place" before landing a star vehicle in 2011 with "Jessie." Another Disney Channel comedy, it centered around Ryan's portrayal of a teenager from Texas who works as a nanny for a rich New York family, a project that lasted for four seasons.
One night in April 2016, Ryan struck another vehicle while driving in Los Angeles. With the other motorist citing injury, police responded to the scene and issued a field sobriety test. Ryan failed and was arrested on a felony charge of driving under the influence. The actor was released after making a $100,000 bail payment, with court authorities reducing the charge from a felony to a misdemeanor primarily because her blood alcohol level was .11 — just over the .08 legal threshold, the Los Angeles Times reported.
Stoney Westmoreland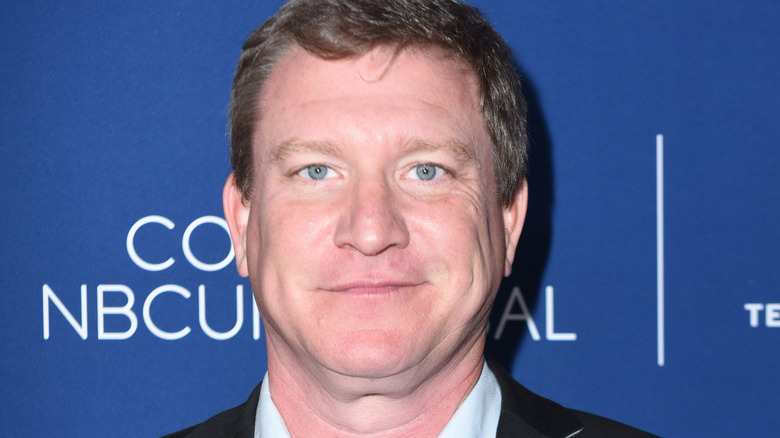 Vivien Killilea/Getty Images
A prolific character actor in the '90s and beyond, Stoney Westmoreland made a career out of appearing for one or a few episodes of long-running TV series. He popped up on the likes of "NewsRadio," "Gilmore Girls," "Breaking Bad," "Scandal," "CSI: Miami," and "Agents of S.H.I.E.L.D." until 2017 when he landed his biggest role yet. The Disney Channel launched "Andi Mack," a sitcom about a teenager coming to grips with the news that who she thought was her older sister is actually her biological mother, and her parents are really her grandparents. Westmoreland portrayed Ham Mack, Andi's kindly grandfather and father figure.
In December 2018, Westmoreland was fired from "Andi Mack" immediately following his arrest in Salt Lake City on charges of enticing a minor and sending inappropriate materials, the Associated Press reported. The actor attempted to coerce a supposed 13-year-old he met on the internet into a sexual act in a hotel room. Westmoreland was busted because the 13-year-old was actually an undercover police officer. Released but under supervision by authorities, Westmoreland returned to prison after police couldn't access a room at his home and the actor refused to turn over digital records, per Deadline. The case culminated in a two-year federal prison sentence.
Sasha Mitchell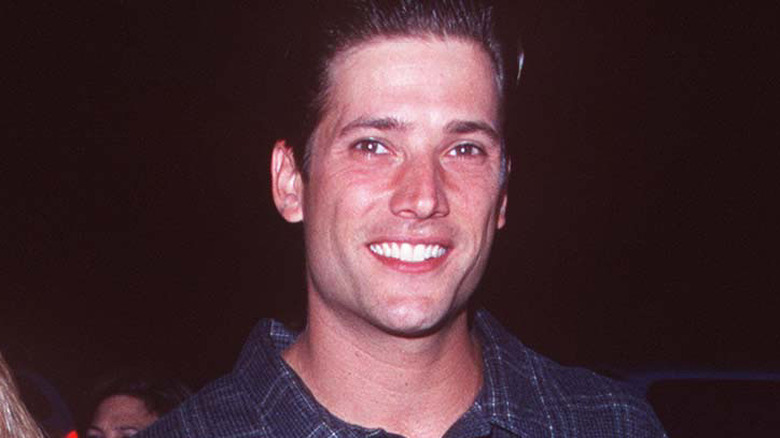 Steve Granitz/Getty Images
Following the path set forth by previous surfer dude types like Sean Penn in "Fast Times at Ridgemont High" and Keanu Reeves in "Bill & Ted's Excellent Adventure," Sasha Mitchell joined the cast of kid-friendly sitcom and "TGIF" stalwart "Step by Step" in 1991. He played Cody, nephew of Frank Lambert (Patrick Duffy), who lived in his van in the driveway. A breakout character on "Step by Step," Mitchell's likable Cody just kind of hung around to say and do ridiculously stupid things.
In April 1995, Mitchell was arrested in Los Angeles after police responded to a 911 call at the actor's home, the Los Angeles Times reported. He reportedly attacked his wife while she held their 7-year-old daughter, then kicked a hole in a door to access her when she hid in a bathroom. Mitchell made bail but his trial was delayed after his spouse alleged more abuse, including incidents that left her with a concussion and broken eardrum. The actor was ultimately charged with two counts of battery, one of spousal abuse, and one of child endangerment. Convicted and sentenced to three years of probation and counseling, he was ordered to prison for 60 days for failing to appear for court-ordered spousal abuse counseling sessions and "continuing to strike his wife," E! News reported.
Paul Reubens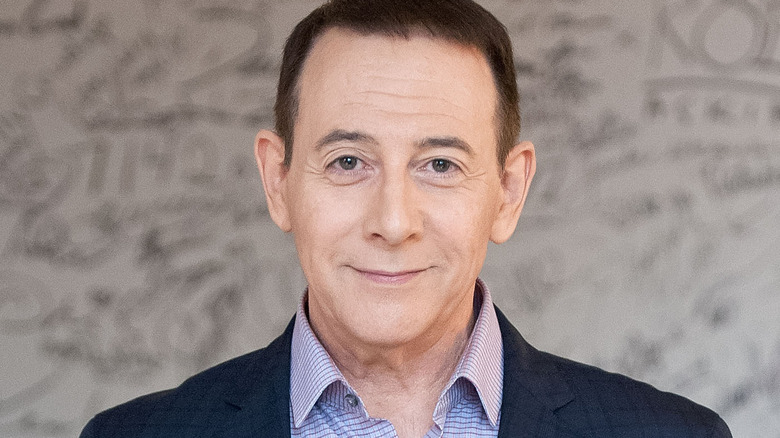 D Dipasupil/Getty Images
In the 1980s, Paul Reubens was at the center of a pop cultural phenomenon of his own creation. He adapted the subversive, faux-kiddie TV stage production "The Pee-wee Herman Show" for the 1985 film "Pee-wee's Big Adventure" and the subsequent Saturday morning live-action series "Pee-wee's Playhouse." Until CBS stopped airing the show in 1991 (the last original episode was in 1990), Reubens rarely appeared in public or on-screen out of character — that of Pee-wee Herman, a highly energetic, high-voiced man-child who wore a red tie and lived in a fantasy world of fun and silliness.
In a 2001 accusation filed with the Los Angeles Police Department, a 17-year-old alleged that actor Jeffrey Jones ("Ferris Bueller's Day Off," "Deadwood") convinced him to appear in lewd materials. The LAPD launched an investigation, and in November 2002 officers arrested Jones, who was also found to have a collection of materials of a sexual nature featuring minors, the Los Angeles Times reported. That probe included a search of Reubens' Hollywood Hills home, where he kept a large collection of vintage erotica. A pornographic image of a person under 18 was discovered, and he was arrested a day after Jones. Reubens was released after making a $20,000 bail payment and was charged with a misdemeanor count of possession of obscene material improperly depicting a child. In March 2004, Reubens arranged a deal with prosecutors. The charge of child-related obscene material was dropped, and the entertainer instead entered a guilty plea to a misdemeanor obscenity charge and accepted a sentence of probation.
Bill Cosby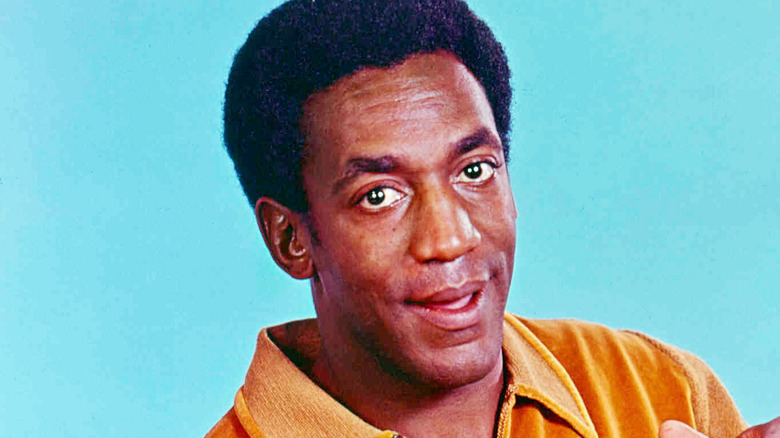 Silver Screen Collection/Getty Images
At one point one of the most universally liked performers in America, Bill Cosby was a superstar entertainer for decades. While an Emmy winner for the drama series "I Spy," Cosby was primarily a comedian, delivering long and warm monologues about the travails of parenthood. He also produced a lot of children's entertainment — Cosby created, hosted, and voiced characters on the Saturday morning cartoon show "Fat Albert and the Cosby Kids" and the educational feature "PicturePages." And then from 1984 to 1992, he starred on the heavily viewed "The Cosby Show" a family-oriented comedy about a bemused father of five.
In 2005, Andrea Constand alleged that Cosby had invited her to his home in Pennsylvania, administered sedatives to make her fall asleep, and then molested her, the BBC reported. Prosecutors didn't file criminal charges, but Constant filed a civil suit in which 13 women came forward to serve as witnesses, alleging Cosby assaulted them in a similar fashion. The case was settled out of court, but in 2015 prosecutors revisited Constand's case and filed criminal charges against Cosby. Over the next two years, 60 women accused Cosby of a slew of sexual offenses that stretched back to the 1960s, including fondling, assault, and rape. In his 2018 trial, Cosby was found guilty of three counts of aggravated indecent assault and sentenced to three to 10 years in prison. He was released in June 2021 after the Pennsylvania State Supreme Court reversed the conviction, ruling that Cosby didn't receive a fair trial.
Rolf Harris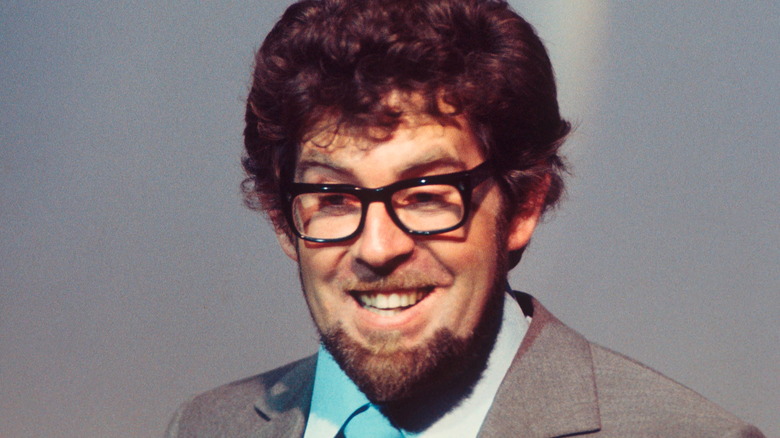 Michael Putland/Getty Images
Born in Australia, Rolf Harris moved to England in the 1950s to attend art school, but he soon became a popular children's entertainer. From 1967 to 1974 he hosted "The Rolf Harris Show," a program for children in which he'd produce a painting over the course of an episode, singing and whistling with a child by his side. Also a musician, he popularized the didgeridoo outside of Australia when he used it in his 1960s novelty hits — "Tie Me Kangaroo Down, Sport" and "Two Little Boys."
In 2012, London and national U.K. agencies started Operation Yewtree, an investigation into historical sexual assault allegations against entertainers. Authorities searched Harris's home, and after further investigation, the host was charged with nine counts of indecent assault on two teenage girls in the 1980s and four counts of making indecent photographs of a child in 2012. Prosecutors levied three more indecent assault charges after two more victims came forward, reporting abuse dating to 1968. Harris was convicted on 12 counts of indecent assault against four girls. In 2014 he was sentenced to five years and nine months in prison, and he was released in 2017.
Frank Selas
Kids who grew up in and around Monroe, Louisiana in the 1970s were well acquainted with Mr. Wonder. KNOE-TV news anchor Frank Selas adopted the persona to host the eponymous weekly series, which became such a ratings hit that KNOE made it a daily program. Selas presided over the proceedings dressed in a tuxedo and top hat, which brought in local children to participate in on-screen games and activities.
In 1979, Selas held a camping retreat for kids in the Kisatchie National Forest in Gardener, Louisiana. That's where he was accused of sexually abusing multiple children. Their parents called the police, and when Rapides Parish deputies attempted to arrest Selas, they found that he'd fled. Later, authorities learned that Selas had fled to Brazil, then returned to the U.S. and lived in Connecticut, Vermont, Massachusetts, and Chicago under the name Frank Szeles, to which he'd legally changed his name in the early 1990s. After receiving a tip and confirming his identity, police arrested Selas at his home in San Diego in January 2016, and he was extradited to Louisiana the same year. Facing counts of obscene behavior with a juvenile, Selas was sentenced to five years in January 2018 and released in September — but was arrested multiple times after for violating the terms of his release.
Jimmy Savile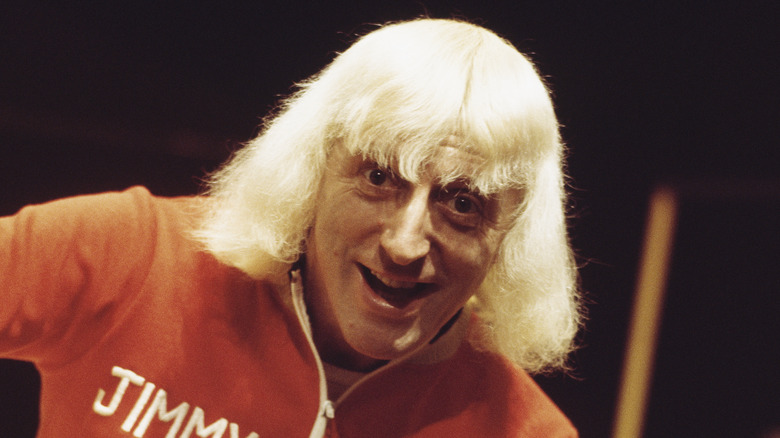 Michael Putland/Getty Images
Jimmy Savile was all over British radio and TV for decades, always playing to a youthful audience. An on-air position at BBC Radio in turn led Savile to be the first host of "Top of the Pops," the U.K. pop chart countdown show, a gig he kept for 20 years. In the midst of that run introducing pop singers and rock bands, Savile started "Jim'll Fix It," a charitable annual holiday program that granted wishes to needy viewers — often children.
Over the decades, rumors spread about Savile's predilections and potentially criminal behavior, all of which he publicly denied, The Guardian reported. In the 1980s, a woman told London police Savile assaulted her in his van in a BBC parking lot, but the charges didn't stick. In the 2000s, he sued a newspaper for reporting that he'd victimized residents of a children's home in Jersey and was accused of assaulting a child at a school in Duncroft and a woman on a train. Following Savile's death in 2011, media and law enforcement investigations into Savile's activities began in earnest. Authorities believe that Savile abused and assaulted as many as 500 people between the 1940s and his death. He allegedly used his position as a prominent TV host and children's performer to volunteer at more than 30 hospitals, children's hospitals, and charitable homes for children, where he could target compromised and vulnerable individuals. According to investigators, Savile assaulted children and adults between the ages of 2 and 75 in a variety of ways.
Ian Rylett
In 2008, U.K.-born and Florida-based internet entrepreneur Ian Rylett started a network of YouTube channels called SevenAwesomeKids. Over the next decade, Rylett built the brand into seven channels, including SevenPerfectAngels, SevenFabulousTeens, SevenTwinklingTeens, and the most popular in terms of view counts and subscribers, SevenSuperGirls. By 2018, the latter boasted 9 million subscribers and 5 billion views. All of Rylett's channels (which in 2018 had amassed 17 million subscribers overall) were updated daily and featured a troupe of around two dozen girls between the ages of 8 and 18 performing clean, short comedy sketches about kid life and kid problems. Rylett oversaw most every aspect of production.
Police in Orange County, Florida arrested Rylett at a hotel room one morning in August 2018. A complainant under the age of 16 — and one of the YouTube creator's contracted performers — alleged that during costume preparations for a video shoot, a verbally abusive Rylett repeatedly touched her chest, made her disrobe, and attempted to aggressively take off her underwear, per BuzzFeed News. Additionally, Rylett ordered full compliance of the performer, citing her contract as a way to levy financial penalties if she didn't. The YouTube producer entered a not-guilty plea and surrendered his passport, later agreeing to plead guilty and serve 90 total days in jail rather than go to trial and potentially earn a 15-year sentence.
Machelle Hackney
By 2019, "Fantastic Adventures" was one of the more popular kid-focused content channels on YouTube. With more than 700,000 subscribers and well over 240 million views, the channel featured broad comedy sketches filmed in the home of Machelle Hackney (also known as Machelle Hobson), who produced and filmed the videos that starred her seven adopted children.
In 2019, police in Maricopa, Arizona arrested Hackney and her two grown sons on allegations that she abused the children in order to ensure proper performances in "Fantastic Adventures" clips. According to police, Hackney denied food, water, and restroom access to the children, NBC News reported. She was also accused of striking them and deploying pepper spray if they didn't do what she directed them to do on camera. Some of the children told authorities that their adopted mother violently hit them with a clothes hanger, belt brush, and knuckles, and kept them out of school in order to make videos. Hackney faced seven child abuse charges, five of unlawful imprisonment, and two of child molestation — but died of natural causes before she could stand trial.
Ric Marshall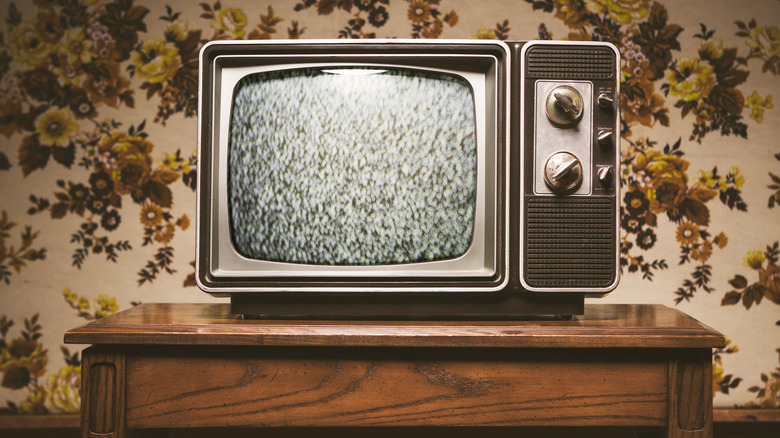 Ryanjlane/Getty Images
One of the most popular and enduring children's TV shows in Australia in the 1970s was "Super Duper Flying Fun Show." The daytime variety program featured a mix of games, puppets, clowns, contests, and more, and the whole spectacle of entertainment was hosted by smiling TV personality Ric Marshall.
Marshall not only appeared on children's television broadcasts but also ran the Cottage Theatre for young people in Adelaide, where the show originated. Through both avenues, Marshall had access to many children, whose parents would leave them under the host's tutelage. In the 2010s, he was arrested for numerous crimes of sexual assault perpetrated against young boys — both by him and friends he allowed to commit crimes against the children. In December 2012, with Marshall found mentally incapable of standing trial, a judge sentenced Marshall to 25 years of house arrest, of which he served seven before his death in 2019.
If you or someone you know may be the victim of child abuse, please contact the Childhelp National Child Abuse Hotline at 1-800-4-A-Child (1-800-422-4453) or contact their live chat services.
If you or anyone you know has been a victim of sexual assault, help is available. Visit the Rape, Abuse & Incest National Network website or contact RAINN's National Helpline at 1-800-656-HOPE (4673).